Strength of Schedule 2018 A Blueprint for Success
By Michael Valverde
The strength of schedule (SoS) could be the most reliable tool you use in fantasy football; a blueprint for success. The SoS details potential outcomes for each player throughout the fantasy season. Unfortunately, it also could extend itself to being almost useless. Defenses are unpredictable and change on a per season basis. We won't know how they will perform until they actually hit the field.

In 2017, I was especially surprised by the Saints. A perennial bad defense definitely improved last season, finishing middle of the pack in many defensive categories. Atlanta was better on defense as well, signaling a significant turn of the tide for NFC South teams. Anyone who assumed those defenses would guarantee a good week for their team's offense was sadly disappointed.

I do appreciate the structure that the schedule provides. You can use it to plan for streaming quarterbacks or for pairing running backs due to the easiness of their matchups. However, with a stroke of bad luck, it can change your whole season for the worst. Last year if you avoided players that played against Seattle, you might have faltered. Their defense certainly did due to a rash of injuries.

Two important SoS factors I always look at are how will my players perform during the fantasy playoffs and what impact will the schedule have on my bench players.
Rookies Help
Surprises happen with NFL defenses in one form or another almost every season. Sometimes it's a team that you didn't expect ending up to be a big-time wall, or perhaps one that you thought would be a wall leaking water. When this happens, teams look to the draft and free agency to fill in those holes.

Teams that I expect to be better in 2018 because of their draft selections include the Bills, Bears, Bengals, Chiefs, Chargers, Raiders, 49ers, and Buccaneers. Each one of these teams selected an individual defensive player in at least four of the first six rounds.

Rookies can make an immediate impact, but don't expect significant team changes to happen right away. Players such as Bradley Chubb (Denver), Marcus Davenport (New Orleans), and Da'Ron Payne (Washington) all should contribute immediately, and these teams will be better in the long run.
Fantasy Playoffs
Making key decisions is what wins championships, however, you can't win your championship if you don't get through the playoffs. To help assist with that, we have the strength of schedule as a roadmap to guide us through the postseason.

If I am deciding between Player X, who has two difficult matchups while Player Y an easier time, guess which one I will be picking? Player Y. An owner wants to make sure that Weeks 14-16 are maximized at the end of your fantasy season. In this article, I will be specifically referring to Weeks 14-16 as the fantasy playoffs.

Even though the playoff weeks are the main road to glory, overlooking the week before can be devastating. I have been playing fantasy football for over 25 years, and I can't count how many times an owner has missed the playoffs, either because of losing in Week 13 or not scoring enough points to qualify.
The Strength of Schedule Formula
Using key statistics, I ranked each team according to how well they performed in 2017. Passing categories include yards allowed, interceptions, third down efficiency, and points allowed through the air.

The most influential measure was yards allowed through the air. If a team is giving up chunks of yards, they are not defending the pass. Defenses that intercept the ball not only shut down the offense but give your fantasy team extra points. With third-down efficiency, it is all about getting your defense off the field. Points allowed directly correlates with how many fantasy points a particular defense gives up.

For rushing statistics, my heaviest measure was yards allowed on the ground. Like passing, if the defense is getting run on, then the defense is not getting off the field. I ranked the teams on how they did with recovering the fumble, third-down efficiency, and points allowed. The only difference between rushing and receiving is fumbles versus interceptions. I used the website Fantasydata.com for all my statistical details.



Passing SOS Rankings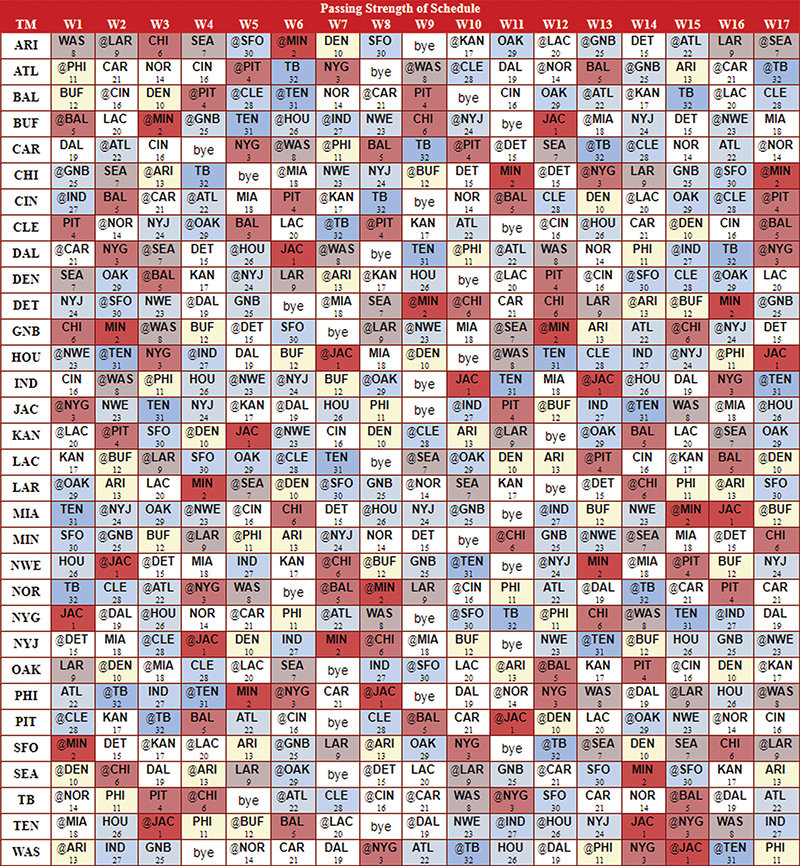 Easy Passing Schedules
Quarterbacks have become machines. NFL offenses have employed the pass heavily over the last eight years. Since quarterbacks are churning out massive numbers, their liability is low, and their market share is plentiful. You can be patient before selecting your first quarterback.

I wouldn't recommend anyone taking a quarterback in the first four to five rounds, but of course it isn't easy to skip over a player like Aaron Rodgers. That being said, since I recommend waiting, let's hunt down those signal callers with an easy schedule.

Cam Newton should have an easy time against his passing opponents. Playing in the NFC South division makes it easier. Teams such as Tampa Bay and Atlanta are in the bottom rung while the Saints are merely average. Then he has a nice playoff schedule. Getting Cleveland and Atlanta while playing the Bucs in the lead-up game should push Newton's value up. Look for him to get picked within the first five quarterbacks.

Deshaun Foster is another candidate, if he can come close to replicating the success he had before blowing out his knee. Three of his first four games should pose no problems, as he faces New England, Tennessee, and Indianapolis. Foster's playoff schedule is equally as nice. The Colts and Jets in the first two weeks, but a much harder opponent in Philadelphia for the championship game. I also like that he will play both Tennessee and Cleveland in Weeks 12 and 13.

Case Keenum parlayed an injury to Sam Bradford into a starting contract with the Broncos. Looking at his playoff schedule, I like it. Playing three teams that should pose little threat, Keenum will face San Francisco, Cleveland, and Oakland. If Keenum is still the Broncos starting quarterback at this point, he is worth a stash or stream.

Andrew Luck, if he returns, has a nice opening schedule. Over the first six weeks he only plays one top-10 defense in Washington. He does get Cincinnati (16th) and Philadelphia (11th), but then plays Houston, New England, the Jets, and the Raiders before their bye week. All of those teams are ranked lower than 22nd. (They do have the Bills come in before the Oakland matchup to throw in a little competition.) Luck's playoff schedule is not easy. The Colts open against Houston but face Dallas in Week 15 and the Giants on Championship Week. Hopefully you won't need a Week 13 win because Luck will be battling it out with that stout Jacksonville defense.

Other notables. Philip Rivers has a nice six-game stretch starting in Week 4. He faces Oakland twice, Cleveland, San Francisco, and Tennessee. Seattle should pose some issues before San Diego faces the Raiders for the second time. Assuming Carson Wentz is ready for Week 1, he has a nice four-game opening schedule playing the Falcons, Buccaneers, Colts, and Titans.

Late streamers include Marcus Mariota who has a neutral schedule up to Week 10. Then he faces New England, Indianapolis, Houston, and the New York Jets. But his playoff schedule is downright brutal against Jacksonville, the New York Giants, and the Washington Redskins. Andy Dalton's playoff schedule is chic as well. He squares off against San Diego in Week 14 and then sees the Browns and the Raiders in Weeks 15 and 16. After Week 1, Blake Bortles has a much easier time. Patriots, Titans, Jets, Chiefs, Cowboys, and Houston all are ranked 17th and below.
Toughest Schedules
Matthew Stafford's first five weeks are not too shabby. After that, the landscape changes. Starting in Week 8, he has to deal with Seattle, Minnesota, the Los Angeles Rams and Chicago twice. The Lions playoff schedule is also tough with Arizona, Buffalo, and then Minnesota in the championship. I'll never advise someone to completely avoid a quarterback because of their schedule, but this one is very close.

Drew Brees is going to struggle to surpass last season's 23 touchdowns, his lowest output since 2003. Looking at his schedule, he will find the opening weeks relatively easy. Starting in Week 4 the trend reverses with the New York Giants, Washington, Baltimore, Minnesota, and the Los Angeles Rams in consecutive weeks.

Carson Wentz has a nice opening week in the playoffs against Tampa Bay but has to face Carolina and Pittsburgh the next two weeks. Even though Wentz has an easy schedule, he has a four-game stretch of bad news with Minnesota, New York Giants, and Jacksonville although Carolina should provide some relief in the middle of that set.



Rushing SOS Rankings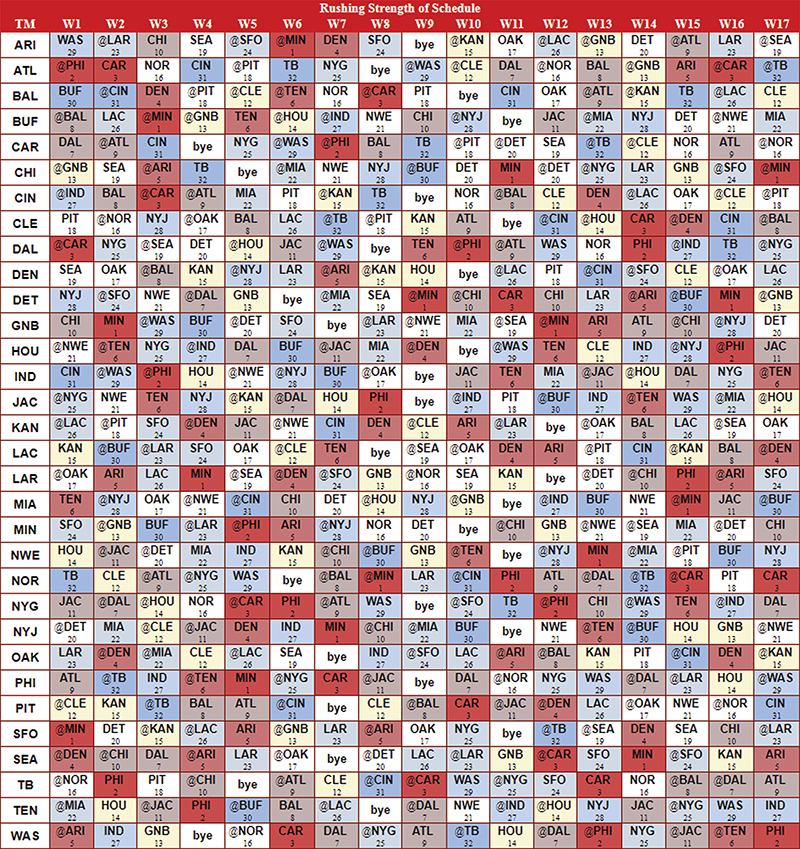 Scheduling Running Backs
David Johnson will be returning from his ACL injury, and to help him he has one of the easiest schedules this season. The Cardinals open with the Redskins and the Rams and then face the 49ers in Weeks 5 and 8. However, they will have to get through Minnesota and Denver between those two weeks. Also, on the docket are the Chargers in Week 12 followed by another meeting with the Rams.

The 2018 schedule will be more manageable for the duo of Lamar Miller and D'Onta Foreman. After a difficult Week 2 matchup against Tennessee, they face the Giants, Colts, Bills, and Dolphins in four of the next six weeks. Intermingled are tough opponents in Dallas, Jacksonville, and Denver. But their playoff schedule looks rosy as they will face the Colts and Jets. Championship week won't be as kind, however, as they meet the Philadelphia Eagles.

Leonard Fournette's schedule is smoothly spread out across the season. Therefore, it may be difficult to find consistency with him. They start off against the Giants and then play the Jets in two of the first four weeks. Jacksonville collides with average defenses until Week 10 when they meet the Colts for the first time. Overall, Weeks 12-16 will be a nice ride. The only blemish is Week 14 when Jacksonville battles the Titans. Teams such as the Colts, Bills, Redskins and Dolphins are in the playoff schedule.
Tough Sledding
Joe Mixon is not going to like what he has in front of him. The first week is against Indianapolis, but it gets remarkably tougher after that. His next three opponents are Baltimore, Carolina, and Atlanta. He does get Miami, and Tampa Bay as bookends in a four-week stretch, but Pittsburgh and Kansas City are in the middle. After the bye week, Mixon will face Baltimore again and then Denver. His playoff schedule isn't too bad though -- Chargers, Raiders, and the Browns.

Kareem Hunt had a fantastic rookie season, but this year his schedule will be much tougher. Like Mixon, he will have a nice opener (against the Chargers) and then faces the 49ers in Week 3. Hunt then has to deal with Denver and Jacksonville in back-to-back weeks. In Week 8, he meets Denver for the second time, and then Arizona two weeks later. In between is Cleveland, which is no cake walk. The playoffs are manageable: in Week 14, he will have to battle Baltimore but has the Chargers in Week 15 and Seattle in the championship.

Todd Gurley may regress some. The Rams face just two opponents that I rank on the easy side, the Los Angeles Chargers in Week 3 and San Francisco in Week 7. (Unless you make it to the championship game when they have the 49ers again.) They do open against Oakland, but the Raider running defense is on the neutral side of things. In weeks two through six, Arizona, Minnesota, Seattle, and Denver. ... Ouch! The rest of the schedule is pretty neutral until playoff time. How does a playoff schedule against Chicago, Philadelphia, Arizona sound? This alone may push his price down, just make sure you don't push it too far.
Wide Receivers
The NFC will be very nice this season.

The Redskins' schedule is probably the best of all. Unfortunately, there are not a lot of high profile players on the 'Skins to take advantage of it. Josh Doctson, Jamison Crowder will be the main attractions.

Bears receivers can be impressive, if healthy. Allen Robinson, Kevin White, and rookie Anthony Miller will try to take advantage. Robinson is coming off an ACL tear, and White has never played a full season. Can future Hall of Famer Julio Jones bounce back from an unexpected down season? His schedule will surely assist him and the Falcons. It even may help Matt Ryan. Look for Mohamed Sanu and rookie Calvin Ridley to pay some dividends as well.

Carson Wentz will enjoy his matchups as long as he can make it back in time from that horrid ACL injury as he was diving into the end zone. His targets will be Alshon Jeffrey, Nelson Agholor, and Mack Hollins. I expect Hollins to be a sleeper in the Eagles' offense. Aaron Rodgers is immune, but are his receivers? Davante Adams, Randall Cobb, and rookies Equanimeous St. Brown and J'Mon Moore will have a much harder time finding separation.
Crashing Wing Men
The AFC West has the most difficult schedule for wide receivers. Both the Chiefs and the Raiders have difficult schedules, translating into bad news for players such as Tyreek Hill, Sammy Watkins, Jordy Nelson, Amari Cooper, and Martavis Bryant. It's not only the West as the other teams in the AFC will have a hard time too. Antonio Brown is matchup proof with Ben Roethlisberger as his signal caller, but it won't be easy. Perhaps second-year standout JuJu Smith-Schuster will step up.

There is no denying the New York Jets receivers are backloaded. Robby Anderson, Terrelle Pryor, and Quincy Enunwa will all play a role. The Jacksonville Jaguars are also on the favorable side of the schedule. However, just like in Washington, there isn't much to get excited by in Marqise Lee, Donte Moncrief and rookie DJ Chark.
Tight Ends
Those playing in the AFC South will have a much easier time than those in the NFC. The top-5 teams are all from the American Conference. The easiest schedule belongs to the Houston Texans' Stephen Anderson and rookie Jordan Akins. Even so, neither of these two will have much fantasy relevance.

In Indianapolis, Jack Doyle and Eric Ebron will battle it out for opportunities. The Colts like their two-tight end sets, so expect them both to be on the field quite often. Throw in a possibly healthy Andrew Luck, and they should pile up the points.

The Titans will also have their two tight ends going. Delanie Walker and Jonnu Smith will be heavily involved. Look for more Smith than you saw in his rookie season. Walker's contract expires at the end of the season, and Smith is the one they want to replace the great veteran.

Jacksonville has a new tight end experiment since the Julius Thomas version failed. This time the Jaguars are putting their hopes on the unstable Austin Seferian-Jenkins. The big tight end has shown promise but seems to battle personal demons during the season. He is a great talent if his mind is focused. Jordan Leggett was a rookie last season and didn't make an appearance. All of that being said, their offense rarely incorporates the tight end.
Tight End Hardships
Jimmy Graham finds himself on a new team. Being in Seattle never really clicked for the athletic tight end. Now with the Packers, he can concentrate on what he does well, catch the football. It must be nice to have Drew Brees and Russell Wilson as your prior quarterbacks and then tag-team them with Aaron Rodgers. But Graham's schedule certainly isn't liking the change.

Seattle will use Nick Vannett as their primary tight end now that Graham is a Packer. He hasn't done much in his two NFL seasons, and he could very well be a sleeper, but his schedule doesn't agree. San Francisco's George Kittle had a nice rookie season, and even though his schedule is more difficult, Jimmy Garoppolo will probably still rely on him. Kittle finished off last season with a stat line of 43-516-2.

Both Gerald Everett and Tyler Higbee play in a two-tight end offense, which is great for success in the NFL but not so much for the success of your fantasy team. Throw in a tough schedule and not only will they be sharing the ball but also trying to break away from the defense.

Ebron is gone, and the Lions brought in Luke Willson to take his place. The 28-year-old caught 89 balls for 1,129 yards and 11 touchdowns in his five seasons with Seattle. Playing behind Graham limited his production and he should find more opportunity in Detroit. --


Mike has played fantasy football for over 24 years, and has been part of a redraft home league for the last 20. He is considered a "stat geek" by his peers. For the last five years, Mike has written numerous articles on players, created tiered draft strategies, and contributed to podcasts on everything football. Mike is a DAT Analyst for PFF. Follow him on Twitter @RFLRedZone.