Football Diehards | About Us
Football diehards is a leading fantasy football site providing expert fantasy content for over 26 years. Footballdiehards.com is the main website for Fantasy Sports Publications, Inc., which started publishing magazines in 1990 – 33 seasons. They grew quickly to become the largest fantasy sports publisher of magazines in the world and have been on the newsstand longer than any other fantasy magazine.
Our Mission
Football Diehards' goal is to help fantasy managers win their leagues and have fun with their hobby - Helping people create more enjoyment with their hobby and escape from the pressures of life a few hours a week.
Our Team
Emil Kadlec started the company in 1990 with the first edition of the Fantasy Football Pro Forecast Magazine and now publishes four fantasy football magazines annually with a distribution of over 500,000 copies. Kadlec is a Hall of Fame member of the Fantasy Sports Writers Association and also a HOFer of the Fantasy Gaming & Trade association. Perhaps his most impressive award is the Matthew Berry game Changer award. Kadlec has always been an innovator in the industry. In their first edition of the Fantasy Football Pro Forecast (1990) they forecasted (predicted) results of the NFL players statistics. This sounds common place now, but Emil's idea was the first time predictions were published in the business of fantasy football.
Emil's Story: Back in 1996 I decided to quit my day job (it was a good one!) and go full time fantasy as a career. One of my friends, Danny Rey, came into my office as I was packing for a career (or flop) in fantasy football. He seemed confused and sat down and repeatedly ask me what I was doing (politely). lol! The reality was this move was a very scary decision. Luckily it has worked out for 26 years and I feel very fortunate. It is a great feeling to help over 100,000 plus people every year! Helping all of you enjoy your hobby to a high level. (My greatest Achievment) I am proud to help everyone and glad I made the decision to go with fantasy football - despite driving my dad crazy! After our first year (1990) creating the Fantasy Football Pro Forecast Magazine, I showed it to my Dad. He looked at it for a moment and said ", How much money did you loose?" Thanks Dad!
Bill Robertson – Managing Editor
Robertson entered the business shortly after Kadlec founded Fantasy Sports Publications, Inc. He was and has continued to have the sharpest player rankings. Many time he has foreseen fantasy football sleepers, helping their customer base win their leagues. Robertson also though of the concept of the Cheat Sheet Mag and Expert's Poll Mag. The Cheat Sheet Mag has been very popular and the Expert's Mag we converted into the Football Diehards Brand magazine.
Bob Harris – Senior Editor
Harris joined the team in 1995 when he was the owner and chief writer of The fantasy League Report. He was one of the earliest producers of fantasy podcasts. Harris runs the day-to-day operations at Fantasy Sports Publications, Inc. – coordinating all the magazine production and footballdiehards.com content. Harris writes over 80,000 words each week of the NFL season for the website. He also is the co-anchor of their Sirius radio fantasy football talk show – now in its 10th year plus. Harris is also a Hall of Fame inductee of the Fantasy Sports Writers Association.
Bob's family didn't understand what he was working on in the early 1990s. They thought he was just playing on his computer. Little did they know, he would end up as one of the elite fantasy football experts in the industry - In content and satellite radio.
Connect with US
Facts about Football Diehards
Google Map Headquarters
Founded: 1990
Founders: Emil Kadlec & Bill Robertson
Incorporated April/ 1990
Headquarters:
5305 Arbustos CT NE
Albuquerque, NM 87111
Awards
Best Publication - Football Diehards Magazine 2016 & 2017
Best Publication - Football Diehards Pro Forecast Magazine 2013
Best Publication - Football Diehards CheatSheets Magazine 2010
Bob Harris Citations & References
Bob Harris 2012 inductee to the FSWA Hall of Fame
Bob Harris Fantasy Sports Pioneers
hofvillage.com press releases Bob Harris FSWA Hall of Fame inductee & Writer of The Year
Emil Kadlec Citations & References
Emil Kadlec Awards
Football diehards' organization has won many
awards from Fantasy Gaming & Trade Association
FSWA HOF Inaugural class
FSWA HOF Awrds
Article on FSGA Hall of Fame
Fantasy Sports Writers Association Hall of Fame
Fantasy Football Associations and Community Support
Vice President of Fantasy Sports Writers Association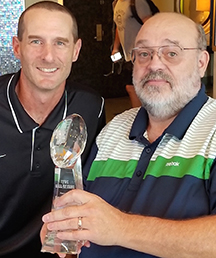 FullTime Fantasy Football Hall of Fame Induction

Dun and Bradstreet - Fantasy Sports Publications, Inc

FANTASY FOOTBALL PRO FORECAST - MEDIA OUTLET INFORMATION

Lenny Pappano - Reference owner

Fantasy Football World Championships acquisition - Referenced

The Fantasy Sports Association Board of Directors

The Fantasy Sports Writers Association - Founder and Hall of Fame Inductee

Gary Davenport 2013 Web Article of the Year Award - referenced
Books
Committed: Confessions of a Fantasy Football Junkie By Mark St. Amant - Quoted

American History Through American Sports: From Colonial Lacrosse By Danielle Sarver Coombs, Bob Batchelor - Interviewed
Wrote with wife and donated to the library.
Special Collections: translation of New Mexico Marriages - Pueblo y Mission de San Ildefonso 1725-1880
Interviews
Interview with Lenny Pappano, co-Owner WCOFF.com - Quoted

Emil Kadlec - interviewed about history of fantasy football

Interviewed about the WCOFF Event

Fantasy Football The Next Level: How to Build a Championship Team Every Season By David Dorey - quoted

Fantasy Football and the First Fifty Years - quoted
TV
KOAT TV's Shellye Leggett interviews Emil Kadlec & Bill Robertson
Emil Kadlec Interview on CNBC TV by Scott Wapner
Podcasts
FullTime Fantasy Podcast with Dennis and the Matt's

Fantasy Football Diehards Weekly Podcasts

Fantasy Football Roundtable with Emil Kadlec

Red vs Blue Friday Night Football - Emil Kadlec reveals the 2010 High Stakes Football Manager Rankings

Football Diehards founder Emil Kadlec stops by to discuss the upcoming week 10 NFL games.

Scott Atkins Hosts - The FFWC w/ Emil Kadlec & Ian Ritchie

Red vs Blue Friday Night Football - Special Guest Emil Kadlec

Radio
SiriusXM Fantasy Sports Radio Football Diehards Show
Drafts
Best Ball All-Stars League

FFToday Expert's Auction Draft

Bleacher Report - Quote and Reference of Emil Kadlec

NFL.com experts draft with Expert Emil Kadlec

Huddle expert auction league: 12 team - with Expert Emil Kadlec
Social Media
Linkedin Biography

Football Diehards Twitter

Fantasy Nation Twitter

Football Diehards Facebook

Fantasy Nation Facebook
Magazines
Pro Forecast Magazine - Editor-In-Chief
Cheat Sheet Magazine - Editor-In-Chief

Miscellaneous
Fantasy Pros - Emil Kadlec

World Heritage Encyclopedia

Pro Forecast Magazine - Editor-In-Chief

Living in the NFL's Fantasy World

Charlie Wiegert Fantasy Sports Pioneer - interview by Emil Kadlec

Article reference - Emil Kadlec Godfather of the industry after starting the World Championship

High-Stakes Contest - reference

Fantasy Sports Pioneers interviewed by Emil Kadlec
Websites
co-owner of Football Diehards

Fantasy Nation CEO

San Ildefonso Pueblo, The People, The Pottery, The Painting