Strength of Schedule 2020
By Adam Hall
Strength of Schedule 2020 By Adam Hall and David Sciacca

Passing SOS Team Map

Rushing SOS Team Map




Opportunity Hidden in the Numbers
Going into an uncertain 2020 season the same questions remain in the fantasy world, which teams will falter and who will become a new household name. Our model has consistently fared better than the field in predicting which matchups provide the most opportunity for new superstars to be born. Last year the model predicted that Chris Godwin, Christian McCaffery, and the entire Ravens' roster would be goldmines ready to take advantage of. By analyzing the cross between what the model found to be a vulnerable schedule and a well-developed offense, we stand to find the diamonds in the rough that lead your team to fantasy glory.


What Does the Model Do, and How Do We Use It?
This strength of schedule (SoS) model provides a probabilistic take on likely success or failure based on several crucial factors that could alter a team's performance in the coming year. A unique algorithm is used to measure the impacts of previous performance, incoming draft class, and free agency activity. The outcome points to which teams have developed and which are rebuilding. By carefully sculpting our draft strategy to follow matchups with teams that are talent-deficient, we drastically increase the chance of drafting a player that has a top-10 fantasy year.

This model is based on a standard deviation (bell-curve) system which recognizes that all NFL teams exist on a spectrum of defensive talent. Teams with a difficult strength of schedule (SoS) are shown to have negative SoS scores, while teams with scores in the positive range face teams whose defenses are liabilities (Minnesota has the easiest overall schedule with a 2.51). Pick players from teams with positive scores for the best outcomes.



Predicted Defensive Rankings
Ranked from strongest defense to weakest, this year's model found significant changes in the defensive landscape of the NFL.

Highlight Teams
A few teams on each side of the curve deserve extra attention for the disproportionate impact on the fantasy landscape.


Looming Juggernauts
Pass (Patriots, Ravens, 49ers, Jaguars, Vikings, Bills)
Even with the loss of previous all-pro corners, Jalen Ramsey and A.J. Bouye, the Jaguars have outperformed when it comes to protecting against the pass. After analyzing all off-season changes, it looks that the Jaguars are likely to cause headaches for the rest of the AFC South.

Rush (Raiders, Cardinals, Ravens, Eagles, Vikings)
With the surprise of the offseason, the Raiders are expected totake the biggest step forward in defending the run in the NFL.

With the return of 2019 first-round pick, Johnathan Abram, multiple impact picks, and a solid free agency period, the Raiders look to improve on their solid rush defense from 2019. This fur- ther shows why the AFC West is expected to be a tough place
for running backs in 2020. Another unexpected finding is that the Cardinals, weak as they may be in their secondary are expected to furnish one of the strongest Rush defenses in the league in 2020. Following up on a 2019

season where their Rush defense over performed, they drafted blue-chip player Isiah Simmons in the first round. With numerous additions to the front seven in free agency the Cardinals are ready to take a significant step forward in the trenches.

Underperformance Inbound
Pass (Texans, Buccaneers, Colts, Titans, Saints)
With three of the five worst secondaries appearing in the AFC South, the Jaguars look to face favorable matchups constantly. The same can be said for the Falcons and Panthers. The Falcons have eleven previous first-round picks on offense, given their talent-rich roster, the Falcons stand to provide dividends in 2020.

Rush (Panthers, Texans, Chiefs, Packers, Seahawks)
The Panthers will be what the Dolphins were last year, a talentstarved roster which has disappeared before the world's eyes. The Panthers lost a number of previous all-pro talents including their No. 1 corner James Bradberry, previous Pro-Bowl linebacker Thomas Davis, and future Hall-of-Famer Luke Kuechly this offseason. They followed these departures up with the first entirely defensive draft of the Super Bowl era. Rookie defensive players are more often a liability for a team than a source of strength. The model heavily predicts that the Panthers are likely to have the worst defense in the NFL this year.


Strength of Schedule Rankings
The following tables depict the SoS rankings for this year. General SoS is a combination of both run and pass grades and are not as specialized as the following scores. General rankings often serve to provide more information when trying to break ties between similarly ranked players. Rush and pass grades zero in on the vulnerabilities of the front seven and secondaries of the scheduled opponents.


Pass Strength of Schedule:
Rush Strength of Schedule:
General Strength of Schedule: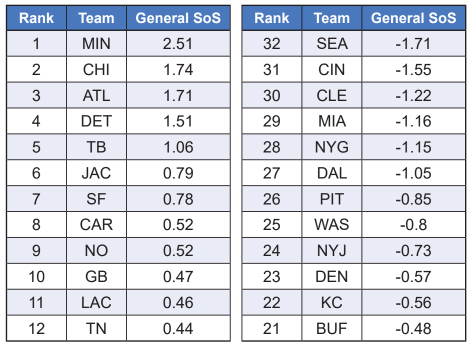 Success on the Horizon
After looking over the rankings it becomes clear that teams in the NFC North, AFC South, and NFC South have the benefit of playing the weakest defenses in the league. Instead of going team by team dissecting their individual matchups, this article highlights teams that are ready to utilize the talent at their disposal. Defensive matchups, publicly available offensive line rankings, and coaching sensibilities will guide the suggestions.


Passing Game

Atlanta: Matt Ryan, Julio Jones, Calvin Ridley, Hayden Hurst, Laquon Treadwell
Offensive Line Rank: 24/32
Strength of Schedule Rank: 2/32
Julio Jones is poised to continue his Hall of Career in 2020 with a loaded roster and one of the easiest schedules in the league. This may be the most talented offense in the NFL filled to the brim with previous first-round picks. Matt Ryan has his choice of targets this year, which will lead to teams being unable to double team any player. For if opponents focus on Julio, Treadwell will feast, if they play zone coverage that blanket the outside receivers, Hayden Hurst and Ridley will take advantage of open seam and slot routes. Hayden Hurst, Calvin Ridley, Matt Ryan, and Julio Jones could all outperform their average draft positions.

Minnesota: Kirk Cousins, Adam Thielen, Irv Smith Jr., Justin Jefferson, Kyle Rudolph,
Offensive Line Rank: 11/32
Strength of Schedule Rank: 1/32
Stefon Diggs' departure leaves 94 vacated targets which are likely to be picked up by first-round pick Justin Jefferson and last year's second-round pick Irv Smith Jr. With the departure of offensive coordinator Kevin Stefanski to the Browns, the Vikings picked up Gary Kubiak whose previous history points to a heavy reliance on play action passes to take advantage of players like Dalvin Cook. Kubiak has led high-powered offenses that have produced top-flight wide outs. With the easiest projected schedule in the league and a slowly developing offensive line, the Vikings provide an immense amount of value going into 2020.


Tampa Bay: Tom Brady, Mike Evans, Chris Godwin, Rob Gronkowski, OJ Howard
Offensive Line Rank: 10/32
Strength of Schedule Rank: 7/32
This is the team that everyone in the football world has their eyes on this year. The GOAT, Tom Brady, has left the Patriots. In so doing he transitions from the most talent-depleted offense in the NFL to arguably the most talent replete. Much has been made about the change in offensive philosophy between Josh McDaniels and Bruce Arians. Many claim that Brady does not have the capability to run the aggressive Arians' offense at his advanced age, but when we look closer at how he performed last year, the narrative evaporates. According to Pro Football Focus, Brady was a leader in accuracy on contested catches in 2019 and was one of the most accurate players in the NFL on passes that travelled longer than twenty yards past the line of scrimmage. In 2019 Brady's receivers let him down with the lowest amount of separation in the league on average and dropped passes at a much higher rate than the league average. With the addition of Tristan Wirfs to the Buccaneer's offensive line, they are likely to a top-10 unit. Each of these factors contribute to the fact that this is the best offensive team that Tom Brady has had access to since his record breaking 2007 season. Each of these players have inflated ADPs at the moment. Though, if only one could be taken, it would be whomever looks to be the dominant receiver which is poised to occupy the slot position. With Gronk a year older and in need of a ramp-up from his year-long departure from football, it's clear that the player who occupies the slot will be a fantasy superstar in the upcoming season.

Jacksonville: Gardner Minshew, D.J. Chark, Laviska Shenault, Dede Westbrook, Tyler Eifert
Offensive Line Rank: 26.5/32
Strength of Schedule Rank: 4/32
D.J. Chark was one of the breakout stars of the 2019 season, his elite speed and frame allow him to function as a prototypical wide receiver one for the Jaguars. His ADP of pick 53 overall demonstrates that the fantasy community believes his performance points more to a flash in a pan, though his top-five strength of schedule and a QB with a second season of development with him points to a top 15 WR finish instead. The Jaguars on paper have a bevy of offensive weapons that would pose similar issues for the pillow fort style defenses of the AFC South. Look out for Laviska Shenault in 2020, his versatile and physical game could turn into fantasy gold, he was one of the most productive players in Colorado's history and was used at every position. Consider picking him up near the end of the draft or after a few weeks on the waiver wire.

Detroit: Matthew Stafford, Kenny Golladay, T.J. Hockenson, Marvin Jones.
Offensive Line Rank: 15.5/32
Strength of Schedule Rank: 6/32
Kenny Golladay was a top-3 fantasy wide receiver in 2019 but is still not being treated like one. His efficiency on targets downfield was elite, Golladay had the fourth highest yard per catch mark in the league last year, and the mark was higher when Stafford was playing. Golladay saw more targets and more than twice as many touchdowns when Stafford was playing compared to when the backups were under center. With a healthy Stafford Golladay's ADP of 21 is a bargain. With Detroit's favorable schedule, Marvin Jones is a value at his ADP of 94, and firstround pick T.J. Hockenson stands to lead a much more productive sophomore season. In 2 QB leagues Matthew Stafford is the crucial value pick that allows players to focus on skill positions in the crucial early rounds.


Other top passing rankings:
Chicago (3/32), Carolina (5/32), San Francisco (8/32), Las Vegas (9/32), Green Bay (10/32), New Orleans (11/32), Philadelphia (12/32).

Players who have opportunities to outplay their ADP.

Carolina Panthers
D.J. Moore WR, Ian Thomas TE, CAR

San Francisco 49ers
Brandon Aiyuk WR, Jalen Hurd WR

Las Vegas Raiders
Henry Ruggs III WR (Rookie), Bryan Edwards WR (Rookie), Lynn Bowden Jr. RB (Rookie)

Green Bay Packers
Allen Lazard WR, Jace Sternberger TE, Robert Tonyan TE

Philadelphia Eagles
Jalen Reagor WR (Rookie), JJ Arcega Whiteside WR

Chicago Bears
Allen Robinson WR, Anthony Miller WR, Cole Kmet TE (Rookie).


Rushing Game:

Minnesota: Dalvin Cook, Alexander Mattison
Offensive Line Ranking: 11/32
Strength of Schedule Rank: 1/32
If Dalvin Cook is serious about his hold-out, Alexander Mattison becomes the lead back and with it, the best deal in the NFL. When Cook was out in 2019, Mattison performed admirably amassing over 4.6 yards per carry over 100 rushes. Though there is no argument that if Cook is available, he is an elite option and would be worth the first-round pick he would command. The Vikings have the easiest schedule in the NFL in 2020, this means that even if there is substantial regressions to the mean in terms of performance for each of their rivals, they would still be left with an easier than average schedule. When you combine a serviceable offensive line with an elite running back the conditions are ripe for a near MVP caliber season.

Arizona: Kenyan Drake, Eno Benjamin
Offensive Line Ranking: 22/32
Strength of Schedule Rank: 2/32
The days of the NFC West representing stalwart run defenses that force teams into a blow-by-blow play style are over. Instead, the 49ers, Rams and even the Seahawks push for explosive plays, either in the new age YAC style that McVay and Shanahan rely on, or the deep ball passing game that Russell Wilson allows the Seahawks to play. This has led each of these teams to emphasize pass defense in lieu of rush.

This provides the Cardinals with a unique opportunity to have a running back outperform their comparable potential. Kenyan Drake has outperformed everywhere he has landed. With Kyler Murray's athleticism opening running lanes for the back, Kenyan Drake is a valuable commodity who can easily outscore his ADP. Be aware of sixth-round pick Eno Benjamin, his college tape led him to being drafted in an extremely deep class. If Drake were to be injured as he often has been, Benjamin could take the job and refuse to relinquish it in 2020.

Tampa Bay: Ke'Shawn Vaughn (Rookie), Ronald Jones, Dare Ogunbowale
Offensive Line Ranking: 10/32
Strength of Schedule Rank: 3/32
Ronald Jones has done little to show that he has the ability to be a true lead back in the NFL. The Buccaneers had a top-3 offense last year, and he still found a way to underperform. The Bucs will likely have an even better offense this year, and Bruce Arians refuses to tolerate players who can't execute. This is why they spent a third-round pick on Ke'Shawn Vaughn, a versatile back who plays larger than he is. Vaughn easily slots into the pass-catching role which Brady has turned into a top-12 RB on a yearly basis. Though he may be expensive, there's a great chance that he won't be as cheap in 2021.

Atlanta: Todd Gurley, Ito Smith
Offensive Line Ranking: 24/32
Strength of Schedule Rank: 4/32
Todd Gurley passed his physical with the Falcons this offseason. Atlanta also refused to draft one of the many top-end backs that entered the draft this year. Both factors point to the notion that Dirk Koetter wants to get the most out of the short contract that Gurley signed. The previous No. 1 one overall fantasy asset stands to be a focal point of the most stacked offense in the NFL. With Jones, Ridley, and Hurst forcing teams to look outward, Gurley will be left to create explosive plays on his own without opposing defenses crowding the box to do their best to nullify him. Expect a big bounce-back season from Gurley.

Baltimore: JK Dobbins (Rookie), Mark Ingram, Justice Hill
Offensive Line Ranking: 2.5/32
Strength of Schedule Rank: 9/32
With the constant threat of Lamar Jackson baring down on teams, the Ravens are likely to maintain their heavy emphasis on the ground game. Though as Lamar takes more of a beating later in the season, Greg Roman is likely to lean more on his rookie back JK Dobbins. Dobbins was phenomenal in college averaging over 6.7 yards a carry and had a whopping 23 touchdowns in his final year at OSU. This was hard earned production against highly ranked teams. Dobbins notched over 150 yards against Pen State, Wisconsin and Clemson last year, and he eclipsed the 200-yard mark against arch-rival Michigan. Dobbins knows how to perform in high pressure situations and will likely integrate himself into the lead back role sooner rather than later.

Philadelphia: Miles Sanders, Boston Scott, Corey Clement
Offensive Line Ranking: 7.5/32
Strength of Schedule Rank: 10/32
After Week 8 of the 2019 season Miles Sanders averaged over 5.1 yards per carry on 113 carries. He was also efficient in the pass game maintaining at least five targets in all but one game after Week 8, which was well deserved since he caught nearly 80 percent of passes thrown his way. The Eagles drafted Sanders to be the lead back and his usage points towards that end. The Eagles have an exceptional offensive line, a very workable schedule and the prospects of having a top-10 quarterback behind center when healthy. More factors than not point to a successful season for the Eagles' backfield than against it this year.

Other top rushing rankings: Detroit (5/32), Las Vegas (6/32), Tennessee (7/32), Chicago (8/32), Philadelphia (10/32), LA Chargers (12/32).


Other top rushing rankings:
Detroit (5/32), Las Vegas (6/32), Tennessee (7/32), Chicago (8/32), San Francisco (11/32), LA Chargers (12/32).


Players who have opportunities to outplay their ADP.

Detroit Lions
De'Andre Swift RB (Rookie), Kerryon Johnson RB

Tennessee Titans
Darrynton Evans RB (Rookie)

Chicago Bears
Tarik Cohen RB

San Francisco 49ers
Raheem Mostert RB, Jerick McKinnon RB, JaMycal Hasty RB

LA Chargers
Cam Akers RB (Rookie)


Players with Difficult Upcoming Schedules:

After combing over the numbers, teams in the AFC East, NFC East, and AFC North have harder than average schedules. A difficult strength of schedule stands as another metric that we should consider when analyzing teams. Below is a list of the teams with difficult schedules in the upcoming year.

General: SEA, CIN, CLE, MIA, NYG, DAL, PIT, WAS, NYJ, DEN, KC, BUF

Pass: MIA, SEA, NYJ, DAL, HOU, BUF, CLE, AZ, PIT, LAR, NYG, LAC

Rush: CLE, CAR, SEA, KC, NYG, CIN, DAL, DEN, BUF, NE, GB, WAS


Worrisome Highlights
Miami Dolphins
Offensive Line Ranking: 32/32
Strength of Schedule: Pass (32/32), General (29/32)
The Miami Dolphins are shaping up to be one of the most exciting
young teams in the NFL in 2020. Unfortunately, the Dolphins enter the season with the toughest strength of schedule and the weakest offensive line. Miami spent a first-round pick to bolster the offensive line, and numerous picks to shore up the porous defense, but given that these players are rookies there is little reason to believe that this is the year that the team takes the leap. Devante Parker and Preston Williams hold substantial upside, but their ceilings will be capped by the onslaught of elite defenses they're pared up against.


New York Jets
Offensive Line Ranking: 30.5/32
Strength of Schedule: Pass (30/32), General (24/32)
Adam Gase at this point has shown himself to be someone unwilling to mold his offense around the talent at his disposal. He failed to utilize Le'Veon Bell to a moderate extent in the passing game last year and has put game plans together that led to his struggling quarterback to see ghosts instead of defenders. The Jets were unable to capitalize on one of the easiest schedules in the league last year, so I certainly don't expect them to put up numbers against the best in the NFL. The Jets have made attempts at filling holes in their offensive line and receiver position, but when a defender like Jamal Adams is trying to force a trade, it's easy to see that the Jets are going nowhere fast.