Expert Mock Breakdown 2019
By Kyle Dvorchak

Like the leaves of a beautiful tree changing from green to brown, summer speculation in the NFL has transformed into majestic training camp videos of backups making plays over practice squad players. With the hype machines in full force, draft positions have begun to fluctuate wildly.

Note: I have spent the past 13 weeks watching peewee football film of every NFL player, so my descriptions of fall weather are based solely on Google Images. Take them for what they're worth.

To make sense of the pre-season hype, we're looking at the biggest movers in an expert mock draft. We'll break down a mock each week until Week 1 or I am kicked out of my mother's basement.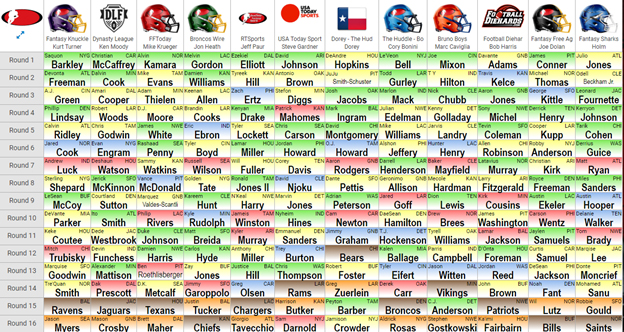 Round 1
Melvin Gordon's status as a Charger is currently up in the air while he holds out in search of a massive payday. With the likelihood of Gordon missing time increasing by the day, this will be the earliest Gordon is picked in any draft during the upcoming weeks.

It's not likely that Gordon misses the entire season. He has to play half of the season to enter free agency in 2020 so he should take the field at some point this year. That leaves whoever drafts him with seven games from their first-round pick (excluding Week 17). Gordon doesn't become a viable pick until Round 3, or he returns to his team.
Round 2
Last year, the running backs made a comeback in a major way. Saquon Barkley set records as a rookie and Christian McCaffrey McCaffrey became the second coming of Marshall Faulk, among many other RB revelations. The hype for rushers is getting out of hand though.

Michael Thomas, JuJu Smith-Schuster, Antonio Brown, Tyreek Hill, Julio, Jones, and Mike Evans all outscored the three running backs ahead of them in this mock draft (even excluding Bell). Somehow, they were all taken after pick 11. Some backs may outscore these elite receivers, but not all of them will.

Pittsburgh is dealing with an influx of available targets with Brown in Oakland. Brown alone was responsible for 168 targets. JuJu is in inline for a monster season and has the highest ceiling of any receiver in Round 2.

Even if you miss out on JuJu, taking a receiver is optimal anyway in the early to the mid-second round.
Round 3
Receivers in Round 2 are so appealing because of their overall value, but also because of the old rush that occurs sometime in Round 3. After every team loads up on backs (13 backs were taken in Rounds 1 and 2 compared to 10 receivers for this mock) they all start to clammer for a wideout. In this draft, the run started early.

One pick from this round is sure not to stick: A.J. Green. The Bengals star injured his foot and is expected to miss a handful of weeks recovering. If Green were guaranteed to return at 100% health, taking him wouldn't be so daunting. However, the chances that he injured his foot or sustains another injury because he is compensating for his injured foot are high.

Instead of taking Green, look to Adam Thielen. Last season, Thielen's 1,373 nearly matched Green's career-high of 1,426 from 2013. There's no reason to take on Green's risk anywhere close to where Thielen is drafted.
Round 4
This round's big mover will be Kerryon Johnson. The Lions released Theo Riddick before this draft took place. Riddick carried the ball 40 times and caught a whopping 61 passes last season. Under Matt Patricia, Detroit's offense will run through their backfield and now that means exclusively Kerryon Johnson. The Auburn product was dominant in college, rushing for nearly 1,400 yards and tallying 18 scores on the ground. In his first season, he also caught 32 balls in 10 games. Johnson has all of the makings of the NFL's next bell-cow and almost certainly won't get the bump he deserves in drafts after Riddick's release.
Round 5
The running back position is littered with landmines in Round 5. Tarik Cohen will not be able to score eight times on 170 touches again but he will take enough volume from David Montgomery to damage both of their values significantly.

Chris Carson will have to hold off Seattle's first-round pick from 2018, Rashaad Penny.

Meanwhile, Chris Godwin has accumulated over 1,300 yards by the age of 22 and Calvin Ridley put up a top-24 season as a rookie. Early-career production is a great indicator of future production and the fifth round features it in droves.
Round 6-10
Late single-digit rounds are a great place to pick up your tight end. O.J. Howard and Hunter Henry are the reasons you don't to spend an early pick on the position.

Howard has led all tight ends in yards per target both years that he's been in the NFL. Now Tampa is without DeSean Jackson and Adam Humphries. The duo was responsible for 1,590 yards last year. Howard will finally merge efficiency and volume in 2019, setting him up for a monster season.

Henry is in an eerily similar situation. The Chargers let Tyrell Williams and Antonio Gates leave. The two accounted for just shy of 1,000 yards last year. Early in the last off-season, Henry was viewed as the next star tight end. He'll reach that status in 2019.
Round 11-14
Being the first person to get their passer is a dangerous game. Star quarterbacks come later in drafts at a staggering rate. Patrick Mahomes and Andrew Luck could often be selected after 10 quarterbacks were taken in 2018 drafts

The 2019 example of this phenomena Kyler Murray. His 11.6 yards per attempt last season were the greatest mark ever achieved by a collegiate passer. Now he'll join Kliff Kingsbury in Arizona. This will be the city known for bringing the air raid offense to the NFL in history books. Kliff has a track record of offensive success at Texas Tech and Murray was as talented as they come in college. He's the greatest value at quarterback in drafts right now and should keep anyone from selecting a passer before Round 11.
Round 15-16
If there's one thing pros always get right, it's knowing when to take kickers and defense. Only one of either position was taken before the final three rounds and that was the Chicago Bears, who led the league in fantasy points for a defense. Take a defense that has similar upside, like the Raven and Jaguars, or pick a team with an easy schedule early, like New England (who gets the Bills, Jets, Dolphins, and Washington in weeks after taking on Pittsburgh in Week 1). That's the entire strategy for defenses: Don't overthink it.