Click Here to:
Post 2018 Draft ADP Risers
By Jen Ryan
We should always be paying attention to ADP when drafting in best ball leagues, and now that the draft has come and gone there has been a serious impact on draft position for many fantasy assets. Comparing average draft position from the week leading up to the draft (4/18/18-4/25/18) to the week following the draft (4/30/18-5/7/18), there are some glaring risers and fallers on both ends of the ADP spectrum. A handful of players have seen their price sky rocket and if you acquired shares of these players before the draft you will pat yourself on the back when you see how much they cost now. There is also some serious value on the other end, where we have seen some players' cost take huge hits to the point where we will want to load up on them now while they are cheap and still caught up in the post-draft hype. I have done us all the favor of filtering out Team Defense because some are still hell bent on drafting the Jaguars, Rams, and Vikings way too early and their ADP continues to climb.

ADP Risers

Here are the ten players who have seen the largest increase in draft capital since the completion of the 2018 NFL Draft:


Royce Freeman, RB, Denver Broncos / Current ADP: 63.19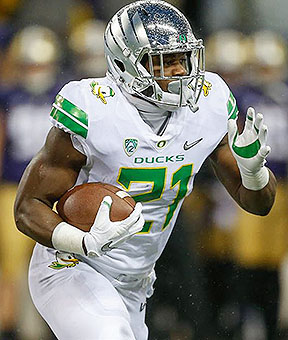 Freeman jumped close to 52 spots, or 4.33 rounds, in the week following the draft. The Denver Broncos selected Freeman in the third round, 71st overall. The Broncos' have drafted the only other two running backs of relevance on their roster over their past two drafts, taking Devontae Booker in the fourth round of the 2016 draft and De'Angelo Henderson in the sixth round of last year's draft. This is a young stable that likely competes for touches with Freeman having the early edge, but he will cost you a fifth round pick.

Give me Chris Thompson over Freeman at this price point.
Ronald Jones, RB, Tampa Bay Buccaneers / Current ADP: 54.96
There was speculation Saquon Barkley could fall to the Buccaneers at seventh overall in the first round, and when he did not Tampa Bay responded by selecting Ronald Jones in the second round. That early draft capital should give us fantasy confidence that Jones is expected to be a factor in this offense. In the week leading up to the draft he was a late 7th/early 8th round pick and his ADP has since risen to the middle of the 4th round.

Jones is interesting at his current ADP and is worth a pick over Carlos Hyde and Dion Lewis. He is in the same range as the Patriots' first round selection, running back Sony Michel.
Kerryon Johnson, RB, Detroit Lions / Current ADP: 88.92
Ameer Abdullah continues to be the fantasy asset that never was and the Detroit Lions clearly recognize he is nearly-bust status. The concern here with Johnson is a larger, goal line concern in their offseason acquisition of LeGarrette Blount. We also have to account for Theo Riddick's role in the passing game. Johnson's ADP has moved up three rounds from the double-digits into the mid-7th.

In the seventh round, rookie darts are fine to throw here. Aaron Jones and Rex Burkhead hover around the seventh and likely pay off at their ADP where Johnson may not.
Rashaad Penny, RB, Seattle Seahawks / Current ADP: 46.38

We get it, rookie running backs have flown up the ADP ladder faster than any other players in fantasy football. Penny has the most upside and clearest path to a fantasy relevant role out of all backs mentioned thus far, and that is clear in his third round ADP. I am kicking myself for all those pre-draft Derrius Guice shares that could have been Penny shares.

I will make it a point to acquire a few Penny shares, but the window of value has closed here. Guice is currently being drafted ahead of Penny in the early third.
Jeremy Hill, RB, New England Patriots / Current ADP: 215.50
Hill moves up almost 20 spots since the draft, however he remains a late-round dart that you throw when others are picking their defenses. He is a member of a crowded backfield who could win the coveted goal-line role.

Hill is irresistible as a Mr. Irrelevant pick and I have gobbled up a bunch of shares. Time to diversify a bit.
Peyton Barber, RB, Tampa Bay Buccaneers / Current ADP: 180.81

Barber is another late-round running back (15th) who was a mid-16th round pick just a week ago. Not much fluctuation there, though it is worth noting that two members of the Buccaneers' backfield are on the rise.

Barber is in the same boat as Hill in that he is a near-Mr. Irrelevant pick. It is not a terrible idea to lock up with Tampa Bay backfield if you drafted Ronald Jones in the early rounds.
Marlon Mack, RB, Indianapolis Colts / Current ADP: 97.12
Mack was a huge winner in the 2018 draft, where the Colts waited until the fourth and fifth round to select running backs. Though his ADP has risen slightly, there is the potential to get the starting running back on an Andrew Luck-lead offense in the eighth round.

If you haven't been drafted Mack, get yourself in the lobby and acquire shares now. If he shines in training camp and Luck is (finally) declared healthy, his price will increase.
Ryan Tannehill, QB, Miami Dolphins / Current ADP: 201.65
Tannehill is a serviceable QB3 who was far more attractive in the 18th round than in the 16th. If you are a volume-based drafter who needs diversity in your quarterback stable, you are bound to wind up with a handful of Tannehill shares. At his cheap cost, beware of overexposing yourself.

Sam Bradford and the New York Jets' quarterbacks are early bets to have better fantasy value than Tannehill who is coming off of a serious knee repair and lost Jarvis Landry.
T.J. Yeldon, RB, Jacksonville Jaguars / Current ADP: 215.81
Yeldon is nothing more than a handcuff to bell cow Leonard Fournette. He is a former second-rounder behind a player that missed three games in his first season. There may be opportunities for Yeldon and you could do worse in the late 17th/early 18th.

Corey Clement has bigger upside than Yeldon and can be had in the 13th round. That is the direction I am going in if I am looking to have a cheap piece of the Jaguars backfield.
Hayden Hurst, TE, Baltimore Ravens / Current ADP: 214.73
No team has drafted as many tight ends in the past five years than the Ravens. They do not seem to be very good at it, as none of panned out for fantasy purposes since the days of Dennis Pitta and Ben Watson. Hurst is in crowded company with five tight ends currently rostered in Baltimore, but they spent a first round pick on him which tells us he figures to have the inside track to the starting job.

Joe Flacco has been tight end friendly in his career, and the draft capital suggests Hurst will be a part of the offense. He will be your TE3 with TE2 upside, which certainly provides value in the 17th round.

It is still "early" in the best ball season, but in reality we are two months in and 532 drafts have been completed. ADP changes daily and following these trends help us identify when the value is fading on players with rising ADP. Check back tomorrow where we will take a look at the top ten players who have been discounted since the commencement of the 2018 NFL Draft. See you in the lobby!