Click Here to:
Targets Snaps and Scoring Week 3 2018
By Jen Ryan

Targets, Snaps, and Scoring – Week 3

If you caught me on Sirius XM Fantasy's 7 @ 7 with Bob Harris this week, you heard what my biggest takeaway from Week 2 was. Receivers are back! Of the top 24 scorers in PPR formats, 17 of them are wide receivers. Who would have thought we would have two Tampa Bay Buccaneers within the top five heading into Week 3? Kenny Golladay, despite competing for targets with Golden Tate and Marvin Jones, is fourth in air yards behind Julio Jones, DeAndre Hopkins, and Antonio Brown.

Receivers are popping right now, which is so interesting when we consider that, in the first round of fantasy drafts, at least 8-10 players selected were running backs. Two of those running backs, Alvin Kamara and Christian McCaffrey, are putting up receiver numbers.

Each week, I dig through the numbers to look for takeaways that may be actionable for the upcoming week. All of our stats pages are accessible right from our home page. You can also download my excel file (https://www.footballdiehards.com/fantasy-football-columns/html/Jens-season-long-and-DFS-Cheat-Sheet-and-Stats-2018-Week-3.cfm), which takes this data and centralizes it in one place.

Let's take a look at the numbers through the first two weeks and what they can mean for Week 3.

Currently, six players account for at least one third of their team's targets:




- Michael Thomas and Christian McCaffrey are the only players on this list that were, majority of the time, first round fantasy picks.
- Quincy Enunwa was drafted rounds after Robby Anderson and, in many drafts, went undrafted.
- Despite the horrific red zone play calling in Atlanta, Julio Jones remains a dominant force.
- Corey Davis has been a lone bright spot on the Tennessee Titans offense. Marcus Mariota's health continues to require monitoring, as does Davis' target share under Blaine Gabbert.

Here are the nine players with at least half of their team's red zone targets, along with their 10 zone targets displayed: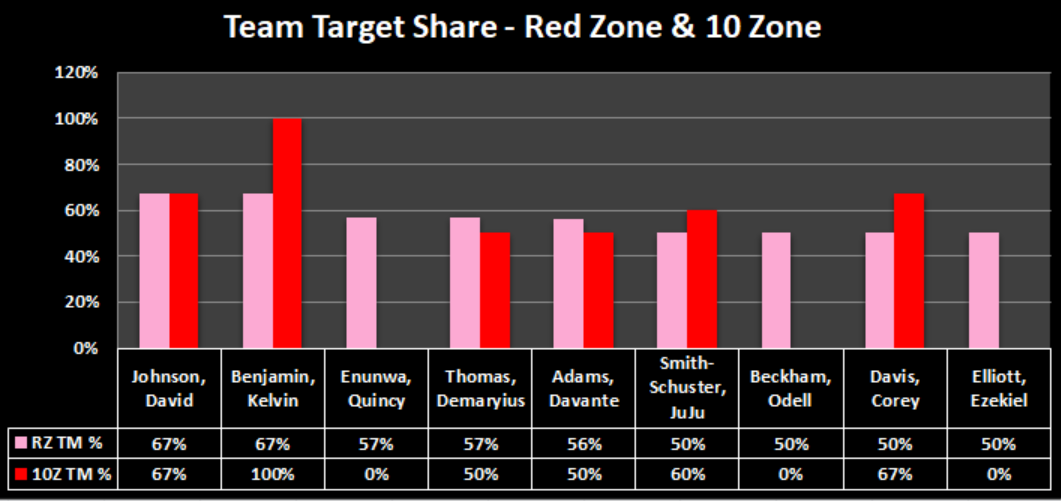 - Let's get this out of the way right now. To quote Bob Harris, "Get your finger off the panic button". Far too many people are ready to cut bait on David Johnson already. Look at his usage in the passing game in scoring situations, and take a deep breath.
- On the other hand, I think you can largely ignore Kevlin Benjamin's red zone opportunities. The Buffalo Bills are simply terrible on offense, at least from what we can see through two weeks. The question will be how often will Buffalo really be in scoring situations?
- Quincy Enunwa and Corey Davis pop up again, in the category we want them in. This is the type of usage we simply cannot ignore.
- Ezekiel Elliott is an interesting name to show up as a player with at least 50% of his team's red zone targets. With the departure of Jason Witten and Dez Bryant, and Elliott's lack of usage in the passing game in years past, he did not appear to be the candidate to absorb Witten and Bryant's red zone targets. Thus far he has been, and this usage on top of his bell cow carries continue to make him an every week starter.

Below are players who have seen a significant decrease in team snap share from Week 1 to Week 2:


As well as players who have seen a significant increase in team snap share from Week 1 to Week 2:


- You can draw a multitude of conclusions from studying snap share. The bare bones of it all is logical and simple – the more a player is on the field, the more opportunity that player will see.
- Jimmy Graham's decrease in snaps in most alarming. Larry Fitzgerald and Toddy Gurley need to be taken with a grain of salt, as they spent more time on the bench in a blow out game.
- The snap share increase that is most appealing is the tight end from Carolina, Ian Thomas. The rookie has an enormous opportunity in front of him to fill a role that has been fantasy-profitable for many years. The Panthers' tight end, whoever it is, is heavily involved in the offense. It bears mentioning that he is dirt cheap in daily fantasy this week and has a fantastic match up.

Each week, I use the spreadsheet I create using the stats pages at FootballDiehards.com to pick apart the numbers and attempt to use them to make actionable decisions for the upcoming week. These are just a few takeaways I noticed, but as always I encourage you to apply filters to the Cheat Sheet you downloaded and explore the statistics. Good luck this week!