SuperFlex Dynasty Rookie Mock Draft part II
By John Laub
Dynasty Football 101
Rookie SuperFlex Mock Draft part II
February 12-14, 2021
Second-Round Recap and Analysis
2.01 WR Rondale Moore, Purdue
Wide receiver is DEEP this year. Do you pick the player who put up 114 catches, 1,258 receiving yards, and 12 TDs as a freshman? Or the player with a 42" vertical, 600-pound squat, and reported 4.33 40-yard dash time? Or the player who once led college football in yards after catch and broken tackles? Or the one with a 36.7% dominator rating (99th percentile) as a freshman? Readers have probably figured out by now…Rondale Moore is the correct answer.
Michael Lavery, @mike__lavery
2.02 RB Kenneth Gainwell, Memphis
If you liked Washington Professional Football Team's Antonio Gibson last year, just wait until fantasy diehards hear about Kenneth Gainwell. Truth be told, I was gutted to miss out on Rondale Moore, but I'll happily take the guy who made an NFL RB a WR in college. One might see sitting the 2020 season out as a negative, not to me. I see less tread on those tires. In his sole collegiate season (of consequence), he galloped for 1,459 yards with 13 TDs and added 51 receptions for good measure. Being out of sight and out of mind might drop Gainwell a bit on some draft boards, but at just 21, he's got a lot of mileage ahead of him, this is a Dynasty Draft after all.
Patrick Sullivan, @cfbdfs
2.03 Jermar Jefferson, Oregon State
It is early in the Dynasty draft season, but please join me on the Jermar Jefferson Express in 2021. Over the past three years, I observed the Oregon State product and graded him highly in my film study. When I plugged his statistics into my model, his production and size (5'10" and 217-pounds) propelled him up my rankings. He is my No. 4 running back in the Class of 2021, and I love the value in the second round of Dynasty drafts. Will you purchase a first-class ticket on the Jefferson Express?
John Laub, @GridironSchol91
2.04 QB Mac Jones, Alabama
Since this is a SuperFlex draft, and Jones was still on the board, there needed to be some serious analysis of his chances at the next level. Landing spot is so important with quarterbacks, which makes this pick even tougher. If this was not a SuperFlex league, I would have considered adding another receiver here but it's always a good idea to add another prospect to call signals to your Super-Flex team to make sure you don't suddenly find the cupboard bare.
Dennis Michelsen, @DmicMedia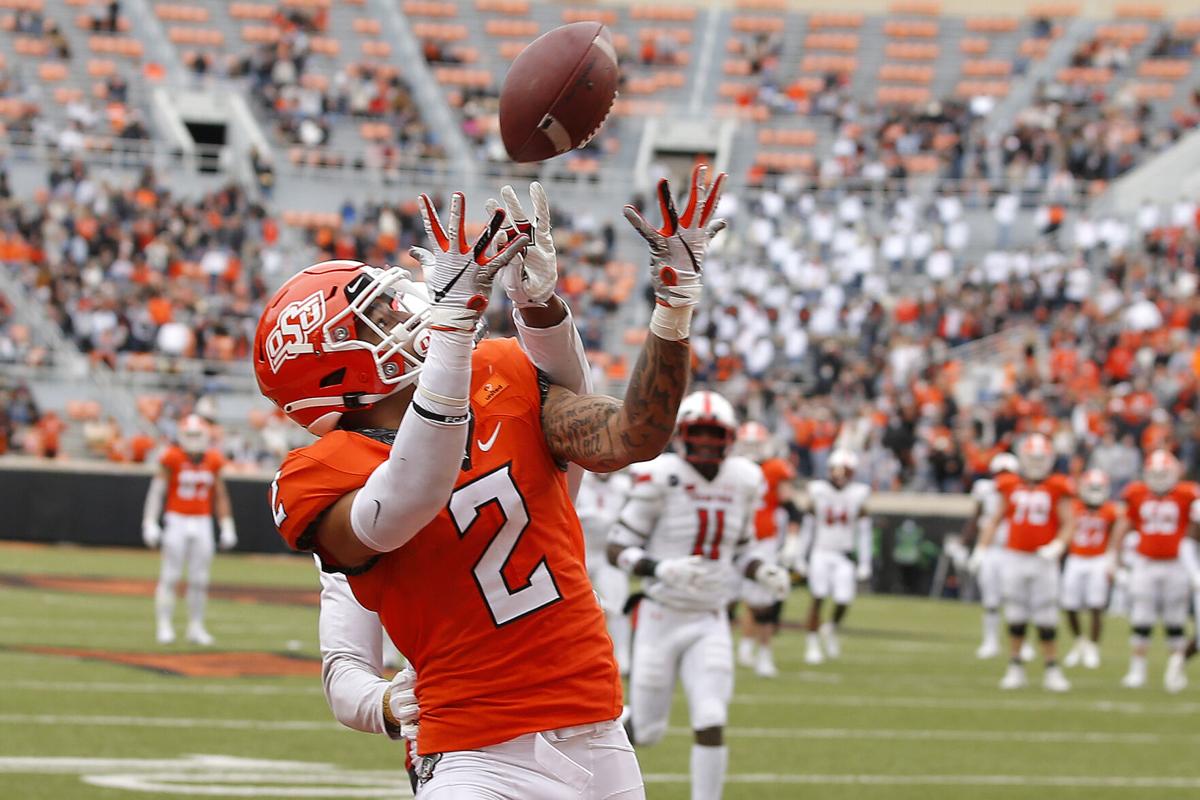 2.05 WR Tylan Wallace, Oklahoma State
If I can draft Tylan Wallace at this value, I will likely do so in every rookie draft that I participate in. He's become a tremendous value in a loaded wide receiver class. Wallace has proven himself capable of producing both as an outside receiver and from the slot. His physicality at the catch point and ability to win in jump ball situations is fantastic and has good enough athleticism to create yards after the catch as well.
Anthony Corrente, @DynastyDrive
2.06 WR Terrace Marshall, LSU
Upside, upside, upside. In the second round, we're shooting for the stars, and with Marshall's size (6'3, 200-pounds) and talent, he could develop into a team's alpha playmaker. He was a highly touted high school recruit and five-star prospect. He's a beast, and in a deep receiver class, I'm happy to snag him in the mid-second. Yes, Marshall had some drops, and he needs refinement in his routes, but that will come with coaching, and at his age, we're looking for the tools that can make him into a fantasy stud.
Luke Thompson, @xXLT24Xx
2.07 RB Michael Carter, North Carolina
Michael Carter made some noise at the Senior Bowl as he was the only running back that did much of anything for either team. I think Carter has been overlooked at times because his teammate at UNC Javonte Williams looks so good. But Carter seems equally impressive, in my opinion. He is so elusive with his start-and-stopping ability. He can cut on a dime, and it's impressive watching him plant his foot, make a cut, and turn on the jets. Note, he is comparable in size to every running back San Francisco employed this year. Hint, I think the 49ers are an ideal landing spot for Carter.
Rich Maletto, @BodaciousBeer
2.08 WR Amari Rodgers, Clemson
I was hoping that Amari would fall to me here at pick 2.08, and luckily for me, he did. He is not the biggest receiver at 5'10" and 210-pounds, but he is explosive and uses his very dependable hands to make plays. He is one of only a handful of receivers that can boast an 81.5% career catch rate on 222 targets. He had an excellent week at the Senior Bowl, and since we won't have a normal Combine this year, the performance should really improve his draft stock. Some of the best defenders at the Senior Bowl could not cover him, and he was catching everything thrown his way. I have him ranked as my No. 5 wide receiver in this draft class so I will be very happy to draft him in the second round of my fantasy rookie drafts.
Jeremy Miller, @Miller88Jeremy
2.09 WR Kadarius Toney, Florida
With Sammy Watkins on the downside, visions of Kadarius Toney as a member of the Chiefs are dancing in my head. The Gators' speedster is an explosive talent with the lateral quickness and burst of speed that makes most think he will thrive in a spread system. Toney can take the short pass and go the distance or beat his man 50 yards downfield. Certainly, physically gifted enough to be a solid fantasy producer, Toney will be a YAC monster in the NFL that will either thrive in an offense with a great quarterback or make a young gunslinger a nice security blanket. His performance at the Senior Bowl led to him being named receiver of the week. As a rookie, a 700-yard season and five scores is clearly in reach with 1,100-yard, 10-touchdown upside in his prime.
Mitch Hardt, @aceholesrule
2.10 RB Trey Sermon, Oklahoma
I like to diversify positions in rookie drafts. Had I not taken Waddle in the first round, I would've looked at Amon-Ra St. Brown. And the idea of Chuba Hubbard crossed my mind, but there is a lot of wear and tread on those tires. Sermon put his skillset on display in the Big Ten Championship Game against a stout Northwestern defense. He has the potential to follow the AJ Dillon route; backup for most of year one, then show a team he is ready to take over as a sophomore in the NFL.
Ryan Stern, @rstern33
Avengers Assemble: Mock Drafters
Draft Order and Participants
1. Michael Lavery, @mike__lavery
2. Patrick Sullivan, @cfbdfs
3. John Laub, @GridironSchol91
4. Dennis Michelsen, @DmicMedia
5. Anthony Corrente, @DynastyDrive
6. Luke Thompson, @xXLT24Xx
7. Rich Maletto, @BodaciousBeer
8. Jeremy Miller, @Miller88Jeremy
9. Mitch Hardt, @aceholesrule
10. Ryan Stern, @rstern33
11. Coach Schepps, @CoachSchepps
12. Benjamin Cunningham, @BenC1357
2.11 WR Elijah Moore, Mississippi
I loved his 2020 Bama film. The dude showed he is tough as nails, got big-time play making ability and knows how to track the ball in flight. Could be a steal here late in the second round if he goes to a high-volume passing attack. Put the ball in Moore's hands six-to-eight times a game, and he'll break a few big ones for you.
Coach Schepps, @CoachSchepps
2.12 WR Amon-Ra St. Brown, USC
St. Brown is another wide receiver that I have ranked higher than this selection. He produced immediately at USC and is leaving college early; the analytics crowd would be pleased. St. Brown, however, also jumps off the tape with his quick feet that allow him the ability to separate quickly and an aggressive playing style that allows him to win even against bigger defenders. A team with the system and coaches to exploit his explosiveness could have themselves a star on their hands.
Benjamin Cunningham, @BenC1357
Third-Round Recap and Analysis
3.01 WR Dyami Brown, North Carolina
Honestly, I was hoping Elijah Moore or Amon-Ra St. Brown would fall here, but Dyami at 3.01 is an incredible consolation prize. With adequate size at 6'1" and 195-pounds, he's one of the top deep threats in the class. He recorded over 20 yards per catch, totaling 2,133 yards and 20 TDs the last two years. Dyami also posted strong dominator (31.7%) and breakout age (19.8) numbers. That profile is worth a third-round pick every time.
Michael Lavery, @mike__lavery
3.02 WR Tamorrion Terry, Florida State
A run on wide outs! And since I was burned on getting Moore a round earlier, I was hell bent to get a pass catcher in round three. Tamorrion Terry is a walking dude alert. His time in Tallahassee was mixed at best. Plenty of reports of him clashing with his coaches are probably a little over-blown; what stud receiver nowadays isn't clashing with somebody, right? His production belies his skill; the FSU Quarterback Room hasn't seen a lot of NFL arms of late nor do they typically have time to make reads, throws, etc. Put Terry in a professional setting, he's going to be a professional wide receiver.
Patrick Sullivan, @cfbdfs
3.03 D'Wayne Eskridge, Western Michigan
In the third-round of a Dynasty draft, I like to target the best player remaining on my board regardless of position. Last year, I acquired QB Jalen Hurts in three drafts in the third round. I could not pass on the value and potential upside. Looking at my Dynasty draft board, D'Wayne Eskridge and Chuba Hubbard stood at the top of my positional rankings. Having taken two running backs, I would clearly hammer the receiver position over the next couple of rounds—I wanted to model my strategy. Therefore, the Western Michigan home run hitter became my selection. At 5'9" and 190-pounds, Eskridge impressed onlookers at the Senior Bowl and ascended up organizations' draft boards. He is a versatile and electric playmaker with a track-and-field background in high school. In the NFL, Eskridge is an immediate contributor on special teams and a nice upside asset on Dynasty rosters.
John Laub, @GridironSchol91
3.04 WR Seth Williams, Auburn
This was a tough choice because a few runners that I like such as Chuba Hubbard and Jaret Patterson were still on the board as was talented tight end Brevin Jordan. I was hoping Amon-Ra St Brown, Tamorion Terry or D'Wayne Eskridge would be left at this time. Williams has the size to be a decent red-zone target for the right team, right away and could be a top flight wide out if his route running improves at the next level.
Dennis Michelsen, @DmicMedia
3.05 RB Chuba Hubbard, Oklahoma State
Hubbard is a player who one year ago would have been a near consensus round one player in rookie drafts. Fast forward through a subpar 2020 season at Oklahoma State and he is available in the middle of the third round. The upside Hubbard has is worth rolling the dice on this late, and frankly, probably even slightly earlier for me. This is a player who has a season of over 2,000 rushing yards on his resume and has world-class speed and acceleration. If he lands in an outside zone scheme, Hubbard could prove to be the steal of rookie drafts.
Anthony Corrente, @DynastyDrive
3.06 TE Pat Freiermuth, Penn State
Pat Freiermuth and Brevin Jordan were considerations here. I've flip-flopped back and forth, and probably will continue until we see their landing spots. Ultimately, I chose the guy with the prototypical size (6'5" and 250-pounds) that can play with his hand in the dirt and will be a mismatch in coverage. He blocks well, catches well and moves well for his size. With tight end being a crapshoot, he's worth a pick in the third round and can be an immediate contributor to both NFL and fantasy teams.
Luke Thompson, @xXLT24Xx
3.07 WR Dez Fitzpatrick, Louisville
I will be upfront. I have a thing for bigger, taller receivers. I believe that you can't coach or teach speed and size. At 6'2″ and 210-pounds, Fitzpatrick has the build to play in the NFL. The Louisville product should be more than an adequate, red-zone target at that size. The way he attacks the ball on contested passes, I see Dez being a problem for a lot of defensive backs. Fitzpatrick does possess a lot of the skill set needed to be successful in the NFL. He has the size and is rumored to be in that 4.4-4.5 range in the forty, and he had a lot of attention coming out of high school.
Rich Maletto, @BodaciousBeer
3.08 TE Brevin Jordan, Miami
I was pleasantly surprised when Brevin Jordan fell to me at this point in the draft. I have him ranked as my second tight end in this draft class behind only Kyle Pitts. Brevin has great athleticism for a tight end at 6'3' and 245-pounds. Unlike most tight end prospects, he should get on the field right away because of his dual-threat traits. He is a physical blocker that will help get him looks in the play-action game early in his career. In the passing game, he is a match up problem for linebackers and most safeties in the middle of the field. He is a player that I will be targeting in the middle of the second round, and definitely in the third round, of my fantasy rookie drafts this year.
Jeremy Miller, @Miller88Jeremy
3.09 RB Jaret Patterson, Buffalo
It is a rarity to get a "thunder" back at less than 200-pounds as a rookie. Patterson and the production remind me of Ahmad Bradshaw. Bradshaw was another prolific small-school back that was more power than speed. Patterson was second in the country in yards after contact. An extremely difficult back to bring down as a smaller man. While in ppr-scoring formats, he might scare you, don't be afraid. He averaged 14 yards per reception; he just was never asked to catch the ball. Patterson likely will fail, as most backs his size do, but I remember telling people that Bradshaw would succeed, and I was right. I think Patterson will make me right again. As a freshman, a 350-yard season and likely fantasy bench warmer. Nevertheless, the Buffalo product could be a Top-12 NFL back down the road.
Mitch Hardt, @aceholesrule
3.10 QB Kyle Trask, Florida
I was not expecting Trask to be here 34 picks into the draft. He is the last of the draftable quarterbacks in rookie only drafts, and in a SuperFlex league, his value should be much higher than this. Do I expect him to be a starter year one? No. Do I think he has a chance to be a starter by year two or three? Possibly. That's a risk I'm willing to take at the end of the third round.
Ryan Stern, @rstern33
3.11 RB Kylin Hill, Mississippi State
In 2019, Kylin Hill led the SEC in rush attempts (242) and was third in rushing yards (1,350). Hill is an aggressive, physical back who runs hard and he plays fast. There is no questions that he's got the ability…the question is, what type of opportunity is he going to get in the NFL?
Coach Schepps, @CoachSchepps
3.12 WR Sage Surratt, Wake Forest
At this point in the scouting process, especially before the NFL Draft, we are throwing darts. Surratt opted out of the 2020 season after a strong start to his career at Wake Forest. He has a big frame and can use it to make the tough catches. However, his lack of elite athleticism is going to make translating to the NFL difficult. He reminds me of Gabriel Davis from last year's process so I'm willing to take the chance with the last pick of the third round.
Benjamin Cunningham, @BenC1357
Best Remaining Players
RB Javian Hawkins, Louisville
RB Larry Roundtree, Missouri
RB Khalil Herbert, Virginia Tech
WR Demetric Felton, UCLA
WR Shi Smith, South Carolina
WR Nico Collins, Michigan
WR TuTu Atwell, Louisville
TE Hunter Long, Boston College