Ranking the Runners: 2022 Running Back Prospects part I
By John Laub
Ranking the Runners:
2022 Running Back Prospects part I
In order to be a great teacher, one must be able to reflect and the same applies to scouting and assessing players. Whenever I begin my Scholar's Study Sheets: NFL Draft Prospects, I look back and try to learn from my previous process in order to improve.
As I sit down at the keyboard, I cannot believe that it is my ninth year publishing running back profiles on FootballDiehards.com. Despite being an NFL fanatic since 1977, it took me nearly five years to become proficient, and self-assured, at a new trade. Now, I am bullish that my system, model and film study work in unison to identify the elite prospects in the upcoming NFL Draft.
After the Combine, the top of my board changed dramatically. Over the past four years, Najee Harris (2021), Jonathan Taylor (2020) and Saquon Barkley (2018) all earned extraordinarily high grades. After recording a better-than expected 40-yard dash, Breece Hall now ranks among an elite cadre of running back prospects and warrants a first-round selection in the Draft.
Gridiron Scholar's Running Back Model
(Click the link above to see the model and Class of 2022 prospects)
There is depth in the group and a NFL team, and fantasy manager, may be able to pluck a gem in the third or fourth round i.e., Antonio Gibson (2020) and Elijah Mitchell (2021). It will be wise to be patient this year and possibly double dip at the position later in fantasy drafts in hopes of landing an undervalued ball carrier.
I have watched hours of film, taken in-game notes during the fall, uploaded the career statistics and graded the top running backs available in the 2022 NFL Draft. It is time to share the results of my endeavors with Draftniks, and Fantasy Footballers, like myself.…Enjoy my fellow diehards!
Benchmark College Stats for Draft Consideration
Yards per Carry: Over 5.25 yards per carry
Receptions: Over 50 career catches
Yards from Scrimmage: 1,500 yards
Team Scrimmage Yards Dominator: 25%
Breakaway Ability:
4.55 seconds (or less) in the 40-yard dash
7.00 seconds (or less) in 3-cone drill
4.30 seconds (or less) on the 20-yard shuttle
Pro-Day measurements will be updated as they become available.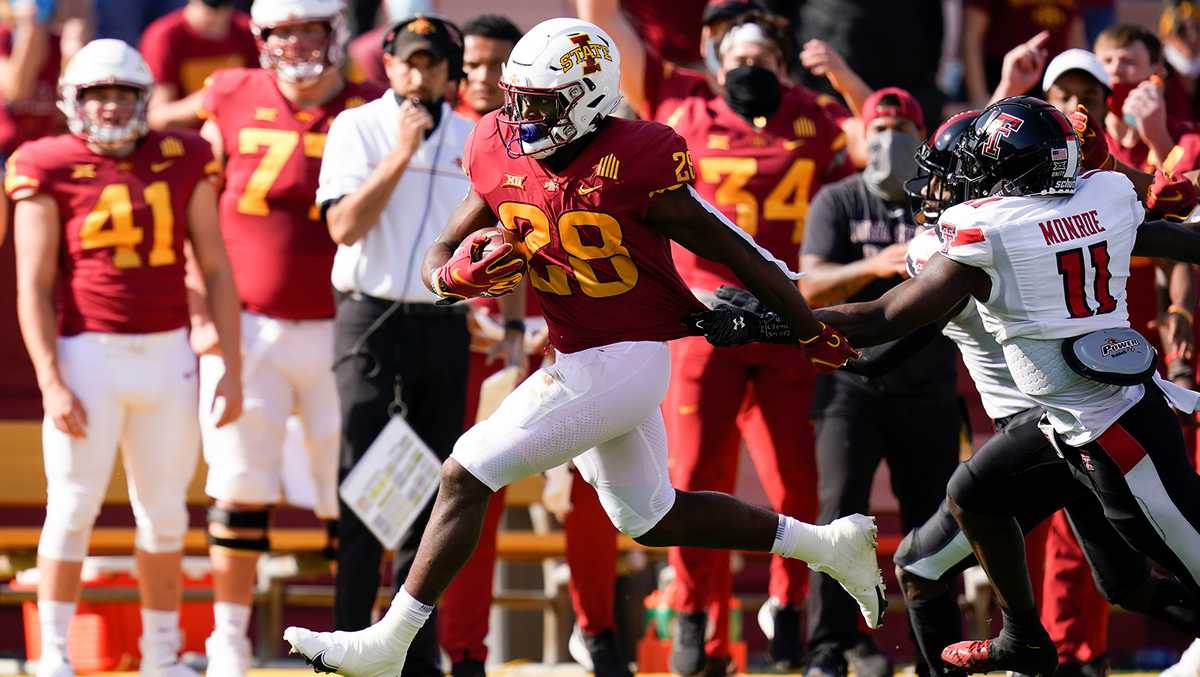 1. Breece Hall, Iowa State
Cyclones' powerful runner stands atop the Class of 2022 running back prospects. In 2021 and 2020, Consensus All-American, Doak Walker Finalist and Big 12 Offensive Player of the Year. Finished among Top 10 in Heisman voting: sixth in 2020 and tenth in 2021. First Team All-Big 12 past two seasons. First Team All-Freshman in 2019 (PFF). Back-to-back 1,400 yard-rushing campaigns and 20 rushing scores. Established NCAA record with rushing touchdown in 24 straight games. Eclipsed 100-yards rushing in 20 games. In high school, four-star recruit. Cousin of 1988 NFL MVP Roger Craig. At 5'11" and 217-pounds, stout and sturdy frame of a workhorse ball carrier with vision, patience and burst. Versatile competitor: three-down, short yardage and pass-catcher. Very good lateral movement and natural elusiveness. Patient and intelligent runner: Excellent short-area burst and vision. Easily breaks tackles. Good contact balance: Power runner who lowers pads and hits defenders. Twitchy athleticism and nice footwork. Natural hands and shifty in the open field. Underrated long speed and elusiveness. Excellent ball security. Occasionally, does not employ power and strength to overcome tacklers. Needs to play lower and use leverage better. Must improve pass blocking. Day one starter as a professional with a high ceiling.
Scholar's Key Career Stats
Rushing Yards: 3,941
Yards per Carry: 5.5
Receptions: 82
2021 Season
Yards from Scrimmage: 1,774
Scrimmage Yards Dominator: 34%
Breakaway Ability
40-yard Dash: 4.39
Draft Grade: First Round
2. Kenneth Walker, Michigan State
Highest climber among running back prospects after stupendous season in East Lansing. Originally enrolled at Wake Forest and transferred to Michigan State. In 2021, rushed for 1,646—fourth all-time single-season rushing yards at Michigan State—scored 18 touchdowns, registered 13 catches for 89 yards and a score. Walter Camp Player of the Year and Doak Walker Award winner—first Spartan ever to win the Walter Camp Award. Big Ten Co-Offensive Player of the Year and Ameche-Dayne Running Back of the Year. Consensus First Team All-American and All-Big Ten. In two seasons at Wake Forest, gained 1,158 yards and six touchdowns. In a rotation for coach Dave Clausen and never became an undisputed starter for Demon Deacons. As a freshman in 2019, set a school record with a 96-yard TD run versus Rice. As a sophomore, named to the Doak Walker Award watch list. In high school, three-star recruit by 247Sports, Team Captain and 104-rated player in Tennessee. At 5'9" and 211-pounds, runs angry with purpose. Physical runner who packs a wallop. Stupendous lower body strength. Powers through traffic. Excels on the goal line and in short yardage. Explodes through holes and can bounce plays outside. Very good vision and acceleration. Quick feet and follows blockers well. Exceptional contact balance and breaks leg tackles. Absorbs contact and bounces off defenders. Versus in-state rival Michigan carried 23 times for 197 yards and five touchdowns. A quality NFL starter who could record multiple 1,100-yard rushing campaigns as a professional.
Scholar's Key Career Stats
Rushing Yards: 2,804
Yards per Carry: 5.8
Receptions: 19
2021 Season
Yards from Scrimmage: 1,735
Scrimmage Yards Dominator: 34%
Breakaway Ability
40-yard Dash: 4.38
Draft Grade: Second Round
3. Isaiah Spiller, Texas A&M
Aggies' big and well built competitor flees College Station after three crusades. In 2021, Second Team All-SEC (Coaches' and AP). Paced the Aggies in rushing with 1,011 yards. In 2020, First Team All-SEC and Doak Walker Semifinalist. Finished third in the SEC with 1,036 rushing yards. In 2019, All-Freshman SEC Team. During collegiate career, logged over 100 yards rushing 16 times and surpassed 1,000 yards in back-to-back campaigns. Snatched more than 20 passes every season (29, 20 and 25). In high school, Under Armour All-American and four-star prospect by 247Sports. At 6'0" and 217-pounds, competitive ball carrier who runs hard with good vision. Difficult to tackle in the open field. Packs a punch. Excelled in a zone-scheme: Hits hole and blasts through it. Works well between the tackles in traffic. Employs jump cuts and lateral jumps to make defenders whiff. Stupendous contact balance. Patient runner who runs north-south. Three-down ball carrier. Very good short-yardage and goal line runner. Good pass-catcher who was under-utilized at Texas A&M: mostly used on wheels, screens and check downs. Upright runner with long strides. Identifies blitzers and allows the quarterback more time in the pocket. Lacks elite long speed and burst. Misses holes in gap schemes and attempts to bounce outside. A second-rounder who illustrates tremendous NFL traits.
Scholar's Key Career Stats
Rushing Yards: 2,993
Yards per Carry: 5.5
Receptions: 74
2020 Season
Yards from Scrimmage: 1,229
Scrimmage Yards Dominator: 28%
Breakaway Ability
40-yard Dash: n/a
Draft Grade: Third Round
4. Brian Robinson, Alabama
Alabama football factory produces another skillful runner. Bruising ball carrier who waited for opportunity to start behind Najee Harris, Damien Harris and Josh Jacobs in Tuscaloosa. First Team All-SEC after scampering for over 1,200 yards and scoring 16 times. Led team in attempts (271), rushing yards (1,343) and touchdowns (14). 2021 Cotton Bowl MVP: Steamrolled Cincinnati with 204 rushing yards on 26 carries. Named Walter Camp Offensive Player of the Week after performance versus Mississippi. Career at Alabama: finished tenth all-time in rushing touchdowns (29) and eleventh in rushing yards. In high school in 2017, ranked as a four-star recruit and top running back prospect in Alabama. At 6'2" and 225-pounds, determined and strong competitor between the tackles. Physically imposing athlete: Lowers shoulder and packs a punch. Long stridder. Good contact balance and churns legs through contact. Welcomes hits and bounces off tacklers. Presses hole and explodes through it. Squares shoulders and moves opponents backwards. Very good jump cuts and spatial awareness. Fantastic footwork and gallops through creases. Solid pass catcher who has soft hands. Lacks elite acceleration and burst. Runs upright at times. Bellcow potential in the right situation. NFL scouts and organizations rank the bulldozing back highly and likely drafted in the second round.
Scholar's Key Career Stats
Rushing Yards: 2,704
Yards per Carry: 5.0
Receptions: 52
2021 Season
Yards from Scrimmage: 1,639
Scrimmage Yards Dominator: 22%
Breakaway Ability
40-yard Dash: 4.53
Draft Grade: Third Round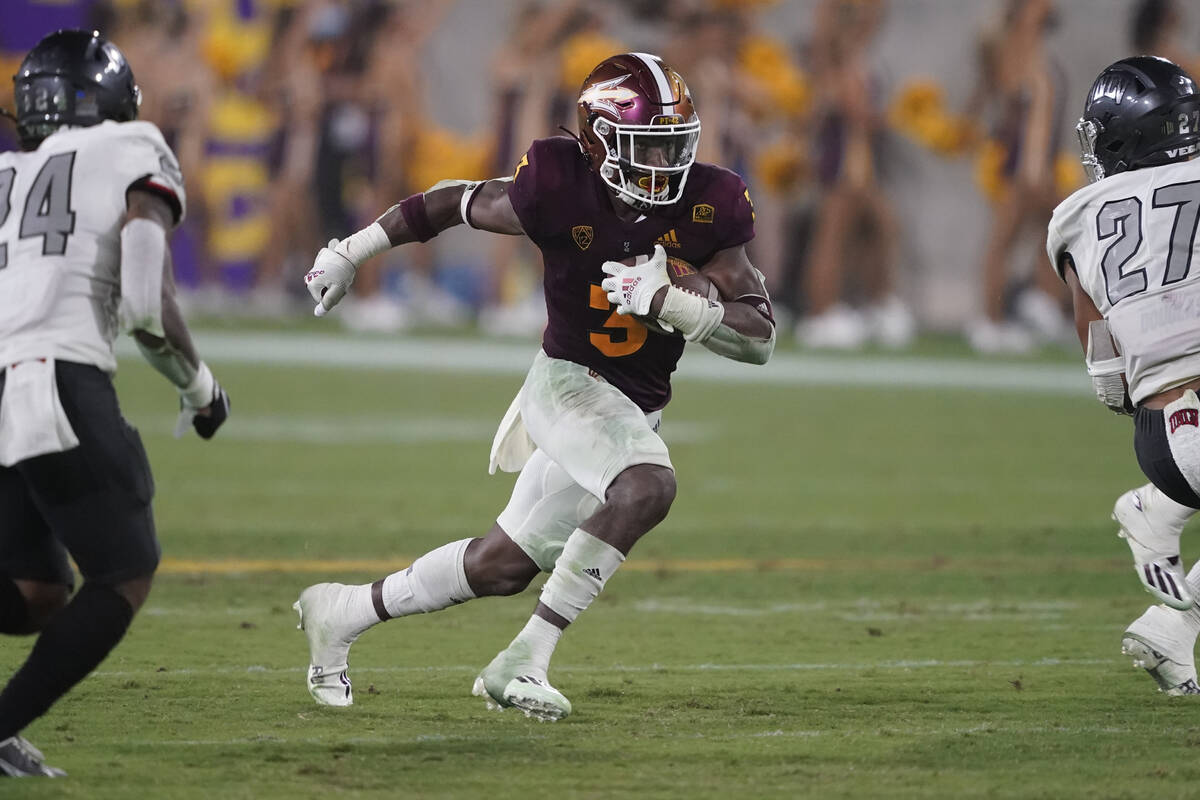 5. Rachaad White, Arizona State
Sun Devils' pass-catching dynamo ranks among the top ball carriers. JUCO transfer who blossomed at Arizona State. In 2021, All-PAC 12 Second Team: Gained over 1,000 yards rushing and totalled over 1,450 yards from scrimmage. Surpassed 200 yards rushing versus USC and 184 rushing the next week against Washington. Logged five games with over five receptions. In 2020, named Honorable Mention All-PAC 12. In four games, averaged over 100 rushing yards and corralled eight passes for 151 yards. Played at Mt. San Antonio College (2018-19): Rushed for 1,264 yards, averaged 6.4 ypc. and scored 10 touchdowns as a sophomore. Named First Team All-American (CCCAA) and ranked as the No. 3 JUCO running back. In high school, a three-star prospect by 247Sports. At 6'0" and 214-pounds, fluid and efficient runner who employs eye-popping lateral agility and speed. Shifty ball carrier. Good patience and vision: Finds creases in traffic. Reaches top-end speed rapidly. Physical competitor and tough to corral in open space. Named to Bruce Feldman's "Freaks" list. Stupendous spin moves, cut backs and stiff arms. Excellent pass catcher, who ran a diverse route tree. Long arms and catch radius. Adjusts well to poorly thrown passes. Utilized in the slot and out of the backfield. Needs to improve pass blocking. Change of pace runner. A likely Day 2 selection who has a high ceiling with his pass-catching abilities.
Scholar's Key Career Stats
Rushing Yards: 1,420
Yards per Carry: 6.3
Receptions: 51
2021 Season
Yards from Scrimmage: 1,456
Scrimmage Yards Dominator: 30%
Breakaway Ability
40-yard Dash: 4.48
Draft Grade: Third Round
6. James Cook, Georgia
Younger brother of Vikings' running back Dalvin. Started just six games in four years at Georgia. Second on depth chart behind Zamir White during tenure. In 2021, posted career bests across the board: 728 rushing yards, 6.4 yards per carry (ypc.), seven rushing touchdowns, 27 catches, 284 receiving yards and four receiving touchdowns. Only lost one fumble in four seasons. Career highs of only 12 carries in a game and 2x 104 rushing yards. Against Michigan in the CFP semifinals, logged a career-best 112 receiving yards. A four-star recruit from Miami, Florida who was top-ranked all-purpose running back in the state and No. 41 overall player by 247Sports. Selected to play in the 2018 U.S. Army All-American Bowl. An eye-popping Combine: 4.42 (40-yard dash), 33" (Vertical Jump) and 10'4" (Broad Jump). At 5'11" and 199-pounds, an excellent combination of vision, quickness, burst and lateral agility. Versatile three-down ball carrier. Good outside runner with patience. Rapidly changes direction. Undersized playmaker who excels in a zone-blocking scheme. Runs through arm tackles. Reads blocks well and one-cut ball carrier who dismantles ankles. Sets up blocks with patience and footwork. Extraordinary pass catcher who tracks the ball well. Very good hands and route runner out of the backfield. Great body control to corral passes. Lined up as a receiver and placed in motion on passing downs. In the modern game, skill set and athletic ability will shine at the next level when called upon.
Scholar's Key Career Stats
Rushing Yards: 1,503
Yards per Carry: 6.5
Receptions: 67
2021 Season
Yards from Scrimmage: 1,012
Scrimmage Yards Dominator: 15%
Breakaway Ability
40-yard Dash: 4.42
Draft Grade: Third Round