2023 Fantastic Fantasy Freshmen Post-Draft Rankings part II
By John Laub
Fantastic Fantasy
Freshmen
Post-Draft Rankings part II
Cum Laude
RB Roschon Johnson, Chicago
In January, I co-hosted a Senior Bowl preview show and told the viewers that the NFL would like Roschon Johnson more than the fantasy football community likely would. He did not pop in an analytics profile of college production and played for four years on campus.
After 45 years watching football, I knew NFL scouts would like the bruising back from Texas. "(Johnson is) hard-nosed. Fits this division (NFC North) to a tee. Powerful, physical, breaks a lot of tackles. He has a lot of hidden yardage with him. I have a feeling this guy is going to be with us for a really long time. He just emulates everything we want a Chicago Bear to be," Bears area scout John Syty reflected after the Draft (nbcsports.com).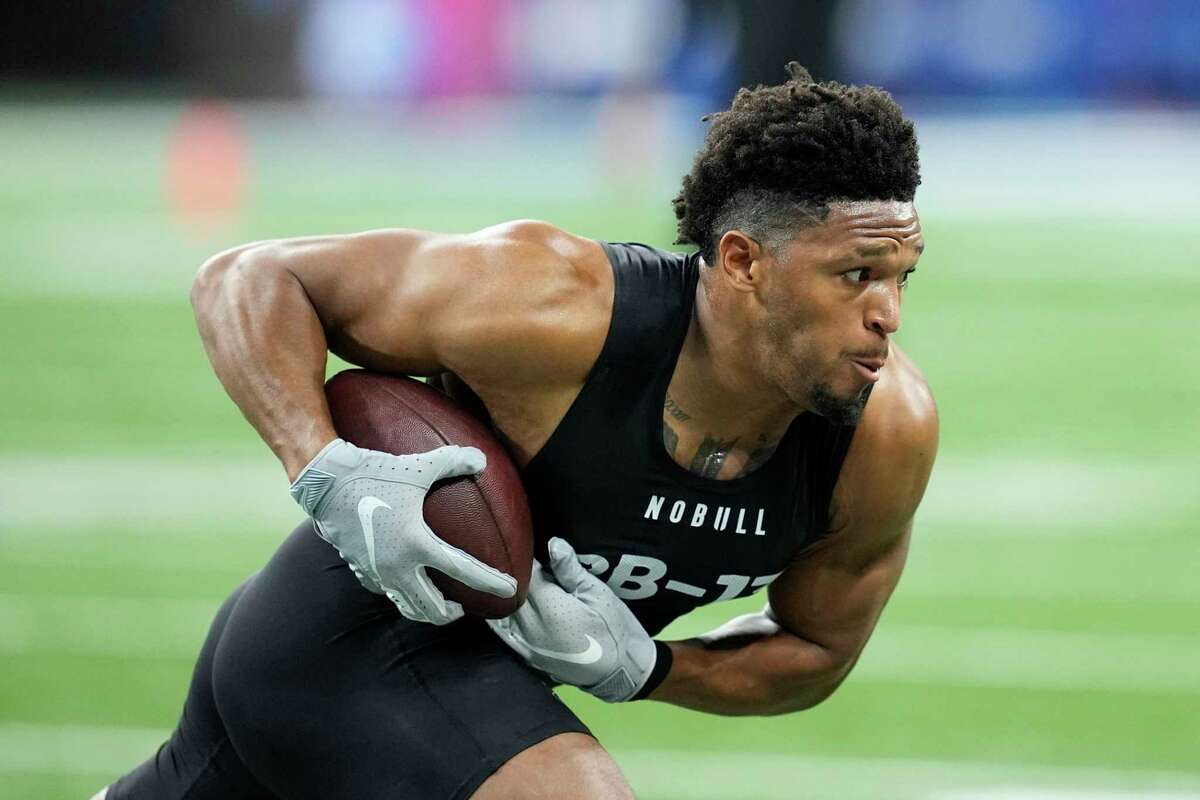 In the fourth round, Chicago plucked Johnson off the board with the thirteenth selection. When training camp opens, free agent D'Onta Foreman and third-year ball carrier Khalil Herbert adorn the top of the Bears' depth chart. Neither is a bonafide three-down back, and the former Longhorn should see touches in the Windy City.
At 6'0" and 219-pounds, Johnson will carve out a significant role as the season progresses for the Bears. By the end of the campaign, do not be surprised if the rookie is the lead ball carrier in the backfield: Johnson is the perfect thumper to the elusive and electric Justin Fields.
2023 Projections: 800 rushing yards, 20 receptions for 100 yards and eight touchdowns
Grade: C+
RB Kendre Miller, Saints
Currently, Alvin Kamara's legal status is unresolved, and a gray cloud hangs over the Saints' fantasy production among the runners. Who will be the leader in carries and targets in 2023? Is it Kamara, free agent Jamaal Williams, or rookie Kendre Miller? Looking at the situation from afar, there is no clarity at this point.
At 5'11" and 215-pounds, Miller looks like an NFL bruiser with grit, ruggedness and physicality. He uses good vision to identify cut-back lanes and is an elusive downhill runner. "Miller runs with violence. He's a one-cut runner. He'll press a hole and be able to put his foot in the ground and get North to South. He's got speed to be a home-run hitter, too," Saints' coach Dennis Allen expressed when breaking down the former Horned Frogs' star (nola.com).
Miller has a good size-and-speed combination with agility and twitch. A North-South ball carrier, the freshman is also a creative and natural runner with good spatial awareness. There is no certainty that Miller earns the majority of the carries this year. Yet, it is within his range of outcomes to be the lead back by November in the Big Easy.
2023 Projections: 800 rushing yards, 10 receptions for 60 yards and seven touchdowns
Grade: C+
Scholar's post-Draft Stupendous 60
(Hit link above for the Stupendous 60 rankings)
WR Jonathan Mingo, Panthers
One of the biggest risers among receivers in the '23 Class, Jonathan Mingo garnered second-round draft capital (2.08) and the fifth wideout taken. Therefore, fantasy diehards must take a closer look at the former Mississippi product.
At 6'2" and 225-pounds, Mingo has prototypical size and speed as a boundary receiver. With excellent catch-and-run skills, he has a big frame and employs strong hands, good technique and steadfast determination to succeed as a pass-catcher. "I can turn a little five-yard hitch into an eight-yard touchdown, to make things easier on the quarterback. Gotta make the quarterback look good," Mingo said (panthers.com).
On the depth chart, the Panthers list an aging Adam Thielen, declining DJ Chark and under performing Terrace Marshall, Jr. at receiver. With the first-pick overall in the Draft, the Panthers selected quarterback Bryce Young. Mingo furnishes a young difference-maker on the outside to develop with Young. There is a feasible likelihood that Mingo leads the team in targets as a freshman.
2023 Projections: 60 receptions for 780 yards and five touchdowns
Grade: B-
Twitterverse on Fire!
Last year, Tyler Allgeier and Isiah Pacheco both were selected late on Day 3 of the NFL Draft and became viable fantasy starters. Identify the third-day running back most likely to make a fantasy impact in 2023:
Israel Abanikanda, Jets: 14%
Chase Brown, Bengals: 47%
Deuce Vaughn, Cowboys: 22%
DeWayne McBride, Vikings: 17%
Scholar's Selection: "Chase Brown has the clearest path to fantasy relevancy. Without clarity on his legal challenges, veteran Joe Mixon is the x-factor in the Cincinnati backfield. Will he be back this season? If not, Brown could earn significant touches." @Gridironschol91
"Chase Brown with Samaje Perine gone and Joe Mixon pushing himself out the door. Brown is primed for carries and receptions." @NinoBrown_T2T
"Chase Brown for me. Coming into the draft, I thought the Bengals would draft Joe Mixon's replacement and they did. I think Chase plays early and, by the playoffs, he will be Cincinnati's most effective runner." @aceholesrule
"My prediction is that Chase Brown wins this vote but I actually like DeWayne McBride. If the Vikings deal Dalvin Cook, I think he could eventually take over the lead back role ahead of Mattison. Chase needs to learn the pass protection role of a RB. It's a huge weakness in his game." @DmicMedia
"I'll go Chase Brown. Joe Mixon has off the field issues (possible suspension?), and honestly, didn't look great last season. Brown has shown that he can carry a heavy load from his Illinois days." @FabFalco
"I like Eric Gray in New York." @Rp3nyg22
"Give me Zach Evans." @nolanhummel
"I chose Chase Brown for 2023 because competition in the backfield behind the starter feels lighter than for Israel Abanikanda (who I still have ranked higher) and there is still a small possibility that Joe Mixon is gone...But if I'm drafting today, I likely take Izzy." @FFjunkie_
"Based on current situations, Chase Brown offers the most potential value. But when, or if, Dalvin Cook gets moved, DeWayne McBride has a real chance to beat out Alexander Mattison for the lead role in Minnesota." @2fatguysff
Honors
WR Quentin Johnston, Chargers
Before the Draft, I was not a big believer in Quentin Johnston as a NFL prospect. Lukewarm on the production profile at TCU, my film grades called attention to challenges in regard to route running and hands at the catch point. Johnston ranked fourth among receivers in my analysis.
Nevertheless, the Chargers valued Johnston highly and selected him as the second receiver off the board. "(Johnston) is a weapon to score any time that he touches the ball. There are very few receivers in the game who are threats to score whenever they have it," Chargers' coach Brandon Staley uttered after the selection (chargers.com).
Veteran receivers Keenan Allen and Mike Williams impede Johnston's path to immediate fantasy prominence. However, the two stars missed a combined 11 games last year and both are over 28 years old. At 6'3" and 212-pounds, Johnston is an athletic playmaker, who made Bruce Feldman's Freak's List at No. 23 last summer. He profiles as a big-bodied X-receiver who wins with long arms, body control and leaping ability.
Most tantalizing, Johnston catches passes from QB Justin Herbert. Despite my pre-draft concerns, it is fair to project an intriguing role for the former TCU playmaker. As a rookie, Johnston is in a really nice situation to score fantasy points in 2023.
2023 Projections: 46 receptions for 690 yards and four touchdowns
Grade: C+
WR Jayden Reed, Packers
The Packers played their hand wonderfully in the NFL Draft. The team traded back twice and still landed the receiver the organization coveted in the second round–Jayden Reed, Michigan State. Coincidentally, Green Bay selected Reed on his twenty-third birthday, which is the best possible present.
"(Reed) is big and he's strong, if you want to simplify it. He's got exceptional strength for a smaller-frame player, and he can run. We think he can do both (slot and outside)...we feel like he's versatile enough to do both," stated Packers' scout Jon Eric Sullivan (packersnews.com).
At 5'11" and 187-pounds, Reed caught 203 passes in college and posted a 31% dominator rating in 2021. He also blazed at the Combine, posting a 4.45 in the 40-yard dash. The former Spartan joins a WR room with rising sophomores Christian Watson and Romeo Doubs. He provides the coaching staff with a versatile playmaker, who can be moved all over the formation. Reed will surprise some fantasy footballers but not the diehards.
2023 Projections: 55 receptions for 680 yards and four touchdowns
Grade: C+
TE Dalton Kincaid, Bills
Analyzing the performance of rookie tight ends, the historical results do not foretell a productive campaign for Dalton Kincaid or any of the other freshmen at the position in 2023. It is rare for a rookie to make a fantasy impact.
In the history of the NFL, only Mike Ditka (1961) and Kyle Pitts (2021) exceeded 1,000 receiving yards their first year in the league. Since 2000, only three competitors—Pitts, Jeremy Shockey and Evan Engram—have recorded more than 700 receiving yards.
Banking on Kincaid to be a fantasy producer disregards the difficult challenge ahead for rookie tight ends. Yet, it is a promising situation for the Bills' first-round selection. He has an exemplary offense, a stupendous quarterback and high-end athletic ability to transcend the historical trends.
"I think Dalton Kincaid is going to be an outstanding NFL player. He's with a great organization, he's got a great quarterback to get him the ball. They do have a really good No. 1 tight end but (Kincaid) will be a great complement to him," Utah coach Kyle Whittingham proclaimed (desert.com).
At 6'4" and 246-pounds, the former Utah product enters the league as a prototypical 'F' tight end prospect. With natural hands and great ball skills, he is a smooth route-runner, who attacks defenses at all levels of the field. Kincaid furnishes QB Josh Allen with another nice playmaker, and the freshman will make a run at becoming the fourth rookie with 700 receiving yards.
2023 Projections: 53 receptions for 665 yards and five touchdowns
Grade: C+
Twitterverse on Fire!
Let's take a look at some IDP linebackers who were drafted on Day 2: Who Ya Got as a fantasy impact player?
Tuli Tuipulotu, Chargers: 8%
BJ Ojulari, Cardinals: 30%
Derick Hall, Seahawks: 15%
Drew Sanders, Denver: 47%
Scholar's Selection: "Looking at depth charts in the poll, Tuli Tuipulotu appears to have less competition to earn a significant role with his team. In 2022, the PAC-12 Defensive Player of the Year led the nation with 13.5 sacks and finished second with 22 tackles for loss."
"Tuli Tuipulotu falls into a good situation. Drue Tranquil is gone and Kenneth Murray isn't that good. Could be LB No. 2 there. I like BJ Ojulari but have no clue what the Cardinals are doing on defense for fantasy. Drew Sanders is in a good spot but Singleton is a tackle hog, which makes me think that Derrick Hall might be the best." @cusumano_sal
"Drew Sanders for me. Seems like a big-time 'football player.' Kinda a throwback guy!" @aceholesrule
"Always a safe bet to go with a Seattle linebacker." @CollectingPack

"Love me some Derick Hall and BJ Ojulari, but in my main IDP leagues Drew Sanders is probably the only guy who meets qualifications. So I wasn't sure how to vote. I think Sanders is correct anyways." @RTTRUTH87