Ranking the Runners 2023 RB Prospects part II
By John Laub
Ranking the Runners
2023 Running Back Prospects
part II
7. Roschon Johnson, Texas
Prospect Resume
Despite backing up Bijan Robinson for three years, profiles as a NFL starter. In 2020, Robinson enrolled at Texas, and afterwards, Johnson remained second on the depth chart. A four-year competitor, who played in 47 games and started five. As a freshman, recorded most productive season in 2019. Registered 649 rushing yards, 23 catches for 158 yards and eight scores. Two times named Big 12 Newcomer of the Week. In college, surpassed 100 yards rushing five times. Career high 31 carries for 179 yards against Kansas State in 2021. Only three games over 20 carries. Finished career as the eighteenth all-time leading rusher at Texas. In high school, a four-star prospect and No. 6 dual-threat quarterback in 2018. Enrolled early at Texas in Jan. 2019. All-American quarterback. Impressed scouts and observers at Senior Bowl in February.
Key Career Stats
Rushing Yards: 2,190
Yards per Carry: 5.6
Receptions: 56
2019 Season
Yards from Scrimmage: 807
Scrimmage Yards Dominator: 13%
Film Breakdown and Skills
At 6'0" and 219-pounds, a physical back, who will excel on early downs. Bruising frame. Stupendous combination of size, power and athleticism. Packs a punch upon contact. An uber tackle breaker: Enjoys stiff-arming defenders. Hits the crease hard and bounces off tacklers. Remains on feet with very good contact balance. Hard-nosed runner, who fights for every inch. Accumulates yards after contact. Superior vision and short-area burst. Excellent in wildcat formation. Powers through the hole head first. Only one career fumble. Great pass blocker: Stone walls pass rushers. Runs with a high-pad level. Not an elite athlete or breakaway runner. Questions in regard to route running and pass-catching ability. Tremendous teammate and leader.
Draft Grade: Third Round
8. Tank Bigsby, Auburn
Prospect Resume
In 2022, Third Team All-SEC (PFF). Three-year starter in the backfield. Manufactured 970 rushing yards on 179 carries and 10 touchdowns. Logged a career-best 30 receptions for 180 yards. In 2021, posted only 1,000-yard season during Tigers' career on 233 carries and scored 10 touchdowns. Honorable mention All-SEC (PFF) and Academic Honor Roll. Pat Sullivan Award honoree. In 2020, enrolled in January at Auburn. Named SEC Freshman of the Year, First Team Freshman All-SEC and Second Team Freshman All-America. Scampered for 834 yards and five touchdowns on 138 carries and added 11 catches for 84 yards. Concluded campus tenure as the seventh all-time rusher and surpassed 100-yards in a game 13 times. In high school, a five-star prospect. As a senior, rushed for 1,636 yards with 27 touchdowns, and as a junior, scampered for 2,221 yards and 22 touchdowns. Named Class AA Georgia Player of the Year as a junior.
Key Career Stats
Rushing Yards: 2,903
Yards per Carry: 5.4
Receptions: 62
2022 Season
Yards from Scrimmage: 1,283
Scrimmage Yards Dominator: 25%
Film Breakdown and Skills
At 6'0" and 210-pounds, a big and shifty back, who navigates traffic well with fancy feet. A patient, one-cut runner, who bursts upfield. North-South competitor. Rapidly identifies cut-back lanes. Awesome acceleration. Tough ball carrier between the tackles. Powers through arm tackles. Great vision and contact balance. Deadly ankle-breaking cuts: Plants foot and rapidly accelerates upfield. Reads blocks well and identifies holes. Grinds out yardage. Gets quickly to the edge and packs a punch outside. Explodes into the open field. Very good instincts and agility. Strings together moves to avoid tacklers. Over the past couple of seasons, played behind a poor offensive line and in a limited passing game. Unrefined pass catcher. Must be more decisive when a crack opens. Inconsistent during campus tenure. Challenges holding onto the pigskin might place him on the bench, or out of favor, with coaching staff. Swings for home run too often: Needs to take the yards presented. Occasionally, indecisive reading blocks. Profiles as a three-down back, who can be a short-yardage piledriver.
Draft Grade: Third Round
2023 Gridiron Scholar's Running Back Model
(Click the link above to see the RB model, benchmarks and players' statistics)
9. Zach Evans, Mississippi
Prospect Resume
In 2022, transferred from TCU to Mississippi. Preseason Third Team All-SEC. Posted a career-best 936 rushing yards on 144 carries and nine touchdowns. In 2021, Big 12 Offensive Player of the Week vs. California (22 carries for 190 yards) and Second Team Academic All-Big 12. Earned 92 carries for 648 yards and five scores. First Horned Frog since 2002 with four consecutive 100-yard rushing games. As a true freshman in 2020, placed third on the team with 415 rushing yards, averaging 7.7 yards per carry, and finished second with four rushing touchdowns. A five-star prospect coming out of high school and the first five-star signee in school history. Ranked by 247Sports.com as the No. 2 running back nationally, No. 16 overall player in the country and the top recruit in Texas. Closed high school career with nearly 5,000 yards rushing and 76 touchdowns. Selected to the Under Armour All-America Game (2019)
Key Career Stats
Rushing Yards: 1,962
Yards per Carry: 7.0
Receptions: 26
2022 Season
Yards from Scrimmage: 992
Scrimmage Yards Dominator: 17%
Film Breakdown and Skills
At 5'11" and 202-pounds, a smooth and elusive one-cut runner. A creative and decisive ball carrier with patience. Slides past tacklers and employs a nice spin move to thwart opponents. Shines between the tackles: Presses the line of scrimmage and bursts through the hole. North-South runner with a very nice initial burst. Falls forward upon contact. Easily stops-starts in traffic. Bounces runs outside well. Very good body control. Physical meeting tacklers in hole: Continues to churn legs. Good long speed in the open. Utilizes dead leg move to create a better angle against defenders. Plays bigger at times than weight indicates. Does not always run behind pads and stays upright. Needs to improve vision in congested quarters and fumble rate. Played in spread offensive concepts with lots of space. Zone scheme best fits his running style. Not a solid pass protector. A wide range of outcomes as a professional: Boom ceiling with a bust floor as a prospect.
Draft Grade: Third Round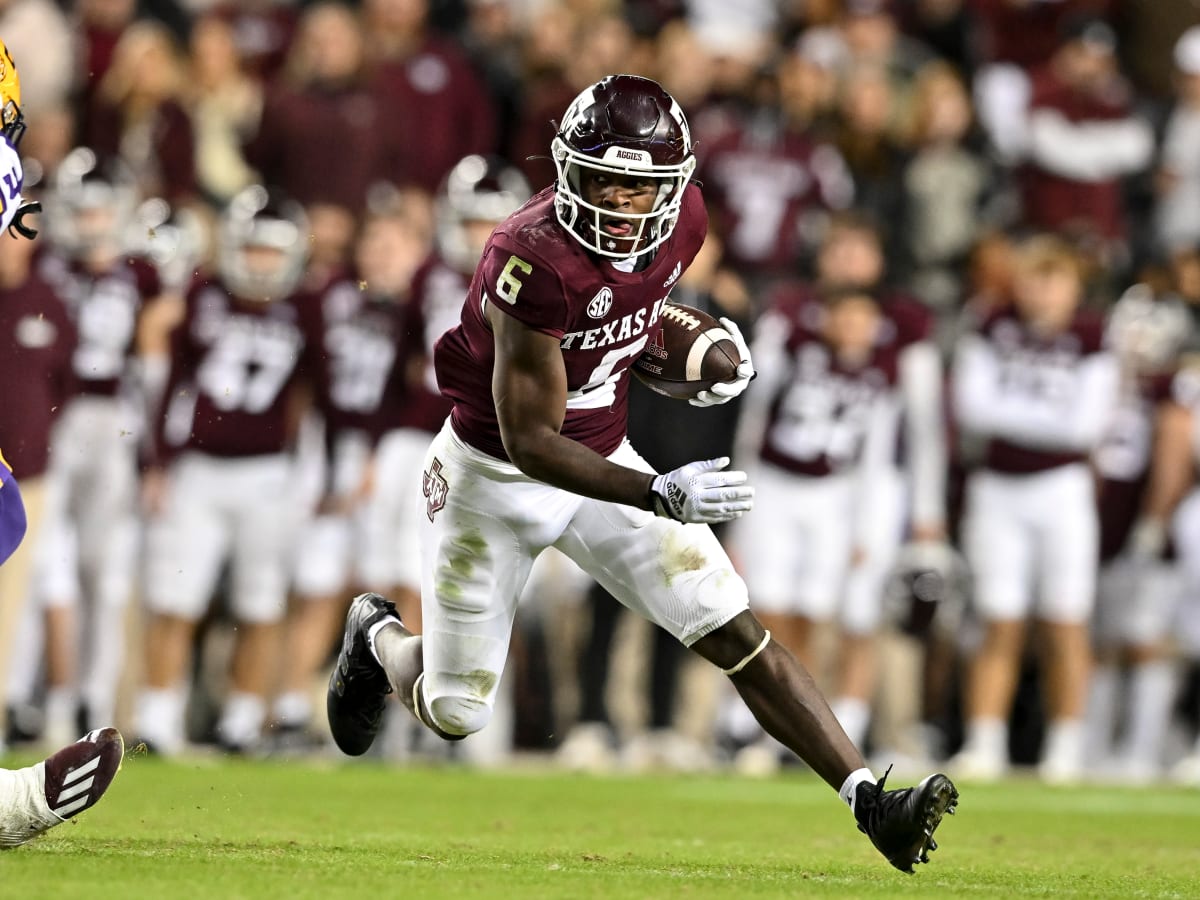 10. Devon Achane, Texas A&M
Prospect Resume
In 2022, First-Team All-SEC at Running Back and All-Purpose. Gained 1,102 yards on 196 carries and scored eight touchdowns and recorded 36 catches for 196 yards and three scores. Led the SEC and ranked fourth nationally averaging 161.0 all-purpose yards per game. Offensive MVP and Special Teams Most Impactful Award in back-to-back seasons (2021 & 2022). Named to Bruce Feldman's Freaks List at No. 35. In 2021, earned 130 carries and rushed for 910 yards and nine touchdowns. Logged 24 catches for 261 yards and a score. Led the SEC in yards per attempt with 7.0. Paced team with 11 total touchdowns, including at least one as a rusher, returner and receiver. As a true freshman in 2020, 43 carries for 364 yards and four touchdowns. Orange Bowl Most Outstanding Player: Posted a season-high 140 yards and two touchdowns on the ground. As a sophomore on the Aggies' track team, recorded a 10.14 in the 100-meters. In high school, a four-star recruit. Ranked as No. 55 player in the nation, No. 8 in Texas and No. 1 All-Purpose Back in the country. Rushed for 2,097 yards on 185 attempts with 38 touchdowns. Corralled 32 receptions and 694 yards along with 10 touchdowns. Named Touchdown Club of Houston Offensive Player of the Year honors. Also, competed in track-and-field as a sprinter.
Key Career Stats
Rushing Yards: 2,376
Yards per Carry: 6.4
Receptions: 65
2022 Season
Yards from Scrimmage: 1,298
Scrimmage Yards Dominator: 30%
Film Breakdown and Skills
At 5'9" and 188-pounds, a solid, shifty and slippery home run hitter. Extraordinary initial burst and hits top speed rapidly. Quick-twitch competitor with fancy feet. Rapidly accelerates. Unmatched straight-line speed. Forces missed tackles by stringing together moves. Makes sharp cuts and lateral jumps. Blasts through running lanes with vision and patience. Stupendous contact balance. Better between tackles than expected: Drops pads and keeps legs churning. A chess piece mismatch for a creative offensive coordinator. Reaches the corner quickly and excels in the run game out wide. An exceptional pass catcher with natural hands. Tracks the ball well in the air. Remarkable route runner. Smaller playmaker who does not exceed the 200-pound threshold. Prefers to bounce outside instead of running it up the gut. Not a great pass protector. Projects as a complimentary ball carrier in a committee backfield.
Draft Grade: Third Round
11. Sean Tucker, Syracuse
Prospect Resume
In 2022, posted back-to-back 1,000-yard campaigns. Second Team All-ACC running back, Third Team All-ACC all-purpose player, and Second Team AP All-ACC. 36 receptions were third-highest single-season total by a running back at Syracuse. In 2021, First Team All-American and First Team All-ACC: Smashed Syracuse single-season rushing record with 1,496 yards. Scored 14 total touchdowns and registered 20 catches. Doak Walker Award semifinalist. In 2020, started the final six games of the year. Scampered for the third-most yards in a single season by a freshman with 626. Twice named ACC Running Back of the Week (Georgia Tech and Notre Dame). Concluded campus tenure third on rushing list. First player in program history to post back-to-back seasons with over 1,000 rushing yards and 250 receiving yards. Posted two of the 12-best, single-season rushing totals in school history. In high school, a three-star recruit from Maryland. Competed in track and field: Twice won the MIAA indoor title in the 55-meter dash and champion in the 100-meter and 200-meter sprints as a junior.
Key Career Stats
Rushing Yards: 3,182
Yards per Carry: 5.4
Receptions: 64
2022 Season
Yards from Scrimmage: 1,751
Scrimmage Yards Dominator: 40%
Film Breakdown and Skills
At 5'10" and 210-pounds, a zestful playmaker, who is a home run hitter. Prodigious production since arriving at Syracuse. Solid-built frame and navigates traffic well. Low-center of gravity with fleet feet. Good burst and lateral quickness. Very good body control. Rapidyl reaches stop-end speed in space. Excels off-tackle: Easily bounces outside with a quick burst. Impressive vision. Threads together moves to make tacklers whiff. Outstanding as a return specialist and runner in the open field. Utilizes stutter steps and ankle-breaking moves. Impressive receiver with natural mitts. Easily snatches football in the air and explodes up field. Could shine in an outside-zone scheme. Can he carry the football 20 times a game? Needs to hit the hole quicker. At times, appears indecisive scanning the line of scrimmage. Lacks elite power and strength. Lowers pads sometimes. Must improve pass blocking skills. Possible medical red flags in regard to long-term health.
Scholar's Grade: Fourth Round
12. DeWayne McBride, UAB
Prospect Resume
In 2022, Second Team All-America (Walter Camp, Sporting News and PFF), Conference USA Offensive Player of the Year and Doak Walker semifinalist. Led nation in rushing with 1,713 yards and yards per carry at 7.35. Finished second in rushing touchdowns with 19. Three-time C-USA Offensive Player of the Week. Established single-game program rushing record with 272 yards versus Louisiana Tech. In 2021, Second Team All-C-USA. Scampered for 1,371 rushing yards and scored 13 times. As a true freshman in 2020, earned 47 carries and gained 439 yards with four touchdowns. Recorded longest touchdown run in school history with a 75-yard jaunt versus Louisiana Tech. Concluded campus tenure second on the all-time UAB rushing list. A three-star prospect from Florida.
Key Career Stats
Rushing Yards: 3,523
Yards per Carry: 7.3
Receptions: 5
2022 Season
Yards from Scrimmage: 1,723
Scrimmage Yards Dominator: 30%
Film Breakdown and Skills
At 5'11" and 215-pounds, old-school workhorse runner. Big ball carrier with electric feet. Runs with passion, power and purpose. Glides through creases. Smooth and decisive athlete. Posted incredibly high missed tackles rate. Multifaceted ball carrier, who excelled in all run schemes. Tenacious gap runner. Shifty competitor, who is patient. Very good goal line back. Three-year production on resume. Immediately contributed as a freshman despite low recruiting grade. Very little usage in the passing game with only five career receptions. Lacks breakaway long speed. Inconsistent vision. Fumbling challenges could impede a professional career. Competed at the Group of 5 level.
Draft Grade: Fourth Round