All-Time Fantasy Football Draft part II
By John Laub
All-Time Fantasy Football Draft part II
Super Bowl era (1966-2017)
1. Breakdown your draft strategy and team roster (part II).
"I'm a RB guy at heart. I stuck to that philosophy with three runners in my first three picks: O.J. Simpson, Tony Dorsett, and Chuck Foreman. Peak Simpson saw him put up 7,699 yards rushing with 45 touchdowns in five seasons. Those were 14-game crusades too. Tony Dorsett put up eight 1,000-yard seasons with almost 400 catches. Touchdown Tony opened his career with five straight 1,000 yards seasons and 177 receptions. Chuck Foreman is least known guy in the group. Growing up a Lions fan and watching Foreman put it on my team, I knew I had to get him in this draft. From 1975-1977, he rushed for 3,337 yards, caught 164 passes, and scored 45 touchdowns.
My receiving group is a mixture of classic and new. Isaac Bruce from the Greatest Show on Turf and AJ Green are the more recent guys. Bruce had a stretch from 1999-2003 with over 4,700 yards and 33 touchdowns. Green opened his career with five straight 1,000-yard seasons. Irving Fryar was a low-volume deep threat for the early part of his career. In season seven however, the volume increased and he put up 1,000 yard seasons in five of the next seven years. Grabbing my fourth WR in round 16 was a bit dicey, so I went old school grabbing the Green Giant, Harold Carmichael of the Eagles. At 6-foor-8 and 240 pounds, Carmichael stood out at the WR position. Carmichael put up seven WR1 seasons in thirteen years with the Eagles.
https://twitter.com/RyanMc23/status/1262750045666897920
I rounded out my receiving corps with TE Antonio Gates: Did you know he played basketball in college? Gates played a long time and put up some great seasons for both the Chargers and many a fantasy team.
On to quarterback to wrap up the offense. I double tapped the position in the ninth and tenth rounds. First grabbing one of the original scramblers Fran Tarkenton. His mobility allowed him to buy some time to get the ball down field, and when no one was available, he ran, putting up over 300 yards per season rushing his first ten tears in the league. I then grabbed Jim Kelly of the Bills. Kelly would likely rank a little higher had he not started his career in the USFL.
The defense was a little more difficult. Tackles and sack statistics are harder to come by for the older players. I grabbed my first defensive player in the sixth round, LB London Fletcher. The linebacker logged 1,384 tackles, 39 sacks, and 23 interceptions across a 16-year career. I grabbed Cornelius "Biscuit" Bennett in the round 15. Almost 1,200 tackles, 71.5 sacks, and 31 forced fumbles, he was a force to be reckoned with during his NFL tenure.
At defensive line, I went contemporary with JJ Watt and Warren Sapp. Watt has missed the equivalent of two full seasons in his nine-year career and still has 96 sacks. Sapp put up almost 600 tackles as a defensive tackle and 96.5 sacks. He was Aaron Donald, before there was an Aaron Donald. Closing out the defense with the defensive backs. I went old school again with Minnesota safety Paul Krause. Krause, who retired in 1979, still holds the NFL record for career interceptions with 81. I just couldn't pass that up. Ball hawk Ed Reed is my other backfield mate. 5,434 solo tackles and 64 interceptions in 14 years…Not too bad. Lastly, I went with Stephen Gostkowski at kicker. Gostkowski has the highest points per game average of any of the kickers drafted at 8.7 ppg."
— Dennis Bennett
"My strategy in this was to focus on total fantasy points scored, not average per game points, to build a lineup of guys who had sustained success. This was made much easier by having the first-pick overall, which I used on Jerry Rice because he's Jerry Rice, and his fantasy numbers blew away every other wide receiver in the game.
I also wanted to get running back out of the way fairly quickly—I had all three of mine (Edgerrin James, Thurman Thomas, Warrick Dunn) by the sixth round. I was one of two teams that waited a long time on their second quarterback, hoping to use the old once everyone else has one, I can wait until the last round for mine and gain a positional edge elsewhere strategy, which worked out well in theory, though I'm not sold on my own ability to draft defensive players in the late rounds, as I think I probably could have done a little more digging. But hey, I ended up with a well-rounded team that I really like!"
— Justin Carter
All-Time Fantasy Draft Results
https://docs.google.com/spreadsheets/d/1gNOEduyQmv2P3XSKZFqVa4pNs4s9x7GSMo0fPDycTeA/edit#gid=1649380671
2. Identify the one team that you would switch places with after the draft?
"I think I like Mitch Hardt's team. It is the best on paper, and then looking at the scoring average, I see that was the winner!"
— Rick Bates
"I like Mitch's team a lot. Mitch sniped me on Willie McGinest in round 15 causing me to pivot to Cornielus Bennett. The value with Matt Forte in round 16 was fantastic."
— Dennis Bennett
"I really like what John did—Ricky Watters and James Lofton were both guys I was targeting in this draft, and he also put together a great defensive lineup without sacrificing offense, but I think that roster comes in a close second to Mitch's team, which was so strong top to bottom. Mitch decided to wait until the end to take his second and third running backs, smartly betting that we'd all fill up that position quickly and that it was deeper than we thought. He was right, getting Matt Forte and Earnest Byner in the last two rounds, which allowed him to build the rest of his team up stronger. He led this draft in both total fantasy points and average fantasy points, so that strategy really paid off for him."
— Justin Carter
"Ricky Valero put a team together that I like the most. The quarterbacks were, and have been, great for all of my fantasy playing years. His runners are absolute studs led by Hershel Walker. With Randy Moss, Antonio Brown, and Travis Kelce who wouldn't want this team!"
— Kevin Brown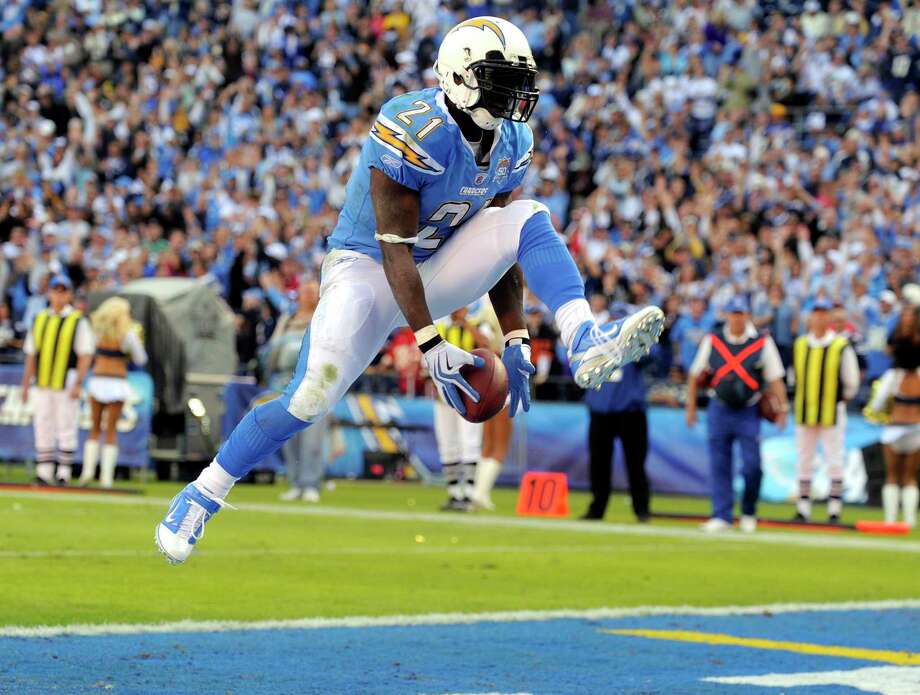 "I love Kevin Brown's team: He grabbed LaDainian Tomlinson in the first round, which induced pure jealousy. He was able to land high production at the receiver position with a sneaky good pick in Wes Welker who could be forgotten with some of the big-time players taken in this draft. He was able to make a really good team just keeping it in more recent eras, which made it impressive."
— Ryan Cearfoss
"If I can swap teams with anyone, I would probably switch with Mitch Hardt. While I am not in love with his defensive assets, he doesn't have a weak spot on offense and also has a ton of depth at each position: Drew Brees, Aaron Rodgers, Earnest Byner, Marshall Faulk, Matt Forte, Andre Johnson, Tony Gonzalez, Jimmy Smith, Brandon Marshall, Anquan Boldin with John Carney as his kicker. Yes, please. And maybe I am also being a little harsh about his defense considering he is carrying Willie McGinest, Jessie Tuggle and Deacon Jones."
— Anthony Cervino
"The team I would change places with is Kevin Brown. What a fun team! Kurt Warner, from the Greatest Show on Turf, Michael Vick, Lawrence Taylor, BIG Earl Campbell, Marvin Harrison and Julio Jones were all major targets of mine. He seemed to snipe more picks from me than anyone."
— Donald Giebel
"All-in-all, I love my team but if I were to swap squads with someone it would be Ricky Valero. He waited on QBs, (almost always smart) and landed Matt Ryan and Cam Newton. Very solid. Randy Moss, Antonio Brown, Chris Carter, Shaun Alexander and Steven Jackson?!?!?! This guy has a monster team. By the numbers, I got him, but by my eyes, I think he won."
— Mitch Hardt
"If I had to switch teams with anyone it would be Kevin Brown's team. Kevin having LaDainian makes me slightly jealous. He was my favorite all-time fantasy player."
— Matt Rust
"Mitch hands down selected my favorite team, I am envious of what he has at the quarterback position and top that off with one of the best runners in Fantasy history with Marshall Faulk. He is strong at the wide receiver position and is heavy on the defense. Top to bottom one of, if not, the best team."
— Ricky Valero
3. Any additional thoughts or insights after the Draft?
"Whenever people do one of the 'the greatest' type lists (movies, songs, shows, sports players), it's interesting to see how different folks think when they define 'greatest.' I think for the activity that we did this week, some of us thought total fantasy points measures greatness—as in look what they did over their career—but others valued the average per year as a more meaningful measure of fantasy greatness."
— Rick Bates
"This was a great time. I enjoyed looking at a lot of guys from my youth, though I am reminded it's tough growing up a Detroit Lions fan."
— Dennis Bennet
"This was a ton of fun, and it got me thinking about older players. I've done a lot of these kinds of drafts for basketball, which has helped me learn about older NBA and WNBA players who I didn't know as much about; doing a football version of this was just as useful in terms of getting me thinking about the past, plus it was a ton of fun!"
—Justin Carter
"This draft was an absolute blast to do and it was a great reminder of some stars in NFL history between seeing other peoples' picks and researching for my own. In retrospect, I wish I would have waited on quarterback with the amount of production QB's in the 2000s had on a game to game basis. Even Eli Manning averaged more than some All-Time greats. Doing this again, I would have focused on receivers in those spots because that position dried up quickly with starting four on our roster. Last of all, I just want to thank John Laub for setting this up."
— Ryan Cearfoss
"This was a fun and fulfilling project that I would love to do again."
— Anthony Cervino
"I had a great time overall. My youth may show a little bit in my selections, but I still feel like I was able to put together a very deep, solid team. Thanks again John, and if you are ever looking at doing drafts like this in the future, I will definitely be interested."
— Donald Giebel
"Worst picks of my team came on defense. I picked Jesse Tuggle too early and found stats on Randy Gradishar after that pick. The former Broncos tackler was better. As I usually do with IDPs, I went with men that get tackles. Eugene Robinson and Antoine Bethea were vastly overlooked…just like they were in their playing days. This draft certainly brought back many memories. The three-touchdown game that Faulk had his opening night to the many calls of Chris Berman and 'Ricky Running Watters'. Great players, great memories and even greater new friends."
— Mitch Hardt
John Laub: All-Time Fantasy Football Roster
| | | | | | |
| --- | --- | --- | --- | --- | --- |
| Pos. | Player | Team | Pos. | Player | Team |
| QB | Brett Favre | Packers | TE | Vernon Davis | 49ers |
| QB | Eli Manning | Giants | K | Gary Anderson | Steelers |
| RB | Walter Payton | Bears | DL | Michael Strahan | Giants |
| RB | Curtis Martin | Jets | DL | Richard Dent | Bears |
| RB | Ricky Watters | Eagles | LB | Junior Seau | Chargers |
| WR | Tim Brown | Raiders | LB | Derrick Brooks | Bucaneers |
| WR | Steve Smith | Panthers | DB | Ken Riley | Bengals |
| WR | James Lofton | Packers | DB | Eric Weddle | Chargers |
| WR | Andrew Rison | Falcons | | | |
"Unfortunately, my wide receiver corps is not as strong as other teams. I waited too long to fill the four roster spots: I should have invested in a fourth playmaker earlier. My starters are Tim Brown, Steve Smith, James Lofton and Andre Rison, who combined for 3,632 catches for 53,874 yards and 344 touchdowns.
Team-by-Team WR/TEs Breakdown: Total & Average Points
| | | | | | |
| --- | --- | --- | --- | --- | --- |
| WR/TEs | Points | Avg ppg | Rank | Avg Rank | Overall |
| Mitch | 14547 | 14.46 | 11 | 10 | 21 |
| Ricky | 12488 | 14.88 | 7 | 12 | 19 |
| Justin | 14588 | 13.11 | 12 | 7 | 19 |
| Donald | 12737 | 13.88 | 8 | 8 | 16 |
| Kevin | 10980 | 14.83 | 3 | 11 | 14 |
| Casey | 14212 | 12.68 | 10 | 4 | 14 |
| Cervino | 12172 | 13.11 | 5 | 6 | 11 |
| Dennis | 12393 | 12.77 | 6 | 5 | 11 |
| Rick | 10280 | 14.44 | 1 | 9 | 10 |
| John | 12778 | 11.65 | 9 | 1 | 10 |
| Ryan | 11058 | 12.67 | 4 | 3 | 7 |
| Matt | 10573 | 12.48 | 2 | 2 | 4 |
Also, I got sniped a couple of times that drove me crazy. Five players—DE Bruce Smith (5), QB Fran Tarkenton (9), DE Chris Doleman (11), K Adam Vinatieri (13) and TE Greg Olsen (14)—were at the top of my que when another owner grabbed my guy. Finally, I drafted based on total fantasy points scored during a players' career not fantasy points per game. If I ever partake in a similar simulation, I might rank players on a ppg. scale instead like my friend Mitch."
— John Laub
"For my last thoughts I'd love to take every player's best season and see what a total points scored for each team would look like. See who came in first but that would take a while to compile. Again, thanks to John for doing this. It was a blast in between the stress of work and Covid-19."
— Matt Rust
"I had an absolute blast doing this draft, I think my strategy might change a little if I did this again as I think I went a little top-heavy on the receiver position. But value-wise, I couldn't resist the WR that fell into my laps in the early part of the draft."
— Ricky Valero
All-Time Draft Parameters
Draft: 17 Rounds
Rosters:
2 QBs, 3 RBs, 4 WRs, 1 TE, 2 Defensive Line, 2 Linebackers, 2 Defensive Backs and 1 Kicker
Scoring for Offense:
Passing TDs = 4 points
Rushing and Receiving TDs = 6 points
Receptions = 1 point
Rushing yard = .1 points
Passing yard = .04 points
Kickers = total points scored
Scoring for IDP Players:
Sacks = 3 points
Fumble Recovery and INT = 2 points
1 point for a tackle and 1/2 for assisted tackle
All Special Teams and Defensive TDs = 6 points