2021 NFL Draft Profiles Running Backs part I
By John Laub
Ranking the Runners
2021 Running Back Prospects part I
In the late Seventies, I grew up watching Walter Payton and Earl Campbell dominate opponents on the gridiron. In the early Nineties, Thurman Thomas and Emmitt Smith ranked atop my fantasy football rankings. Over the past eight years, scouting the running backs has been a labor of love as I extended my football obsession into prospect examination for FootballDiehards.com.
My process begins in the summer when I devour film for my college fantasy football and Devy rankings for the upcoming campaign. During the season, I watch every prospect and take copious notes as the games unfold. And update my rankings once a month as players rise and fall based on performance. I can't even describe how much joy I get throughout the fall.
In the next stage, I plug the runners' statistics into my model and begin to scrutinize my rankings for publishing. Of course, the Combine would normally be the cherry on top, but it has been cancelled in 2021 and Draftniks, like myself, will have to rely on Pro Days for athletic times in the 40-yard dash, 3-cone drill and 20-yard shuttle.
In order to better assess the Class of 2021, I reflected on my model for the past seven seasons and ranked the Top 15 RB prospects (listed below) from 2014-2020. While I combine film grades, model benchmarks and Combine scores for final annual rankings, the model has done well identifying elite backfield prospects.
Scholar's Running Back Prospect Rankings: 2014-2020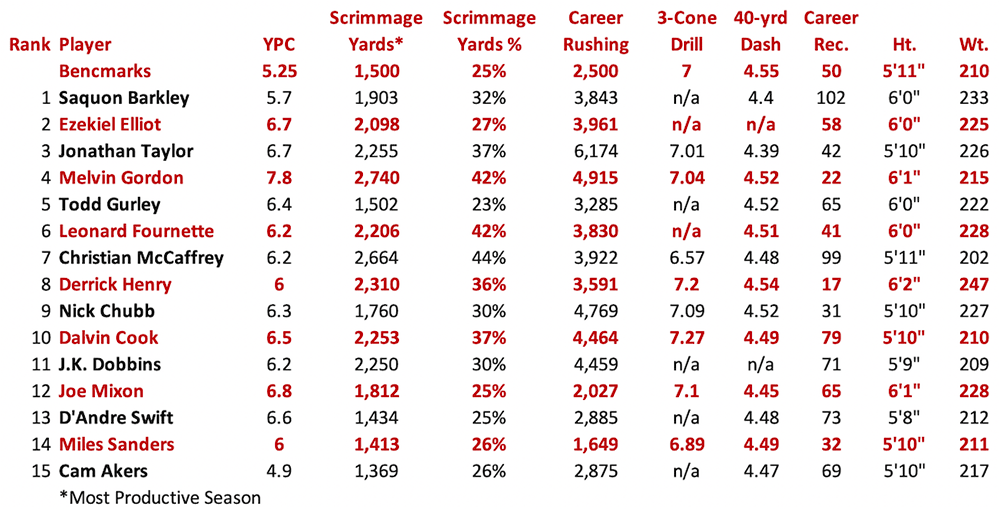 Regrettably, it is not without misses: Kenneth Dixon, Jay Ajayi, Derrius Guice and Darrell Henderson stood tall in the model, but failed to meet expectations. What went wrong? I constantly want to improve my scouting process, running back model and film grades in order to be a better analyst.
In 2020, I added two statistics—Yards from Scrimmage and Team Scrimmage Yards Dominator percentage—to provide more in-depth breakdown of each prospect. Both measurements are from each runners' most productive campaign on campus. Players who contribute in the passing game provide coaches a three-down back and deliver more fantasy value with a greater potential market-share of the backfield touches.
Last year, an outstanding class entered the NFL: Jonathan Taylor, J.K. Dobbins, D'Andre Swift, Clyde Edwards-Helaire and Cam Akers all impacted fantasy rosters. In one Dynasty draft, I selected Taylor and Akers with the first and fifth picks overall and turned my team around. It is possible to replicate a similar change of fortune on a Dynasty team with the Class of 2021 ball carriers.
Many NFL franchises need a running back who can impact the outcome of games all three downs, and this group of prospects provides some prime options. In 2021, I have three runners who stand out in my model: Najee Harris, Javonte Williams and Travis Etienne. Listed below are profiles on the top ball carriers as well as their benchmark stats to assist in pinpointing runners at the next level for fantasy football diehards.
Benchmark College Stats for Draft Consideration
Yards per Carry: Over 5.25 yards per carry
Receptions: Over 50 career catches
Yards from Scrimmage: 1,500 yards
Team Scrimmage Yards Dominator: 25%
Breakaway Ability:
4.55 seconds (or less) in the 40-yard dash
7.00 seconds (or less) in 3-cone drill
4.30 seconds (or less) on the 20-yard shuttle
Pro-Day measurements will be updated as become available.
1. Najee Harris, Alabama
The Alabama pipeline—Mark Ingram, Eddie Lacy, Derrick Henry and Trent Richardson—produces another elite running back prospect under coach Nick Saban's tutelage. In 2020, Doak Walker Award, semifinalist for Maxwell Award, First Team All-American and First Team All-SEC. Led the SEC and the FBS in rushing with 1,466 yards. Snagged 43 passes for 425 yards and four touchdowns. SEC Championship Game MVP. In 2019, Second Team All-SEC and honorable mention All-America (PFF). Scored seven receiving touchdowns and logged 20 total scores. Ended campus tenure as all-time leader in rushing touchdowns (46), total touchdowns (57) and rushing yards (3,843). In high school, No. 1 overall prospect in the country and five-star prospect from California. Played in the 2017 Army All-American Bowl and First Team Parade All-American. At 6'2" and 230-pounds, patient, smooth, fluid and powerful three-down back. Upright ball carrier with long strides. Big-bruising backfield hammer who mashes opponents. Difficult to drag down one-on-one. Imposing lower body strength. Elusive runner with noble footwork and striking wiggle. Routinely hurdles tacklers. Tremendous contact balance and falls forward for extra yards. Punishes opponents. Stupendous pass catcher with natural hands. Very good route runner and a matchup nightmare in the passing game. Lacks top-end speed and elite burst. Must improve pass blocking as a professional. A franchise running back and cornerstone of a team's offensive scheme.
Key Career Stats
Rushing Yards: 3,843
Yards per Carry: 6.0
Receptions: 80
2020 Season
Yards from Scrimmage: 1,891
Team Scrimmage Yards Dominator: 27%
Draft Grade: First Round
2. Javonte Williams, North Carolina
Talented Tar Heels' ball carrier declares for Draft after three seasons at Chapel Hill. In 2020, All-ACC Second Team and AP Second Team All-America with 1,140 rushing yards and 19 touchdowns. Snatched 25 passes for 305 yards and three scores. In 2019, overlooked campaign by NFL scouts and college football fans: Rushed for 933 yards, corralled 17 catches for 176 yards and six touchdowns. As a true freshman in 2018, appeared in 11 games as a running back—51 touches for 282 yards from scrimmage and five touchdowns—and on special teams. In high school, No. 93 player in North Carolina by 247Sports and graded as a three-star prospect. As a senior, over 2,200 yards and 27 touchdowns rushing and led team to a state championship. At 5'10" and 220-pounds, a compact runner with revered contact balance and physicality. One-cut ball carrier with quick feet and low center of gravity. Breathtaking combination of vision, burst and agility. Waits for blocks to develop and explodes through contact. Possibly, best contact balance among the Class of 2021 running backs. Lowers pads into tackler and leans forward for extra yardage. Bursts out of cuts and bounces off tacklers. Admirable lateral movement. Explodes into the second level and takes smart angles in space. Three-down playmaker and intuitive pass catcher with soft hands. Consistent route runner. Excels inside and outside zone runs well. Scheme diverse. Willing pass blocker with competitive toughness. Absence of explosive long speed on film. Does not string together ankle-breaking moves. A late-first or early second-round draft pick in April.
Key Career Stats
Rushing Yards: 2,297
Yards per Carry: 6.3
Receptions: 50
2020 Season
Yards from Scrimmage: 1,445
Team Scrimmage Yards Dominator: 22%
Breakaway Ability (Pro Day Results)
40-yard Dash: 4.58
3-cone Drill: 6.97
20-yard Shuttle: 4.09
Draft Grade: Second Round
3. Travis Etienne, Clemson
Returned for a fourth season in Death Valley. In college football history, recorded one of the most prolific college careers for a running back. FBS record holder for most career games with a touchdown (46). ACC record holder: rushing yards (4,952), total touchdowns (78), rushing touchdowns (70) and points scored (468). One of twelve players in FBS history with over 4,000 rushing yards and 1,000 receiving yards. Three-time First Team All-America honoree, two-time ACC Player of the Year and logged back-to-back 1,600-yard campaigns. In 2020, First Team All-American all-purpose, Second Team All-America and First Team All-ACC. In 2019, Second Team All-America and First Team All-ACC and in 2018, ACC Offensive Player of the Year and Second Team All-America. 2018 ACC Championship Game MVP. In high school, ESPN Top-125 prospect, No. 13 running back and No. 4 player in Louisiana. At 5'10" and 215-pounds, home run hitter with ankle-twisting burst, acceleration and speed. Fantastic footwork and good contact balance. Electric in space and quickly reaches second level of defense. Tenacious and instinctive ball carrier who bursts through arm tackles and leaves defenders in disbelief. Rarely gets caught from behind on film. Natural hands as a pass catcher. Employed mostly on check downs and screens in the aerial assault. Quickly turns and explodes upfield. At times, lacks patience and runs into blockers. Average vision and misses holes occasionally. Below average in pass protection and could be a liability. Watching film, flashbacks of Reggie Bush and Alvin Kamara immediately come to mind.
Key Career Stats
Rushing Yards: 4,952
Yards per Carry: 7.2
Receptions: 102
2020 Season
Yards from Scrimmage: 1,502
Team Scrimmage Yards Dominator: 25%
Breakaway Ability (Pro Day Results)
40-yard Dash: 4.41
Draft Grade: Second Round
4. Trey Sermon, Ohio State
A road less travelled from Sooner to Buckeye to future NFL star. In 2020, transferred to Ohio State: Rambled for 870 yards and four touchdowns. Big Ten Championship Game MVP with a record-breaking performance: 331 yards and two touchdowns against Northwestern to secure a CFP invite for the Buckeyes. In 2019, Academic All-Big 12. Injured versus Iowa State: Only 385 rushing yards and four touchdowns. In 2018, All-Big 12 honorable mention selection: Played in all 14 games and made 12 starts. Led Sooners with 947 yards and 13 scores. In 2017, All-Big 12 honorable mention for Offensive Freshman of the Year. Second on team with 744 yards and five touchdowns. In high School, four-star recruit by ESPN, Rivals and Scout and No. 8 RB in the nation by ESPN. Crowded backfield at Oklahoma: RBs Rodney Anderson, Abdul Adams, Kennedy Brooks, Rhamondre Stevenson, and dual-threat QBs Baker Mayfield, Kyler Murray and Jalen Hurts. Sauntered for over 2,000 yards in three seasons. At 6'0" and 213-pounds, a physical runner who relishes contact between the tackles and punishes defenders. North-South ball carrier who has good vision and patience. Quick feet and never stops churning legs. Changes direction well and finishes runs with a punch. Excellent contact balance: runs through arm tackles and defenders bounce off. Elusive in tight spaces and short-yardage specialist. Reliable pass catcher. Three-down competitor who anchors and smacks pass rushers. Not a perimeter runner and lacks top-end speed. Lined up out of shotgun at Oklahoma and Ohio State. Endured broken collar bone in National Championship game versus Alabama. A tremendous value in the third round of the NFL Draft.
Key Career Stats
Rushing Yards: 2,994
Yards per Carry: 6.5
Receptions: 48
2020 Season
Yards from Scrimmage: 963
Team Scrimmage Yards Distribution: 25%
Breakaway Ability (Pro Day Results)
40-yard Dash: 4.57
3-cone Drill: 6.83
20-yard Shuttle: 4.28
Draft Grade: Second Round
5. Kenneth Gainwell, Memphis
Dynamic runner and pass catcher. Opted out of 2020 season and declared for the Draft. Redshirt freshman in 2019: Named First Team FWAA Freshman All-American, American Athletic Conference Rookie of the Year, AAC All-Academic Athletic Team and First Team All-AAC. Led all FBS freshmen with 2,069 all-purpose yards. Only third player in school history with over 2,000 all-purpose yards, joining DeAngelo Williams and Darrell Henderson. Logged six consecutive 100-yard outings after taking over the backfield duties. Against Tulane, rushed for 104 yards and totaled 203 receiving yards, becoming the first player since 1997 to accomplish the feat. A three-star prospect who played quarterback in high school. At Memphis, walked into a crowded backfield with Henderson (Rams) and Antonio Gibson (Washington) on the team. At 5'11" and 201-pounds, a slippery and explosive runner with good vision. Tremendous amalgamation of acceleration and agility. Elusive in space, great balance and makes defenders whiff. Underestimated power and strength. Identifies cut back lanes. Reverses direction to weakside of designed play and runs to daylight. Superior receiver with reliable mitts. Very good route runner who looks like a receiver with natural hands. At times, lined up in the slot and works the middle of the field. Needs to add weight for bulk and strength. Not likely employed in goal line or short-yardage situations. Pass protection might keep him sidelined. If Gainwell weighed over 200 pounds, he would earn a second-round grade in my model. Draft capital and potential opportunity share will dictate final fantasy value in rookie season.
Key Career Stats
Rushing Yards: 1,550
Yards per Carry: 6.6
Receptions: 57
2020 Season
Yards from Scrimmage: 2,069*
Team Scrimmage Yards Dominator: 30%*
Breakaway Ability (Pro Day Results)
40-yard Dash: 4.42
Draft Grade: Third Round
*2019 season
6. Michael Carter, North Carolina
Tar Heels' talented game breaker. In 2020, First Team All-America, AP Third Team All-America and Doak Walker and Paul Hornung Award Watch Lists. Last game in Tar Heels' uniform: 308 rushing yards and two touchdowns versus Miami. In 2019, Third Team All-ACC and honorable mention All-ACC all-purpose. In 2017, as a true freshman, led team with eight rushing touchdowns. All-Purpose Specialist: In ACC, finished second (1,668 yards) in 2020 and fourth (1,623 yards) in 2019. Logged back-to-back 1,000-yard crusades (1,245 in 2020 and 1,003 in 2019) on the ground. In high school, USA Today Florida Offensive Player of the Year and named 6A Mr. Football. As a senior, dashed for 2,536 yards on the ground and scored 45 times. At 5'7" and 201-pounds, the lightening in the North Carolina backfield over the past two crusades. Electric and quick playmaker: Makes defenders miss in space with lateral agility and ankle-breaking cuts. A smooth runner who utilizes jump cuts, change of direction moves and lightning-quick footwork to find open space. Very good vision, identifies holes in traffic and easily slips away from tacklers. Incredible pass catcher: creates separation on routes, corrals ball with soft hands and explodes up field. Eye-opening Senior Bowl week and rambled for 60 yards and a touchdown on eight carries in the game. "Every now and then there's a player who just pops off the screen when I sit down to watch tape, and Carter was that guy this year. I think he has a legitimate shot to be a Day 2 (Rounds 2-3) pick. In an era when running backs are being devalued, he has a unique skill set," NFL.com's Daniel Jeremiah stated at the Senior Bowl (247Sports.com). A liability in pass blocking: must improve to get on the field. Lack of idea size and strength to be a consistent 20-touch runner. An idea third-down back who can contribute on special teams from first day of training camp. A Day 2 selection in April.
Key Career Stats
Rushing Yards: 3,404
Yards per Carry: 6.6
Receptions: 82
2020 Season
Yards from Scrimmage: 1,512
Team Scrimmage Yards Dominator: 25%
Breakaway Ability (Pro Day Results)
40-yard Dash: 4.50
3-cone Drill: 6.81
20-yard Shuttle: 3.98
Draft Grade: Third Round
It is John Laub's eighth year publishing The Scholar's Study Sheets: NFL Draft Prospects. With his Masters in history and professional experience as an educator, Laub is uniquely qualified to research, analyze and discover new insights and trends in college and professional football. Laub has played fantasy football over thirty years and published articles for FootballDiehards.com for well over 25 years. He won $10,000 in 1993, defeating nearly 15,000 owners, and published Audibles: Winning is Everything in the 1990s. He truly is The Gridiron Scholar.
Twitter: @GridironSchol91 or e-mail: Audibles@aol.com