2020 Fantastic Fantasy Freshmen: Post-Draft Rankings
By John Laub
Fantastic
Fantasy Freshmen
2020 Post-Draft Rankings
On Sunday night, I woke up at 2 AM to visit the restroom and heard an unfamiliar voice from the TV room in the basement. I ventured downstairs, and my 18-year old daughter had sneaked her boyfriend over. While many emotions engulfed me, the possibility of spreading Coronavirus to my daughter, and the family, flashed to the forefront of my mind. I did not get mad but made my displeasure known.
Luckily, both understood the gravity of their poor decision, and he left without any argument. It was an unfortunate end to a wonderful weekend in which myself, and millions of football diehards, indulged in the best reality television of the year. As a parent, teacher and fantasy football evaluator, I have concluded that raising children is tough, and it is much easier to assess football players.
The NFL Draft provided much-needed relief as a diversion from our national crisis. For the past 40 years on television, the Draft has produced the best drama, passion, excitement and heartbreak, and the past weekend's proceedings did not disappoint football zealots.
I have studied the college prospects and analyzed their athletic skills for the past eight months and watched with eyes-wide open as players came off the board. Finally, the prospects have new homes, and it is time to appraise their alternative-reality value. In order to evaluate the freshman's potential and gage a grade, a player's skill, organizational aptitude and offensive scheme all must be factored into the analysis.
I rank the players in tiers—Summa Cum Laude, Magna Cum Laude, Cum Laude and Honors—to provide flexibly for readers based on a league's scoring format, roster construction and starting lineup requirements. I suppose that it is more appropriate to provide fantasy footballers with player tiers along with projected statistics for their personal rankings.
Please whet your appetite by examining the tiers and projections incorporating the aforementioned standards below:
Summa Cum Laude
RB Clyde Edwards-Helaire, Kansas City Chiefs
Since the Chiefs released Kareem Hunt over 17 months ago, fantasy football diehards have waited patiently for coach Andy Reid to pinpoint, and hopefully draft, a running back for his high-octane offense. Late last Thursday night, the Chiefs shocked the football world by selecting Clyde Edwards-Helaire with the final pick of the first round in the Draft. NFL Network's James Palmer reported that General Manager Brett Veach articulated to Reid that he'll see Brian Westbrook on film when watching Edwards-Helaire. After viewing tape, Coach responded that "he's better than Westbrook." I will not argue with the Super Bowl winning, offensive guru, who identified Westbrook and LeSean McCoy as future stars in the NFL after evaluating their college film. The former LSU luminary has stupendous short-area quickness and contact balance with pronounced lateral agility and top-notch jump cuts. Over the past decade, few rookies step into a more idyllic situation than Edwards-Helaire this year: In Reid's scheme, the No. 1 ball carrier has finished among the Top Ten fantasy-scoring runners in 12 of the past 16 seasons (75%). And with teammates Patrick Mahomes, Tyreek Hill and Travis Kelce, immediate fantasy stardom appears inevitable.
Grade: A
2020 Projections: 850 rushing yards, 50 receptions for 325 yards and 7 touchdowns
RB Jonathan Taylor, Indianapolis Colts
In 2016, Ezekiel Elliot landed behind one of the best offensive lines in the NFL, and as a rookie, rushed for over 1,600 yards and scored 16 times. Jonathan Taylor kicks off his career in a similar setting: The Colts employ one of the elite run blocking units (LT Anthony Castonzo, LG Quenton Nelson and RT Braden Smith) in the league. At 5-foot-10 and 226 pounds, Taylor is an elite athlete with a production profile that very few prospects can match on their resumes. In three seasons on campus, the former Wisconsin star dominated Big Ten competition with over 6,000 rushing yards and 55 touchdowns. The two-time, 2,000-yard rusher is a compact and tough competitor who identifies cut back lanes, explodes through small creases and welcomes contact. Taylor instantly impacts fantasy rosters and might catapult to a first-round selection in redraft leagues during the summer.
Grade: A
2020 Projections: 1,150 rushing yards, 20 receptions for 160 yards and 9 touchdowns
Twitterverse on Fire
Who was the biggest riser among fantasy football quarterbacks after free agency and the NFL Draft?
Player, Team: Vote percentage
Jarrett Stidham, New England: 13%
Drew Lock, Denver: 68%
Baker Mayfield, Cleveland: 16%
Other, comment below: 3%
John's Vote: Drew Lock
Total Votes: 1,374
"You would still think Dak Prescott, right? Got a solid No. 3 receiver in CeeDee Lamb who will probably turn into a No. 1, and they shored up their offensive line with center Tyler Biadasz in the fifth round."
@justme08980265
"Kyler Murray for me, and it's not really close."
@JoshuaCatlow
RB J.K. Dobbins, Baltimore Ravens
There might not be a better offensive scheme than the Ravens' for J.K. Dobbins, who excelled in a read-option attack at Ohio State. Last year, offensive coordinator Greg Roman devised a power-option attack that bludgeoned opponents with Lamar Jackson calling signals. Dobbins will easily transition into Baltimore's offense and supplies another gamebreaker for Roman to employ. At 5-foot-9 and 209 pounds, the former Buckeye has the patience, explosion, acceleration and power to shine as a professional. On outside zone runs, he effortlessly avoids defenders in one-on-one matchups with high-end spatial awareness before detonating downfield. When training camp opens, the rookie stands behind veteran Mark Ingram and must compete with sophomore Justice Hill for touches. Dobbins will likely surpass Hill and earn significant opportunities by the end of the 2020 campaign. As a long-term asset, the newest Raven has greater value down the road as a starter than he does this season.
Grade: B+
2020 Projections: 550 rushing yards, 32 receptions for 230 yards and 6 touchdowns
RB Cam Akers, Los Angeles Rams
As my player valuations evolved, no runner climbed the pre-Draft rankings more than Cam Akers. At the Combine, he illustrated his astounding athletic ability, recording a 4.47 in the 40-yard dash and 4.42 in the 20-yard shuttle at 5-foot-10 and 217 pounds. After placing a second-round grade on Akers, what team would acquire his skills? Los Angeles released Todd Gurley in March, and Darrell Henderson and John Kelly stood atop the depth chart. Without a first-round selection and a modest offensive line, running back did not appear to be a pressing need for the Rams. However, general manager Les Snead and coach Sean McVay harbored a different perspective of roster construction and drafted Akers in the second round. In a recent interview on Ramswire.usatoday.com by Cameron DeSilva, Snead stated that "…he runs like a warrior, he runs angry, he runs like he wants to punish a defense." I came to the same conclusion when watching Akers. Looking ahead, the former Florida State product should ascend to the top of the running back rotation and capture a robust 60% of the market share of touches. Draft Akers with confidence in 2020.
Grade: B+
2020 Projections: 800 rushing yards, 15 receptions for 80 yards and 8 touchdowns
Magna Cum Laude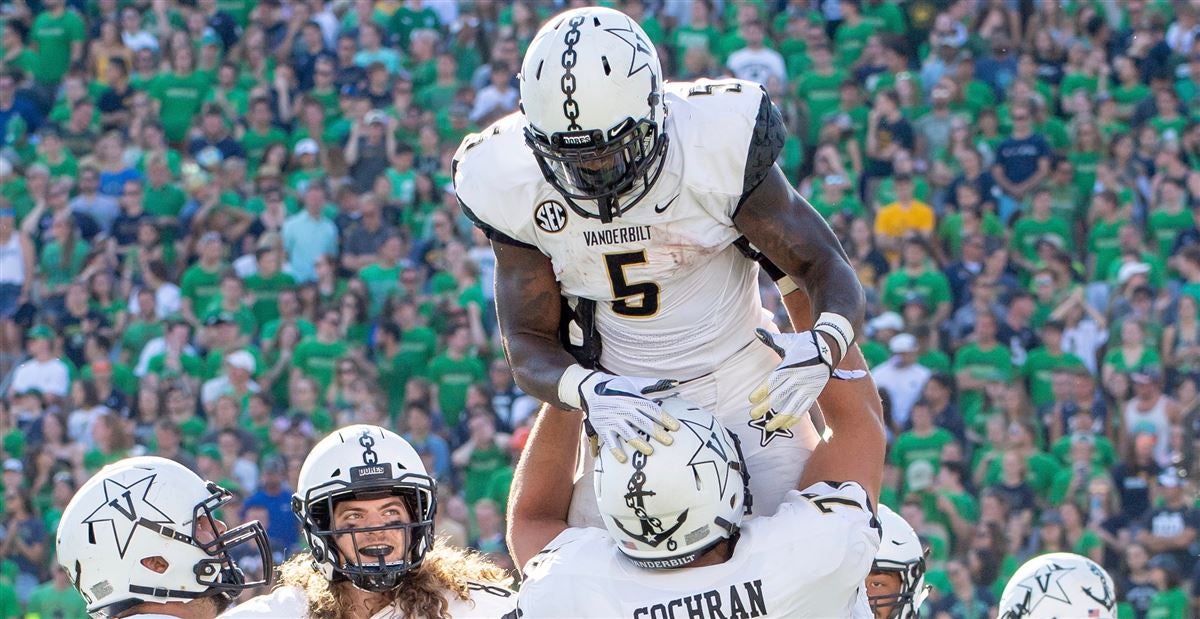 RB Ke'Shawn Vaughn, Tampa Bay Buccaneers
With skepticism, I contemplated the Bucaneers' backfield depth chart since their season concluded and did not believe that coach Bruce Arians would enter another campaign with Ronald Jones and Dare Ogunbowale anchoring the ground game. Well, my healthy disbelief proved clairvoyant, and Tampa Bay upgraded its running back corps drafting Ke'Shawn Vaughn in the third round. At 5-foot-10 and 214 pounds, the former Commodores' runner finished second in the SEC in rushing two seasons ago and recorded back-to-back 1,000-yard seasons at Vanderbilt. Vaughn fights through contact and keeps churning his feet after impact, rambling with passion, fortitude and a never-say-die attitude. Last year, Jones and Peyton Barber, who has been released, combined for 326 carries for 1,194 yards and 12 touchdowns. Clearly, there are vacant touches available for Vaughn in Tampa Bay. I am willing to invest in an improved Buccaneers' offense with QB Tom Brady and WR Rob Gronkowski in the lineup.
Grade: B
2020 Projections: 800 rushing yards, 20 catches for 125 yards and 7 touchdowns
RB D'Andre Swift, Detroit Lions
Here we go again…Fantasy fanatics have read this story since Barry Sanders retired in 1998: Detroit acquires a franchise-changing running back. Over the past 21 campaigns, the Lions have produced only three 1,000-yard rushers: James Stewart (2), Kevin Jones and Reggie Bush. In 2018, Detroit drafted Kerryon Johnson in the second round, yet he has failed to take hold of the job, playing in only 18 games and barely eclipsing 1,000 career rushing yards in two seasons. Once again, the Lions spent precious Draft capital on solidifying their backfield. Will D'Andre Swift end the franchise's misfortune? He is the best running back prospect in Detroit since Sanders. At 5-foot-8 and 212 pounds, the former Bulldogs' star is a smooth athlete with fantastic feet, outstanding leg drive and stunning vision. A three-down back, Swift is arguably the best pass catcher among the rookie runners and very solid in pass protection. If the newest Lion finally ends the long draught, fantasy footballers can rejoice watching a new era unfold in Detroit history.
Grade: B
2020 Projections: 750 rushing yards, 30 catches for 180 yards and 6 touchdowns
Twitterverse on Fire
Who was the biggest riser among fantasy football running backs after free agency and the NFL Draft?
Player, Team: Vote percentage
Jordan Howard, Miami: 21%
Raheem Mostert, San Francisco: 62%
Sony Michel, New England: 13%
Other, comment below: 4%
John's Vote: Raheem Mostert
Total Votes: 953
"Matt Breida: I think (he) will be a big riser. He is finally getting a chance to really show his true talent level!"
@PopesFFH
"I'm very intrigued by (Matt) Breida and (James) Conner."
@gnarlynickk
"Matt Breida: I think he will be a big riser. He is finally getting a chance to really show his true talent level!"
@PopesFFH