2020 Tight End Prospects
By John Laub
2020 Tight End Prospects
Targeting the Tight Ends
After forty-three years as an NFL Diehard and seven years watching prospects for my Scholar's Study Sheets, I have concluded that finding a difference maker at the tight end position is the Gordian knot that NFL scouts and organizations rarely untangle. The last three Super Bowl Champions all employed a game-changing tight end: Zac Ertz (Eagles), Rob Gronkowski (Patriots) and Travis Kelce (Chiefs). Yet, none of the three aforementioned Champions were first-round selections in the NFL Draft.
Let's look at the fantasy points-scored leaders at the position last year, and the round in which the team drafted the player: Kelce (3), George Kittle (5), Darren Waller (6), Ertz (2), Mark Andrews (3), Austin Hooper (3), Jared Cook (3), Tyler Higbee (4), Hunter Henry (2) and Dallas Goedert (2). In the first round over the past three drafts, T.J. Hockenson (10), Noah Fant (20), Hayden Hurst (25), O.J. Howard (19), Evan Engram (23) and Davis Njoku (29) were all selected among the top overall picks and none have ascended fantasy Mount Rushmore yet. Unfortunately, scouting departments and NFL organizations have not been successful untying the Gordian knot at the tight end position.
In Dynasty drafts, I will not spend a first- or second-round pick on a tight end. Last year, in redraft formats, I drafted Mark Andrews after the eighth round. In my Dynasty leagues, I selected Jace Sternberger twice in the third round and also acquired Ryan Griffin and Blake Jarwin off the waiver wires. Draft capital volatility at the position does not warrant the high investment cost required by fantasy footballers.
With the escalation of the multi-dimensional tight end over the past decade, scouts and personnel offices have changed the skill-set paradigm of the position. Front offices seek the next prodigious difference maker who can govern the middle of the gridiron, defeat Cover 2 defenses down the seam and be employed in multiple formations. Unfortunately, it is difficult to find a player with all of the aformentioned skills. One-dimensional blockers, who are essentially sixth offensive linemen, are late-round fliers or priority free agents in the modern game.
The tight end Class of 2020 does not have an elite option at the top of the rankings; nevertheless, there are prospects who will make an impact on NFL rosters, and in fantasy leagues, down the road. Let's look at the faction of prospects available in the 2020 NFL Draft.
Benchmark Statistics for Draft Consideration
Career
Receptions: 80
Yards per Reception: 13.0
2019 Season
Catch Percentage: 65%
Team Aerial Dominator: 15%
Breakaway Ability
4.70 seconds (or less) in the 40-yard Dash
7.10 seconds (or less) in the 3-cone Drill
4.40 seconds (or less) in the 20-yard Shuttle
Official Combine and Pro-Day measurements will be updated as available.
1. Brycen Hopkins, Purdue
Concludes career with sensational senior season: 61 catches for 830 yards and seven touchdowns. In 2019, Team Captain, First Team All-Big Ten and Tight End of the Year in the Big Ten. Son for former Titans-Oilers offensive lineman Brad Hopkins, who played 13 years in the NFL. In high school, basketball and baseball player, did not immediately play on the gridiron and only a two- and three- star recruit in football. At 6-foot-4 and 245 pounds, a fluid and suave competitor with a big body and lean frame. Very good route runner who was employed all over the formation and chronicled a diverse route tree in college. Versatile player with brilliant ball skills. Rapidly defeats man coverage and promptly reaches top speed. Uncovers openings in zone defenses. Fights through contested passes. Does not shy away from contact. Above average length and leaping ability for a tight end. High points ball with big mitts. Good in-line blocker, but must improve hand technique. More of a positional blocker than a push-the-pile mover. Inconsistant hands and drops too many passes. Needs to add muscle and get stronger. Not a classic two-way tight end but clearly will have a role in the right offensive scheme to maximize pass-catching skills.
Key Career Stats
Receptions: 130
Yards per Reception: 15.0
2019 Season
Catch Percentage: 64%
Team Aerial Dominator: 22%
Breakaway Ability
40-yard Dash: 4.66
3-cone Drill: 7.25
20-yard Shuttle: 4.28
Draft Potential: Third round
2. Adam Trautman, Dayton
FCS prospect who dominated the Pioneer Football League and turned many heads at the Senior Bowl. In 2019, FCS ADA All-American Team, AP First Team FCS All-America and STATS FCS Payton Award Finalist: 70 receptions for 916 yards and 14 touchdowns. In 2018 and 2017, Second Team Pioneer Football League. Redshirt senior who stands 6-foot-5 and 255 pounds. Tormented smaller defenders at the FCS level. Basketball background: Employs frame to shield off opponents and looks like a rebounder. Rapidly changes directions in-and-out of breaks. Impressive speed and quickness for a bigger athlete. Played for a creative offensive coordinator who crafted opportunities for success. Very good route runner with stupendous play speed. Needs to improve technique against more skilled competition in the NFL. Learning curve expected for hand placement, upper-body technique and nuances of the position. Limited route tree on resume. Potential to be a gamebreaker as a pass-catching tight end in an offensive scheme that maximizes skill set.
Key Career Stats
Receptions: 178
Yards per Reception: 12.9
2019 Season
Catch Percentage: n/a
Team Aerial Dominator: 34%
Breakaway Ability
40-yard Dash: 4.79
3-cone Drill: 6.78
20-yard Shuttle: 4.27
Draft Potential: Third round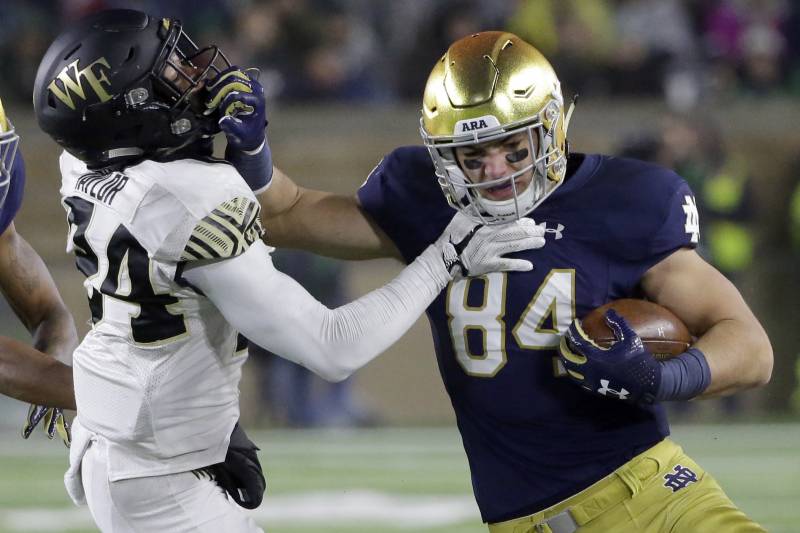 3. Cole Kmet, Notre Dame
Junior declares for NFL Draft after a productive campaign with 43 receptions for 515 yards and six receiving touchdowns. A five-star and top-100 prospect in high school. As a freshman, played baseball and logged eight saves for the Fighting Irish. At 6-foot-6 and 262 pounds, combines idyllic size and strength to outmuscle opponents. Traditional in-line tight end with tall and muscular frame: Sound blocker and good pass catcher. High-effort competitor. Underrated ball tracking skills and adjusts to ball in flight. Large-catch radius and good leaping ability. Concentrates at catch point: Fights for football and wins more often than not. Beats opponents with technique, size and ball skills. Smooth route runner who gains separation in short area quickly. Tough to drag down after the catch. Solid functional strength. Versatile football player: Employed as a receiver in the slot, in-line tight end and lead blocker in the backfield. A raw prospect and work in progress. Occasionally, body catches. Does not run away from tacklers. A project with a fascinating ceiling and well-liked by NFL scouts as a professional two-way prospect.
Key Career Stats
Receptions: 60
Yards per Reception: 11.5
2019 Season
Catch Percentage: 69%
Team Aerial Dominator: 16%
Breakaway Ability
40-yard Dash: 4.70
3-cone Drill: 7.44
20-yard Shuttle: 4.41
Draft Potential: Third round
4. Harrison Bryant, Florida Atlantic
An underrated prospect with a bright professional career ahead. In 2019, John Mackey Award winner, Unanimous All-American, Walter Camp First Team, First Team C-USA and FAU Athletic Academic Achievement award. In 2018, First Team All-C-USA and PFF Second Team All-American. In 2017, Second Team All-C-USA and in 2016, All-Freshman C-USA Team. In high school, Georgia All-State offensive tackle as a junior and All-State tight end as a senior. FAU only FBS-level school to extend a scholarship. In program history, third Owl to record a 1,000-yard receiving campaign with 65 catches and seven touchdowns. At 6-foot-5 and 243 pounds, athletic like a wide receiver with natural and soft hands, lean frame and excellent wing span. Astounding agility and very good contact balance. Excels in motion before the snap with a free release at the line of scrimmage. Smooth change of direction skills. Easily eliminates pursuit angles. Elusive player up the seam. Stupendous body control: Tracks ball well, adjusts to throw on the move and snatches pass with long arms. Very good leaping ability. Impressive game versus Ohio State last year: Intermittently battled CB Jeffrey Okudah, a sure-fire first-rounder, and logged six catches for 79 yards in the game. Not an in-line blocker. Lacks elite lower power and strength. Not an immediate starter and needs to be coached up. A project who might blossom in his second season in the NFL.
Key Career Stats
Receptions: 148
Yards per Reception: 14.4
2019 Season
Catch Percentage: 65%
Team Aerial Dominator: 25%
Breakaway Ability
40-yard Dash: 4.74
3-cone Drill: 7.41
20-yard Shuttle: 4.37
Draft Potential: Third round
5. Albert Okwuegbunam, Missouri
Scouts and diehards double-checked stop watches following 40-yard Dash at the Combine. Uninspiring tour of duty during the last two campaigns on campus; now, draft stock on the rise. Redshirted in 2016. In 2017, Second Team and All-Freshman SEC after 29 catches for 415 yards and 11 touchdowns. Over past two seasons, logged 69 receptions for 772 yards and 12 touchdowns and named Second Team All-SEC last year. At 6-foot-5 and 258 pounds, prototypical frame and untapped athletic ability. Enormous, wide-bodied playmaker with long arms. Easy target for passers. Natural and reliable hands. Battles for the football and remains focused in contested-catch situations. Wins with the ball in the air: Tracks the pigskin in flight and makes highlight catches. Effortlessly snatches arduous throws. Impressive body control and absorbs contact. Attacks the seam of the defense. Identifies the holes in secondary. Versatile competitor. Long strider who picks up yards after the catch. Weapon in the red zone and boxes out opponents. Can be employed in 12-personnel packages immediately. Not a road-paving blocker. Limited route tree. Rigid in-and-out of breaks. Average route runner in the short and intermediate zones. In 2018, missed four games, and in 2019, two games due to a shoulder injury. A high-return investment if drafted beyond the third round.
Key Career Stats
Receptions: 98
Yards per Reception: 12.1
2019 Season
Catch Percentage: 54%
Team Aerial Dominator: 11%
Breakaway Ability
40-yard Dash: 4.49
3-cone Drill: n/a
20-yard Shuttle: n/a
Draft Potential: Third round
6. Thaddeus Moss, LSU
Son of Hall of Famer Randy Moss. Flashed throughout the Tigers' National Championship season. Logged the most productive crusade for a tight end in the history of the program: Established single-season records at the position in catches (42) and receiving yards (534). Originally enrolled at North Carolina State in 2016. Transferred the following season to LSU, sat out the campaign and redshirted as a sophomore in 2018. A 6-foot-2 and 250-pounder with prodigious DNA, magnificent hands, very good footwork and noble body control. Fascinating combination of receiver ball skills and tight end physicality. Inordinate instincts as a pass catcher. A fluid competitor who effortlessly adjusts to football. Very good hand usage. Master of the sideline and taps toes inbounds. Boxes out safeties. Strong at point of attack: Nasty run blocker and enjoys mixing it up. Good technique. A versatile tight end who can play "Y" position and in 11 personnel. Good lateral quickness run blocking. Limited route tree at LSU. Average athleticism despite lineage. A one-year wonder in college. Upside foreshadows a Pro Bowl-level career in the NFL.
Key Career Stats
Receptions: 53
Yards per Reception: 11.7
2019 Season
Catch Percentage: 80%
Team Aerial Dominator: 9%
Breakaway Ability
40-yard Dash: n/a
3-cone Drill: n/a
20-yard Shuttle: n/a
Draft Potential: Fourth round
It is John Laub's seventh year publishing The Scholar's Study Sheets: NFL Draft Prospects. With his Masters in history and professional experience as an educator, Laub is uniquely qualified to research, analyze and discover new insights and trends in college and professional football. Laub has played fantasy football over thirty years and published articles for FootballDiehards.com for well over 25 years. He won $10,000 in 1993, defeating nearly 15,000 owners, and published Audibles: Winning is Everything in the 1990s. He truly is The Gridiron Scholar.
Twitter: @GridironSchol91 or e-mail: Audibles@aol.com