2015 CFF Mock Draft: Owners and Analysis
By John Laub
2015 CFF Mock Draft Owners:
Summa Cum Laude League
Draft Date: June 7, 2015

We assembled some of the finest CFF thinkers in order to provide insight for fans and players on the upcoming season. All of the participants are listed below along with their contact information.
1. Theddy Aime, @HaitianKid79
2. Mike Bainbridge, CollegeFootballGeek.com, @MikeBainbridge2
3. Mike Salerno, Kaos
4. Brian C., Wall St. Noles, @WallStreetNole
5. JT Gasson, Heisman Hopefuls, @Agvet06
6. John Laub, Gridiron Scholars, @GridironScholar91, FootballDiehards.com
7. Robert Manghnani, Bet The Over, @robm0115
8. Andrew Katz, @Andrewpkatz
9. Zach Tow, CFFNews.com, @CFF_News
10. Dan Lawrence, FantasyBCS, @fantasybcs
11. Adam Boleman, MOJO, CollegeFantasyFootballNews.com, @PutBoobieIn
12. Kirby, @TexasFantasyGuy
After the Mock Draft, owners were requested to answer the following three questions:
1. Other than your club, pinpoint the owner with the best draft.
Bainbridge: The best draft was by FantasyBCS.
Boleman: It is tough to mention just one, but the Heisman Hopefuls had a real nice evening.
Brian: This one is a hard call, but I would have to go Heisman Hopefuls followed by the Gridiron Scholars.
Gasson: I like Bainbridge's team, providing Everett Golson wins the starting job at FSU, and the Gridiron Scholars' draft headlined by two top running backs.
Katz: Heisman Hopefuls had an awesome draft last night.
Laub: FantasyBCS and Heisman Hopefuls recruited very well.
Lawrence: Mike Bainbridge drafted the most balanced team.
Manghnani: The Gridiron Scholar had the best draft top to bottom.
Salerno: In my opinion, FantasyBCS selected the best club.
Tow: FantasyBCS had the best Mock Draft.

2. Identify the top sleeper(s) candidate this season.
Bainbridge: QB Matt Johnson (BGSU) who was injured all of last season, and for a deeper sleeper WR Allen Lazard (ISU).
Boleman: I could've drafted WR De'Mornay Pierson-El (NEB) a lot later I'm guessing, but love him as a playmaker.
Brian: If CFF owners are not valuing RB Corey Clement (WI) among top 10 at the position, they are missing the boat.
Gasson: Baker Mayfield didn't get drafted because we could only draft three QBs, but I want him this year with Oklahoma's new offensive coordinator.
Katz: My top three sleepers are QB Matt Davis, SMU, RB Brian Hill, (WYO) and WR Robbie Rhodes (BGSU).

Laub: Without question, WR Kenny Lawler, Jr. (CA) and WR Dom Williams (WSU) are my two top receiver sleepers.
Lawrence: RB Aaron Green (TCU) and his 7.15 yards per carry jump out: He should see plenty of touches.
Manghnani: In my opinion, the top sleeper is WR JuJu Smith (USC). His speed and athleticism combined with Cody Kessler slinging the rock will lead to eye-popping numbers this year.
Salerno: My number one sleeper is RB Leonard Fournette (LSU).
Tow: At TE, Braxton Deaver (Duke) will be a very good sleeper option, as many will have forgotten him.

3. Select one player who will become a weekly CFF starter drafted after the tenth round.
Bainbridge: On my team WR Tyler Winston (SJSU) will be a weekly contributor, and on another squad, it is WR Gabe Marks (WSU).
Boleman: Whoever emerges as the starting running back at Auburn.
Brian: From a fantasy perspective, QB Jacoby Brisset (NCSU) might put up very good numbers: Look at the Wolfpack schedule.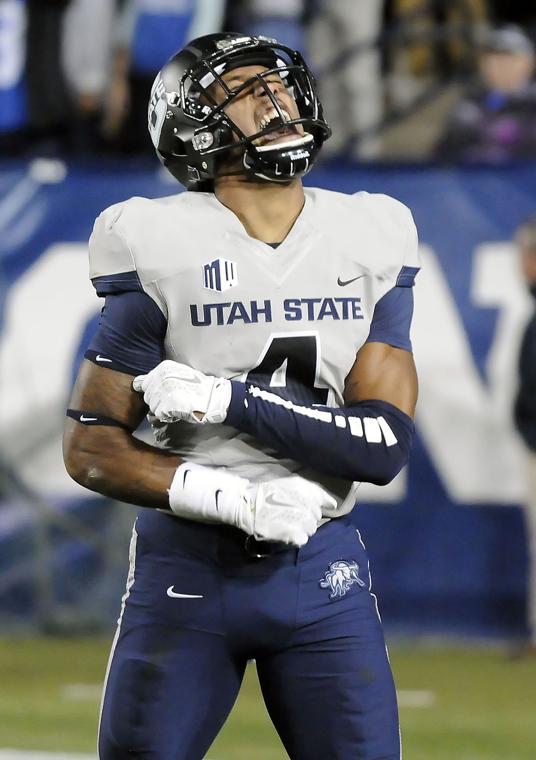 Gasson: I really like WR Hunter Sharp (USU) this year.
Katz: WR Hunter Sharpe (USU) will be a starter throughout the season.
Laub: QB Dane Evans (TLSA) will become a weekly contributor for CFF owners in 2015.
Lawrence: RB Christian McCaffrey (STAN) will likely take over as the feature back. If he gets all the goal line and short-yardage carries, he will be a must start.
Manghnani: WR Travis Rudolph (FSU) will fill the void left by Rashad Greene and Nick O'Leary.
Salerno: RB/WR Byron Marshall (ORE) becomes one of the more valuable bargain picks late in the draft for CFF owners.
Tow: Drafted in the 11th round, WR Hunter Sharp (USU) will be a CFF starter.