Rookie Dynasty Mock Draft 2020
By John Laub
Dynasty Football 101
Rookie Mock Draft
February 14-17, 2020
In the early Eighties, there were not many sporting events to watch during the cold days of February in the Northeast. ESPN aired bowling, Big East basketball and Australian Rules Football, ABC showed the Wide World of Sports, and every four years, the Winter Olympics captured the interest of sports fans. It was a humdrum month to say the least as a teenager who loved football and baseball.
Forty years later, the NFL is a year-round fanaticism and the news cycle never ends. I no longer channel surf in desperate need to find something interesting on TV. I can binge watch shows whenever I need a break from reality, and more importantly, I turn on my computer and watch film of NFL Draft prospects. February now kicks off the draft season. It is an amazing era to be alive and a football fan.
Like many Dynasty zealots, I am gearing up for my upcoming drafts by studying and assessing the incoming college prospects. Having scouted numerous rookies in detail over the past six months, I am commencing the Dynasty campaign with a Mock Draft.
In order to acquire insight into the value of prospects in 2020, I asked eleven other football mavericks to join me. The results are provided below along with analysis and insight provided by the participants…I love the Dynasty season!
Avengers Assemble: Mock Drafters
Draft Order and Participants
1. Bill Carroll, @elevenbravo138
2. Jack Cavanagh, @javanagh87
3. Mitch Hardt, @aceholesrule
4. Ryan Cearfoss, @fntsyfbconnect
5. Raju Byfield, @FantasyContext
6. Johnny Schepps, @CoachSchepps
7. John Laub, @GridironSchol91
8. Rich Maletto, @BodaciousBeer
9. Matt Hicks, @TheFF_Educator
10. Jeff DeMatteo, @NFL_DiMatteo
11. Dennis Bennett, @Culture_Coach
12. Brandon Lejeune, @DynastyDeepDive
First-Round Recap and Analysis
1.01 RB Jonathan Taylor, Wisconsin
"The philosopher, poet and strategist Michael Gerard Tyson was quoted as having said: ""Everybody has a plan until they get punched in the mouth." Mock drafts are somewhat similar in that there are always twists and turns that you don't and perhaps, couldn't have expected. I approached this mock with a clear plan: Address the running back position in the first, receiver in the second and quarterback in the third. I was thrilled to land a true 'bell cow' back in Taylor with my initial pick. He's produced at an elite level in a Power 5 conference with a few solid to excellent defenses. At 5-foot-11 and 216 pounds, he is close to perfect body type to excel as an NFL running back. He was a celebrated sprint champion in high school with a 10.49 100M on his resumé. In 2019, he rushed for 2,003 yards and had 252 yards in receptions. He finished his college career as the sixth all-time rusher in the NCAA, and the first player in history to rush for more than 6,000 yards in any three-year span."
—Bill Carroll, @elevenbravo138
1.02 RB D'Andre Swift, Georgia
"With Jonathan Taylor off the board, D'Andre Swift becomes the easy pick, especially in a one-point, ppr-scoring format. Swift averaged 9.1 yards per catch on his 73 college receptions making him ready to step into a three-down workload from the get-go. When he shared the Georgia backfield with both Nick Chubb and Sony Michel in 2017, Swift still managed to record 98 touches while his 17 receptions were five more than the two senior backs combined."
—Jack Cavanagh, @javanagh87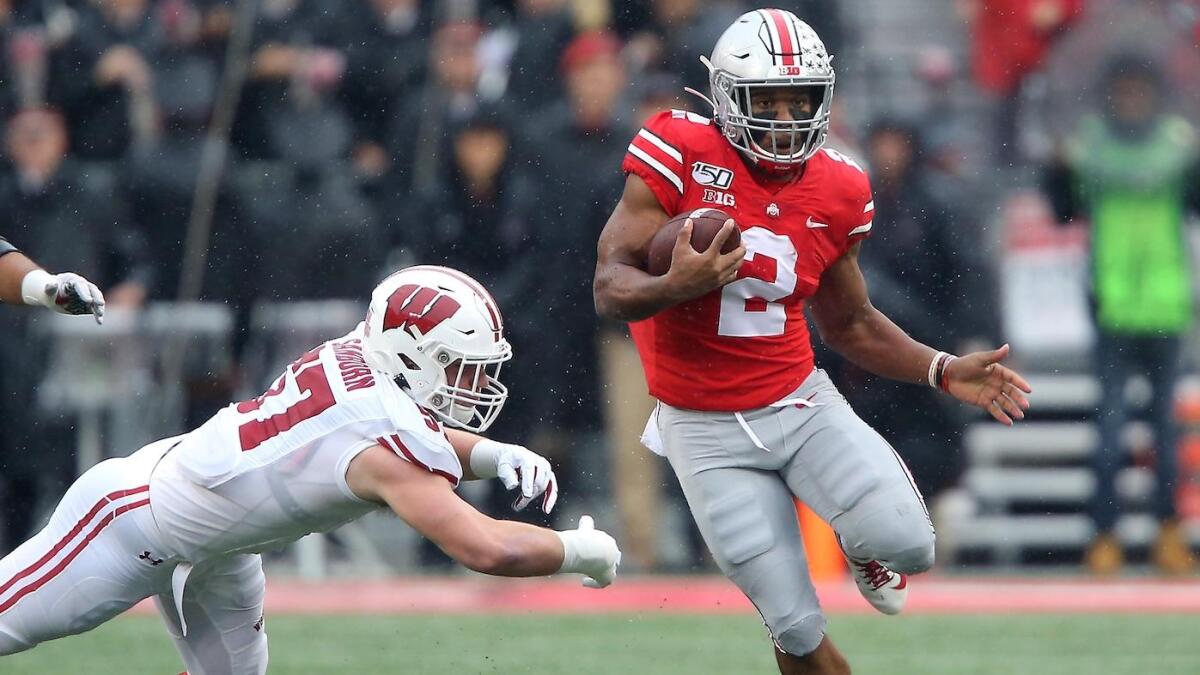 1.03 RB J.K. Dobbins, Ohio State
"At 5-foot-10 and 215 pounds, JK Dobbins has the size and the skills to be a great NFL back. In Dobbins, I see a mixture of the former Saints' backfield tandem of Mark Ingram and Alvin Kamara. With the former Buckeye star, you get a great inside runner like Ingram and the receiving skills, to a lesser degree, that you get with Kamara, in one nice package. That comparison being said, Dobbins will immediately be a three-down back and would be a great fit in Atlanta."
—Mitch Hardt, @aceholesrule
1.04 WR Jerry Jeudy, Alabama
"I was absolutely excited to be able to grab Jerry Jeudy here. The Alabama star is the most polished receiver coming out in the Draft, which will lead to instant production. Jeudy is a tactician as a route runner who is smooth in-and-out of breaks and can put defensive backs in spin cycles. With the ball in his hands, Jeudy shows the ability to be elusive and make guys miss in space, giving teams a reason to get him the ball even more. Being so much of Jeudy's game is based off of the technical aspect, he has an amazing floor which he can pair with his upside."
—Ryan Cearfoss, @fntsyfbconnect
1.05 WR CeeDee Lamb, Oklahoma
"At this point of the offseason, CeeDee Lamb is one of five players in the mix to go first overall in Dynasty rookie drafts. Without knowing landing spots, Lamb may be the safest of all of the freshmen in this draft class. Lamb projects as an immediate wide receiver No. 2 in Dynasty, and has the game-breaking ability to reach the wide receiver No. 1 conversation by the end of his rookie season. A big-play threat who creates constant separation, the Sooners' speedster ranked second in the nation with 26 receptions of 20 or more yards."
—Raju Byfield, @FantasyContext
1.06 WR Henry Ruggs, III, Alabama
"Henry Ruggs is a special talent who is currently hiding in the shadows of Jerry Jeudy and CeeDee Lamb. Once he runs a low 4.2s in the 40-yard dash, and people start to break down his film more, he will emerge. He is an electrifying athlete and there's no doubt in my mind he will produce day one as a professional."
—Johnny Schepps, @CoachSchepps
1.07 RB Clyde Edwards-Helaire, LSU
"I am such a Dynasty Diehard that I embrace the 'sweat' waiting for my pick in a Mock Draft. I enjoy these early exercises in February because the Combine has not yet occurred, and there are many different perspectives on players among the Dynasty community. The first-round selections have not coagulated around a cadre of top-twelve prospects. I watched the picks go off the board and hoped Clyde Edwards-Helaire would fall to me at No. 7…he did. I am bullish on the LSU star and drafted him without any reservation. After a sensational season, he earned First Team All-SEC and Football MVP at LSU. A dynamic pass-catcher, the Tigers' playmaker is a versatile three-down runner who can be successful in a gap- or zone-run game. I have a second-round grade on Edwards-Helaire, and I expect him to garner the interest of Fantasy Footballers throughout the draft process and summer months."
—John Laub, @GridironSchol91
1.08 RB Cam Akers, Florida State
"I was happy to acquire Cam Akers at the eighth-spot overall. I had hoped to see one to two other backs fall, but frankly Akers could be the best of the bunch, depending on where he gets drafted. At 5-foot-11 and 212 pounds, he's built right for the NFL, and has the speed and burst to succeed. No one is disputing his running skills, the limiting factor for Akers is pass protection. He has the necessary tools to be more than adequate, but can he identify and stonewall blitzers? If he does that, I won't be surprised to see him as the top rookie back."
—Rich Maletto, @BodaciousBeer
1.09 WR Tee Higgins, Clemson
"I'm thrilled to see Tee Higgins fall all the way to ninth overall. Higgins is a big-bodied receiver at 6-foot-4 and 205 pounds who combines understated speed with a large-catch radius and the ability to dominate at the catchpoint. His consistent hands and subtle handwork compliment his large-catch radius well, and lead me to project him as a future red zone monster in the NFL. Higgins is my wide receiver No. 3 in this draft class, so this is fantastic value."
—Matt Hicks, @TheFF_Educator
1.10 RB Zack Moss, Utah
"At this spot, I was torn between Zack Moss or Jalen Reagor. Given the depth, at the wide receiver position, I opted to reach slightly for the running back. Moss is a powerful runner who demonstrates elite level contact balance and an uncanny ability to break tackles. Per PFF, Moss forced 87 missed tackles on 234 carries in 2019. Furthermore, in every game where he had at least ten carries, he broke four or more tackles in each contest. The former Utah celebrity lacks long speed and won't blow anyone away at the Combine, but the ability to hit the hole and break tackles translates very well to the next level. Feeling really good about him as the sixth runner off the board."
—Jeff DeMatteo, @NFL_DiMatteo
1.11 WR Jalen Reagor, TCU
"When the 5-foot-11 and 195-pound speedster fell to me at pick eleven, I was quick to pull the trigger. After a great sophomore season, Reagor's production fell as a junior when the quarterback play for the Horned Frogs suffered. He has shown the ability to make the big play but will need to cut down on the drops. The TCU offense limited the Horned Frogs' star to playing out wide on the right side. He has shown good explosion and body control when going up for the ball. Once an NFL team expands his route tree, Reagor will be a steady fantasy contributor."?
— Dennis Bennett, @Culture_Coach
1.12 RB Ke'Shawn Vaughn, Vanderbilt
"Ke'Shawn Vaughn was the last quality ball carrier available after the early run on backs so this was an easy selection. He may be overshadowed by the other backs in this class, but he was the lone bright spot on a terrible Vanderbilt offense this season and still managed to produce over 1,000 yards on the ground with a 5.2 yards per carry. He really showcased his pass-catching ability this year and faced SEC defenses on a weekly basis, which should be attractive to NFL scouts. With the deep class of receivers, taking a potential starting running back to start my draft made sense."
— Brandon Lejeune, @DynastyDeepDive
First-Round Picks
| | | | |
| --- | --- | --- | --- |
| Pick | Pos. | Player | School |
| 1 | RB | Jonathan Taylor | Wisconsin |
| 2 | RB | D'Andre Swift | Georgia |
| 3 | RB | J.K Dobbins | Ohio State |
| 4 | WR | Jerry Jeudy | Bama |
| 5 | WR | CeeDee Lamb | Oklahoma |
| 6 | WR | Henry Ruggs, III | Alabama |
| 7 | RB | C. Edwards-Helaire | LSU |
| 8 | RB | Cam Akers | Florida State |
| 9 | WR | Tee Higgins | Clemson |
| 10 | RB | Zack Moss | Utah |
| 11 | WR | Jalen Reagor | TCU |
| 12 | RB | Keshawn Vaughn | Vanderbilt |

It is John Laub's seventh year publishing The Scholar's Study Sheets: NFL Draft Prospects. With his Masters in history and professional experience as an educator, Laub is uniquely qualified to research, analyze and discover new insights and trends in college and professional football. Laub has played fantasy football over thirty years and published articles for FootballDiehards.com for well over 25 years. He won $10,000 in 1993, defeating nearly 15,000 owners, and published Audibles: Winning is Everything in the 1990s. He truly is The Gridiron Scholar.
Twitter: @GridironSchol91 or e-mail: Audibles@aol.com