Post-Draft Rookie Rankings II: 2017
By John Laub
2017 Post-Draft Rankings:
Distinguished Fantasy Freshmen (part II)
7. Kareem Hunt, Kansas City Chiefs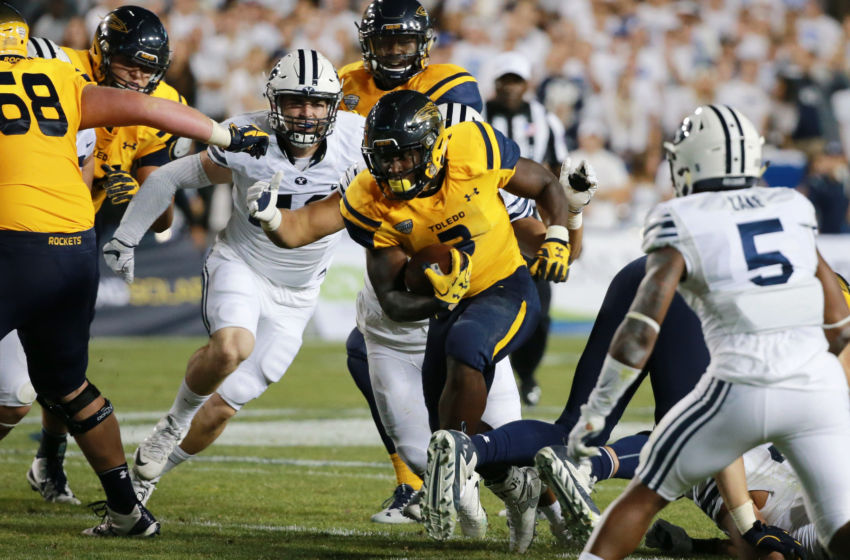 In 2015, the Chiefs averaged 128.9 rushing yards per game (6th) but fell to 106.4 yards per game last season (19th). Spencer Ware, last year's starting running back, led Kansas City with 921 yards rushing, yet failed to surpass 100 yards from scrimmage in any contest during the second half of the season. Without question, coach Andy Reid covets a dominant ground attack. Since he became a head coach, Reid has identified and drafted underrated runners…enter Kareem Hunt, who possesses an ideal mix of power, speed and agility with great cutback ability, which fits perfectly into the Chiefs' run scheme.
Grade: B-
2017 Projections: 550 rushing yards, 40 receptions for 375 yards and 6 touchdowns
8. Mike Williams, San Diego Chargers
The Chargers are loaded at the receiver position entering training camp: Keenan Allen, Tyrell Williams, Travis Benjamin and Dontrelle Inman. San Diego also has pass-catching tight ends Antonio Gates and Hunter Henry on the roster. With all of the playmakers, the number of snaps and targets will likely be capped for Williams in 2017. The former Tiger has the prototypical frame (6'3" and 218 lbs.) of an alpha dog in an NFL aerial assault and utilizes an excellent combination of body control, leaping ability and ball skills to make catches.
Grade: B-
2017 Projections: 53 receptions for 650 yards and 6 touchdowns
Cum Laude
9. John Ross, Cincinnati Bengals
Similar to the landing spot for Mike Williams in San Diego, John Ross will compete for playing time in Cincinnati. Quarterback Andy Dalton has veterans A.J. Green and Brandon LaFell, sophomore Tyler Boyd and tight end Tyler Eifert to target in the passing game. Also, the Bengals could employ two terrific pass-catching runners—Giovani Bernard, if healthy, and rookie Joe Mixon—on passing downs. After recording the fastest 40-yard dash at the Combine, there is no questioning Ross' ability to get over the top of secondary defenders, and he will hit a few home runs as a freshman.
Grade: C+
2017 Projections: 45 receptions for 620 yards and 5 touchdowns
10. O.J. Howard, Tampa Bay Buccaneers
One of the more intriguing rookies available in fantasy drafts this summer. In Dynasty leagues, the former Crimson Tide celebrity may come off boards within the top six selections. However, in redraft leagues, astute fantasy managers must not overrate O.J. Howard. Historically, rookie tight ends do not make an immediate impact as professionals. At 6'6" and 251 pounds, Howard is an extraordinary combination of power, toughness and speed, and provides Jameis Winston another huge target in the red zone.
Grade: C+
2017 Projections: 53 receptions for 550 yards and 5 touchdowns
11. Zay Jones, Buffalo Bills
Without reservation, I am extremely bullish on Zay Jones becoming a premier slot receiver as a professional. Buffalo lacked reliable playmakers at receiver last year when Sammy Watkins could not suit up. The Bills sought a consistent wide out in the short and intermediate zone to compliment Watkins home run ability, and Jones fulfills all of the requirements. He established an FBS career mark with 399 catches and owns the best hands among the freshmen. At 6'2" and 201 pounds, the former Pirate is a crispy, savvy and shifty route runner with outstanding body control.
Grade: C+
2017 Projections: 60 receptions for 670 yards and 5 touchdowns
12. Evan Engram, New York Giants
In New York, QB Eli Manning's opportunities to capture another Super Bowl trophy are narrowed. The Giants sought to upgrade the passing attack to assist Manning, and drafted Evan Engram in the first round. The Mississippi tight end has a muscular frame and large catch radius with big hands at 6'3" and 234 pounds. He challenges defenses in the middle of the field and creates mismatches with a textbook blend of size, speed and quickness.
Grade: C+
2017 Projections: 50 receptions for 550 yards and 4 touchdowns
Honorable Mention
13. Alvin Kamara, New Orleans Saints
14. Joe Williams, San Francisco 49ers
15. JuJu Smith-Schuster, Pittsburgh Steelers
16. Deshaun Watson, Houston Texans
17. Jamal Williams, Green Bay Packers
18. Marlon Mack, Indianapolis Colts
19. Curtis Samuel, Carolina Panthers
20. DeShone Kizer, Cleveland Browns
Dynasty Prospects
21. D'Onta Foreman, Houston Texans
22. David Njoku, Cleveland Browns
23. Taywan Taylor, Tennessee Titans
24. Aaron Jones, Green Bay Packers
25. Carlos Henderson, Denver Broncos
26. Wayne Gallman, New York Giants
27. Chris Godwin, Tampa Bay Buccaneers
28. ArDarius Stewart, New York Jets
29. Gerald Everett, Los Angeles Rams
30. James Connor, Pittsburgh Steelers
31. Josh Reynolds, Los Angeles Rams
32. Cooper Kupp, Los Angeles Rams
33. Chad Williams, Arizona Cardinals
34. Jeremy McNichols, Tampa Bay Buccaneers
35. Robert Davis, Washington Redskins
36. Kenny Golladay, Detroit Lions
With his Masters in history and professional experience as an educator, John Laub is uniquely qualified to research, analyze and discover new insights and trends in college and professional fantasy football. Laub has played fantasy football for a quarter century and provided FootballDiehards.com with weekly player rankings for nearly two decades. He won $10,000 in 1993, defeating nearly 15,000 owners, and published Audibles: Winning is Everything in the 1990s. He truly is The Gridiron Scholar.
Twitter: @GridironSchol91 or e-mail: Audibles@aol.com