One-year Wonders: The Forgotten Fantasy Field Generals part II
By John Laub
One-year Wonders
The Forgotten Fantasy Field Generals part II
Steve Beuerlein, Carolina Panthers, 1999
I'm old enough to remember the Carolina Panthers expansion draft in 1995. With the first pick, the Jaguars (that's right, Jacksonville) selected Steve Beuerlein. The former Notre Dame product was a fourth-round selection of the Los Angeles Raiders in 1987 and enjoyed some success in the City of Angels during his first two years in the NFL. As per many Raiders' players, Beuerlein had a contract dispute with owner Al Davis and missed the entire 1990 season.
For two years afterwards, Beuerlein languished on the bench in Dallas before signing as a free-agent in Phoenix. Coach Buddy Ryan and Beuerlein had a combative relationship, and Ryan exposed him to the expansion draft. After two uneventful campaigns in Jacksonville, Beuerlein travelled to Carolina to backup Kerry Collins. When Collins stepped away from football in 1998 because of personal challenges, Beuerlein ascended to the top of the depth chart, firing 17 touchdown passes and passing for over 2,600 yards.
During the offseason, the Panthers hired former 49ers' coach George Seifert, who had won two Super Bowls in San Francisco. In 1999, the organization employed the right man to turn the team around. Nonetheless, did the franchise have a roster capable of orchestrating Seifert's offensive scheme?
During training camp, Beuerlein defeated Jeff Lewis for the starting job. Few fantasy diehards foresaw that the Panthers' offense would ascend to new heights behind the journeyman passer. Seifert unleased a dangerous aerial attack with WR Mushin Muhammad (1,253 & 8 TDs), WR Patrick Jeffers (1,082 & 12 TDs) and TE Wesley Walls (1,082 & 12 TDs). The 34-year old had the skills and experience to distribute the ball to all of his prodigious playmakers.
In five games, Beuerlein posted 300 or more yards passing, and eight times, he tossed three or more touchdowns. The veteran signal caller led the league in passing yards with 4,436, finished second with 36 aerial strikes and concluded the campaign as the second-most productive fantasy quarterback. Beuerlein's remarkable crusade is sandwiched between Collins and Jake Delhomme in Panthers history, and regrettably, his production transpired the same year as Kurt Warner and the Greatest Show on Turf. Beuerlein's stupendous season is discarded to the dustpan of history.
1999 Statistics:
| | | | | |
| --- | --- | --- | --- | --- |
| Passing Yards | P-TDs | Rushing Yards | R-TDs | Fantasy Pts. |
| 4,436 | 36 | 124 | 2 | 316 |
Jeff Garcia, San Francisco 49ers, 2000 and 2001
I know the title of the article states one-year wonders; nevertheless, there are exceptions to rules, and I could not cherry-pick one of Jeff Garcia's back-to-back stellar seasons…so both make the list.
The NFL bypassed the former Spartan, who was considered too small at 6-foot-1 and 195 pounds, coming out of San Jose State. He took his skills north and played in the CFL for the Calgary Stampeders. After Doug Flutie signed with Toronto as a free agent, Garcia earned the starters role in 1996. The following year, he won the Most Outstanding Player award in the Western Division, and in 1998, led the Stampeders to a Grey Cup victory and was named the game's MVP. Afterwards, he signed with the 49ers and finally, procured a roster spot in the NFL.
In 1999, the Steve Young era came to an abrupt conclusion when the lefty suffered another concussion on a blindside hit on a Monday Night against Arizona. Garcia replaced the future Hall of Famer and started 10 games, throwing 11 touchdowns, recording 11 interceptions and posting a 2-8 record as a starter. In the Draft, the 49ers selected two quarterbacks (Giovanni Carmazzi and Tim Rattay); yet, Garcia beat out both in training camp, and he would not relinquish the role for the next four seasons.
How good was the dynamic signal caller? Garcia was a deadly short passer with a quick release. With guts and hutzpah, he easily avoided pass rushers, buying time with his legs and running for first downs. The 49ers' playmaker foreshadowed the modern mobile signal callers in the league.
In both seasons, Garcia netted a Pro Bowl invite and led the 49ers to the playoffs. Amazingly, he finished second and first in fantasy scoring among quarterbacks with 343 and 305 points respectfully. He also established a franchise mark with 4,278 passing yards in 2000, which is still the standard nearly twenty years later.
He is more than a footnote in NFL history by completing 30 touchdown passes in back-to-back seasons—one of only 10 players to accomplish the feat. Lamentably, I never owned shares of Garcia in my two keeper leagues. I did not foresee fantasy greatness, and the owners retained his services. The infuriating feeling of losing in a championship game by a Garcia-led team still haunts my alternative-reality life.
2000 & 2001 Statistics:
| | | | | |
| --- | --- | --- | --- | --- |
| Passing Yards | P-TDs | Rushing Yards | R-TDs | Fantasy Pts. |
| 4,278 | 31 | 414 | 4 | 343 |
| 3,538 | 32 | 254 | 5 | 305 |
Aaron Brooks, New Orleans Saints, 2001
There are many days in American history that changed our nation and impacted lives. After the assignation of President John F. Kennedy in 1963, Commissioner Pete Rozelle decided to play the games on Sunday: "It has been traditional in sports for athletes to perform in times of great personal tragedy. Football was Mr. Kennedy's game. He thrived on competition," Rozelle stated. Later in life, Rozelle bemoaned his decision on that historic weekend.
As a history teacher, I will never forget 9/11. I had recently purchased a new condo in downtown New Haven, CT and had an hour commute to Danbury. On the drive into work, I was listening to Imus in the Moring on WFAN out of New York when the first plane crashed into the North Tower of the World Trade Center. Later that night, I took a walk on the New Haven Green: Not a person in sight and unnerving silence. In 2001, Commissioner Paul Tagliabue would not make a similar misstep as Rozelle and postponed all games scheduled for September 16.
Two years before that fateful day in 2001, Green Bay Packers General Manager Ron Wolf drafted Aaron Brooks in the fourth round. The Virginia product was not even among the Top 10 prospects by Joel Buchsbaum, who wrote "Very athletic. Has periods when he throws the ball like a first-round pick. Very erratic passer. An enigma." He spent a season backing up Brett Favre before docking in New Orleans. When Jeff Blake suffered a season-ending foot injury in 2000, Brooks stepped into the spotlight for the final five regular season games.
When the next season kicked off in 2001, Brooks called signals and opened the campaign with a three-touchdown outing in Buffalo. Unlike my blunder bypassing Garcia, I acquired the dual-threat signal caller in one league and relished watching him perform. At 6-foot-4 and 204 pounds, he owned a strong arm and rifled throws down the field. In five games, he tossed three touchdowns and four times, eclipsed 300 yards passing. Brooks added a career-best 358 yards rushing and scored once. He concluded the campaign eighth in fantasy points scored among quarterbacks and in three consecutive campaigns, finished in the Top 10.
In six seasons in New Orleans, he ranked Top 10 in Total Offense and passing yards four times and passing touchdowns and passes completed on three occasions. More importantly, he graded among the Top 10 fantasy field generals every year from 2001 to 2004. Well deserving of a roster spot on the one-year wonder team.
2001 Statistics:
| | | | | |
| --- | --- | --- | --- | --- |
| Passing Yards | P-TDs | Rushing Yards | R-TDs | Fantasy Pts. |
| 3,823 | 26 | 358 | 1 | 257 |
Derek Anderson, Cleveland Browns, 2007
As a lifetime Broncos fan, I have been watching the '86 and '87 AFC Championship Games—The Drive and The Fumble—between Denver and Cleveland during quarantine and fondly remember those breathtaking Browns' clubs with QB Bernie Kosar, RB Kevin Mack and RB Earnest Byner. Since the new millennium, the Browns have not recaptured the glory of their storied past only making the playoffs once (2002) in 20 years.
In 2007, coach Romeo Crennel nearly led the Browns to a playoff appearance, winning 10 games. Cleveland had a powerful running game with Jamal Lewis (1,304 yards and 9 TDs) and two prodigious playmakers in the aerial assualt with WR Braylon Edwards (1,289 yards and 16 TDs) and TE Kellen Winslow, Jr. (1,106 yards and 5 TDs). Undeniably, quarterback Derek Anderson profited off the incredible trio of weapons at his disposal.
Anderson entered the league the same season as Aaron Rogers and Alex Smith. As a senior at Oregon State, he earned second team All-PAC 10 honors, throwing for 29 touchdowns and over 3,600 yards. He had NFL traits: "Excellent size. He has an NFL arm and can throw with velocity and touch. Strong in the pocket and can move around and step up to elude the rush," according to Pro Football Weekly. Not even ranked among the Top 10 prospects by many scouting organizations, the Ravens selected Anderson in the sixth-round of the 2005 Draft. After his release, the Browns acquired his services off waivers.
In training camp the next summer, Anderson battled Charlie Frye and rookie Brady Quinn for the starting position: Frye won but was so ineffective in the opening game against the Steelers that Crennel pulled him and inserted Anderson. The following week against the Bengals, the 24-year old pitcher led the Browns to a 51-45 victory and completed 20 of 33 passes for 328 yards and a whopping five touchdowns.
I immediately plucked Cleveland's new starter off the waiver wire: In fantasy football, I never hesitate acquiring a quarterback who flashes early in a season. When the campaign concluded, he was named to the Pro Bowl after passing for 3,787 yards and 29 touchdowns. Amazingly, he also scored three rushing touchdowns to boost his fantasy value, finishing as the seventh most productive signal caller. Anderson never completed double-digit touchdowns or close to 3,500 yards passing in a season again. However, he earned a paycheck for 11 more NFL crusades and retired as a member of the Bills in 2018.
2007 Statistics:
| | | | | |
| --- | --- | --- | --- | --- |
| Passing Yards | P-TDs | Rushing Yards | R-TDs | Fantasy Pts. |
| 3,787 | 29 | 70 | 3 | 256 |
Matt Schaub, Houston Texans, 2009
In late October, I could not believe my ears when it became clear that Matt Schaub would start for the Falcons versus the Seahawks. I was heavily invested in the Atlanta aerial assualt last year, and watched the 15-year veteran complete 39 passes for 460 yards and a touchdown. Throughout the afternoon, Schaub's super season scooted into my stream of consciousness.
In 2009 coach Gary Kubiak, who backed up John Elway and coordinated the offense under Mike Shanahan in Denver, kicked off his fourth season at the helm in Houston. Schaub signed as a free agent with the Texans after backing up Michael Vick for three seasons in Atlanta. During his first two seasons in Houston, Schaub failed to meet the expectations of the organization and fans.
Finally, the stars aligned and the Houston rifleman became a fantasy stalwart: He led the league in completions (396), attempts (583), passing yards (4,770) and passing yards per game (298.1). He also fired 29 touchdowns and earned a Pro Bowl invite. Among fantasy quarterbacks, Schaub ranked fourth in points scored by the end of the crusade.
He remained a Texan for another four seasons, but did not reproduce those outstanding numbers. Over the past five seasons, Schaub has started only three games and likely is only remembered as a postscript in the annals of fantasy football history.
2009 Statistics:
| | | | | |
| --- | --- | --- | --- | --- |
| Passing Yards | P-TDs | Rushing Yards | R-TDs | Fantasy Pts. |
| 4,770 | 29 | 57 | 0 | 285 |
Bonus: Jim Kelly, Houston Gamblers, USFL, 1984
For well over 40 years, I have been a football groupie. In 1983, I fell in love with the USFL and religiously watched the spring league for all three years of its existence. As a senior in high school in 1984, I attended many New Jersey Generals games in the Meadowlands, driving south on the Saw Miller River Parkway and across the George Washington Bridge in my Mom's brown Buick Regal with friends. We would buy tickets for less than $12 at the box office window, or from scalpers in the parking lot, whichever was cheaper.
In the 1983 Draft, the Buffalo Bills selected Miami QB Jim Kelly, but he did not want to play in the cold weather for a poor franchise. When General Manager Bruce Allen of the Chicago Blitz allegedly told Kelly that he could chose which team he wanted to play for in the USFL, he opted to sign with the Houston franchise in climate-controlled weather.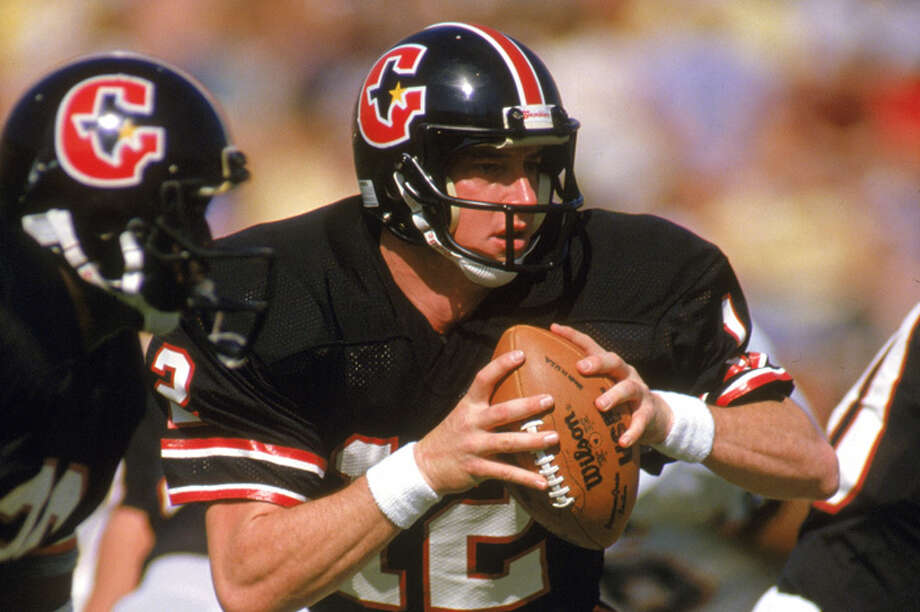 I cherish the splendor of the Houston Gamblers' run-and-shoot offense with Kelly and coordinator Mouse Davis, the architect of the scheme. It was a perfect match of talent and system. With a gunslinger's hubris and a cannon for an arm, the future Hall of Famer gunned down opponents and captured the adoration of a new generation of football zealots.
Even probing Kelly's numbers through today's lens, it is mind blowing to gaze at his passing totals as rookie: He passed for 5,219 yards, tossed 44 touchdowns, rushed for 493 yards and scored five times. I still get giddy reflecting on those high-scoring Gamblers' teams. If interested in watching Kelly firing away for Houston, there are full games posted on YouTube.com…I promise that you will not be disappointed.
1984 USFL Statistics:
| | | | | |
| --- | --- | --- | --- | --- |
| Passing Yards | P-TDs | Rushing Yards | R-TDs | Fantasy Pts. |
| 5,219 | 44 | 493 | 5 | 419 |