CFF Waiver Wire Gemstones Week 9
By John Laub
Waiver Wire Gemstones

College Fantasy Football: Week 9
Quarterbacks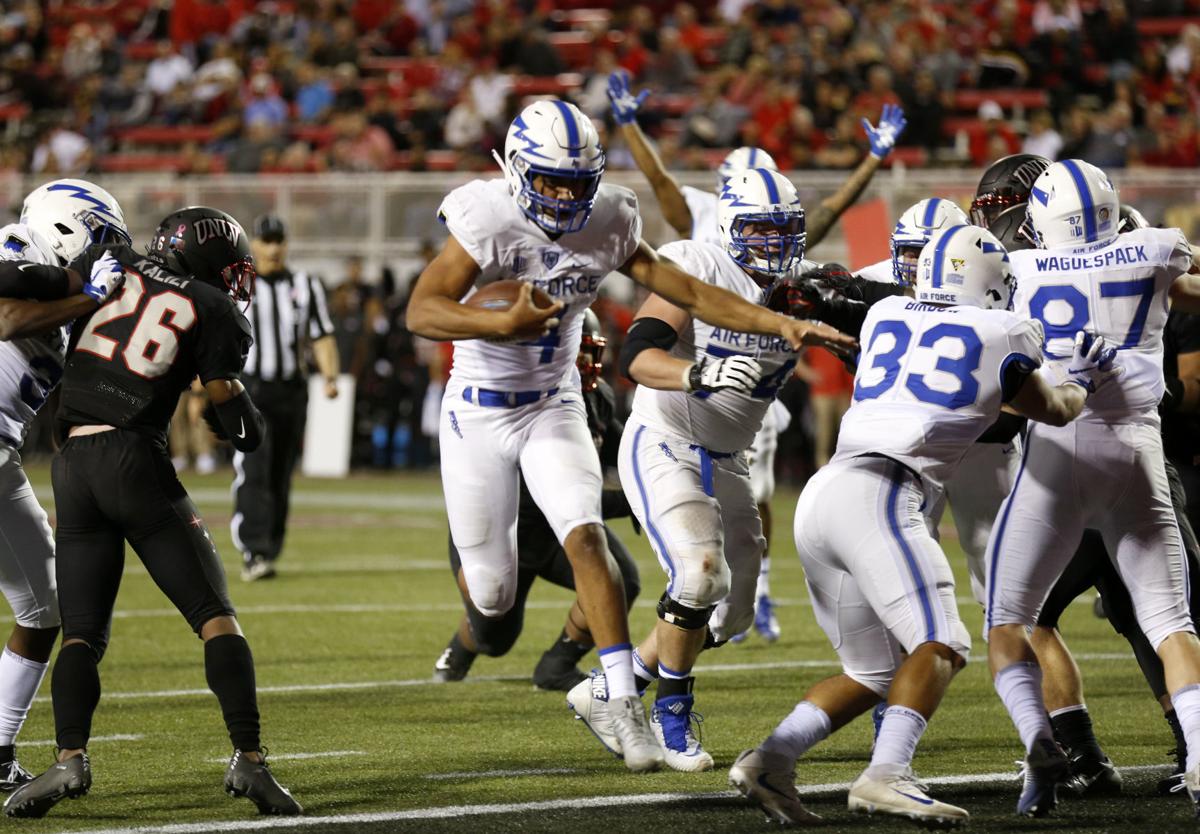 Isaiah Sanders, Air Force
Fantrax Ownership Percentage: 2%
On Saturday night, I stayed up late to watch the Air Force-Boise State game to observe Brett Rypien—who is also on my CFF teams—for NFL Draft analysis. Surprisingly, Air Force dual-threat Isaiah Sanders matched Rypien all evening. Sanders passed for 210 yards, rushed for 97 and totaled three touchdowns. It has been an up-and-down season for Sanders but recently all on the upswing. Over the last four weeks, the Falcons' aviator is the seventeenth ranked quarterback in CFF with 91 points scored. In consecutive games, Sanders has produced 50 and 34 points on 427 passing yards, 270 rushing yards and seven touchdowns. In the next two weeks, Air Force travels to Army and hosts New Mexico, and Sanders should continue putting up top 24 fantasy points at the quarterback position.

Max Gilliam, Las Vegas
Fantrax Ownership Percentage: 2%
When Armani Rogers went down in September, Max Gilliam stepped into the starting lineup for the Rebels. His first game against New Mexico impressed no one, but since that contest, Gilliam has been notable throwing the football. He has leaped up the CFF rankings, and over the last month, is the twelfth-rated quarterback with nearly 100 points scored. In the last three outings, the 6-foot-3, 195-pound sophomore has passed for 898 yards, tossed 10 aerial strikes and scored 22.7, 23.7 and 43.9 fantasy points. The Rebels have challenging matchups in the next two weeks (Fresno State and San Diego) but concludes the campaign with games against Hawaii and Nevada.
Tobias Oliver, Georgia Tech
Fantrax Ownership Percentage: 2%
If TaQuon Marshall returns, Tobias Oliver is nearly impossible to start. When Oliver is behind center in the triple-option, he is one of the most exciting players in the nation to watch. Against Virginia Tech on Thursday night, Oliver did not complete a pass, nevertheless, scored 39.5 points on 215 yards rushing and three touchdowns. A freshman, the dynamic gamebreaker is a must pick up in CFF Dynasty and Keeper leagues with Marshall likely graduating this year. It'll be exciting to watch Oliver in charge of the Yellow Jackets offense in the upcoming years.

Sean Chambers, Wyoming
Fantrax Ownership Percentage: 1%
Running Backs

Jason Huntley, New Mexico State
Fantrax Ownership Percentage: 37%
As an FBS Independent program, New Mexico State has won only two games all season. Most CFF Diehards have not likely looked closely at the New Mexico State roster for assistance. Eyeing the numbers in depth is my job to find gemstones among all 130 FBS schools. The Aggies offense employs one of the best players in the nation in the last three weeks. Jason Huntley stands atop the running back CFF rankings, scoring 82.4 points in ppr-formats. For the season, the junior playmaker has rambled for 403 yards on 85 carries, snatched 35 passes for 405 yards and scored seven total touchdowns. The Aggies host FCS opponent Alcorn State next week, and Hundley should see plenty of wide-open running lanes.
Ronnie Rivers, Fresno State
Fantrax Ownership Percentage: 2%
Living on the East Coast, I often stay up late to watch Mountain West and PAC 12 contests. One of the more interesting teams to lose sleep over lately has been Fresno State. Behind the QB-WR duo of Marcus McMaryion and KeeSean Johnson, the Bulldogs are scoring 39.5 points per game, which ranks among the top 20 teams in the country. Since October 9, Ronnie Rivers is the thirteenth-ranked CFF running back with over 60 fantasy points. In the past four games, he has rushed for 207 yards on 31 attempts, grabbed nine passes for 140 yards and scored six times. The sophomore has earned an integral role in the offense, and CFF managers should consider picking him up. In the next two weeks, Fresno State hits the road to take on UNLV and Boise State.

Johnny Ford, South Florida
Fantrax Ownership Percentage: 3%
Has there been a better runner than Johnny Ford over the past two weekends? Only J.J. Taylor has scored more fantasy points. The fantastic freshman has rushed for over 100 yards in consecutive games and scored five times for the Bulls. On only 23 carries, Ford has 270 rushing yards. He has recorded only one catch for 39 yards this season, which limits his value in ppr-scoring leagues. CFF owners cannot ignore the prolific production and would be wise to invest in the South Florida ball carrier down the stretch.
Wide Receivers
Travis Fulgham, Old Dominion
Fantrax Ownership Percentage: 24%
In the Week 7 Scholar's Surreptitious Starters column, I identified Travis Fulgham as a sneaky starter against Marshall, and three weeks later, he continues to dominate the opposition. While Old Dominion lost its fifth consecutive game against Middle Tennessee, the senior sustained his hot streak with 215 yards receiving on 10 catches with a touchdown. Over the last six games, Fulgham has produced double-digit fantasy points in each contest. Three times he has scored over 26 points, four games exceeded 100 yards receiving and twice recorded 10 receptions. And he has scored a touchdown in every game. How dominate is the Monarchs' game breaker? Since September 22, Fulgham is the top-rated CFF receiver with 131.2 points in ppr-scoring formats. Why is he only on 24% of rosters? Run to the waiver wire and put a bid in for the fiercest flanker in the nation. In the upcoming CFF playoffs, Old Dominion plays Virginia Military and Rice, which are succulent matchups.

Michael Pittman, Jr. USC
Fantrax Ownership Percentage: 10%
In the City of Angels, the Dodgers lost the World Series and both USC and UCLA are in the midst of poor seasons. However, the Trojans do have a very viable receiver who is being overlooked by CFF owners—Michael Pittman, Jr., who is the son of former NFL runner Michael Pittman, Sr. The junior has risen to the top of the pecking order in the USC passing game through hard work, unwavering confidence and dedication to his craft. "I feel like I'm faster and stronger than every defensive back that I go against," Pittman said. "It's no disrespect to them. It's just I have that confidence." In the last five games, Pittman has produced phenomenal numbers: 19 catches for 444 yards and six touchdowns. In the next three weeks, USC plays Oregon State, California and UCLA. All the games should be high scoring, and Pittman will continue to shine down the stretch.

Kahlil Lewis, Cincinnati
Fantrax Ownership Percentage: 5%
A senior, Kahlil Lewis campus tenure is nearly over; nevertheless, his performance versus SMU will provide a lifetime of memories. He enjoyed the best statistical game of his tenure with 12 receptions for 174 yards and two touchdowns. For the season, Lewis leads the Bearcats in receptions (31), yards (414) and touchdowns (5). The 6-foot-0 and 197 pounder has not reached preseason expectations entering the campaign, but might down the stretch. "That's kind of the pressure I want to put on Kahlil. He should be a guy that should be drafted (by the NFL), but he's got to go out and play a lot better. It's just an honest conversation with him, and I think he's taken it to heart," Coach Luke Fickell stated. Lewis hopes to be drafted in April, and he has four games remaining to impress scouts before the pre-draft process begins. The schedule is favorable down the stretch for Cincinnati with Navy, South Florida, UCF and East Carolina remaining. He is worth keeping a close eye on during the final month of the crusade.