Avengers Assemble: 2020 NFL Mock Draft Part II
By John Laub
Avengers Assemble:
2020 NFL Mock Draft part II
April 6 & 7, 2020
17. Dallas Cowboys, CB C.J. Henderson, Florida
For a team that only has a one glaring whole, the secondary, the departure of Byron Jones made it so there was really no other option then secondary in the draft. The value of a corner out ways the one of a safety, leading to the pick of C.J. Henderson, who is the best corner on the board. The Florida product has good size, and premium athleticism and does a very good job at closing the distance. If they are still looking to add to the safety position, small-school product Kyle Dugger at No. 51 in the second round would fit great.
— Josh Ducet
18. Miami Dolphins, Edge/OLB K'Lavon Chaisson, LSU
Coach Brian Flores appears to be rebuilding the Dolphins in the Patriots' image and cannot pass on a versatile lightning-quick, defensive stopper.
— Steve Seufert
19. Las Vegas Raiders, CB Kristian Fulton, LSU
Another one of those LSU Tigers come off the board here with Kristian Fulton. Early collegiate troubles caused him to miss a chunk of his time in Baton Rouge, but as a high-level recruit, he quickly garnered a starting job in an elite defense. He has good recovery speed and nuanced coverage in tight areas. Fulton is a press corner, and Las Vegas needs a jolt to their (bend don't break) scheme.
— Colin Hester
20. Jacksonville Jaguars, LB Patrick Queen, LSU
The Jaguars are in full rebuild mode after trading away their defensive stars. The Jags could definitely use help in the secondary after trading away Jalen Ramsey, but they have been looking for a running mate alongside Myles Jack in their linebacker core, and they fill that need with Patrick Queen out of LSU. He's a top three backer in this class and arguably the best of the bunch, making plays all over the field last year at LSU. Jack and Queen would form one of the more athletic duos in the NFL.
— Mathew Betz
21. San Francisco, WR Justin Jefferson, LSU
First trade was sliding down two picks and picking up two third-round selections. Juedy was an obvious pick there, but I felt that those two picks could be used on Justin Madubuike, Damon Arnette, or Justin Chinn. Next trade was sliding down from No. 15 to 21 and picking up the No. 53 overall from the Eagles. The thought, again, was a preference of receiver. By trading down twice, the Niners get a second and two third round picks and still get Justin Jefferson of LSU. Jefferson fits in perfectly in the slot and work very well with Deebo Samuel. With the No. 53 pick, the Niners could target Cesar Ruiz or Antoine Winfield Jr. Very nice haul to "downgrade" from Juedy to Jefferson.
— Mitch Hardt
22. Minnesota Vikings, S Xavier McKinney, Alabama
Minnesota saw a mass exodus in their secondary this offseason as they lost free agent CBs Xavier Rhodes (Colts), Trae Waynes and Mackensie Alexander (both signed with Bengals). Elite safety Anthony Harris was slapped with the franchise tag but has yet to work out a deal and is rumored to be on the trading block. Defensive-minded head coach Mike Zimmer could look to bolster a pass defense that ranked 15th in passing YPG by nabbing the consensus top safety in this class. A two-year starter at Alabama (never missed a game), McKinney played free safety in Nick Saban's 3-4 base defense and created 10 turnover-worthy plays (five interceptions, five forced fumbles). He'd create havoc paired with Harrison Smith as both should offer above average blitzing ability from the secondary.
— Rob Warner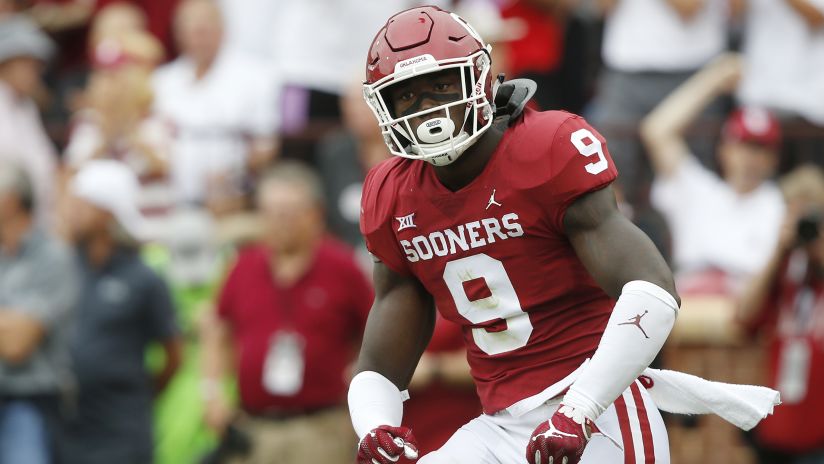 23. New England Patriots, LB Kenneth Murray, Oklahoma
New England could've turned to edge rusher here with A.J. Epenesa still on the board, and we know Belichick loves old school, stout defensive ends with great hand usage. But with Van Noy moving on to the Dolphins, the Patriots decide to fill this gap with a rangy hitter in Kenneth Murray. The former Sooners' celebrity is an outstanding athlete with elite sideline-to-sideline speed. He has the ability to rush the passer off the edge, as well as through the A-Gap. He offers a lot of the versatility that Van Noy brought to the table. Murray isn't without flaws, particularly manipulating through traffic and shedding climbing linemen. But no coach in the NFL exploits his players' strengths like Belichick. If he can line him up at the Will position, allow him to work away from traffic and put him in ideal situations to succeed, this could be a filthy match made in New England.
— Selyan Lonqueux
24. New Orleans Saints, DE A.J. Epenesa, Iowa
The clock is close to striking midnight on the Brees era, and the Saints are desperate to return to the Super Bowl after losing three consecutive seasons in the playoffs. With veteran quarterbacks, organizations should run the football on offense and stonewall opponents on defense. Both John Elway and Peyton Manning won Super Bowls in their last seasons with the aforementioned formula. The Saints employ a dominate ground attack and own an opportunistic defense. In my opinion, a team can never have enough pass rushers. Over the past two seasons, Epenesa logged 22 sacks and 30.5 tackles for loss. At 6-foot-5 and 275 pounds, the former Hawkeye sets the edge of the defense with size and power and is explosive off the ball.
— John Laub
25. Seattle Seahawks, DE Yetur Gross-Matos, Penn State
Seattle traded up two spots from No. 27, while rendering a fourth-round pick (144) in the process to grab Gross-Matos. With the return of Bruce Irvin, YGM should platoon early as a 4-3 End. Elite length at 6-foot-5 and 34 7/8" arms should provide instant pass rush on third downs but has room to grow. He needs more pass rush moves and improved strength.
—Colin Hester
26. Miami Dolphins, WR Jalen Reagor, TCU
Miami needs another playmaker to complement DeVante Parker, and the former Horned Frog delivers another weapon in the aerial assualt.
— Steve Seufert
27. Minnesota Vikings, WR Tee Higgins, Clemson
The departure of Stefan Diggs to the Buffalo Bills via trade opened up a major whole at the No. 2 WR spot opposite of Adam Thielen, and Higgins is the man to fill it. An AJ Green prototype, Higgins has the versatility to play all three receivers spots, giving Gary Kubiak, the offensive coordinator for the Vikings, the ability to be imaginative with him.
— Josh Doucet
28. Baltimore Ravens, RB D'Andre Swift, Georgia
The Ravens were one bad game away from reaching the AFC title game in 2019, so there really aren't too many holes to fill on this roster. As a result, they have the luxury of being able to take one of the best runners in this class, D'Andre Swift out of Georgia. Swift is a "do it all" back who is elusive in the open fill. With Mark Ingram entering his age 30 season (turns 31 in December), Swift joins a Ravens roster looking to run, run, and run some more. He and Lamar Jackson would team up to form the most explosive backfield in the NFL.
— Matthew Betz
29. Tennessee Titans, CB Trevon Diggs, Alabama
Great size, athleticism and playmaking ability make this selection a no brainer. Trevon Diggs was only rated behind Okudah on our draft board. The former Crimson Tide star is quick enough to be a nickel corner on Day 1 and could easily step into the starting lineup. We could also see Diggs step in and return punts as he did well early at Alabama.
— Mitch Hardt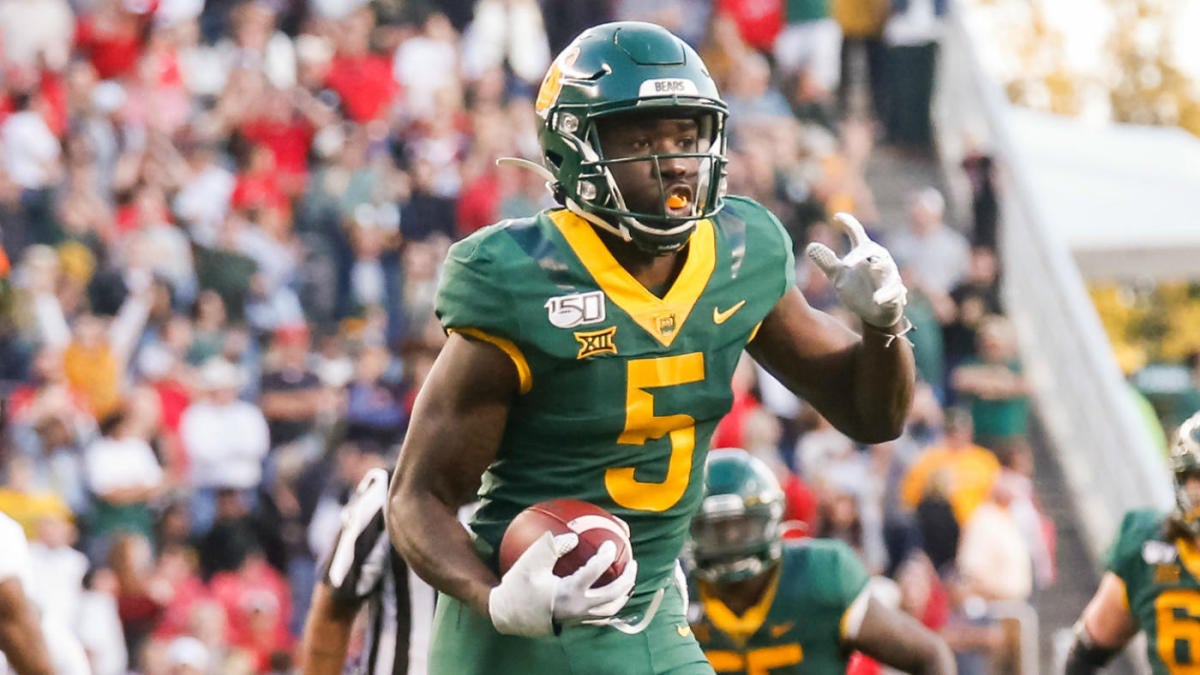 30. Green Bay Packers, WR Denzel Mims, Baylor
Watching the Packers passing game last season, it became obvious to everyone, even the casual observer, that Aaron Rogers needs more playmakers on the outside. Devante Adams is a star, but he cannot carry the entire aerial assualt each and every game alone. Rogers' tenure is coming to an end in Green Bay and the organization must provide the resources to make another run at the Super Bowl. I am extremely optimistic on Mims as a prospect, and he is my No. 5 ranked receiver in the Class of 2020. At 6-foot-3 and 207 pounds, the former Baylor gamebreaker has an extraordinary combination of size and length, which should enable him to excel in the league sooner rather than later.
— John Laub
31. San Francisco 49ers, S Antoine Winfield, Jr., Minnesota
In a real draft scenario, the 49ers are most likely looking to trade down from this spot, with no picks in the second to fourth round. Given the draft board manipulation from my partner holding the 13th pick, the 49ers were able to acquire a significant amount of capital, whilst securing an extra receiving weapon for Garoppolo. The extra capital allows the 49ers to address a significant need on their defense: the secondary. With Trevon Diggs off the board, the 49ers turn to the safety position and select Antoine Winfield Jr., son of the legendary Vikings cornerback. Winfield is incredibly instinctive on the back end, with tremendous ball skills. What he lacks in pure speed, he makes up with IQ, concept recognition and ability to bait throws out of gunslingers. He's very stout working downhill in run support with quick processing and closing speed. Winfield's skill set should fit perfectly into the 49ers' cover 3-heavy scheme and be a welcome pick to round out a productive first round for the last Bay Area franchise.
— Selyan Lonqueux
32. Kansas City Chiefs, CB A.J. Terrell, Clemson
The defending Super bowl Champs will likely address their defense in the first round, and Defensive coordinator Steve Spagnulo would be thrilled to add some depth to the secondary. Kendall Fuller signed with Washington this offseason and current starters Charvarius Ward and Bashaud Breeland have been mediocre at best. According to Pro Football Focus in 2019, the Chiefs' cornerbacks and safeties scored the league's ninth-lowest forced incompletion rate at 10% while wasting opportunities with seven dropped interceptions, tied for the sixth-most in the NFL. Terrell didn't miss a game in his last three seasons at Clemson (two as a starter) and played primarily press-man coverage. He loves to challenge receivers showcasing length and athleticism. There are concerns with his average speed and inconsistent transition skills (must improve his hip and lower body mechanics) or he'll likely struggle against the better route runners at the next level.
— Rob Warner