Avengers Assemble: 2020 NFL Mock Draft
By John Laub
Avengers Assemble
2020 NFL Mock Draft
April 6 & 7, 2020
In college, my journalism professor relished providing professional advice to aspiring writers: "If you run out of stories to write, you are hiking down the wrong career path." It was a little tough, but it provided a much-needed dose of reality.
I still apply his lessons as a fantasy free-lance writer. I must unearth stories to write about or I do not belong in this hobby space, which I cherish so much. Therefore, I am constantly seeking newfangled challenges and contemplating topics to analyze to keep me busy, especially during our current national crisis.
As a life-long football diehard, I have looked forward to the NFL Draft every April since high school in the early Eighties. Over the last seven years, I have published the Scholar's Study Sheets: NFL Draft Profiles on FootballDiehards.com and relish guest appearances on Fantasy Football Podcasts and radio shows. I embarked on another voyage this year: The Draft Seminar series with my partner Matt Hicks from DynastyDraftRoom.com on YouTube.
Finally, mock drafting is one of my favorite niches in the industry. I asked seven fanatics to join me in providing a breakdown of the upcoming NFL Draft. The football soothsayers and I rotated picks and drafted for all 32 teams in the first round. We also traded—five of which took place—to spice up the analysis. Luckily, there are always tales to convey if you are willing to challenge yourself and never give up.
Recap of Trades:
1. Detroit sends the No. 3 selection to L.A. Chargers for 2020 picks No. 6 & 71 and 2021 First Round selection.
2. San Francisco sends the No. 13 selection to Denver for 2020 picks No. 15, 77 and 95.
3. San Francisco sends the No. 15 selection to Philadelphia for 2020 picks No. 21 and 53.
4. Seattle sends picks No. 27 and 144 to Minnesota for the No. 25 pick.
5. Player Trade: Washington send QB Dwayne Haskins to Miami for 2020 pick No. 56.
The Avengers:
Mathew Betz, @TheFantasyPT Josh Doucet, @JoshDoucet1
Mitch Hardt, @aceholesrule Colin Hester, @TerryVelcro
Selyan Lonqueux, @selyan_fb Steve Seufert, @SteveNFL_
Rob Warner, @RobFFSpin
Draft Picks:
1. Cincinnati Bengals, DE Chase Young, Ohio State
Going with the sure thing is never a bad option, and the Bengals decide to take the product that will most certainly pay off in Chase Young. The combination of size and speed make him a constant threat as he was almost impossible to block in 1-on-1 situations during his junior season. The Bengals are doing the smart thing building around the line of scrimmage by taking Jonah Williams last year, and Young this year, creating a foundation for years to come. The decision to pass on the quarterback is two-fold: first, starting Joe Burrow this year arguably does not get you more wins than veteran Andy Dalton, and second, you will not find a Chase Young in the second round. With that 33rd pick, the Bengals can scoop up Jacob Eason, let him develop under Dalton for a year, and in the worst-case scenario, pick up Trevor Lawrence or Justin Fields the following year if they want to move another direction at the position. In 2020, Cincinnati was not likely to be a winning team anyway.
— Josh Ducet
2. Washington Redskins, QB Joe Burrow, LSU
Washington is ecstatic that the Heisman winner falls past Cincinnati. The organization moves QB Dwayne Haskins to Miami, and restarts the rebuilding behind Joe Burrow.
— Steve Seufert
3. Los Angeles Chargers, QB Tua Tagovailoa, Alabama
If I earned the opportunity to build an NFL roster, I would draft an abundance of defensive linemen and a franchise quarterback. The Philip Rivers era finally came to an end this offseason. Los Angeles kicks off the 2020 season in a new stadium. The organization needs to make a splash in the City of Angels, and Tua is clearly the second-best signal caller in this class. I had to trade up to acquire "my guy." If Tagovailoa is not 100% healthy, Tyrod Taylor can take the reins of the offense for one season as the former Alabama star enjoys a redshirt campaign. A new epoch begins in Los Angles with Tagovailoa leading the Chargers throughout the next decade.
— John Laub
4. New York Giants, LB/S Isaiah Simmons, Clemson
The Giants organization lacks playmakers on defense. New York addresses their linebacking core with one of the most athletic and versatile players in the Draft in Simmons. While at Clemson, Simmons lined up all over the field and is a true difference maker on the defensive side of the ball. The Giants ranked bottom ten in both rushing and passing yards allowed per game in 2019: They can address both weaknesses with a player of Simmons' caliber.
— Mattew Betz
5. Miami Dolphins, OT Mekhi Becton, Louisville
…and the Dolphins select, not a quarterback! With the fifth pick, I selected 6-foot-7 tackle Mekhi Becton of Louisville. This was a partner pick with the trade made with the Redskins (#53 overall for Dwayne Haskins). With Tua off the board, Becton and Haskins are more valuable than Justin Herbert. With Becton the 'Phins could be getting the next Willie Roaf. Quarterback is a great need that could be filled with Haskins, and Becton will protect whomever is under center.
— Mitch Hardt
6. Detroit Lions, CB Jeffrey Okudah, Ohio State
After trading down three spots with the Chargers, acquiring a third-round pick (71) and securing a 2021 first rounder, Detroit still gets their man with corner Jeffrey Okudah. Most complete CB in the class, he plays predominately mistake free football and steps directly into the void left by Darius Slay (PHI). His combination of length and burst should provide a reliable presence in the secondary with newly acquired Desmond Trufant opposite him.
— Colin Hester
7. Carolina Panthers, DT Derrick Brown, Auburn
The Panthers are clearly entering a rebuilding phase and need to bring in a tone setter on defense after the loss of future Hall of Famer Luke Kuechly. They should have a lot of options at seven, but Derrick Brown fits that bill to the letter. He's incredibly explosive off the snap, with an unstoppable motor. The perfect blend of quickness and power for the position. He offers a lot of versatility with the ability to penetrate and play two-gap. He hasn't been physically challenged much at the college level, causing him to get too lenient with his pad level off the snap at times. Brown comes in as a day one three-down contributor with high-developmental upside once he polishes up his get-off. He and his revved-up motor and competitive fire can be the cornerstone for the Panthers' defensive rebuild.
— Selyan Lonqueux
8. Arizona Cardinals, OT Jedrick Wills, Jr., Alabama
The Cardinals locked up left tackle DJ Humphries long term, but the right tackle position remains a glaring weakness. They re-signed a few players to one-year deals but after allowing 50 sacks in 2019, an upgrade is needed to protect their franchise quarterback heading into his sophomore season. A right tackle most of his life, Willis is an athletic lineman that has the strength to open up huge running lanes for Kenyan Drake.
— Rob Warner
9. Jacksonville Jaguars, QB Justin Herbert, Oregon
Minshew Mania fades with the arrival of an amazing quarterback talent in Justin Herbert, who brings a whole new energy that the franchise, and city, needs. Let's be honest: It was fun while it lasted, but Herbert is the whole package that a team wants in a franchise QB. When he falls, The Jaguars must take him if there are any reservations with Minshew. Herbert aced the whole draft process, with an amazing Senior Bowl, Combine, and Pro Day. The bottom line, just like the Bengals, Jacksonville will not be good, so take Herbert at the value with the ninth selection, and next year when they have a top three pick, find a way to get a future All Pro offensive tackle.
— Josh Ducet
10. Cleveland Browns, OT Tristan Wirfs, Iowa
The Browns must protect their franchise quarterback, and draft a potential Pro Bowler for the right side of the line. Free-agent signee Jack Conklin and Tristan Wirfs will comprise one of the elite tackle duos in the NFL for the next five years.
—Steve Seufert
11. New York Jets, OT Andrew Thomas, Alabama
A four-year starter on a Power 5 conference team, and still only 21, Thomas has shown the ability to play on both ends of the line. As a right tackle, he was a Freshman All-American and was a two time All-American on the other side, his primary position. In this top-loaded offensive tackle class, former Eagles GM Joe Douglas will happily take Thomas to provide protection for QB Sam Darnold.
— Colin Hester
12. Las Vegas Raiders, WR CeeDee Lamb, Oklahoma
The Raiders add a premier prospect at the wide receiver position in CeeDee Lamb out of Oklahoma. QB Derek Carr lacks dynamic playmakers around him with last year's wide receiver No. 1 on the depth chart as Tyrell Williams. Lamb is the perfect fit for a passer like Carr, who historically succeeds when he gets the ball out of his hands quickly and lets his receivers make plays. Lamb is arguably the best wide out in this class with his run after the catch ability and fills a major area of weakness for the Raiders' offense.
— Mathew Betz
13. Denver Broncos, WR Jerry Jeudy, Alabama
After hearing rumors that the Eagles would trade up to leapfrog them in a race for a wideout, the Broncos fronted their future to get a complimentary piece opposite Courtland Sutton. An extra weapon for Drew Lock and the promising Denver offense, Jeudy is the best route runner in the class, with tremendous stem manipulation, blind-spot awareness and spring out of his breaks. He's as deceptive and polished as it gets, a true man-coverage beater. Both he and Sutton offer significant down-field threats. This should put opposing secondaries in awkward situations considering the rushing offense developing with Lindsay and Gordon in the backfield. With tight end Noah Fant manning the middle of the field...This offense could get scary.
— Selyan Lonqueux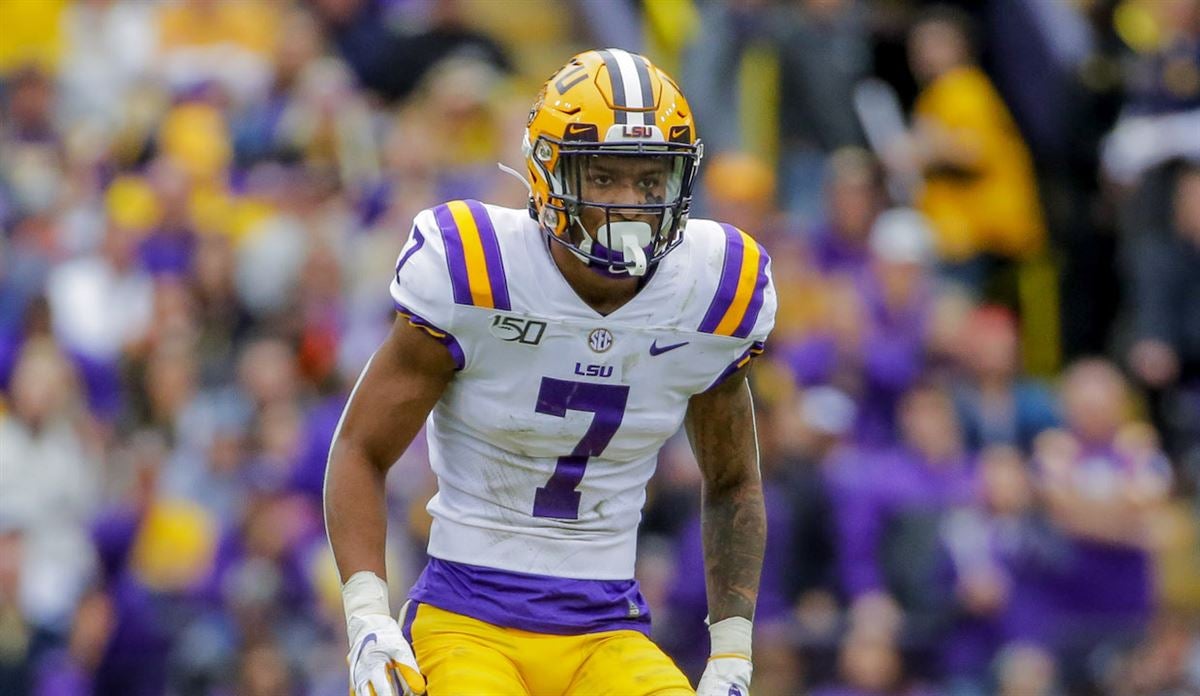 14. Tampa Bay Buccaneers, S Grant Delpit, LSU
While analyzing the Bucaneers' roster, the safety position desperately needs an upgrade. Currently, Justin Evans and Jordan Whitehead stand atop the depth chart in the backfield. At 6-foot-3 and 201 pounds, Grant Delpit immediately upgrades the secondary. The former Tiger is a vicious hitter with tremendous effort, terrific timing and intimidating physicality. Delpit is a natural centerfielder who combines speed and instincts to make plays and create turnovers. The hard-charging safety is a starter from the first day of training camp and a Defensive Rookie of the Year candidate.
— John Laub
15. Philadelphia, WR Henry Ruggs, III, Alabama
The Eagles did not want to chance missing the receiver that they coveted from the beginning. Henry Ruggs is a burner who works excellent vs. the zone and will thrive against man coverage when Wentz extends the play. With the ball in his hand, he is one of the fastest men in the NFL and Ruggs might have some of the best hands as a professional as well. Only five drops in his career! Hands and feet that have the Eagles and their fans dancing at Lincoln Financial.
— Mitch Hardt
16. Atlanta Falcons, DT Javon Kinlaw, South Carolina
In a division that now boasts Tom Brady and Drew Brees (and Bridgewater), the Falcons need to upgrade a defense that allowed 25 PPG last season. Atlanta also tied for the second fewest sacks (28) in 2019. Adding pressure on the interior of the line should take priority early in the draft. A three-year starter at South Carolina, Kinlaw faced a lot of double-teams, which limited his production on the stat sheet. His height (6-foot-5) and combination of length and gap quickness should help him excel at the next level.
— Rob Warner
Part II: Coming Soon