2021 NFL Draft Profiles Tight Ends
By John Laub
Targeting the Tight Ends
2021 Prospects
Last year, the fantasy gods scoffed at Dynasty owners who needed to acquire a tight end on their rosters. The Bears selected Cole Kmet in the second round and four tight ends were plucked in the third. Unfortunately, the Class of 2020 does not appear to include a future fantasy difference maker like Travis Kelce, George Kittle or Darren Waller. In 2021, fantasy diehards are blessed with an outstanding crop of prospects at the top of the rankings.
In Dynasty drafts, I prefer not to spend a first- or second-round pick on a tight end: I would rather devote the draft capital to acquire an elite running back or wide receiver. Nevertheless, I am always assessing my strategy in regard to the incoming player pool available. Unlike last year, the fantasy deities have bestowed fantasy owners with a trio of gemstones at the tight end position.
It is clear to me that Kyle Pitts, Florida is a first-round pick and both Pat Freiermuth, Penn State and Brevin Jordan, Miami are second-rounders in Dynasty Drafts. If either Freiermuth or Jordan fall to the third round, each becomes an immediate value. It is a great year to be in search of a tight end.
With the escalation of the multi-dimensional, game-breaking tight end over the past decade, front offices—and fantasy owners—seek the future phenomenal difference maker who can govern the middle of the gridiron, defeat Cover 2 defenses down the seam and be employed in multiple personnel formations. One-dimensional blockers, who are essentially sixth offensive linemen, are late-round fliers or priority free agents in the modern game.
Let's take an in-depth look at the Class of 2021…Enjoy my fellow diehards!
Benchmark Statistics and Measurements for Draft Consideration
Key Career Stats
Receptions: 90
Yards per Reception: 13.0
2020 Season
Catch Percentage: 65%
Team Aerial Dominator: 15%
Breakaway Ability
4.75 seconds (or less) in the 40-yard Dash
7.10 seconds (or less) in the 3-cone Drill
4.40 seconds (or less) in the 20-yard Shuttle
Official Combine and Pro-Day measurements will be updated as available.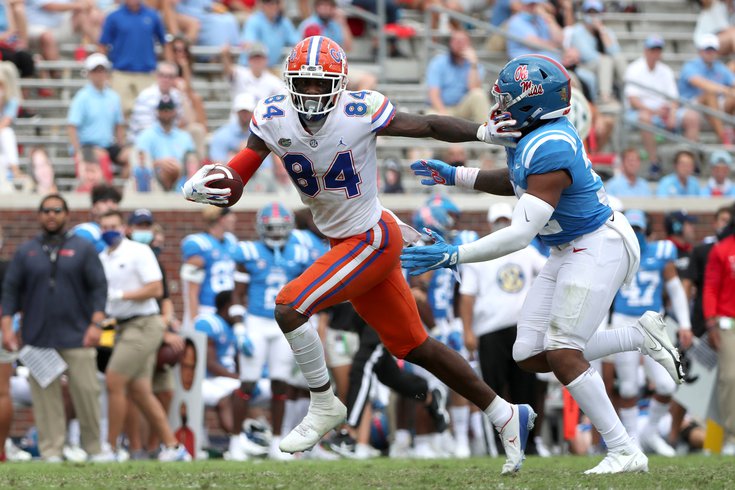 1. Kyle Pitts, Florida
Over the past decade, top tight end prospect. In 2020, First Team All-American, First Team All-SEC, John Mackey Award Winner and Biletnikoff finalist: recorded 43 catches for 770 yards, scored 12 touchdowns and averaged 17.9 ypc. In 43 years, first tight end to finish Top 10 in Heisman voting and set Florida single-season touchdown mark at the position. In 2019, All-SEC First Team (AP & Coaches) and Walter Camp Player of the Year semifinalist. In the last two seasons, logged four games with over 100 yards. Concluded career as program's all-time leader for receiving yards at the position. In high school, four-star recruit, 2018 Under Armour All-America Game and 2017 Under Armour All-America selection. At 6'5" and 239-pounds, elite athletic playmaker with great height, long arms and big hands. Body size of a power forward and feet of a point guard. Long limbs and lean frame. Savvy route runner: Too big and physical for corners and too fast and athletic for linebackers. Huge catch radius and easily plucks ball out of the air. Outstanding body control: Contorts frame to snatch the pigskin. Rapidly releases off the line of scrimmage. Uses quick feet and strength to defeat press coverage. Blows by defensive backs and linebackers on deep routes. Promptly gains YAC yards. Lined up as an in-line tight end majority of the time. Utilized in motion, in the backfield, slot and H-back. Willing blocker who employs hands and positions body to shield defender in run game. Likely employed as an "F" tight end in the NFL. A generational talent who does not fall outside of the Top Ten selections in the NFL Draft.
Key Career Stats
Receptions: 100
Receiving Yards: 1,492
Yards per Reception: 14.9
Touchdowns: 18
2020 Season
Catch Percentage: 64%
Team Aerial Dominator: 17%
Draft Grade: First Rounds
2. Pat Freiermuth, Penn State
Nicknamed "Baby Gronk." In 2020, Big Ten Tight End of the Year. Only played in four games and recorded 23 catches for 310 yards and a touchdown. In 2019, Second Team All-America, Offensive MVP and two-time team captain: 43 receptions for 507 yards and seven touchdowns. Concluded campus tenure with most touchdown receptions by a tight end (16), recorded a catch in 29 straight games and logged 19 catches over 20 yards. In high school, a four-star recruit and No. 2 player in Massachusetts. All-USA Today Massachusetts Football Team. Four-year letterman in basketball and Daily News' Basketball Player of the Year in 2015. At 6'5" and 258-pounds, idyllic frame and physique for position. Tough competitor who enjoys imposing will on opponents. Outmuscles defenders for the football with strong hands and alpha mentality. Stupendous receiver with an immense catch radius. Identifies holes in zone coverage. Commands respect in the middle of the defense. Underrated after the catch runner. Creates late separation and wins at catch point. Lacks elite athleticism. Must improve as an in-line blocker in the ground game. Does not have a fantasy-production ceiling as high as Pitts. Yet, is an astonishing long-term asset on Dynasty rosters.
Key Career Stats
Receptions: 92
Receiving Yards: 1,185
Yards per Reception: 12.9
Touchdowns: 16
2020 Season
Catch Percentage: 60%
Team Aerial Dominator: 13%
Draft Grade: First Round
3. Brevin Jordan, Miami
The Miami tight end pipeline—Jeremy Shockey, Kellen Winslow, Greg Olsen and David Njoku—pumps out another future fantasy playmaker. In 2020, Second Team All-ACC and Mackey Award semifinalist. Led team in touchdown receptions (7) despite missing three games. in 2019, First Team All-ACC and Mackey Award finalist. Over the past two seasons, logged 73 catches for 1,071 yards and 9 TDs. A three-year starter on campus. In the 2018 recruiting class, rated as the No. 1 TE recruit by ESPN and 247Sports and consensus four-star prospect. At 6'3" and 245-pounds, multifaceted tight end prospect. Elite combination of size, speed and athleticism. Hybrid tight end: Robust pass-catching weapon. Physical competitor. Runs well up the seam and attacks safeties in the middle of the field. Quick in and out of breaks. Utilized in a variety of roles. A matchup nightmare for defensive coordinators. Very good body control: Contorts body to seize ball. Soft and dependable mitts. Monster YAC playmaker. Broad route tree on resume. Improved every season. In-line blocker who can lineup in the slot and out of the backfield. Very good, but not dominate, blocker. Willing to engage and illustrate toughness. Needs to improve hand technique. In 12 personnel, projects as a terrific playmaker as a professional.
Key Career Stats
Receptions: 105
Receiving Yards: 1,358
Yards per Reception: 12.9
Touchdowns: 13
2020 Season
Catch Percentage: 72%
Team Aerial Dominator: 19%
Draft Grade: Second Round
4. Hunter Long, Boston College
Eagles' prospect soared up draft rankings in 2000 after being named AP Second Team All-American and First Team All-ACC. Most targeted (89) tight end in the nation. Established career highs with 57 catches for 685 yards and five touchdowns. In 2019, Third Team All-ACC. Led team in receiving yards with 509. Logged 28 catches and two touchdowns while averaging 18.2 yards per catch. Enrolled at Boston College at only 235 pounds and took a redshirt season. In high school, rated as three-star recruit, the No. 4 prospect in Massachusetts by Rivals and No. 1 tight end in the state by Scout. Also, played Defensive Line. At 6'5" and 253-pounds, a traditional in-line tight end. Physical competitor with strong leg drive. Finds holes in the middle of the defense. Engages sturdy frame to win at the catch point. Owns sure and soft hands and physical after the catch. Solid route runner. Corrals ball in traffic. Uses size, length and frame as a shield versus defenders. Improved every year on campus. Effective blocker with well-built frame. Good in the ground game and pass protection. Does not possess a standout trait. Not the athletic peer of his classmates. Good career ahead in the NFL. Limited fantasy upside.
Key Career Stats
Receptions: 89
Receiving Yards: 1,297
Yards per Reception: 14.6
Touchdowns: 9
2020 Season
Catch Percentage: 63%
Team Aerial Dominator: 22%
Draft Grade: Third Round
5. Kenny Yeboah, Mississippi
Former Owl migrated south and soared as a Rebel. Snatched 47 passes for 538 yards and six touchdowns in three seasons at Temple. In one campaign at Mississippi, the redshirt senior recorded 27 catches for 524 yards and six touchdowns in seven games. In high school, two-star recruit who garnered only one FBS scholarship offer. Improved significantly in coach Lane Kiffin's offense and improved draft stock at Senior Bowl. At 6'5" and 230-pounds, a smooth athlete with fluidity, short-area burst, quickness and steadfast hands. Very good frame and body. Savvy route runner. Challenges the seam of the defense. Separates down the field. Uses hands well to defeat defenders. Victorious at catch point and competes for ball in a crowd. Does not win with long speed. Underrated pass blocker who earned glowing reports from Senior Bowl. An undervalued playmaker.
Key Career Stats
Receptions: 74
Receiving Yards: 1,062
Yards per Reception: 14.4
Touchdowns: 12
2020 Season
Catch Percentage: 73%
Team Aerial Dominator: 15%
Draft Grade: Fourth Round
Best of the Rest:
6. Tre McKitty, Georgia
7. Tommy Tremble, Notre Dame
8. Noah Gray, Duke
9. Cary Angeline, North Carolina State
10. John Bates, Boise State
It is John Laub's eighth year publishing The Scholar's Study Sheets: NFL Draft Prospects. With his Masters in history and professional experience as an educator, Laub is uniquely qualified to research, analyze and discover new insights and trends in college and professional football. Laub has played fantasy football over thirty years and published articles for FootballDiehards.com for well over 25 years. He won $10,000 in 1993, defeating nearly 15,000 owners, and published Audibles: Winning is Everything in the 1990s. He truly is The Gridiron Scholar.
Twitter: @GridironSchol91 or e-mail: Audibles@aol.com