2021 NFL Draft Profiles: Quarterbacks
By John Laub
Published Date: 2/8/2021
Scouting the Signal Callers
2021 Quarterback Prospects
I've often wondered if football imitates life or visa verse. After over 40 years watching football, I still do not have an answer to my philosophical question. Nevertheless, I never give up seeking a solution to the puzzling inquiry.
As a college freshman, I fondly remember learning about the nature versus nurture argument in my Psychology 101 class. The two opposing camps in the psychology community fascinated me, leaving a life-long imprint.
On the mid-term exam, the professor asked students to take a position on the competing schools of thought. I made a fatal mistake while writing my essay, stating that the two theories were equal and neither stood above the other. I learned a valuable lesson when writing an argumentative essay: Never take a neutral position when seeking a good grade.
For a decade, I have observed the debate between analytics and film assessment in prospect analysis. I never engaged in the arguments and believe that the best analysts employ both when ranking players just like nature and nature influence the child.
One of my favorite pastimes is watching film, taking notes and evaluating skills of players, and eight years ago, I published my first prospect profiles. Could I base rankings only on observation and film study? I developed a model to identify top-shelf signal callers and have employed it in my rankings for seven years. I am not hubris driven, or vain enough, to believe that the model is iron clad or the only way to measure players. And at times, my opinion of a player may disagree with my model.
In preparation for the Class of 2021, I decided to reflect on my past rankings, trying to improve moving forward. I asked inquisitive questions: Who did my model miss or get incorrect? Was my model flawed? Am I bias when watching film? Did I separate the skills of a player from the offensive scheme he played while in college? I had so many questions and sought answers.
I reread every profile and placed all of the top prospects into the model again. I ranked the Top 12 from 2014-2020 based on my pre-draft profiles—and model—and are provided below:
Scholar's Top 12 Quarterback Prospect Rankings: 2014-2020
Looking at the results, the model whiffed on Marcus Mariota, who eclipsed all five benchmarks coming out of Oregon. Also, I missed on Josh Allen, who failed to meet any of my five statistical categories (Games Played: 25, Passing Efficiency: 137.7, Completion Percentage: 56.2, Yards per Attempt: 7.7 and TD:INT Ratio: 44-21). The Bills' star has far exceeded my expectations and ranks among the very best in the NFL.
As the college and the NFL games have evolved over the past decade, I modernized my study and added an escapability score last year. Now while watching game film, I scrutinize the prospects capacity outside of the structure of the play call, solve new in-play paradigms, avoid pressure and keep eyes focused downfield. In the Class of 2021, four of the top five quarterbacks earned an A- or better on my escapability score. Only Mac Jones, who is a classic pocket passer, received a low mark.
Demand exceeds supply at the position in the Draft and five quarterbacks will be selected in the first round in April. I have broken down the tape, plugged the career statistics into my model and provided an escapability grade for the top five prospects in the upcoming NFL Draft.
Enjoy my fellow diehards!
Benchmark College Stats for Draft Consideration
Games Played: Over 30
Passing Efficiency: 155.0
Completion Percentage: 65%
Yards per Attempt: 8.0
TD:INT Ratio: 3-1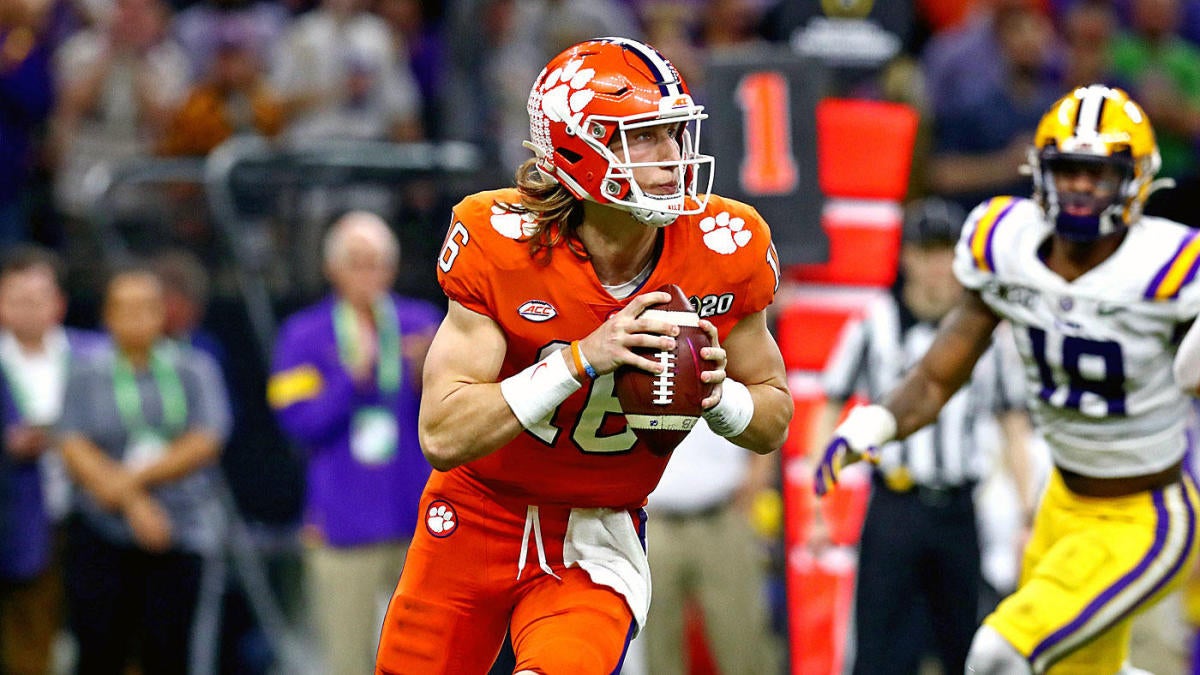 1. Trevor Lawrence, Clemson
After an astonishing college career, top-ranked quarterback prospect over the past decade. In 2018, led Clemson to National Title as true freshman, ACC Rookie of the Year and Second Team All-ACC. In 2019, First Team All-ACC, Manning & Davey O'Brien Award semifinalist and All-ACC Academic selection. In 2020, ACC Player of the Year and Offensive Player of the Year, Second Heisman Finalist in Clemson history, Bobby Bowden Trophy winner, First Team All-American by FWAA and Rivals. Posted a 34-2 career record and started five CFP games. In high school, four-year starter, posted a 52-2 record, captured two state titles, named No. 1 Player in the nation by 247Sports and Rivals, and USA Today Offensive Player of the Year. Idyllic size at 6'6" and 220-pounds, superior athleticism and elite arm strength. Throws football with velocity and accuracy to all three levels. Makes every pass look easy with flick of the wrist. Pulls trigger quickly with zip. Brilliant football IQ and commands pocket. Identifies coverages and makes good pre-snap reads. Evades pass rushers and prolongs plays with legs. Easily escapes pressure and extends plays. Works well outside of play structure and keeps eyes downfield. Stupendous leader and well-liked by teammates. Does not always anticipate well. Could improve progressions: At times, locks onto target. A franchise-changing signal caller on par with John Elway, Troy Aikman and Andrew Luck.
Scholar's Key Career Stats
Games: 40
Passing Efficiency: 164.3
Completion Percentage: 66.6%
Yards per Attempt: 8.9
TD:INT Ratio: 90-17
Career Rushing Yards: 943
Escapability Score: A-
Draft Grade: First Overall
2. Justin Fields, Ohio State
A gunslinger with franchise-changing quarterback skills. In storied history of Ohio State, produced one of the most phenomenal seasons by a signal caller: 3,273 passing yards, 484 rushing yards and a 41-3 TD:INT ratio in 2019. As high school recruit, five-star prospect and top-ranked, dual-threat quarterback. Elite 11 Quarterback Competition MVP in 2017. Big Ten Graham-George Offensive Player of the Year in 2019 and 2020. In 2018, enrolled at Georgia and named coaches freshman All-SEC Team. Afterwards, transferred to Ohio State. In 2019, Heisman Trophy Finalist: 51 Total Touchdowns. MVP in Big Ten Championship Game. In 2020, compiled a 22-6 TD:INT ratio and named Sugar Bowl MVP with six touchdowns versus Clemson in the CFP semifinals. At 6'3" and 228-pounds, tremendous arm strength and velocity. Natural delivery and rhythm passer. Excellent anticipation. Disables defenders with run-pass ability. Composed passer on the move with accuracy. Easily rolls outside of pocket and finds targets down field. Dynamic and strong runner. Effortlessly solves problems: prolongs plays when structure breaks down with athleticism. Strong lower body and shines in short yardage and goal-line. A leader on and off the field. Needs to improve progressions and unlock third and fourth options. Does not always pickup blitz well and could improve downfield vision. A West Coast scheme with a run-pass option would best employ all of Fields' extraordinary abilities.
Scholar's Key Career Stats
Games: 22 (2019-2020)
Passing Efficiency: 178.8
Completion Percentage: 68.4%
Yards per Attempt: 9.3
TD:INT Ratio: 67-9
Career Rushing Yards: 1,133
Escapability Score: A
Draft Grade: First Round
3. Zach Wilson, BYU
During the LaVell Edwards era, the program tutored and nurtured three first-round quarterbacks: Marc Wilson, Jim McMahon and Steve Young. In April, Zach Wilson will make it a quartet from Provo, Utah. In 2020, exhibited enormous improvement and dramatically rose up draft boards. Attended Corner Canyon High School in Utah and named runner up for the Mr. Football Award in 2017. As a true freshman, played in nine games and started seven, becoming the youngest starting quarterback in the history of the program. Named the Famous Idaho Potato Bowl MVP. In 2020, posted a 33-3 TD:INT ratio and recorded a 196.4 passing efficiency rating. At 6'2" and 214-pounds, dual-threat playmaker with natural feet, lightening release and incredible arm strength. Efficient passer and extraordinary playmaker. Flings football with accuracy to all three levels of defense. Makes every throw in the playbook and fits ball into tight windows. Easily goes through progressions. Stupendous vision downfield and finds open targets. Nails deep passes with accuracy. Fantastic footwork: Rapidly rolls out, eludes defenders, resets feet and slings darts on the run while keeping eyes focused. Slides and escapes pass rushers with elusiveness and magnificent movement. First-rate runner near the goal-line. Competitive and confident leader who is tough. Injury concerns: In 2019, thumb and right shoulder surgery, and in 2020, hand and throwing shoulder distresses. At times, throws off base and relies on arm strength. Lack of top-level competition might concern scouts and NFL organizations. A top-five overall selection in the upcoming Draft.
Scholar's Key Career Stats
Games: 29
Passing Efficiency: 161.0
Completion Percentage: 67.2%
Yards per Attempt: 9.0
TD:INT Ratio: 53-15
Career Rushing Yards: 642
Escapability Score: A-
Draft Grade: First Round
4. Trey Lance, North Dakota State
Tony Romo, Joe Flacco and Carson Wentz all flourished in the NFL coming out of the FCS level in college. Next in line: the former Bisons' star. In 2019, FCS Walter Payton Award, Jerry Rice Award, ADA Offensive Player of the Year and First Team All-American. Steered North Dakota to an undefeated campaign (16-0) and National Championship as a redshirt freshman. In 2020, played NDSU's only game versus Central Arkansas: Totaled four touchdowns, rushed for 143 yards and passed for 149 yards. Opted out of the upcoming campaign to prepare for the Draft. Produced a 17-0 career record as a starter. In high school, three-year starter at quarterback and strong safety and three-star recruit. 2017 Minnesota Vikings All-State team and Team Captain. Minnesota Golden Gophers wanted Lance to play safety: Choose NDSU to call signals. At 6'3" and 221-pounds, modern dual-threat signal caller with a sturdy frame, tremendous run skills and effortless arm strength. Poised passer: Calmly slips away from pressure while remaining focused downfield. Stupendous ball placement. Accurate at all three levels of the defense and east-to-west on the gridiron. Off-platform pitcher: Completes passes on the run. Anticipates well and allows receivers to accumulate YAC yards. Pro-style football IQ: Very good decision maker who is aggressive with the football. Fastball pitcher who could benefit from mastering a changeup on shorter throws. Makes progression reads well. Stupendous scrambler who breaks tackles, finds open space and runs over defensive backs. Experience in Pro-style concepts. Played only 17 games at NDSU. Does not protect body and absorbs too many big hits. Will the NFL be too fast at first? A season on the sideline learning the NFL game would benefit professional growth. Incredible high-ceiling prospect but there is a floor with such a limited number of games played on resume.
Scholar's Key Career Stats
Games: 17
Passing Efficiency: 173.8
Completion Percentage: 65.4%
Yards per Attempt: 9.3
TD:INT Ratio: 30-1
Career Rushing Yards: 1,182
Escapability Score: A
Draft Grade: First Round
5. Mac Jones, Alabama
Redshirt junior declares for the Draft after a prolific campaign in which he guided Alabama to the National Championship, completing 36-of-45 passes for 464 yards and five touchdowns versus Ohio State. In 2020, Team Captain, Davey O'Brien, Manning and Johnny Unitas Golden Arm Awards, First Team All-American, Heisman Trophy Finalist, SEC Scholar-Athlete of the Year, Maxwell and Walter Camp Player of the Year Finalists. In 2019, replaced Tua Tagovailoa behind center and completed 97-of-141 passes for 1,503 yards and 14 touchdowns versus only three interceptions. At 6'3" and 217-pounds, a prototypical pocket passer. Great throwing mechanics. Rhythm pitcher with high football IQ: Decisive and quick release. Throws an accurate ball with velocity. Underrated arm strength. Pocket patience: Eludes pass rushers and identifies windows to throw. Hits targets in stride: Allows playmakers to gain YAC yards. Great leader. Impressive Senior Bowl week: By far, best quarterback in Mobile, AL. Picked up NFL playbook and language quickly. Panthers' coach Matt Rhule proclaimed: "I've been impressed with his character, his moxie, his swag. I mean, he's got it all. He's really smart. He's accurate. He can move his feet and slide in the pocket," (247Sports.com). Reports indicate that Jones met with the Broncos and Patriots at the Senior Bowl. Lacks elite athleticism and below average runner. Does not make a ton of plays outside of play structure or off script. Did not solve many on-the-field problems behind a great offensive line and stupendous offensive scheme. An NFL team will surely rank the Alabama field general high on its boards and take him off the board among the Top 15 selections.
Scholar's Key Career Stats
Games: 21 (2019-2020)
Passing Efficiency: 197.6
Completion Percentage: 74.3%
Yards per Attempt: 11.0
TD:INT Ratio: 56-7
Career Rushing Yards: 42
Escapability Score: C-
Draft Grade: First Round
Best of the Rest
6. Kyle Trask, Florida
7. Davis Mills, Stanford
8. Kellen Mond, Texas A&M
9. Sam Ehlinger, Texas
10. Jamie Newman, Wake Forest
11. Ian Book, Notre Dame
12. Shane Buechele, SMU
It is John Laub's eighth year publishing The Scholar's Study Sheets: NFL Draft Prospects. With his Masters in history and professional experience as an educator, Laub is uniquely qualified to research, analyze and discover new insights and trends in college and professional football. Laub has played fantasy football over thirty years and published articles for FootballDiehards.com for well over 25 years. He won $10,000 in 1993, defeating nearly 15,000 owners, and published Audibles: Winning is Everything in the 1990s. He truly is The Gridiron Scholar.
Twitter: @GridironSchol91 or e-mail: Audibles@aol.com