2020 Quarterback Back Prospects
By John Laub
2020 Quarterback Back Prospects
Scouting the Signal Callers
In life, there are seminal moments that one can never forget: first kiss, college graduation, marriage and parenthood. As a football fan, there are players that leave indelible memories. I will never forget when I first saw Virginia Tech quarterback Michael Vick in 1999.
The Hookies' superstar was a decade ahead of his contemporaries. Vick hypnotized opponents, dazzled fans and led Virginia Tech to the Sugar Bowl against Florida State for the National Championship. Since Vick conquered Saturdays, college football has undergone dramatic changes, and coaches now seek dual-threat stars to orchestrate their offensive schemes.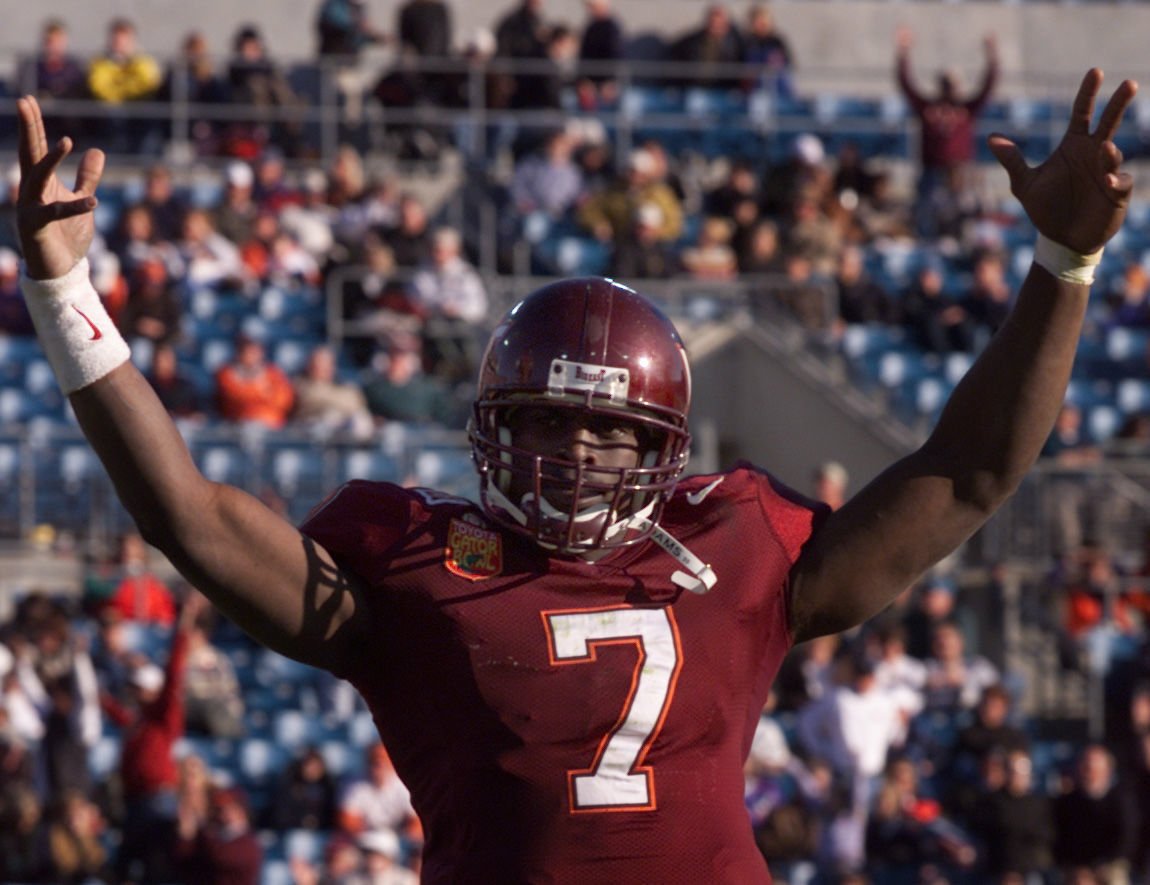 Vick was the future of football; regrettably, the NFL did not embrace his unique style and skill set. Slowly but surely, the league is adjusting to the talent in the pipeline, and astute coaches are willing to embrace a Vick-like playmaker to build around.
Over the past three NFL Drafts, Deshawn Watson, Patrick Mahomes, Mitchell Trubisky, Lamar Jackson, Josh Allen, Baker Mayfield, Kyler Murray and Daniel Jones were all selected in the first round and make plays with their legs to avoid pass rushers, buy time in the pocket and gain much-needed yards on the ground. It is becoming more and more evident that the future has finally arrived.
In this year's class of signal callers, there are five prospects (Joe Burrow, Tua Tagovailoa, Justin Herbert, Jordan Love and Jalen Hurts) who all made a living passing and running the football in order to put points on the scoreboard and pilot their teams to victory. What do all of these quarterbacks have in common? The ability to escape pressure, make plays when the pocket collapses and adapt to a new in-play paradigm. Opportunities still exist downfield and the quarterback must solve the challenge in real time.
While watching games and film, I am now analyzing the prospects capacity outside of the structure of the play call. Among the top six field generals in the Class of 2020, only Jake Fromm is a classic pocket passer with minimal rushing aptitude. I have added an escapability score for each quarterback based on the aforementioned criteria.
Since there are so many distinctive offensive systems, and the level of talent among programs in college football varies, touchdown passes, passing yards and accolades do not necessarily provide acumen into the player's long-term professional outlook. Games Played, Passing Efficiency, Completion Percentage, Yards per Attempt and TD-to-Interception Ratio provide enhanced insight in order to evaluate the cream-of-the-crop signal callers as passers.
In addition, I watched the tape, analyzed the statistics and provided an escapability grade for the top prospects in the upcoming NFL Draft and all six players earned a first- or second-round grade. Demand usually exceeds supply at the position and three quarterbacks will be selected among the top five selections, and likely four in the first round in April.
Enjoy my fellow diehards!
Benchmark College Stats for Draft Consideration
Games Played: Over 30
Passing Efficiency: 155.0
Completion Percentage: 65%
Yards per Attempt: 8.0
TD:INT Ratio: 3-1
1. Joe Burrow, LSU
Tantalizing Tiger manufactured the paramount passing season in the history of college football: Heisman Trophy, AP National Player of the Year, Maxwell Award, Walter Camp Award, Davey O'Brien Award, Johnny Unitas Golden Arm Award, SEC Offensive Player of the Year and Unanimous First-Team All-American. Led LSU to an undefeated season (15-0) and National Championship. Established single-season FBS record for passing touchdowns with 60 and passed for 5,671 yards, averaging 378 yards per game. In high school, a four-star prospect who was named Ohio Mr. Football in 2014 and enrolled at Ohio State. As a graduate-student athlete, transferred to LSU two seasons ago. Catapulted up draft boards after a record-breaking campaign in 2019. 6-foot-3 and 216-pound uber prospect. High football IQ and commands the huddle and pocket. Master of route concepts and throws with anticipation before receivers are open. Easily goes through progressions. Avoids pass rushers and keeps eyes downfield to identify open targets. Takes well calculated risks throwing the football. Incredible passer on the run with pinpoint accuracy at all levels of the field. Completed an astounding 76.3% of passes last year. Places balls into tight windows. Excellent deep thrower. Natural footwork and underrated mobility. Harms defenses with running ability to keep chains moving. Makes clutch plays. Alpha male with swagger. At 23-years old, an older prospect and one-year wonder in college. Did not play well first year at LSU. Does not have elite arm strength. Easily, the top-overall selection in the Draft by the Cincinnati Bengals.
Key Career Stats
Games: 28 (2018 & 2019)
Passing Efficiency: 172.4
Completion Percentage: 68.8%
Yards per Attempt: 9.4
TD:INT Ratio: 78-11
Career Rushing Yards: 821
Escapability Score: A-
Scholar's Score: First round
2. Tua Tagovailoa, Alabama
Crimson Tide celebrity could change the fortune of a franchise in need of a new foundation. In 2018, dynamic dual-threat playmaker who earned consensus All-American, Walter Camp Player of the Year and Maxwell Award. Named Polynesian Football Player of the Year in back-to-back years. In 2019, one of the nation's top quarterbacks despite suffering a season-ending injury at Mississippi State and named Second Team All-SEC. Concluded career as the program's frontrunner in career touchdown passes with 87 and total touchdowns with 96. As a high schooler in 2016, named MVP of the Elite 11 quarterback competition and Nike's The Opening. Intelligent leader who process information quickly, reads coverages and comprehends route concepts. Commander of the pocket with rapid feet and a calm demeaner. Composed and musical footwork: As pass rushers bear down, eyes remain wide open downfield, scanning for targets. Incredibly accurate and challenges defenses vertically. Proper technique and excellent follow through on passes. Very smooth athlete and effortlessly delivers football with touch and accuracy. Astounding anticipatory thrower and ball placement. Stupendous decision maker. Natural instincts: Legs and mind are in synch as passer. Quick release and hits receivers in stride. Completion percentage increased and interception rate decreased every year. Lefty pitcher who posted a 25-2 mark as a starter. Injury history a red flag for medical staffs, scouting departments and organizations. Both ankles required surgery and the dislocated hip immediately went under the knife. Reports indicate that Tua's recovery is progressing well, and he will throw for NFL teams in early April before the Draft. Injuries have impacted mobility over the course of career. Above average arm strength: Lacks elite pop on throws. At times, holds onto ball too long. A franchise guarterback, surely will be selected among the top five picks in the Draft.
Key Career Stats
Games: 24 (2018 & 2019)
Passing Efficiency: 199.4
Completion Percentage: 69.3%
Yards per Attempt: 10.9
TD:INT Ratio: 87-11
Career Rushing Yards: 340
Escapability Score: B
Scholar's Score: First round
3. Justin Herbert, Oregon
Dynamic Duck earns a first-round grade despite an up-and-down career at Oregon. Finished campus tenure second all-time in passing yards (10,541) and touchdowns (95), trailing only Marcus Mariota. 2019 Campbell Trophy winner for on-field performance, charitable endeavors and academics. Biology major with a 4.01 GPA. At 6-foot-6 and 237 pounds, impressive tools and idyllic size. With quick release and natural arm strength, owns a cannon, gets velocity on passes and throws well off platform. Very good ball placement and fits pigskin into tight windows. Easily launches passes from different arm angles and rifles ball on difficult out routes to opposite hash. Attacks the seam of the defense with lightening darts. In 2019, illustrated improved accuracy, increasing completion percentage from 59.4% to 66.7%. Good mobility to keep plays alive with legs and athletic ability. Evades tacklers in pocket and long strider, gobbling up yards on the run. Scheme-diverse quarterback: During campus tenure, played for three head coaches and offensive coordinators. At times, poor footwork when under duress in pocket. Limited scheme: Often asked to only scan half the field and make one read. Lacks accuracy on deep passes occasionally. Not an anticipatory thrower and stares down targets too often. Suffered broken femur and collarbone. Played poorly in two of the biggest games of senior season: Auburn and Arizona State. Concluded career on a positive note, winning Pac-12 Championship versus Utah and Rose Bowl against Wisconsin. In both games, flashed moments of excellence and eye-scratching decisions. Perplexing prospect: film study and game logs do not match potential and raw skills. Impressed onlookers, scouts and teams in Mobile with a prominent performance, earning practice player of the week and Senior Bowl MVP. Wide range of professional outcomes: Is he Blake Bortles or Carson Wentz? A team will fall head over heels for tools, size and arm strength, and select the Oregon signal caller among the top five selections in the Draft.
Key Career Stats
Games: 43
Passing Efficiency: 153.1
Completion Percentage: 64.0%
Yards per Attempt: 8.2
TD:INT Ratio: 95-23
Career Rushing Yards: 560
Escapability Score: B+
Scholar's Score: First round
4. Jalen Hurts, Oklahoma
Super Sooners' resume pinpoints an overlooked and underappreciated signal caller. In 2016, SEC Freshman and Offensive Player of the Year. In 2019, First Team All-Big 12. As a starter, logged a 38-4 record, competed in seven College Football Playoff games and started five times. Tutored by two elite college coaches: Nick Saban, Alabama and Lincoln Riley, Oklahoma. In high school, a four-star prospect and ranked as the No. 1 dual-threat quarterback by 247Sports. At 6-foot-1 and 218 pounds, self-assured passer with incredible athleticism. Tremendous leader who is well liked by coaches and teammates. Admirable pocket awareness and underestimated arm strength. Does not get rattled easily. Stupendous playmaker off script: When play breaks down, remains focused and poised and keeps chains moving. Excellent at RPOs and absorbs big hits: Bigger and stronger than frame indicates. Spectacular playmaker with legs. Improved dramatically as a passer under Riley's guidance. Very good pocket management: Easily escapes pressure and avoids sacks. Has a chip on shoulder and determined to prove naysayers incorrect. Not as accurate as completion percentage indicates. A scheme-dependent quarterback: Needs an offensive innovator to unlock professional potential. Must improve release and touch on passes. May need time learning to read defenses and route-scheme progressions. An astute franchise will not allow Hurts, a proven winner, to fall beyond the third round.
Key Career Stats
Games: 56
Passing Efficiency: 162.6
Completion Percentage: 65.1%
Yards per Attempt: 9.1
TD:INT Ratio: 80:20
Career Rushing Yards: 3,274
Escapability Score: A+
Scholar's Score: Second round
5. Jordan Love, Utah State
A tale of two campaigns on campus: In 2018, propelled up draft boards and looked like a future NFL starter, yet in 2019, posted a disappointing crusade after the surrounding talent tailed off significantly among teammates. Draftniks must examine film from both seasons to assess the risk-reward ratio of the Utah State product. In 2018, established five single-season school passing records, including touchdowns (32), passing yards (3,567) and 300-yard games (7). Significant drop off in production last season. Holds three career school records: total offense (9,003), 300-yard games (12) and completions of at least 80 yards (4). Totaled three career 400-yard games and posted a 21-11 record as a starter. Ideal size at 6-foot-3 and 225-pounds. Natural thrower with touch and timing. Quick release and architype arm strength. Sets up fluidly and smoothly. Can make all the throws at all levels of the defense. Accurately passes on the run and squeezes the ball into tight spaces. Remains composed under pressure with eyes focused downfield. Extends plays with legs. Good mechanics and throws at a variety of angles. Lacks pinpoint accuracy and makes poor decisions sporadically. Relies on deep vertical throws even when coverage dictates to go elsewhere. Takes unwarranted hits (and sacks) waiting too long in the pocket: Needs to speed up internal clock. Appears to predetermine where he is going with the football. Intermittently, forces the ball into coverage. A raw signal caller who would benefit from siting on the sidelines for a year or two and learning the professional game. A high-ceiling prospect, but unfortunately, a low floor also.
Key Career Stats
Games: 38
Passing Efficiency: 137.9
Completion Percentage: 61.2%
Yards per Attempt: 7.6
TD:INT Ratio: 60-29
Career Rushing Yards: 403
Escapability Score: B+
Scholar's Score: Second round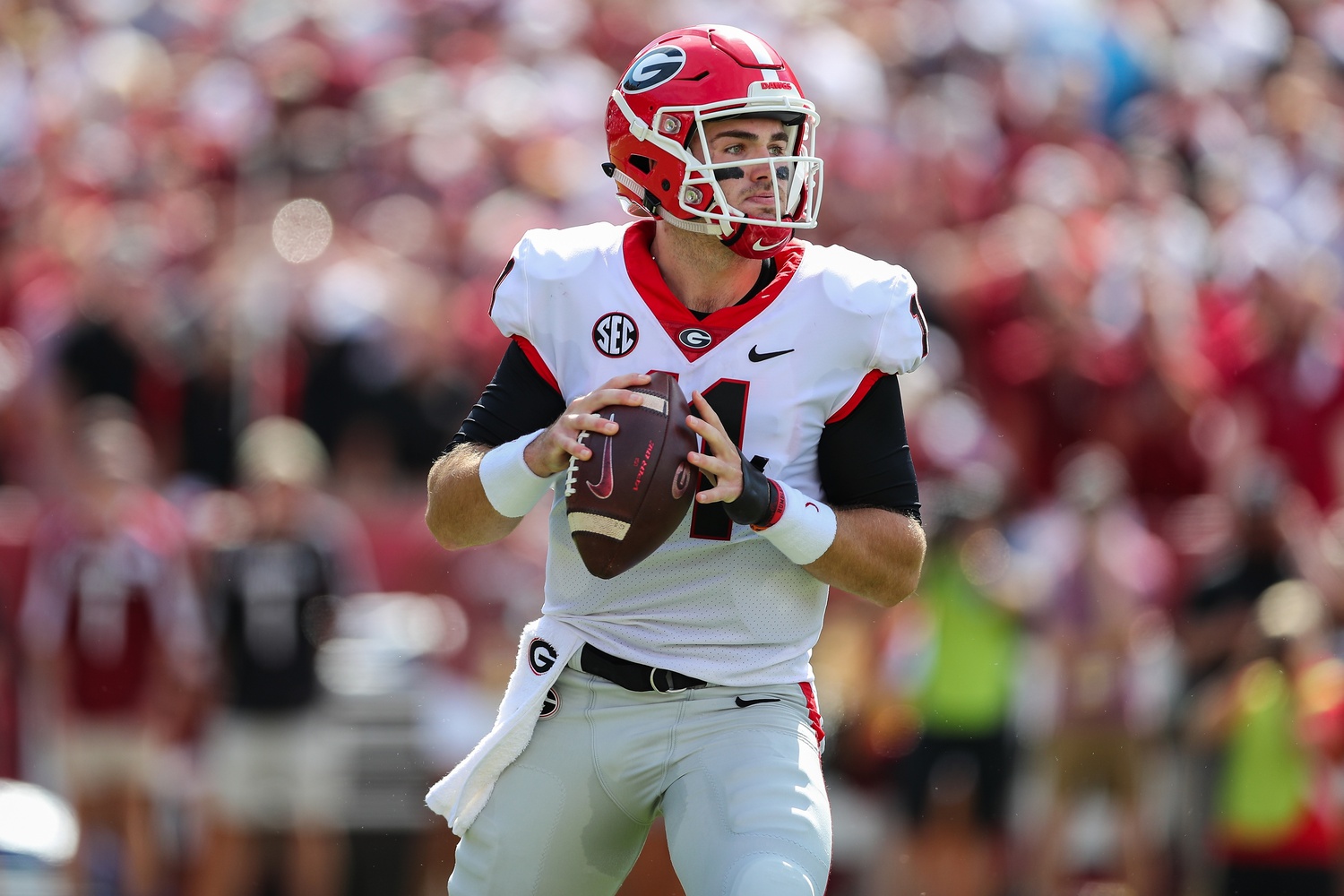 6. Jake Fromm, Georgia
Team captain and three-year starter in the SEC. In 2017, Freshman All-America by ESPN and USA Today and Coaches' SEC Freshman of the Year. In 2019, Vince Dooley Offensive MVP (co-winner) and Community Service Award. During campus tenure, beat out Jacob Eason (Washington) and Justin Fields (Ohio State) for starting position at Georgia. When Eason suffered a season-ending knee injury, thrust into lineup as a freshman. During training camp the following summer, battled Fields, a five-star recruit, for the right to call signals. High football IQ: reads defenses well pre-snap, processes coverages, goes through progressions and identifies top target. Audibles into proper play based on defensive alignment. Compact and efficient delivery. Rhythm passer who excels on quick-timing throws. Composed leader and mistake free passer. Finds the open guy. Conservative decision maker: Not an aggressive thrower and will not risk turnovers. Exceptional ball placement within 10 yards of the line of scrimmage. Pure pocket passer. Tough, savvy and mature player. Polished mechanics and delivers a smooth ball. Excellent back-shoulder thrower. Natural footwork when dropping back. Orchestrated pro-style offense in college and ready-made field general with 42 career starts. Struggles throwing deep balls. Physical limitations: Curtailed mobility and athletic ability. Only 40 career rushing yards. Not efficient off script and fastball lacks juice. Average arm strength and struggles to place pigskin in tight windows. Poor pocket mechanics under duress. Looks like a "game manager" not a difference maker. Clearly, one organization will adore the intangibles and rank Fromm very highly.
Key Career Stats
Games: 43
Passing Efficiency: 156.2
Completion Percentage: 63.3%
Yards per Attempt: 8.4
TD:INT Ratio: 78:18
Career Rushing Yards: 40
Escapability Score: C
Scholar's Score: Second round
Best of the Rest
7. Jacob Eason, Washington
8. Anthony Gordon, Washington State
9. James Morgan, Florida International
10. Cole McDonald, Hawaii
It is John Laub's seventh year publishing The Scholar's Study Sheets: NFL Draft Prospects. With his Masters in history and professional experience as an educator, Laub is uniquely qualified to research, analyze and discover new insights and trends in college and professional football. Laub has played fantasy football over thirty years and published articles for FootballDiehards.com for well over 25 years. He won $10,000 in 1993, defeating nearly 15,000 owners, and published Audibles: Winning is Everything in the 1990s. He truly is The Gridiron Scholar.
Twitter: @GridironSchol91 or e-mail: Audibles@aol.com