2020 Fantasy Football Wide Receiver Prospects 2020
By John Laub
2020 Wide Receiver Prospects
Rating the Receivers part I
As I begin my wide receiver profiles for the seventh year, I am sitting at my office desk while listening to Anthrax I Am The Law and memories of the metal band in the Eighties flicker through my mind. I will never forget seeing the Among the Living tour in 1987…what an incredible live show.
In college, I spent far more time attending metal concerts and critically thinking about football than studying in the library. During the week, I listened to my favorite metal bands on vinyl in my dorm room instead of completing my homework. On the weekends, I was glued to the TV watching football games, analyzing play calling by coaches, evaluating players and rooting for the Dolphins, Broncos and Wolverines.
How much has the Draft, and game, changed in over three decades? In 1987, seven running backs—Alonzo Highsmith, Brent Fullwood, D.J. Dozier, Paul Palmer, Roger Vick, Rod Bernstine and Terrence Flagler—were selected in the first round, and regrettably, none returned fair value for the organizations that invested so much draft capital. Only the Chiefs' Christian Okoye, a second-round pick who led the Class of '87 in career rushing yards with 4,897, provided a noteworthy dividend.
At wide receiver, Mark Carrier (third-round pick) and Haywood Jefferies (first-round pick) paced the Class of '87 in career receiving yards with 8,763 and 6,334 respectively. I'm old enough to have drafted Carrier (Tampa Bay) on my first fantasy football team and won the league with a 9-5 record in 1989. In a magical season that I will never forget, the Buccaneers' playmaker snatched 86 passes for 1,422 yards and nine touchdowns.
When I skipped classes to watch the Draft, friends thought that I was crazy and a little too obsessive about football. I did not care. Flash forward: the NFL Draft is one of the biggest and most anticipated sports events in America. Millions of fans watch and Draftniks proliferate across the country. I am fortunate enough to share my love of football with other diehards. The game that I love and treasure has evolved beyond my imagination over thirty years ago.
The receiver Class of 2020 is the deepest and most talented since 2014. Franchises in need of assistance at the position will have a plethorea of difference makers to choose from. I have watched hours of film and identified the elite wide outs to target in fantasy drafts after the Combine. In regard to the top twelve players, there is disparity among the scouting community and fantasy football kingdom. Listed below are my profiles on the top playmakers as well as their benchmark stats to assist in identifying potential stars as professionals.
Without question, speed and size often separates the All-American from a Pro Bowler professional superstar and cannot be ignored when evaluating players. Seven indicators (Career Receptions, Yards per Reception, Catch Percentage, Team Aerial Dominator, 40-yard dash, 3-cone drill and 20-yard shuttle) among future receivers provide additional insight into long-term NFL potential.
Benchmark Statistics and Measurements for Draft Consideration
Career:
Receptions: 150
Yards per Reception: 15.0
2019 Season:
Catch Percentage: 65%
Team Aerial Dominator: 25%
Breakaway Ability:
4.50 seconds (or less) in the 40-yard Dash
6.90 seconds (or less) in the 3-cone Drill
4.20 seconds (or less) in the 20-yard Shuttle
Official Combine and Pro-Day measurements will be updated as available.
1. Jerry Jeudy, Alabama
Fanciful future in the NFL after a stupendous career at Tuscaloosa, Alabama. In 2019, First Team All-American by the AFCA, First Team Coaches' All-SEC and AP Second Team All-SEC. In 2018, Biletnikoff Award winner, consensus First Team All-American and AP First Team All-SEC after recording 69 catches for 1,315 yards and 14 touchdowns. Averaged a single-season school record 19.3 yards per catch (minimum 50 catches). In past two seasons, posted back-to-back 1,100-yard campaigns. Concluded campus tenure second in career touchdown receptions (26), fourth in receiving yards (2,742) and fifth in receptions. In high school, one of the highest-rated receivers in the nation and arrived on campus as an early enrollee in 2017. At 6-foot-1 and 193 pounds, possibly the best route runner over the past decade. Fierce competitor with uber start-stop ability, easily sinks hips and gets in-and-out of breaks with lightening quick feet. Long arms and good catch radius. Tremendous balance. Needs only a sliver of daylight to hit a home run. Elusive and slippery in the open field: Stunning vision to elude first tackler and gain chunks of yards after the catch. Destroys pursuit angles and dangerous lateral agility. Generates space with foot speed, hip sink, head fakes, jab steps and hand placement. Versatile receiver: Lined up in the slot and on the outside, earning a master's in route running. Top-notch burst ability. Shifts gears in the blink of an eye and incredible spin moves. Clutch player on third downs. Snatches ball with finger tips and swiftly turns upfield. Long strider who is a savvy athlete. Tracks deep ball extremely well. Might need to gain a little weight and get stronger. Not a physical competitor at catch point. Wiry and thin frame. Alabama industrial complex churns out another star: Julio Jones, Amari Cooper and Calvin Ridley. All-Pro potential and game altering speed. Top ten talent in the Draft.
Key Career Stats
Receptions: 159
Yards per Reception: 17.2
2019 Season
Catch Percentage: 70%
Team Aerial Dominator: 26%
Breakaway Ability
40-yard Dash: 4.45
3-cone Drill: n/a
20-yard Shuttle: 4.53
Scholar's Score: First round
2. CeeDee Lamb, Oklahoma
Stupendous Sooner declares for the Draft after sensational season with 65 catches for 1,158 yards and 11 touchdowns. In 2019, First Team All-American, First Team All-Big 12 and a Biletnikoff Award and Earl Campbell Tyler Rose Award finalist. In 2018, Second Team All-Big 12, and in 2017, Honorable Mention All-Big 12 Freshman of the Year. Recorded back-to-back 1,000-yard campaigns and double-digit touchdowns. At 6-foot-2 and 198 pounds, a tall-and-lanky game breaker who hits prodigious home runs. Fluid athlete and methodical and smooth route runner. Nuanced footwork: Jab, stutter and false steps. Rapidity bursts off line of scrimmage. Effortlessly adjusts to pass with outstanding body control. First-rate hand usage to create separation. Stunning spatial awareness and settles down in open space. Great leaping ability: Easily high points football and plucks ball out of air with strong hands. Beats press coverage with magical footwork. Welcomes the challenge of man coverage: Runs with purpose and determination. Difficult to tackle. Uses vision to setup defenders. Win contested passes and ventures into the middle of the defense. Dangerous on screens and short passes. Phenomenal run-after-the catch ability. Breaks away from tacklers: Does not get dragged down from behind. High football IQ and a master technician who ran a full route tree. Lined up in the slot and on the outside at Oklahoma. Profiles as a slot or Z-receiver at the next level. Lacks elite top-end speed. Without question, alpha dog traits and will not drop beyond the twelfth pick in the Draft.
Key Career Stats
Receptions: 173
Yards per Reception: 19.0
2019 Season
Catch Percentage: 66%
Team Aerial Dominator: 32%
Breakaway Ability
40-yard Dash: 4.50
3-cone Drill: n/a
20-yard Shuttle: n/a
Scholar's Score: First round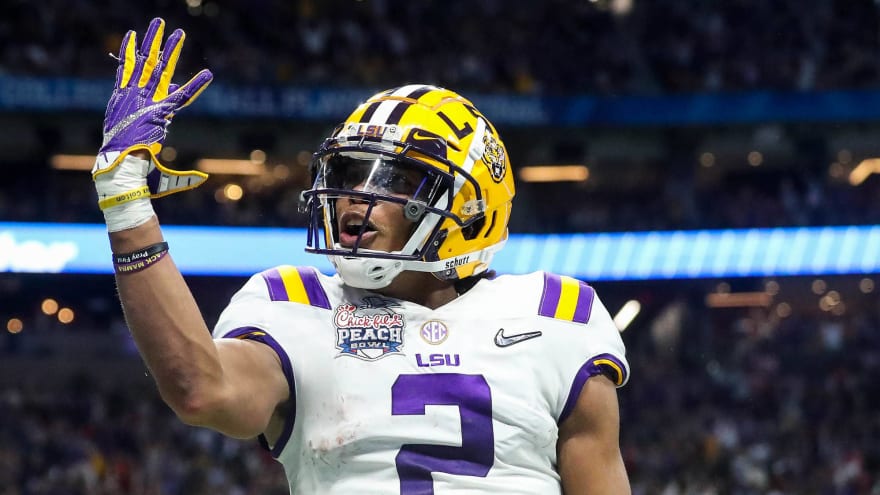 3. Justin Jefferson, LSU
Emerged as one of the best wide receivers in the nation last year: Second Team All-SEC after snatching 111 passes for 1,540 yards and 18 touchdowns, which tied the SEC single-season mark along with LSU teammate Ja'Marr Chase and Florida's Reidel Anthony (1996). In the CFP National Semifinal, logged 14 catches for 227 yards and four touchdowns, which all established Semifinal records. In 2018, LSU's top receiver with 54 receptions for 875 yards and six touchdowns. In high school, played both sides of the football and a three-star prospect. At 6-foot-1 and 202 pounds, a fluid athlete who is a cunning, savvy, creative and deceptive route runner. Easily eludes defensive backs with shiftiness and long strides. A technician who also shines at mental processing. Versatile playmaker: Employed from the slot and on the outside. Intelligent receiver: Adjusts pattern in flight and deadly on option routs. Natural hands and plucks ball out of the air. Rarely drops passes: Astonishing catch rate last year. Tracks ball well downfield. Excels at making tough catches. Astounding body control. Contorts body between football and defender. Aggressive pass catcher who instinctively creates space versus defender. Scrappy blocker with underrated toughness. Battles for the pass and often wins. Always seems open on film. Needs to quicken cuts. Not an above the rim rebounder despite height. A plug-and-play starter from the first day of training camp. Would fit nicely on a team in need of a slot receiver with an innovative coaching staff.
Key Career Stats
Receptions: 165
Yards per Reception: 14.6
2019 Season
Catch Percentage: 83%
Team Aerial Dominator: 26%
Breakaway Ability
40-yard Dash: 4.43
3-cone Drill: n/a
20-yard Shuttle: n/a
Scholar's Score: First round
4. Tee Higgins, Clemson
Is there a better professional wide receiver apprenticeship in college football than Clemson? Over the past decade, DeAndre Hopkins, Sammy Watkins and Mike Williams were all selected in the first round of the Draft. The terrific Tiger is next in line after three seasons on campus. In 2019, First Team All-ACC and in 2018, Second Team All-ACC. Eclipsed 1,000 yards receiving last year. Finished Tigers' career tied for first place with Sammy Watkins and DeAndre Hopkins with 27 receiving touchdowns and only player to record double-digit receiving touchdowns in back-to-back campaigns. Coming out of high school, highest-rated signee in Clemson's 2017 class: Rated as the No. 2 wide receiver and No. 15 prospect in the nation by Rivals. Basketball background and plays above the rim on the gridiron. At 6-foot-4 and 216 pounds, a competitive athlete and natural hands-catcher. Tremendous ball skills and leaping ability. Fluid runner who runs crisp routes. In-and-out of cuts swiftly: Sinks hips, plants foot and employs hands. Uses size and strength to box out defenders and win contested catches. Long strider who creates separation at top of route. Good deep tracking ball skills. Can flip the field hitting a home run. Beats press coverage with underappreciated quickness. Effortlessly stacks defenders on vertical stems. Large catch radius and plucks ball out of the air with finger tips. Stupendous body control and technician: Contorts frame, arms and legs to make catches. Ran patterns from both the X and Z positions. Produces lots of RAC yards. Secures back shoulder throws with ease. Earned a PhD in out patterns and hooks. Limited route tree on resume in passing game. Needs to become more consistent. Did not venture into the teeth of the defense often. Might need to add beef in order to compete against more physical corners as a professional. At Combine, scouts will be watching long speed very closely. Perfect size as a modern X-receiver in the NFL. Buffalo and Las Vegas need a reliable playmaker on the outside and the former Clemson star provides a nice first-round option.
Key Career Stats
Receptions: 135
Yards per Reception: 18.1
2019 Season
Catch Percentage: 69%
Team Aerial Dominator: 27%
Breakaway Ability
40-yard Dash: 4.54 (Pro Day)
3-cone Drill: n/a
20-yard Shuttle: 4.53 (Pro Day)
Scholar's Score: First round
5. Denzel Mims, Baylor
Eye-opening Combine performance thrusts Baylor luminary up rankings. In 2019, First Team All-Big 12 and in 2017, Second Team All-Big 12. Three-year starter and posted two 1,000-yard crusades (2017 & 2019) during campus tenure. In high school, Texas state-champion sprinter (200 meters), MVP basketball star, All-state receiver, top-300 recruit and three-star prospect. At 6-foot-3 and 207 pounds, extraordinary combination of size, length and speed. Long strider who gobbles up yards. Powerful competitor with smooth body control, explosive strength, sticky hands and fiery feet. Intimidating frame and body type. Impressive burst off line of scrimmage. Employs a stutter-go move and good hand technique to beat press coverage. Stupendous at catch point with protracted wingspan. Defeats defenders over the top with strength and long arms. Hand fighter who corrals ball in crowds: Positions body to shield defenders. Easily elevates to snatch ball in mid-air. Plucks ball away from body. Reaches back to seize back-shoulder throws. Master of the sideline catch. Very good spatial awareness and field vision. Attacks defenses vertically and adjusts to pass. Deceptive route runner. Earned praise from media and onlookers throughout Senior Bowl practice. At Baylor, restricted route tree. Does not always snap off beaks and needs to focus more. Tends to slow down coming out of cuts. Lacks separation at top of stem. Checks every box from an athletic and career production standpoint. Projects as a flanker (Z-receiver) in the NFL.
Key Career Stats
Receptions: 186
Yards per Reception: 15.7
2019 Season
Catch Percentage: 56%
Team Aerial Dominator: 29%
Breakaway Ability
40-yard Dash: 4.38
3-cone Drill: 6.66
20-yard Shuttle: 4.43
Scholar's Score: First round
6. Henry Ruggs III, Alabama
Crimson Tide home run hitter with elite track speed. A five-star prospect who holds Alabama high school 7A state record in 100-meters (10.58). Finished campus tenure ranked third on school's career touchdown receptions list with 24. In 2017, named to All-SEC Freshman team. At 5-foot-11 and 188 pounds, a speedster who is a blur in the open field. Leaves opponents in rear view mirror on vertical routes and after the catch. Tremendous explosion and burst. Instant and effortless acceleration. Easily defeats man coverage, leaving corners in dust. Incredible at in-breaking cuts. Inordinate head fakes, lateral quickness and short-area quickness to break ankles and elude tacklers. Insane acceleration out of breaks. Works all three levels of the defense. Understands route running schemes. Employs excellent body control to corral back shoulder throws. Red zone dominator with pronounced leaping ability, natural hands and iron-willed determination. In the air, a contortionist who is focused at catch point. Snatches nose of football and makes difficult adjustments look easy. Can be lined up in multiple positions (X, Y, Z and slot) and employed on jet sweeps and quick screen passes. Never recorded a 1,000-yard season on campus. Lack of diverse route tree on resume. Needs to improve hand technique. Physical corners in press coverage present a challenge. Polished and poised prospect entering the league. Strategic chess piece in aerial assualt: Challenges secondaries deep, opening up intermediate routes and middle of the field. Will challenge John Ross' record 4.22 40-yard dash time at Combine. Competed for targets with Calvin Ridley, Jerry Jeudy, Devonta Smith and Jaylen Waddle on campus. NFL teams covet speed and an organization will not be able to resist the difference maker in the first round.
Key Career Stats
Receptions: 98
Yards per Reception: 17.5
2019 Season
Catch Percentage: 69%
Team Aerial Dominator: 17%
Breakaway Ability
40-yard Dash: 4.27
3-cone Drill: n/a
20-yard Shuttle: n/a
Scholar's Score: First round
It is John Laub's seventh year publishing The Scholar's Study Sheets: NFL Draft Prospects. With his Masters in history and professional experience as an educator, Laub is uniquely qualified to research, analyze and discover new insights and trends in college and professional football. Laub has played fantasy football over thirty years and published articles for FootballDiehards.com for well over 25 years. He won $10,000 in 1993, defeating nearly 15,000 owners, and published Audibles: Winning is Everything in the 1990s. He truly is The Gridiron Scholar.
Twitter: @GridironSchol91 or e-mail: Audibles@aol.com