2020 Fantastic Fantasy Freshmen Post-Draft Rankings part II
By John Laub
Fantastic
Fantasy Freshmen
2020 Post-Draft Rankings part II
Magna Cum Laude
WR Jerry Jeudy, Denver Broncos
After the Broncos were pummeled by the Seahawks' Legion of Boom Defense in Super Bowl XLVIII, general manager John Elway rebuilt the defense in the offseason and Denver won Super Bowl 50 two years later. Residing in the AFC West, the Broncos compete with the World Champion Kansas City Chiefs and their high-flying offense. Once again, Elway is following a successful blueprint: In the Draft, Denver invested heavily in the offense. Sophomore quarterback Drew Lock showed promise last year, and Elway has provided a multitude of playmakers to assist Lock's development. First-round selection Jerry Jeudy is the golden nugget of the team's retooling. The former Alabama celebrity pairs with Courtland Sutton to form one of the top young wide receiver duos in the NFL. My top-ranked, pre-Draft wideout landed in a magnificent setting to learn, develop and grow as a professional. Jeudy employes world-class footwork to disguise his routes and shake cornerbacks. As a rookie, he is the best route-runner to enter the league in a decade and is a fierce competitor who provides Lock with another game breaker. Fantasy diehards will be elated selecting the newest Bronco on their alternative-reality squads this year.
Grade: B
2020 Projections: 62 receptions for 820 yards and 6 touchdowns
WR Michael Pittman, Jr., Indianapolis Colts
General manager Chris Ballard has built the Colts from the inside out on offense: First, he drafted elite offensive lineman to anchor the attack, and in the past two Drafts, selected gamebreakers at the skill positions. Michael Pittman, Jr. joins last year's first-round pick Parris Campbell to form a young and explosive receiver tandem. "…Michael was a guy that could win at all three levels. He was big. He's strong to the ball. He competes. He got better every year in college. He's the type of teammate we want. We think he's got a chance to be a heck of a player," Ballard stated on Colts.com by Jake Arthur. He is the son of Michael Pittman, Sr, who played 11 seasons in the NFL, and at USC, the newest Colt was a team captain and hard worker. At 6-foot-4 and 223 pounds, Pittman is a physically imposing competitor with notable agility for a big athlete. In San Diego, quarterback Philips Rivers often trusted his immense receivers to go up and catch the football: Pittman's size and strength mirrors Rivers' former home run hitters. He tracks the ball well downfield and is victorious at the catch point with long arms, strong hands and first-rate body control. Pittman will battle with veterans T.Y. Hilton and Zach Pascal and sophomore Campbell, who missed all of last season, for playing time and targets in Indianapolis in 2020.
Grade: B
2020 Projections: 58 receptions for 780 receiving yards and 6 touchdowns
Twitterverse on Fire
Who was the biggest riser among fantasy football wide receivers after free agency and the NFL Draft?
Player, Team: Vote percentage
Emmanuel Sanders, New Orleans: 36%
Breshad Perriman, New York Jets: 18%
Allen Lazard, Green Bay: 44%
Other, comment below: 2%
John's Vote: Allen Lazard
Total Votes: 575
"Of those three, probably Lazard. I didn't see Sanders or Perriman as consistent fantasy producers to begin with. I also think Darius Slayton is a pretty big winner. He has a real chance to step up into the No. 1 WR role with the Giants if he can continue developing with Jones."
@FFA_Meng
"Deebo Samuel for me."
@QueenC1tyFan
WR CeeDee Lamb, Dallas Cowboys
Did the Cowboys really need a wide receiver in the Draft? When CeeDee Lamb remained on the board at pick No. 17, the organization could not bypass on the talent and selected the best player remaining on their board. In 2020, the Dallas offense has a wide receiver corps that is remarkably better than last year, and the organization expects new coach Mike McCarthy to fine-tune the aerial assualt into one of the preeminent in the NFL. Lamb lines up with Amari Cooper and Michael Gallup to form an elite trio of playmakers for quarterback Dak Prescott. At 6-foot-2 and 198 pounds, the former Sooner is a prodigious home run hitter who reminds many draft analysts of DeAndre Hopkins. With hands of glue, he easily high-points the football and plucks it out of the air. After the catch, he runs with purpose and determination and is difficult to bring down. Unfortunately, there is only one football, and the Cowboys are loaded with skill-position players. Therefore, his freshman outlook, and production, must be tapered. Nonetheless, Lamb is a future Pro Bowler in Dallas.
Grade: B
2020 Projections: 53 receptions for 720 yards and 5 touchdowns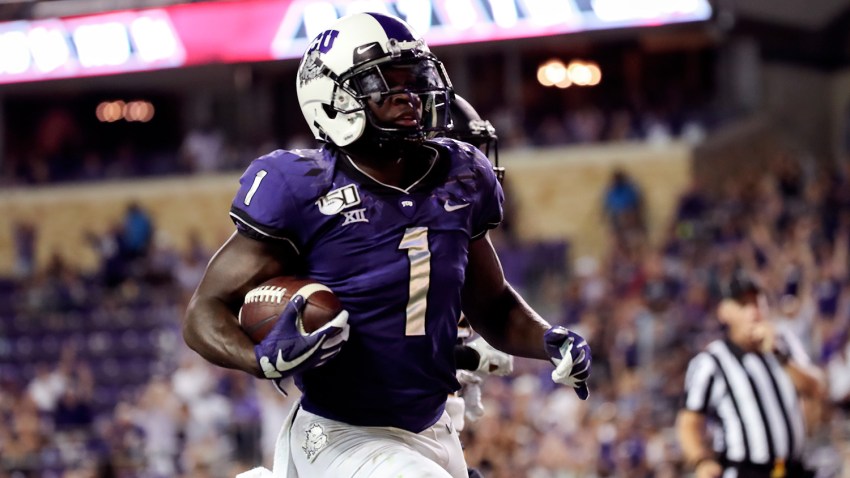 WR Jalen Reagor, Philadelphia Eagles
There was never any doubt that the Eagles were going to purchase a wide receiver in the first round. Last year, quarterback Carson Wentz became the first passer to surpass 4,000 yards without a receiver totaling more than 500 yards in NFL history. By the end of 2019, UDF Greg Ward, Jr. had ascended to the top of the pecking order in the aerial assualt. The Eagles released Nelson Agholor in the offseason, and veteran Alshon Jeffery, who missed nine games over the past two campaigns, turned 30 in February. Coach Doug Pederson's West Coast passing game requires a vertical threat to open up the middle of the field for its dynamic tight end duo of Zach Ertz and Dallas Goedert. A versatile receiver, Jalen Reagor challenges safeties deep from the slot and on the outside. At 5-foot-11 and 206 pounds, he is a quick-twitch athlete who gets immediate separation and gains chunk yards on quick passes. Reagor can also impact the ground game on jet sweeps and reverses, and provides value on special teams as a kick returner. Some scouts compared Reagor with former Panthers' wide out Steve Smith, which is lofty praise. While pundits criticized general manager Howie Roseman for selecting Reagor, the former Horned Frog fulfills many needs in Philadelphia and will garner a significant role in the offense from the first day of camp.
Grade: B
2020 Projections: 58 receptions for 750 yards and 6 touchdowns
Twitterverse on Fire
With Andy Dalton released by the Bengals, who should New England start at quarterback when the season kicks off in 2020?
Player: Vote percentage
Sign Cam Newton: 26%
Start Jarrett Stidham: 34%
Sign Andy Dalton: 39%
Other, comment below: 1%
John's Vote: Cam Newton
Total Votes: 432
"The Patriots don't want a serviceable starting quarterback. They intend to tank for Trevor Lawrence. Is that not obvious by now?" @Bagelbird
"I saw this coming…think Andy Dalton would be the perfect plug in for New England. I don't like Cam there, and he would not fit the system." @RastaLion1131
WR Justin Jefferson, Minnesota Vikings
In March, the Vikings jettisoned Stefon Diggs to Buffalo and 243 targets and 165 catches over the past two seasons are up for grabs. Minnesota owned two picks in the first round of the Draft and plucked Justin Jefferson with No. 22. After being selected fifth among rookie receivers, the former Tigers' star appeared on CBS Radio and stated "I'm definitely excited to show the world what I have. Every single person that picked a receiver instead of me are going to pay. I'm going to show them that I am the better receiver than the pick that they had…" As a fantasy analyst, I love investing in a player who is motivated to prove people wrong: It is a tremendous personal tool to inspire greatness. Since 2000 at the FBS level, only six receivers have recorded over 1,000 yards and 18 touchdowns, and Jefferson is the latest member. At 6-foot-1 and 202 pounds, Jefferson is a fluid technician who is a cunning, savvy and creative route runner. He can be employed in the slot or out wide for the Vikings and delivers a much-needed chess piece in the passing game.
Grade: B-
2020 Projections: 60 receptions for 780 yards and 6 touchdowns.
QB Joe Burrow, Cincinnati Bengals
Joe Burrow orchestrated the greatest season in the history of college football last year: He led the Tigers to a National Championship, an undefeated crusade (15-0) and earned a myriad of personal accolades. The Bengals owned the first pick in the Draft and the Heisman winner now has the reigns of the offense after Cincinnati released Andy Dalton. An Ohio native, Burrow embraces the opportunity to lead the franchise: "…I'm very excited to reciprocate that to the fans and to the city. I think it's going to be a great relationship, and I think we're going to win a lot of football games, and that's going to make it a lot better," the rookie signal caller proclaimed in an interview with Billy Embody on 247Sports.com. At 6-foot-3 and 216 pounds, the former LSU product owns a high football IQ and commands the huddle and pocket. He is a master of route concepts and keeps his focus downfield while under pressure. These traits will surely enable Burrow to succeed sooner rather than later as a professional. He will also have a stable of gamebreakers—Joe Mixon, A.J. Green, Tyler Boyd and Tee Higgins—to assist in the transition. I am confident that Burrow is an immediate fantasy success in SuperFlex leagues, and he is worth rostering as a backup in 1-QB starting lineup formats.
Grade: B-
2020 Projections: 3,500 passing yards, 280 rushing yards and 26 total touchdowns
Twitterverse on Fire
Who was the biggest riser among fantasy football tight ends after free agency and the NFL Draft?
Player, Team: Vote percentage
Hayden Hurst, Atlanta: 45%
Jonnu Smith, Tennessee: 21%
Mike Gesicki, Miami: 31%
Other, comment below: 3%
John's Vote: Mike Gesicki
Total Votes: 411
"I think Ian Thomas probably given that Carolina didn't add any meaningful pass-catchers. Blake Jarwin probably the biggest loser with Cooper, Gallup, and Lamb all demanding targets now."
@FFA_Meng
Cum Laude
13. WR Brandon Aiyuk, San Francisco 49ers
14. WR Tee Higgins, Cincinnati Bengals
15. WR Denzel Mims, New York Jets
16. WR Henry Ruggs, Las Vegas Raiders
17. QB Tua Tagovailoa, Miami Dolphins
18. RB Zack Moss, Buffalo Bills
19. WR Bryan Edwards, Las Vegas Raiders
20. RB Anthony McFarland, Pittsburgh Steelers
21. WR Laviska Shenault, Jacksonville Jaguars
22. RB Joshua Kelley, Los Angeles Chargers
23. WR Chase Claypool, Pittsburgh Steelers
24. RB A.J. Dillon, Green Bay Packers
Honors
25. WR Devin Duvernay, Baltimore Ravens
26. RB Darrynton Evans, Tennessee Titans
27. QB Justin Herbert, Los Angeles Chargers
28. WR K.J. Hamler, Denver Broncos
29. WR/RB Antonio Gibson, Washington Redskins
30. WR Van Jefferson, Los Angeles Rams
31. WR Quintez Cephus, Detroit Lions
32. QB Jordan Love, Green Bay Packers
33. QB Jalen Hurts, Philadelphia Eagles
34. WR Lynn Bowden, Las Vegas Raiders
35. RB Lamical Perine, New York Jets
36. RB Eno Benjamin, Arizona Cardinals
37. WR Gabriel Davis, Buffalo Bills
38. RB DeeJay Dallas, Seattle Seahawks
39. WR Antonio Gandy-Golden, Washington Redskins
40. WR Donovan Peoples-Jones, Cleveland Browns
41. TE Adam Trautman, New Orleans Saints
42. QB Jacob Eason, Indianapolis Colts
43. WR John Hightower, Philadelphia Eagles
44. TE Albert Okwuegbunam, Denver Broncos
45. TE Devin Asiasi, New England Patriots
46. WR Tyler Johnson, Tampa Bay Buccaneers
47. WR Joe Reed, Los Angeles Chargers
48. TE Cole Kmet, Chicago Bears