2020 Best Ball Team Building
By John Laub
2020 Best Ball
Roster Construction
With a heavy heart, I sit down and begin writing. Last week, I took three days away from fantasy football analysis to reflect on the peaceful protests demanding an end to police brutality and equal rights for African-Americans. The lack of empathy and education in Drew Brees' comments last Tuesday propelled me out of my melancholy state, and I could no longer be silent.
Americans must open their hearts and minds to the historic violence and systemic racism perpetuated against African-Americans for over 400 years. If we want to better understand the challenges ahead in order to initiate change as a nation, please listen and learn from African-Americans across the country. It is time for an honest dialogue.
Growth commences with compassion and empathy. I am always open to new ideas and perspectives from other people. When I teach, I listen to my students' needs and attempt to walk in their shoes. In order to increase their knowledge of history and critical thinking skills, I illustrate my thinking to the scholars. It is imperative that educators lead students across the Rubicon and make abstract concepts concrete in order to enlighten scholars. I apply the same analysis to my fantasy football inquiry.
Therefore, I reached out to my Football Diehards teammates, Bob Harris and Jen Ryan, to assist in providing insight for Best Ball roster construction and team building strategy this summer. Each provided a full roster and a breakdown of their team. I also scrutinized three of my rosters for readers.
Enjoy my fellow football diehards!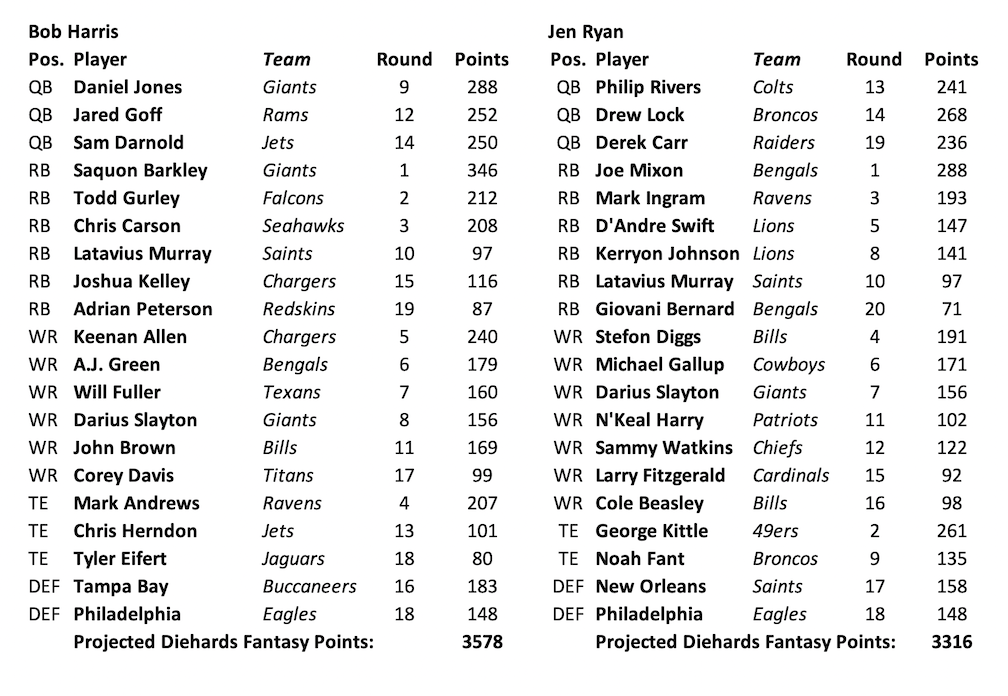 Bob Harris:
While it admittedly depends more on draft position than I'd like (at least in this unusual offseason, where our information is limited to what we're getting from virtual OTAs), my ideal strategy in Best Ball this year is to focus on running backs and tight ends early.
In this particular draft, I was able to pull this strategy off nicely. Starting out from the No. 2 spot, I was able to anchor this roster with Saquon Barkley, who in my opinion is a can't-miss piece.
I followed up with two more backs I expect to have heavy workloads. And this year, maybe even more than in other years, I'm focused drafting clear paths to workload. In the case of Todd Gurley, the change of teams might not be ideal, but assuming he avoids injuries, the Falcons there's no reason the Falcons won't try to run the wheels off him (he's in Atlanta on a one-year deal).
I'm even more confident in Chris Carson's workload, which has been consistently high-end. Even with the recent addition of Carlos Hyde as insurance with Rashaad Penny coming off knee surgery, I fully expect Caron to be the tip of the Seahawks' offensive spear once again.
The pivot to tight end was also ideal, with Mark Andrews one of my favorites. I think landing him as the fourth at his position off the board (behind Travis Kelce, George Kittle and Zach Ertz) in the fourth round will provide ample return on investment.
Those four picks obviously leave me playing catch up on Aisle Wideout. I was pleased with the outcome as I landed Keenan Allen, A.J. Green, Will Fuller and one of my favorite plays this year, Darius Slayton, in Rounds 5-8.
Following up with my favorite upside play at quarterback, Daniel Jones, in Round 9 leaves me Giants-heavy, but satisfied nonetheless.
I continued to fill in with players who have solid roles and high ceilings if circumstances go their way. In particular, Bills wideout John Brown and Chargers rookie RB Joshua Kelley appeal to me. Corey Davis does not, but the pedigree is there. The late-round fliers on Tyler Eifert and Adrian Peterson do fit the profile, however…
Worth noting, I grabbed a pair of QBs behind Jones, Jared Goff and Sam Darnold, mostly because the chances either will lose their respective jobs to anything other than injury are slim to none. Bottom line, if all my best-ball rosters fall along these lines this year, I'll be pleased.
Jen Ryan:
Before the summer is out, I will hopefully have close to 100 drafts completed, so I like to switch it up now and then and try different things out, especially early on. In this draft, I made a bit of an effort to draft teammates:
Lions: D'Andre Swift (Round 5) and Kerryon Johnson (Round 8)
Vikings: Stefon Diggs (Round 4) and Cole Beasley (Round 16)
Bengals: Joe Mixon (Round 1) and Giovani Bernard (Round 20)
Broncos: Drew Lock (Round 14) and Noah Fant (Round 0)
This could be a total bust or prove effective in weeks where either the offense completely goes off, or one of the two punch misses time.
I especially like the Lock-to-Fant connection and am super high on Broncos' tight end this year. I was happy to grab him in the Round 9. His ADP has steadily dipped since Best Ball lobbies have opened, and I'm actively targeting him in drafts. Currently the TE 14 in ADP, I'd go as far to say that he has top-five upside.
Another player on this team, who will be on many of my teams and Diehards write ups this summer, is Darius Slayton. I almost took him in the sixth round ahead of Gallup, but figured he would still be there in the seventh. It is shocking that 40 wide receivers are being drafted ahead of him.
Overall, I went with a 3QB/6 RBs/7 WRs/2 TEs/2 DSTs roster construction. The Kittle/Fant combo allows for me to take just two, and often times I'll punt a third DST if I see a player sitting there as Mr. Irrelevant that I want.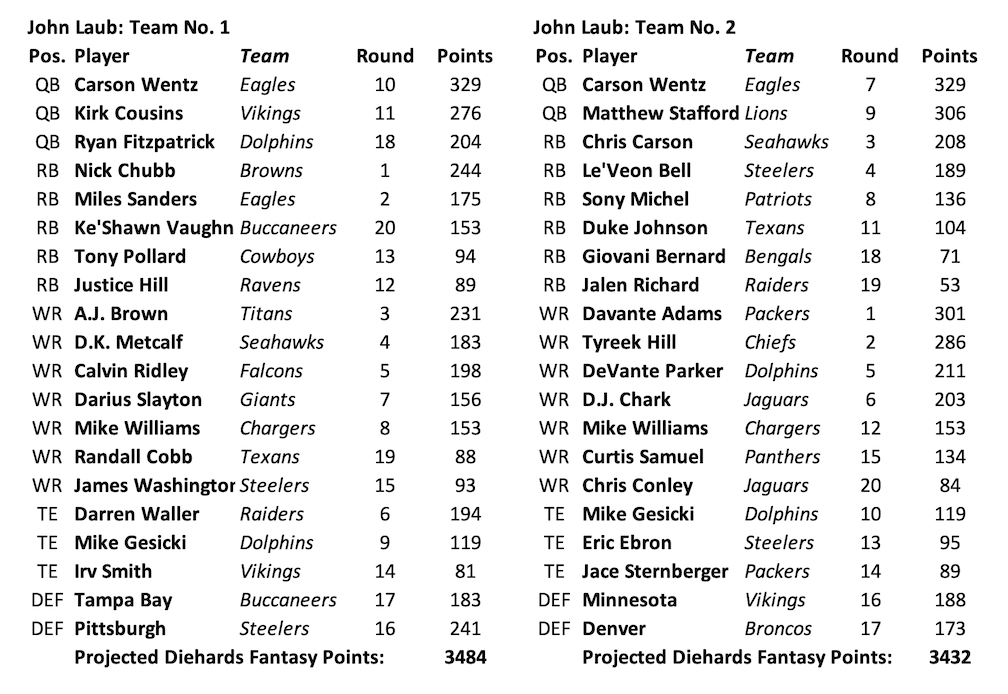 John Laub:
I love drafting Best Ball teams and have a basic strategy to build my rosters. However, I know that there are multiple construction formats that can win a league championship. I chose three different teams as examples for readers to study and scrutinize.
Team #1
I opened the draft running back heavy with Nick Chubb and Mikes Sanders. It is my preferred method for drafting in 2020. With two studs anchoring my club, I acquired other positional assets and grabbed Tony Pollard and Justice Hill much later. Finally, because I built the team before the NFL Draft, Ke'Shawn Vaughn remained available until the final round. Of course, it would never happen in Best Ball leagues now.
Afterwards, I pounded the receiver position for three rounds by selecting A.J. Brown, D.K. Metcalf and Calvin Ridley. In Rounds 7 and 8, I added to my receiver corps by acquiring Darius Slayton and Mike Williams, and finally, acquired longshots like Randall Cobb and James Washington.
In Round 6, I took my highest-rated tight end on the board, Darren Waller, and three rounds later, acquired my top under-the-radar target Mike Gesicki. Near the end of the draft, I attained a lottery ticket on Irv Smith at tight end. I do not usually spend so much draft capital at the position, but the value enticed me at those prices.
At quarterback, I love to double-dip at the position in back-to-back rounds. I waited patiently, and in Rounds 10 and 11, selected Carson Wentz and Kirk Cousins. In Round 18, I filled the quarterback room with Ryan Fitzpatrick.
Team #2
I wanted to embark on a far different strategy with this team because of my draft position at No. 12. With 10 running backs plucked off the board before my back-to-back picks, my league mates ultimately dictated that I had no option but to take a contrarian roster build. I grabbed my two highest-rated receivers available, Devante Adams and Tyreek Hill, who are rock-solid foundational assets.
In the next 22 selections, nine ball carries were taken, and I nervously watched all of my targets fall. While I am not pursuing Chris Carson and Le'Veon Bell in drafts, I could not risk bypassing the position anymore. Neither back is a sure-fire fantasy stud, but both have Top 12 ball carrier potential in the realm of their outcomes.
I knew that back field depth would determine the competitiveness of my team. Patriots' players are underpriced, and I'm buying Sony Michel at his current ADP. Finally, I wanted pass catchers with single-game upside, and Duke Johnson, Giovani Bernard and Jalen Richard all fulfill the requirements at a fair cost.
On this team, I decided to draft only two quarterbacks. I prefer to acquire two signal callers in my Top 15 when my roster build includes only a duo. It is imperative that Best Ball owners monitor the position as quarterbacks fly off the board. Therefore, I had to spend earlier selections on Wentz and Matthew Stafford.
Finally, I added five more receivers—DeVante Parker, D.J. Chark, Mike Williams, Curtis Samuel and Chris Conley—to my roster. In Best Ball, three receivers always start, and possibly four, at the Flex position. I am very comfortable starting four wide outs in any given week.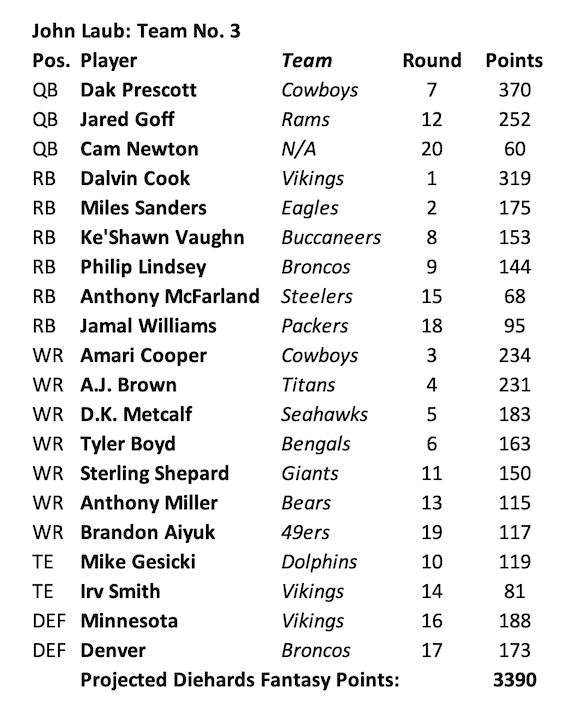 Team #3
When I put together this club, I tried for correlation plays to maximize upside in any given week. The QB-WR duo of Dak Prescott and Amari Cooper is reasonably priced: Cooper is a Round 3 pick while Prescott costs Round 7 capital.
Underpriced QB-WR Best Ball Duos:
Rams: Jared Goff-Robert Woods
Browns: Baker Mayfield-Odell Beckham
Jaguars: Gardner Minshew-D.J. Chark
Broncos: Drew Lock-Courtland Sutton
Vikings: Kirk Cousins-Adam Thielen
Also, I like the RB-DEF combination but it is a little more challenging to orchestrate. Luckily on this roster, the opportunity presented itself. First, I selected Vikings' RB Dalvin Cook with the fourth-pick overall and paired him with the Minnesota Defense in Round 16. Second, I acquired Philip Lindsey as my fourth ball carrier, and in Round 17, the Broncos Defense remained available, and I scooped up my sleeper unit.
Undervalued RB-DEF Best Ball Combinations:
James Conner-Pittsburgh Steelers
Raheem Mostert-San Francisco 49ers
Sony Michel-New England Patriots
Jonathan Taylor-Indianapolis Colts
Finally, I could not resist a late-round flier on QB Cam Newton in Round 20. Two years ago, I drafted RB James Connor in Round 20 of two Best Ball leagues and won both. Newton has similar upside ability if he signs with a team and gets on the field at some point in the season.