2019 NFL Mock Draft
By John Laub
The Gridiron Scholar's Mock Draft 3.0


I'll never forget the first mock draft that I published. In the 1980s, mocks were scarce, and I alleged that fanatics like myself must also crave multiple perspectives on teams and players. I was a sports writer for the student newspaper at Western Connecticut State University and convinced the editor to print my selections for the 1988 Draft.

Who knows if any students read it? The only feedback came from an administrator who questioned the importance of column space on professional sports in a school newspaper. I did not care…I shrugged off the criticism.

I watched the Draft on ESPN like a 20-year old Trekkie attending a Sci-Fi convention for the first time. Ohio State linebacker Chris Spielman enthralled me, and I wanted the Dolphins to select the All-American in the first round. To this day, I still cannot believe that Don Shula and the scouting department grabbed Spielman's teammate, DE Eric Kumerow, instead. It drove me furious at the time. Thirty-one years later, it still troubles me.

I always enjoy looking at past drafts. In 1988, there were five Hall of Famers (WR Michael Irvin, WR Tim Brown, OG Randall McDaniel, RB Thurman Thomas and C Dermontii Dawson) selected among the first 44 players. Three receivers were taken in the first eleven selections: Brown (6), Sterling Sharpe (7) and Irvin (11). All three became Sunday luminaries on the gridiron, combining for 2,439 receptions for 34,972 yards and 230 touchdowns and producing twenty-one 1,000-yard crusades. Unbelievable!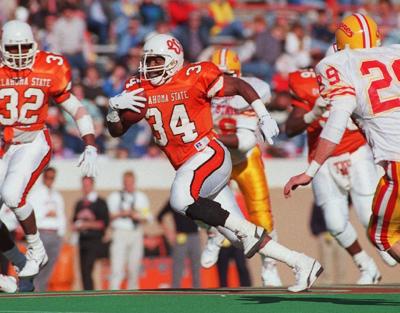 Thurman Thomas, Oklahoma State

For its' live coverage, ESPN sent a camera crew to Thomas' house expecting the Oklahoma State star to be selected among the elite. Unfortunately, the entire league bypassed the future Hall of Famer in the first round, and the television audience observed the anticipation, anger and despair on Thomas' face as it unfolded in their living rooms. Afterwards, Buffalo's dynamic dual-threat fueled his career on the rejection narrative and became one of the paramount pass-catching runners in NFL history.

How much has draft capital changed in thirty years? Two fullbacks were hand-picked in the first round: Brad Muster, Chicago Bears (23) and Craig Heyward, New Orleans Saints (24). In the second round, the Washington Redskins plucked a kicker, Chip Lohmiller, at pick No. 55 and Tom Tupa was the first quarterback selected at No. 68 by the Phoenix Cardinals. Tupa, also a punter, earned a paycheck for 16 seasons in the NFL and made more punts (873) than pass attempts (504) during his career. Wild!

After 38 years, the NFL Draft remains my favorite event of the year. There is so much more information and varying perspectives available on all the players for football diehards to analyze and digest. The league and the scouting community continuously change and evolve, which makes it even more enjoyable to follow.

Over the past seven months, I have studied the prospects and completed my big board for all the positions. The first-round projections are based on my rankings sprinkled with team subterfuge, agent leaks and media rumors. I hope you enjoy my fourth annual Mock Draft on FootballDiehards.com.

P.S. If my memory serves me well, I only projected 14 of 30 players correctly in 1988.

Feel free to send me a message on Twitter with any comments @GridironSchol91.
Trade: Washington and Tampa Bay swap first-round selections. The Buccaneers also acquire the Redskins' 2019 second-round pick and 2020 first-round selection.

| | | | |
| --- | --- | --- | --- |
| Pick | Team | Player | School |
| 1 | Arizona Cardinals | QB Kyler Murray | Oklahoma |
| 2 | San Francisco 49ers | Edge Nick Bosa | Ohio State |
| 3 | New York Jets | DT Ed Oliver | Houston |
| 4 | Oakland Raiders | DT Quinnen Williams | Alabama |
| 5 | Washington Redskins | QB Daniel Jones | Duke |
| 6 | New York Giants | QB Dwayne Haskins | Ohio State |
| 7 | Jacksonville Jaguars | OT Jawaan Taylor | Florida |
| 8 | Detroit Lions | Edge Josh Allen | Kentucky |
| 9 | Buffalo Bills | OL Jonah Williams | Alabama |
| 10 | Denver Broncos | TE T.J. Hockenson | Iowa |
Edge Brian Burns, Florida State
| | | | |
| --- | --- | --- | --- |
| 11 | Cincinnati Bengals | LB Devin White | LSU |
| 12 | Green Bay Packers | Edge Brian Burns | Florida St. |
| 13 | Miami Dolphins | Edge Clelin Ferrell | Clemson |
| 14 | Atlanta Falcons | OT Andre Dillard | Washington St. |
| 15 | Tampa Bay Buccaneers | DT Christian Wilkins | Clemson |
| 16 | Carolina Panthers | Edge Montez Sweat | Miss. St. |
| 17 | New York Giants | DE Rashan Gary | Michigan |
| 18 | Minnesota Vikings | IOL Garrett Bradbury | NC State |
| 19 | Tennessee Titans | IOL Dalton Risner | Kansas St. |
| 20 | Pittsburgh Steelers | LB Devin Bush, Jr. | Michigan |
DT Jeffery Simmons, Mississippi State
| | | | |
| --- | --- | --- | --- |
| 21 | Seattle Seahawks | DT Jeffery Simmons | Mississippi St. |
| 22 | Baltimore Ravens | WR D.K. Metcalf | Mississippi |
| 23 | Houston Texans | OL Cody Ford | Oklahoma |
| 24 | Oakland Raiders | CB Byron Murphy | Washington |
| 25 | Philadelphia Eagles | DT Dexter Lawrence | Clemson |
| 26 | Indianapolis Colts | DT Jerry Tillery | Notre Dame |
| 27 | Oakland Raiders | RB Josh Jacobs | Alabama |
| 28 | Los Angles Chargers | CB Greedy Williams | LSU |
| 29 | Seattle Seahawks | CB Rock Ya-Sin | Temple |
| 30 | Green Bay Packers | TE Noah Fant | Iowa |
| 31 | Los Angeles Rams | Edge Chris Winovich | Michigan |
| 32 | New England Patriots | TE Irv Smith, Jr. | Alabama |
First Round Mock Draft Score
23 players chosen and 5 matches: 33 total points
Best Available Day 2
QB Will Grier, West Virginia
RB Miles Sanders, Penn State
RB David Montgomery, Iowa State
WR A.J. Brown, Mississippi
WR N'Keal Harry, Arizona State
TE Jace Sternberger, Texas A&M
CB DeAndre Baker, Georgia
S Nasir Adderley, Delaware
S Darnell Savage, Maryland
S C. Gardner-Johnson, Florida