2017 NFL TE Prospects
By John Laub
2017 Tight End Prospects
With the escalation of the dominate pass catching tight end over the past decade, all general managers and coaches seek the next phenomenal power forward-like game breaker who can defeat Cover 2 defenses. Luckily, for NFL teams (and fantasy diehards) in search of an All Pro talent, the 2017 Draft offers a football buffet of options at the position.
The tight end class provides a diverse selection of playmakers: Classic in-line competitors like O.J. Howard and David Njoku in the first round as well as prime pass catchers like Bucky Hodges and Evan Engram in rounds two and three. Later in the Draft, teams can also find valuable contributors such as South Alabama's Gerald Everett and Ashland's Adam Shaheen or grab Michigan's Jake Butt, who tore a knee in the Orange Bowl, at a discounted price.
Benchmark Statistics and Measurements for Draft Consideration
Receptions: 80
Yards per Reception: 13.0
Breakaway Ability
40-yard Dash: 4.75
3-cone drill: 7.05
20-yard shuttle: 4.35
Official Combine and Pro-Day measurements will be updated as available.
1. O.J. Howard, Alabama
Arguably, the top ranked tight end prospect since Tyler Eifert in 2013. In 46 career games, totaled a paltry 1,726 receiving yards and seven touchdowns. At Alabama, did offensive scheme limit production? Where lofty expectations unrealistic in a run-based offense? Top position recruit coming out of high school. As a freshman, started five and displayed potential on 14 catches. As a junior, blossomed as an offensive weapon. On the biggest stage in two National Championship games, displayed incredible potential with 9 receptions for 314 yards and 3 touchdowns. Exceptional athlete at 6'5" and 251 lbs. Incredible catch radius with long arms and massive hands. Innate pass catcher who snatches ball away from body and tracks it over shoulder. Striking breakaway speed, balance, lateral agility, vision and acceleration. Fluid athleticism and remarkable body control. Smooth route runner in and out of cuts. Turns short throws into long gains. Major mismatch as "hybrid slot" or "move" tight end: Huge height advantage over defensive backs and difficult for linebackers to cover one-on-one. Good leaping ability. Employed as an in-line tight end, in the slot, in the backfield and split out wide. Absolutely dominated defenders as a drive blocker: intense, aggressive, prideful and physical competitor. Never a featured target in college. Could improve subtle moves to get open: Head and shoulder fakes as well as footwork. Relies on athleticism to beat opponents. Dropped too many passes. Must polish route running and improve focus. Appears to give less than 100% and makes some mental mistakes. Without a doubt, could easily soar into the stratosphere as a professional.
| | | | | | | |
| --- | --- | --- | --- | --- | --- | --- |
| Measurements | 40-yrd | 3-cone | 20-yrd | Rec. | YPR | P-Yrds % |
| O.J. Howard | 4.51 | 6.85 | 4.16 | 114 | 15.1 | 19% |
| Benchmark | 4.75 | 7.05 | 4.35 | 80 | 13 | 20% |
Scholar's Supremacy Score: 11.5
Draft Potential: First round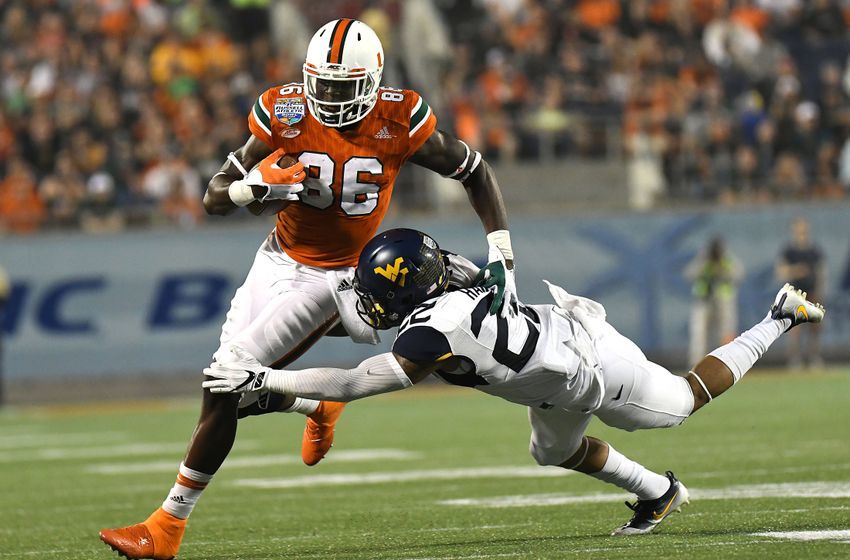 2. David Njoku, Miami
Next great Hurricane tight end product—Jeremy Shockey, Greg Olsen, Jimmy Graham and Kellen Winslow, II—to enter the NFL. Redshirt sophomore declared for Draft. 2016 All-ACC Honorable Mention (ACSMA) after catching 43 passes for 698 yards and eight touchdowns. Demonstrated upside potential vs. Duke last year: 134 yards receiving and two touchdowns on only two catches. At 6'4" and 246 lbs., rare combination of size and speed. Outstanding athlete, astounding leaper (high jump national champion in high school), field-stretching speed and good body control. Wins one-on-one matchups. Good route runner on underneath and across the middle patterns. Gets off line quickly and attacks seams vertically. Fantastic run after the catch skills. Physical competitor who breaks tackles and explodes into open field. Strong frame and lower body. Superb at using angles with fluid movements to create separation. Excellent awareness with ball in flight: Adjusts well to the pass. High points the football and wins in traffic. Terrific hands and flair for spectacular. Big and fast enough to create mismatches in passing game. Provides open windows for quarterback to throw into. Positioned from the slot intermittently. Inexperienced player—only started 9 of 26 games at Miami—and needs more practice and game repetitions. Inconsistant catcher who dropped some passes. Must learn nuances to reach ceiling: body and head fakes, footwork and hand usage. Comparisons to Carolina and former Hurricane Olsen deserved. Only 20, dynamic prospect, who has a Pro Bowl skill set.
| | | | | | | |
| --- | --- | --- | --- | --- | --- | --- |
| Measurements | 40-yrd | 3-cone | 20-yrd | Rec. | YPR | P-Yrds % |
| David Njuko | 4.64 | 6.97 | 4.34 | 65 | 16.6 | 20% |
| Benchmark | 4.75 | 7.05 | 4.35 | 80 | 13 | 20% |
Scholar's Supremacy Score: 11
Draft Potential: First round
3. Evan Engram, Ole Mississippi
In 2016, earned a plethora of national accolades and honors: First Team All-SEC, AP All-American, Sporting News All-American, SB Nation's All-America Team, and USA Today Sports' All-America. As a senior, snatched 65 passes for 926 yards and eight touchdowns. Concluded career as school's all-time leader in receptions, yards (2,320) and touchdowns (15) among tight ends. A versatile prospect, who currently lacks the bulk to compete as an every down in-line tight end as a professional. At 6'3" and 234 lbs., employed more often as a slot receiver than a classic tight end in college. Muscular frame and large catch radius with big hands. Tremendous ball skills: Flexible pass catcher who contorts body and plucks the football away from frame to make reception. A polished playmaker with a full route-tree on resume. Creates mismatches with good size, great quickness, and wonderful speed. Challenges the seam of the defense and runs clean and crisp patterns as well as good timing routes. Discovers soft spots in the zone and provides a nice target. Effortlessly opens hips and has deft feet. Is the former Rebel a tight end or wide receiver in the NFL? Each coaching staff and scouting departing will make a determination. Must add strength and mass to be a classic in-line performer. Not antagonistic at the point of attack nor a natural run blocker. More finesse than physical. Relies on athletic ability. One club likely falls in love with receiving skills and athletic ability. A tweener who likely mirrors a similar journey as Washington tight end Jordan Reed.
| | | | | | | |
| --- | --- | --- | --- | --- | --- | --- |
| Measurements | 40-yrd | 3-cone | 20-yrd | Rec. | YPR | P-Yrds % |
| Evan Engram | 4.42 | 6.92 | 4.23 | 162 | 14.3 | 24% |
| Benchmark | 4.75 | 7.05 | 4.35 | 80 | 13 | 20% |
Scholar's Supremacy Score: 13
Draft Potential: Second round
4. Gerald Everett, South Alabama
High school basketball player who played football for two campaigns at the JUCO-level before moving up to FBS competition. Spent one season at UAB before program slashed, and finally, transferred to South Alabama. During two crusades as a Jaguar, recorded 90 catches for 1,292 yards and 12 TDs: Two-time All-Sun Belt First Team. In upset victory against Mississippi State, scored the game-winning points while registering eight receptions for 96 yards. Posted stupendous agility times at the Combine: 3-cone drill and 20-yard shuttle. Slender, slick and athletic body type at 6'3" and 239 lbs. Effortless acceleration off the line of scrimmage and in-and-out of breaks. Physical competitor with good body control and balance. Crisp route runner with acrobatic catches on resume and makes tough grabs. Snatches ball in stride and heads north immediately. Strong hands and plucks football out of the air. Corrals passes in traffic and earned scholarship working the middle of the field. Vertical threat, who scampers like a wide receiver. Rarely tackled by single defender. Owns all the tools to become a NFL starter: size, speed and run-after-the catch skills. Lacks ideal size for the position and has small hands. Must improve as a blocker, willing but lacks proper technique and consistency. Could improve double moves: Top cover safeties may be able to clamp down on the rookie. A pass-catching/flex tight end prospect. At Combine, posted excellent agility scores, which foreshadow pro potential.
| | | | | | | |
| --- | --- | --- | --- | --- | --- | --- |
| Measurements | 40-yrd | 3-cone | 20-yrd | Rec. | YPR | P-Yrds % |
| Gerald Everett | 4.62 | 6.99 | 4.33 | 107 | 14.8 | 22% |
| Benchmark | 4.75 | 7.05 | 4.35 | 80 | 13 | 20% |
Scholar's Supremacy Score: 13
Draft Potential: Third round
5. Bucky Hodges, Virginia Tech
In high school, a dual-threat quarterback who redshirted freshman year at Virginia Tech. Transitioned to tight end and surfaced at the new position in 2014. Earned Freshman All-American honors with 45 catches for 526 yards and six touchdowns. Totaled another 40 receptions for 530 and another six touchdowns as a sophomore and named Second Team All-ACC honors. Final year on campus, hauled in 48 passes for 691 yards and seven touchdowns: Named Third Team All-ACC behind Jordan Leggett and Cole Hikutini. Freakish athlete at 6'6" and 257 lbs. High football IQ and understands the game. Intriguing combination of size, strength and athleticism. Great pass receiver: Accelerates off the snap, glides step-for-step with defensive backs, gains separation from linebackers and outmuscles opponents. Long strider who escapes jams at the line of scrimmage and rapidly gets into routes. Really good, and soft, hands. Tracks ball well over shoulder. Excellent vertical jumper. Extends for poorly thrown balls and twists body to corral it. Works the middle of the field and beats linebackers and safeties down the seam. Rarely asked to lineup as an in-line player and not accustomed to getting dirty at the line of scrimmage. Strength and toughness needs improvement in the trenches. Not a "YAC" runner. If improves route-running technique and commits to greatness, physical tools are in place to have a successful professional career.
| | | | | | | |
| --- | --- | --- | --- | --- | --- | --- |
| Measurements | 40-yrd | 3-cone | 20-yrd | Rec. | YPR | P-Yrds % |
| Bucky Hodges | 4.57 | n/a | 4.45 | 133 | 13.1 | 19% |
| Benchmark | 4.75 | 7.05 | 4.35 | 80 | 13 | 20% |
Scholar's Supremacy Score: n/a
Draft Potential: Third round
Best of the Rest
6. Adam Shaheen, Ashland
7. Jordan Leggett, Clemson
8. Jake Butt, Michigan
9. George Kittle, Iowa
10. Jonnu Smith, Florida International

With his Masters in history and professional experience as an educator, John Laub is uniquely qualified to research, analyze and discover new insights and trends in college and professional fantasy football. Laub has played fantasy football for nearly thirty years and provided FootballDiehards.com with weekly player rankings for two decades. He won $10,000 in 1993, defeating nearly 15,000 owners, and published Audibles: Winning is Everything in the 1990s. He truly is The Gridiron Scholar. Twitter: @GridironSchol91 or e-mail: Audibles@aol.com