2016 College Fantasy Football CFB WRs: Part II
By John Laub
2016 College Fantasy Football WRs: Part II
Rankings, Profiles and Projections
9. Courtland Sutton, SMU
With 128 teams in the FBS, far too many CFB diehards may overlook talent on a 2-10 club in the American Athletic Conference (AAC). Don't make the same blunder: Courtland Sutton is a climbing celeb in college football. He was recruited to campus as a defensive back and successfully made the transition to the offensive side of the field. At 6'4" and 215 pounds, the redshirt freshman paced the team in catches (49), yards (849) and touchdowns (9) last season. He tied Denver Broncos wideout Emmanuel Sanders for most receiving touchdowns by a first-year player in school history. Throughout the 2015 campaign, Sutton made acrobatic catches and out maneuvered defenders with his big body and large wingspan. Coach Chad Morris begins his second season at the reigns of the Mustangs and has very high expectations for Sutton. Morris stated that his sophomore game breaker is "so raw and green…He doesn't know how good he can be." How notable of an athlete is Sutton? He played on the SMU basketball team for coach Larry Brown during the winter. Astute fantasy owners will not overlook the physical competitor.
2016 Projections
Receiving Yards and TDs: 1,200 and 12
Total Fantasy Points: 192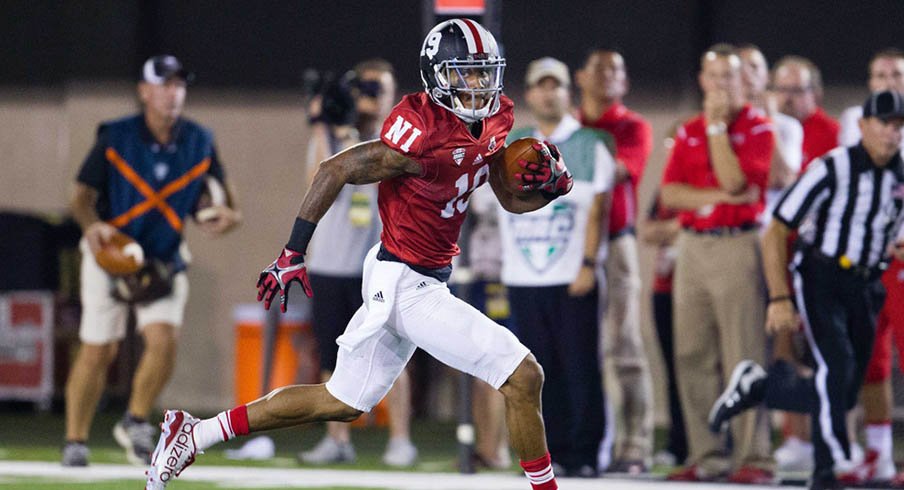 Kenny Golladay, Northern Illinois
10. Kenny Golladay, Northern Illinois
The redshirt senior journeyed a road less travelled to become a CFB stalwart: He played for two campaigns at North Dakota in the FCS before moving up a level of competition at Northern Illinois. Despite three different triggermen behind center, Kenny Golladay recorded the most receiving yards in a single season by a Huskies receiver since 2000. After sitting on the sideline for a year, he made an impressive first impression against UNLV with a nine-catch, 213-yard debut in 2015. At the end of the crusade, Golladay co-piloted the NIU aerial attack with 73 catches for 1,129 yards and 10 touchdowns. He is lanky and lean at 6'4" and 200 pounds and a big-play competitor, averaging over 15 yards per catch. A do-it-all receiver, Golladay and coach Rod Carey hope to have quarterback Drew Hare, who missed the annual spring Huskie Bowl after rupturing his Achilles last November, in time for kickoff at Wyoming. No matter who calls signals in September, fantasy fanatics can expect another stellar season for the Huskies wideout.
2016 Projections
Receiving Yards and TDs: 1,200 and 12
Total Fantasy Points: 192
11. Zay Jones, East Carolina
If new coach Scottie Montgomery expects to turn around the Pirates program after a disappointing 5-7 campaign, he will have to design plays to get the football into Zay Jones hands. Athlon Sports and Phil Steele Magazine named the 6'1" and 197-pounder a preseason First Team All-AAC member. Jones lines up as the H-slot receiver for a fourth consecutive season. The sleek speedster enters the crusade among the top performers in school history: He is third on ECU's career receptions and yards lists with 241 and 2,533 respectively. Jones has also crossed the goal line 15 times and started 29 games in three seasons, catching a pass in 35-consecutive contests. The son of former Dallas Cowboys linebacker Robert Jones, he was raised in a football family and his uncle is former ECU great and Cincinnati Bengal quarterback Jeff Blake. A gifted and polished performer, the Austin, Texas native runs good routes and is a noble hands catcher. He is dangerous in the open field and fights for additional yards. Transfer quarterback Phillip Nelson—who played at Minnesota and Rutgers—sits atop the depth chart and is savvy enough to find his sleek playmaker as often as possible in 2016.
2016 Projections
Receiving Yards and TDs: 1,250 and 9
Total Fantasy Points: 179
12. Shelton Gibson, West Virginia
Coach Dana Holgorsen believes that the Mountaineers have the most dangerous offensive personnel since the 2012 unit with Geno Smith, Tavon Austin and Stedman Bailey. Last year, West Virginia finished sixteenth in rushing yards per game in the nation with 228.2. Nevertheless, Holgorsen's offenses have preferred to attack defenses in the air and highlighted explosive receivers: Austin, Bailey and Kevin White. In 2016, Shelton Gibson is a budding star, who will have the spotlight in Morgantown, West Virginia. The redshirt junior caught only 37 passes last year but made the most of his opportunities, averaging nearly 24 yards per catch (ypc.) and scoring nine times. He led the team in yards and ranked second in the FBS in ypc. In the Cactus Bowl, Gibson illustrated his upside potential with four catches for 143 yards and two touchdowns, including a 59-yarder. He earned the Big-12 Special Teams Player of the Week award after toasting Baylor for 277 all-purpose yards, including a 100-yard kickoff for a touchdown. The 5'11" and 195 pound playmaker had an inconsistent season: He failed to eclipse 50 yards in five games last season. If Holgorsen wants to jump off the hot seat, he must scheme ways to get the football into Gibson's hands more often, which is music to CFB diehards ears.
2016 Projections
Receiving Yards and TDs: 1,160 and 11
Total Fantasy Points: 182
Cum Laude
13. Darren Carrington, Oregon
Coach Mark Helfrich employs one of the most intriguing groups of triplets in the country with QB Dakota Prukop, RB Royce Freeman and WR Darren Carrington. In the 2015 Rose Bowl, Carrington blasted onto the national stage with a 7-catch, 165-yard performance and scored twice. The dynamic Duck appeared to be the next superstar in Eugene, Oregon before being suspended by the NCAA for the FBS National Championship game against Ohio State and remained on the bench for the first six games last season. When he finally returned, the sleek speedster eclipsed 100 yards in three consecutive contests and reached the end zone three times. He paced the team with a 19 yards-per-catch average and seized 32 passes for 609 yards. Despite missing so many games, Carrington was named to the Second Team All-PAC 12. At 6'2" and 195 pounds, the junior is an athletic big-play weapon with good hands and outstanding deep speed. A deadly run-after-the catch threat, Carrington is dangerous on quick passes in the screen game and ventures into the middle of the defense. The lure to become a professional tempted Carrington; nonetheless, he decided to return to campus, and hopefully, partake in a full season to display his NFL skill set in order to increase his draft stock.
2016 Projections
Receiving Yards and TDs: 1,050 and 11
Total Fantasy Points: 171
14. Taywan Taylor, WKU
Last season, quarterback Brandon Doughty fired 48 touchdowns and passed for more than 5,000 yards commanding the Hilltoppers' top-rated aerial attack. Taywan Taylor produced the single greatest season by a wide receiver in school history: He set new school highs in catches (86), yards (1,467) and touchdowns (17). With over 2,500 receiving yards, Taylor now stands atop the record books for career yards at Western Kentucky. He was a consensus First Team All-Conference USA and a Second Team All-American by ProFootballFocus. The Louisville native contemplated leaving school to fulfill his dream of playing in the NFL but decided to return to campus. At 6'1" and 195 pounds, Taylor has massive hands, notable speed and prodigious toughness. A first-class athlete, he often ventures into the teeth of the defense and is an excellent yards after the catch runner. With Doughty graduating, coach Jeff Brohm plugs junior signal caller Mike White, the South Florida transfer, into the passing game and will rely on Taylor to provide weekly fireworks for Western Kentucky this season.
2016 Projections
Receiving Yards and TDs: 1,170 and 10
Total Fantasy Points: 177
Calvin Ridley, Alabama
15. Calvin Ridley, Alabama
The hyperbole train rambles down the tracks in Tuscaloosa, Alabama for Calvin Ridley: Even Vegas has posted 25-1 odds that the Crimson star brings home the Heisman hardware. While the blazing speedster is one of the most talented wideouts in the nation, offensive coordinator Lane Kiffin's offense does not provide the opportunities in the passing game for Ridley to post Heisman-winning numbers. Both the Sporting News and the SEC named the Alabama pass catcher to their All-Freshman teams after breaking Amari Cooper's freshmen receiving-yardage record. Ridley hauled in 89 passes for 1,045 yards and nine touchdowns. A classic homerun hitter, five of his seven scores derived on plays greater than 30 yards, seized 17 catches over 15 yards and produced a first down on 44 receptions. At 6'1" and 188 pounds, Ridley might own the best hands in the SEC, and he has innate football instincts with elite breakaway skills. He toasted former Florida, and first-round draft pick, Vernon Hargreaves, III in the SEC Championship game last year. After spring practice sessions, Ridley is slated to play on special teams, returning kickoffs and punts. CFB diehards are euphoric that Ridley will touch the pigskin more often in 2016.
2016 Projections
Receiving Yards and TDs: 1,100 and 10
Total Fantasy Points: 170
16. Mike Williams, Clemson
After guiding Clemson to the brink of a national championship, coach Dabo Swinney must feel like he hit the Powerball. Not only does Swinney get to survey Heisman favorite quarterback Deshaun Watson for another campaign, but receiver Mike Williams returns to the lineup after he suffered a neck fracture, colliding with the goalpost on a touchdown catch, in the opening game last season. The deep threat is one of the top NFL prospects, and likely, a first-round pick in the 2017 Draft according to many scouts. In 2014, the redshirt junior earned Second Team All-ACC with 57 receptions for 1,030 and six touchdowns. At 6'4" and 220 pounds, Williams is a former basketball player with huge hands, large wingspan and field-stretching ability. He makes the tough catch, breaks tackles and leaves defenders grasping at air. Williams played during spring practice and appears to be on target to get back on the field. Swinney has promoted a plethorea of elite receiver talent to the NFL (DeAndre Hopkins, Sammy Watkins and Martavis Bryant), and Williams is the next in line for a professional contract.
2016 Projections
Receiving Yards and TDs: 1,150 and 9
Total Fantasy Points: 169