2016 College Fantasy Football Awards
By John Laub
The Second Annual
College Fantasy Football Awards
(2016)
We assembled four of the preeminent CFB diehards—Mike Bainbridge, Mario Puig, Jim Weber and John Laub—and each voted on their top three players in four categories. The results were totaled, and the elite fantasy performers in college football are listed below for the 2016 season.
The Cam Newton Award: The Preeminent Fantasy QB
1. Lamar Jackson, Louisville
2. Patrick Mahomes, Texas Tech
3. Quinton Flowers, South Florida
It wasn't a flawless season for Lamar Jackson, who made it hard on his fantasy owners with his disappointing showing against Houston in the fantasy playoffs, but he was still the definite top player at his position, both in real life and in college fantasy football. Jackson could hardly be a more deserving candidate for this award, as his production in 2016 really did resemble that of Cam Newton's 2010 season. Cam threw for 2,854 yards, 30 touchdowns and seven interceptions in those 14 games, adding 1,473 yards and 20 touchdowns on the ground. In his 12 regular season games this year, Jackson threw for 3,390 yards, 30 touchdowns and nine interceptions while bolting for 1,538 yards and 21 touchdowns. As was the case with Mr. Laub's championship-winning team in the Joes vs. Pros league, it's almost certain that a high percentage of league-winning teams this year had Jackson on the roster.
-- Mario Puig, RotoWire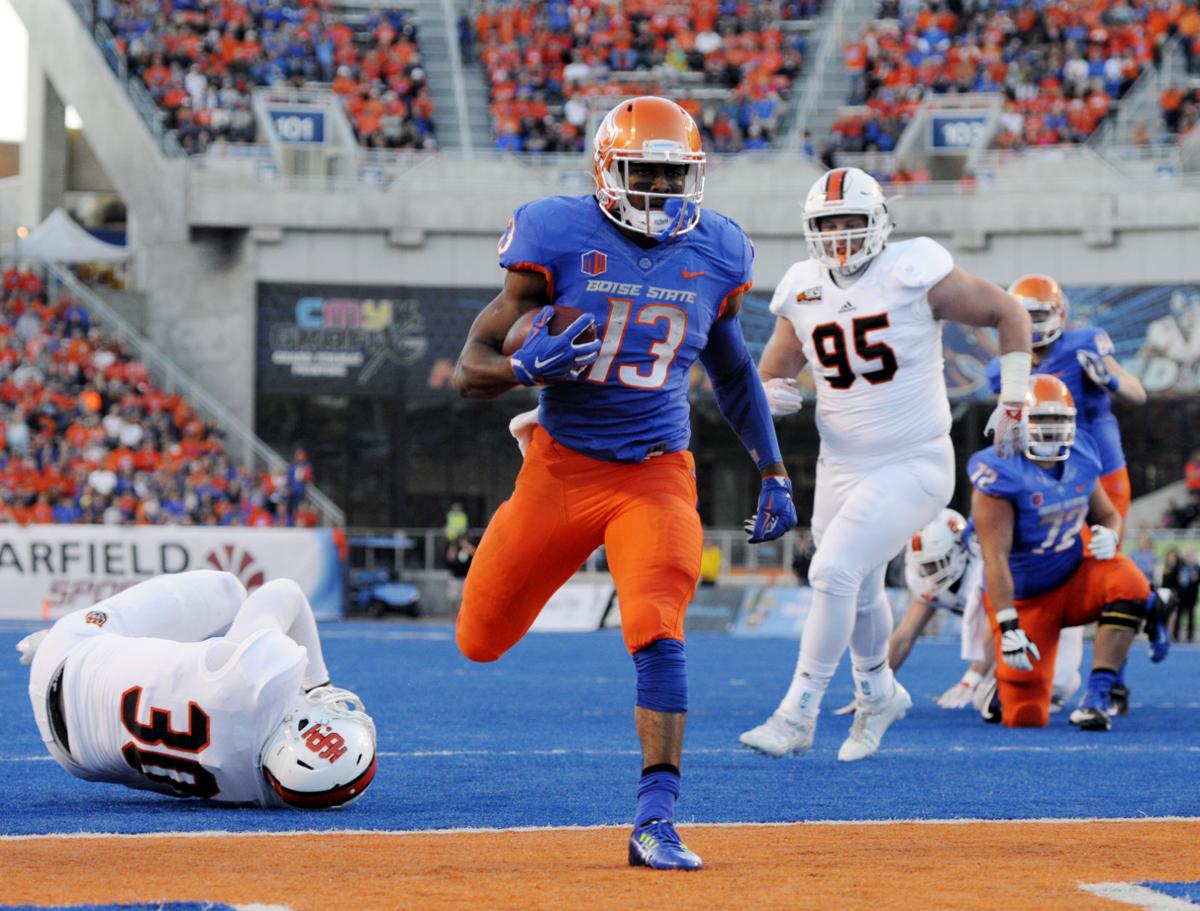 The Barry Sanders Award: The Top Fantasy RB
1. Jeremy McNichols, Boise State
2. D'Onta Foreman, Texas
3. Donnel Pumphrey, San Diego State
After rushing for over 1,500 yards in each of the last two seasons, Donnell Pumphrey finished second in the FBS in rushing this fall, and nearly, eclipsed the fabled 2,000-yard mark. The 5-foot-9 Senior has been a model of consistency for the Aztecs, going for over 100 yards in nine of twelve games and highlighted by 300 total yards and three touchdowns vs. California in September. He finished the season second in the FBS with 1,908 rushing yards and 15 touchdowns: Pumphrey earned my vote as the top CFB ball carrier in 2016.
-- Jim Weber, Lost Lettermen

The Desmond Howard Award: The Finest Fantasy WR
1. Zay Jones, East Carolina
2. Carlos Henderson, Louisiana Tech
3. Dede Westbrook, Oklahoma
The East Carolina offense was difficult to project heading into the 2016 season with former Duke offensive coordinator Scottie Montgomery being hired as the new head coach, as well as a new starting quarterback in former Minnesota transfer Philip Nelson. But even with the all of the changes on that side of the ball, the one constant was still around in star receiver Zay Jones. The senior wideout led all receivers by a fairly wide margin with 158 catches in the regular season, with Louisiana Tech's Trent Taylor being the next closest at just 113. Jones wound up breaking the NCAA's single-season mark for receptions in a season against Temple on Saturday – this just one week after breaking the all-time receptions record in FBS history previously held by another East Carolina receiver in Justin Hardy. Jones certainly deserves this award as he was far and away the top college fantasy receiver in 2016.
-- Mike Bainbridge, Athlon Sports Contributor
The Red Grange Award: The College Fantasy Football MVP
1. Lamar Jackson, Louisville
2. Q. Flowers, P. Mahomes, D. Foreman and J. McNichols
My esteemed colleague Mario Puig analyzed Lamar Jackson's season so well that I'm not going to supplement it. Instead, I'll pivot and discuss my second place vote for South Florida quarterback Quinton Flowers. Patrick Mahomes finished second among signal callers in points scored; however, CFB enthusiasts invested a tremendous amount of draft capital in the Texas Tech triggerman, who was one of the top three players selected. Flowers came at a much cheaper expense (second- or third-round selection) and finished third among all players in scoring. The dual-threat game breaker scored over 30 points in nine of 12 games, including a season-high 60 against Memphis. Flowers also rushed for over 100 yards in each of the final four weeks of the 2016 campaign—just in time for the fantasy playoffs—and scored 15 rushing touchdowns. The Gulf Coast star also tossed 22 aerial strikes to complement his rushing totals. As a draft day bargain, Flowers likely earned owners (like myself) a Championship ring.
-- John Laub, FootballDiehards
The Cam Newton Award
Place
Mario
Mike
Jim
John
Consesus (Pts.)
First
L. Jackson
L. Jackson
L. Jackson
L. Jackson
L. Jackson (20)
Second
P. Mahomes
P. Mahomes
P. Mahomes
Q. Flowers
P. Mahomes (10)
Third
Q. Flowers
L. Woodside
L. Woodside
P. Mahomes
Q. Flowers (4)
The Barry Sanders Award
Place
Mario
Mike
Jim
John
Consesus (Pts.)
First
J. McNichols
D. Foreman
D. Pumphrey
J. McNichols
J. McNichols (13)
Second
I. Mathers
J. McNichols
D. Foreman
D. Foreman
D. Foreman (11)
Third
A. Jones
D. Pumphrey
B. Hill
B. Hill
D. Pumphrey (6)
The Desmond Howard Award
Place
Mario
Mike
Jim
John
Consesus (Pts.)
First
R. James
Z. Jones
D. Westbrook
C. Henderson
Z. Jones (12)
Second
Z. Jones
A. Etta Tawo
T. Taylor
Z. Jones
C. Henderson (6)
Third
C. Henderson
C. Davis
Z. Jones
D. Westbrook
D. Westbrook (6)
The Red Grange Award
Place
Mario
Mike
Jim
John
Consesus (Pts.)
First
L. Jackson
L. Jackson
L. Jackson
L. Jackson
L. Jackson (20)
Second
J. McNichols
D. Foreman
P. Mahomes
Q. Flowers
4-players
Third
I. Mathers
Z. Jones
L. Woodside
C. Henderson
earned 3 points
Scoring:
First = 5 points
Second = 3 points
Third = 1 point