2016 CFB Wide Receivers
By John Laub
2016 College Fantasy Football WRs:
Rankings, Profiles and Projections
Summa Cum Laude

1. Corey Davis, Western Michigan
A top receiver prospect in the 2017 NFL draft, Corey Davis is the active leading pass catcher in the FBS. The senior has earned back-to-back First Team All-MAC honors and is only 400 receiving yards away from becoming the all-time MAC record holder. At 6'3" and 213 pounds, Davis has an athletic frame and well-built upper body. The blazing Bronco runs crisp crossing patterns and can beat defenders vertically with subtle moves and underrated speed. An effortless glider with good body control, Davis can kick into a second gear and change directions easily. He also has nice hands and fights for the football. During three seasons at Kalamazoo, Davis has accumulated an astounding 235 catches for 3,785 yards and 33 touchdowns. While many of his numbers came against MAC competition, Davis has produced in five contests against Big Ten defenders, tallying 450 receiving yards and four touchdowns. He has been employed as a flanker, split end and slot receiver in coach P.J. Fleck's spread aerial attack. Is Corey Davis the best NFL-ready receiver in college football? The upcoming season will provide more insight; nevertheless, CFB managers are salivating at the continued fantasy production.
2016 Projections
Receiving Yards and TDs: 1,260 and 15
Total Fantasy Points: 216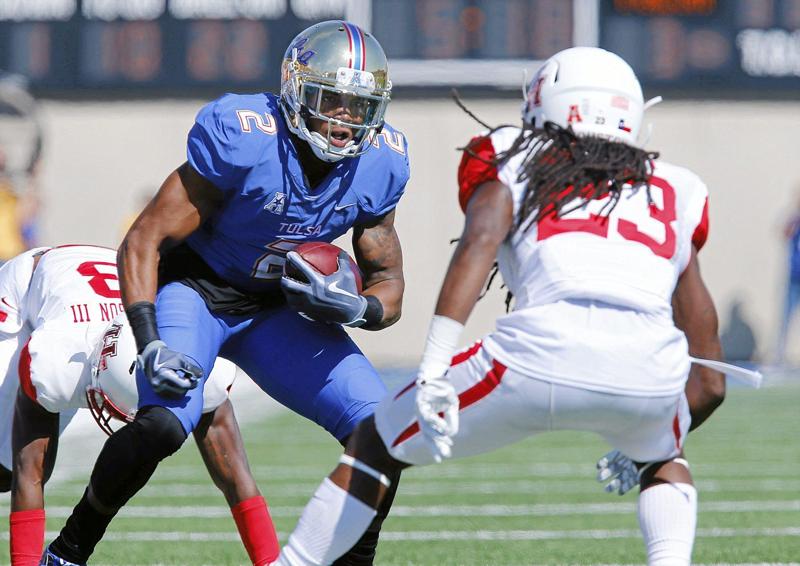 Keevan Lucas, Tulsa
2. Keevan Lucas, Tulsa
Coach Phillip Montgomery arrived at Tulsa last year and immediately implemented an up-tempo, high-volume passing attack. The Golden Hurricanes produced prodigious statistics: The top-25 unit averaged 37 points per game (ppg) and 500 yards per game (ypg). CFB diehards will want to invest in the Tulsa aerial assault. Before a season-ending torn-patella tendon in his knee last year, Keevan Lucas scored five touchdowns and made 26 catches for 408 yards in four games. In 2014, the Second Team All-AAC member caught 101 passes for 1,219 yards and 11 touchdowns, exceeding 100 yards receiving in five games and recording double-digit catches in five contests. He finished fifth nationally in receptions per game (8.4) and eleventh in receiving yards per game (101.6). At 5'10" and 198 pounds, the slot receiver owns the best hands in the AAC and has a great work ethic. A physical competitor, he possesses good strength for his size and wins one-on-one matchups. Lucas, a speedster, can also play on the outside of the hash marks. Early spring reports indicate that Lucas should be ready for kickoff in September and might be available at a discounted price during CFB drafts.
2016 Projections
Receiving Yards and TDs: 1,350 and 12
Total Fantasy Points: 207

3. Gabe Marks, Washington State
Analyzing any competitor based on a narrative is a dangerous road to walk; nevertheless, there are times it contributes to a player's success. When Gabe Marks was nine-years old, his father was killed in a drive–by shooting in Los Angeles. The youngster sought solace and harmony on the gridiron, and became a high school star with a bright future. As a youngster, Marks watched the high-flying Texas Tech passing game behind coach Mike Leach, QB Graham Harrell and WR Michael Crabtree. When Leach offered Marks a scholarship to Washington State, he jumped at the opportunity to play in the electrifying offense. He arrived with an outward and cocky demeanor on the field, but a quiet and shy student elsewhere on campus. A fiery competitor at 6'0" and 188 pounds, Marks never stops working and treats every practice like the Super Bowl. In 2014, he redshirted for undisclosed medical reasons and was arrested in February for a bar fight on four misdemeanor charges. Despite the hurdles, the slight-framed Z-receiver captured All-Pac 12 First Team honors last year, catching a 104 passes for 1,192 yards and 15 touchdowns: He recorded a 70% catch rate and 58% of his receptions resulted in a first down. Whenever he suits up, Marks illustrates his unbelievable dedication and fortitude. In the Crimson and Gray inter-squad scrimmage in April, Marks grabbed 11 passes for 94 yards and two touchdowns. The sure-handed playmaker will assuredly produce prodigious numbers for CFB fanatics in 2016.
2016 Projections
Receiving Yards and TDs: 1,300 and 12
Total Fantasy Points: 202
James Washington, Oklahoma State
4. James Washington, Oklahoma State
Coach Mike Gundy orchestrates a high-flying passing game, and QB Mason Rudolph and WR James Washington are the stars of the show in Stillwater, Oklahoma. Only a three-star recruit coming out of high school, the Cowboy game breaker immediately flashed his potential once on campus: He showcased many "wow" moments during training camp and earned playing time among a crowded corps of receivers as a freshman. In 2014 against Baylor's 14th ranked defense, Washington had his coming out party. He scored on a spectacular 68-yard pitch-and-catch, and finished the game with four receptions for 114 yards. Astute CFB fanatics took notice and drafted Washington late in drafts last year. A homerun hitter, he caught 53 passes for 1,087 yards and 10 touchdowns. The deep threat scored four times from beyond 70 yards and averaged over 20 yards per catch. He was named to the Second Team All-Big 12 team behind NFL first-round selections Corey Coleman and Josh Doctson. The coaching staff conferred the Thurman Thomas Award (team's outstanding player) to Washington for his remarkable efforts. At 6'0" and 200 pounds, the junior has terrific speed, great ball skills and sure hands. CFB owners adore the defensively challenged Big-12, and the Oklahoma State speedster is the finest in the conference.
2016 Projections
Receiving Yards and TDs: 1,450 and 12
Total Fantasy Points: 217

5. JuJu Smith-Schuster, USC
In a long list of all-star Trojan wideouts, the playmaker is the next in line. In 2014, the freshman made the Second Team All-PAC 12 as an all-purpose/special teams player and was awarded the John McKay Award (team spirit). The Long Beach product is a natural leader with a fantastic attitude, and remarkable work ethic. With pronounced size at 6'2" and 220 pounds, the rising star has good body control, above average hands and runs well after the catch. He gains separation from press coverage easily and uses his body to shield defenders. A hands-catcher, he utilizes his return skills and long strides to explode into the end zone. Last season, Smith snatched 89 passes for 1,454 yard and 10 touchdowns. He posted six 100-yard games and made the All-Pac 12 First Team. In 2016, he is a candidate for All-American teams and the Biletnikoff Award by numerous preseason publications. In the City of Angels, coach Steve Sarkisian's up-tempo, passing attack highlights explosive homerun hitters, and the extraordinary junior will surely enjoy the spotlight this season.
2016 Projections
Receiving Yards and TDs: 1,320 and 11
Total Fantasy Points: 198
Richie James, Middle Tennessee

6. Richie James, Middle Tennessee
The relationship between a father and son is often complex, and a college coach with a talented offspring has more difficult decisions. At Middle Tennessee, coach Rick Stockstill started his son Brent Stockstill, a freshman, at quarterback, and it flourished beyond all reasonable expectations. The young signal caller and receiver Richie James, a redshirt freshman, formed one of the best pitch-and-catch combinations in the nation. James snatched 108 passes for 1,346 yard and ten touchdowns: He earned First Team Freshman All-American by the FWAA, USA Today and Athlon Sports and First Team All-C-USA for his campaign. James concluded the season tenth nationally in receiving yards per game (103.5) and caught over 73% of all passes thrown to him. In the Bahamas Bowl, the ascending sophomore caught eight passes for 126 yards and two touchdowns and carried twice for 61 yards and a touchdown. Can he get open against higher-level competition? James excelled vs. Alabama (10 for 95 yards) and Illinois (12 for 141 yards and 2 TDs). During the offseason, the coaching staff has set a goal of 150 touches for James and fantasy managers are in totally agreement.
2016 Projections
Receiving Yards and TDs: 1,250 and 11
Total Fantasy Points: 191

Magma Cum Laude
7. Isaiah Ford, Virginia Tech
In Blacksburg, VA, the Frank Beamer era comes to an end and a new epoch begins. Virginia Tech hired one of the vastly touted, innovative minds in the nation: former Memphis coach Justin Fuente. He learned the trade under TCU coach Gary Patterson and turned around a doormat program in Memphis. Fuente fancies an up-tempo passing attack and will surely rely on Isaiah Ford to improve on last year's statistics. In 2015, the junior playmaker earned First Team All-ACC, making 75 catches for 1,164 yards and scoring a school-record 11 touchdowns. The 6'2" and 190-pounder displays incredible double moves to shake defenders in order to get open deep down the field. He is a gifted athlete and has good ball-hawking skills. To conclude the season, Ford torched Tulsa in the Independence Bowl for 227 yards on 12 receptions and reached the end zone once. Was the performance a prelude to the 2016 season? While there is concern at quarterback for Tech, the Hokies return four offensive linemen and plenty of offensive weapons. For CFB managers, they certainly hope that Fuente employs Ford's services often throughout the season.
2016 Projections
Receiving Yards and TDs: 1,270 and 13
Total Fantasy Points: 205

8. Thomas Sperbeck, Boise State
After two games last season, Thomas Sperbeck looked nothing like a CFB luminary. In the third contest, he caught seven passes and became a weekly fantasy starter for the remainder of the campaign. When the curtain closed, Sperbeck was named to the All-Mountain West First Team after catching 88 passes for an all-time, single-season school-best 1,412 yards and eight touchdowns. He led the Conference in receptions, yards and receiving yards per game (108.6). Against New Mexico, Sperbeck recorded a game for the ages: A whopping 20 receptions for 281 yards. The Broncos offense averaged 39.1 ppg (ranked 15th among 128 teams) and five times scored over 50 points. There is no question that Sperbeck will be targeted often and produce in coach Bryan Harsin's aerial attack. At 6'0" and 180 pounds, the Boise State game breaker is a natural athlete. In high school, he led his team in passing, rushing, scoring and tackles. Sperbeck has great hands, first-class footwork and very good body control. Known for making spectacular catches in practice and games, the blazing Bronco is worthy of anchoring a CFB receiving corps in 2016.
2016 Projections
Receiving Yards and TDs: 1,340 and 10
Total Fantasy Points: 194
Scoring:
Rushing & Receiving Yards = 1 point for every 10 yards
Touchdowns = 6 points
Projections are based on the assumption that the prospect stays healthy all season.
With his Masters in history and professional experience as an educator, John Laub is uniquely qualified to research, analyze and discover new insights and trends in college and professional fantasy football. He truly is The Gridiron Scholar.
Twitter: @GridironSchol91 or e-mail: Audibles@aol.com