2015 Fantasy Football Awards (Part II)
By John Laub
The First Annual Fantasy Football Awards Part II
By the FootballDiehards.com staff
The Jerry Rice Award: The Finest Fantasy Pass Catcher
1. Julio Jones, Atlanta
2. Antonio Brown, Pittsburgh
3. O. Beckham/D. Hopkins
WR Julio Jones, Atlanta
It is a very close call in determining my top receiver for 2015 but there are a few reasons I chose Julio Jones. Antonio Brown all but disappeared when Ben Roethlisberger was out. He is no doubt an elite receiver, and I am by no means questioning his talent, but we caught a glimpse of his struggles without Big Ben under center. On the flip side of that argument, DeAndre Hopkins is truly quarterback-agnostic. It does not matter who throws the ball to him; he will still produce. We just recently saw him put up a huge stat line with Brandon Weeden under center. The quarterback carousel in Houston did not have the remote impact on Hopkins that it did on Brown. Though it is close between the three, Julio Jones, in my humble opinion, is the top receiver in fantasy football. Even when Matt Ryan throws the ball erratically, Jones manages to haul the passes in. I think we saw exactly why Julio is the top receiver in Week 16 when he totaled nine receptions for 178 yards and a score. Jones had just one single-digit fantasy performance this season, leading all receivers in targets (193), receptions (127) and yards (1,722).
-- Jen Ryan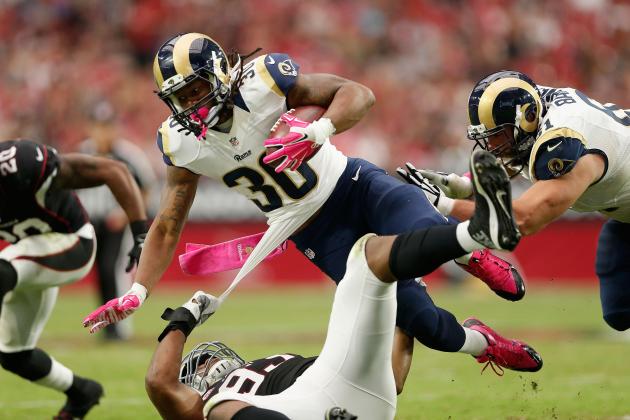 RB Todd Gurley, St. Louis
The Randy Moss Award: The Fantastic Freshman
1. Todd Gurley, St. Louis
2. Amari Cooper, Oakland
3. David Johnson, Arizona
Before any analysis, I must admit my bias for David Johnson: I drafted the Northern Iowa product on all seven of my season-long teams this year, including the DraftBook magazine league in the seventh round. When Chris Johnson ascended to the top of the Arizona depth chart in mid-season, I questioned my unwavering commitment to Johnson. However, the veteran runner ended up on season-ending IR, and Johnson stepped into the starting role in the best offense in the NFC. The powerful ball carrier changed the fortunes of diehards like myself during the fantasy postseason, scoring 66.6 points in PPR formats during weeks 15 and 16. Furthermore, Johnson's entire resume cannot be overlooked. The explosive rookie produced double-digit points in 10 games, scored 13 touchdowns, grabbed 33 passes and accumulated 979 yards from scrimmage. Certainly, Todd Gurley warrants the top spot among the freshmen. Johnson finished only two spots behind Gurley in PPR scoring and cost so much less on draft day (or as a waiver wire pickup). Both runners foreshadowed future gridiron prominence, and fantasy owners will pursue both sophomores on their rosters in 2016.
-- John Laub
The Jim Brown Award: The NFL Fantasy Football MVP
1. Cam Newton, Carolina
2. Antonio Brown Pittsburgh
3. D. Freeman/J. Reed
What does MVP really mean? With most top teams, the QB is paramount in their success. So it is easy to select a QB as an MVP. However, Cam Newton is special. He has shown leadership and overall play this year that I believe is above all other players. Despite losing Kelvin Benjamin in the preseason, Newton has been able to overcome this and more to lead his team as a top seed into the playoffs. His running ability and picking the right times to run, getting crucial first downs and TDs puts the frosting on the cake for Newton being this year's MVP.
-- Emil Kadlec