2015 Fantasy Football Awards (Part I)
By John Laub
The First Annual Fantasy Football Awards
By the FootballDiehards.com staff
We polled five distinguished FootballDiehards.com members–Emil R. Kadlec, Bob Harris, Mike Dempsey, Jen Ryan and John Laub–and asked each to vote on their top three players in five categories.
The results were totaled, and the elite fantasy performers are listed below for the 2015 fantasy football season.
The Dan Marino Award: The Outstanding Fantasy Signal Caller
1. Cam Newton, Carolina Panthers
2. Tom Brady, New England Patriots
3. Carson Palmer, Arizona Cardinals
QB Cam Newton, Carolina
Cam Newton, Carolina Panthers
Easy pick here, right? We're all aware of the big numbers Newton continues to pile up. Week 15 was the third time since Week 11 he'd thrown five touchdowns. He became the first player in the Super Bowl era (since 1966) to throw five touchdown passes and rush for 100 yards in that same game. Oh yeah. He runs, too. And he does it near the goal line, a big reason he has eight rushing TDs to go with his 33 scoring throws. That 100-yard rushing effort made him the first player in NFL history to pass for 3,000 yards and rush for 500 yards in each of his first five seasons. He already owned the record at four. He has multiple touchdowns in 12 of 15 games so far this season and he's never failed to score at least one. Also worth noting, Newton is getting it done with nothing more than Greg Olsen and a rag-tag collection of under the radar wideouts. And in most leagues, he didn't cost you a ton of draft capital.
Carson Palmer, Arizona Cardinals
Here's another one who makes my list based on draft-day value combined with production to date. As you'd expect from the triggerman of a big-play offense that ranks first in the NFL, Palmer has been producing at a torrid pace. He needs 74 yards to break the franchise single-season passing record of 4,614 yards set by Neil Lomax 31 years ago. The Arizona offense needs 45 yards to break the Cardinals record of 6,345, also set in 1984. As the Associated Press put it, "They are numbers Kurt Warner never matched in his Arizona heyday." Palmer already has the Cardinals record for passing touchdowns at 34 and counting, having long since eclipsed the mark of 30 set by Warner in Arizona's 2008 Super Bowl season. Palmer has shattered his previous best in yards passing (4,274 yards), set two years ago in his first season with Arians. The 34 touchdown passes eclipse the 32 he threw for the Bengals a decade ago, in his second season as an NFL starter. He has 11 multiple TD games this season and in the only game he didn't throw for at least one touchdown, he produced his lone rushing TD this season.
Tom Brady, New England Patriots
This one was close. Blake Bortles certainly deserves to be in the conversation, right? But neither guy cost you much on draft day (in Bortles case, it might have been nothing). In addition, I was in San Diego for the FanDuel World Fantasy Football Championship and watched the Bortles to Allen Hurns stack play a major role in Roman Edmond claiming the $3 million first-place win. But Brady has delivered as well. And he's done it without some of his favorite weapons (something Bortles hasn't had to deal with) for a number of games. But Brady gets the edge in multiple TD games (13 to 11) and Brady has nearly 500 more passing yards. Again, I could make a strong case for Bortles, but his time will come. I'll roll with Brady as my No. 3 for now.
-- Bob Harris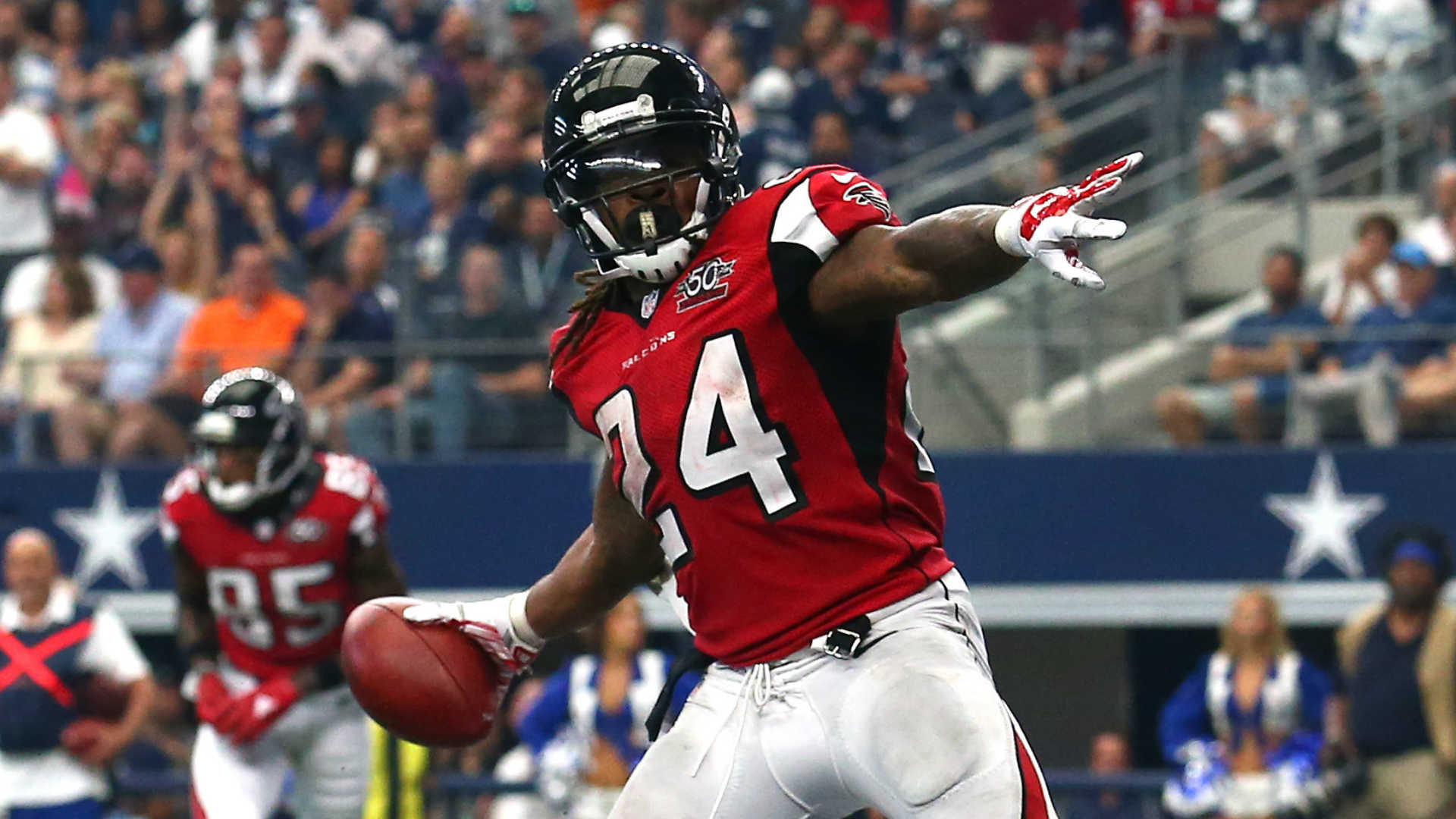 RB Devonta Freeman, Atlanta
The LaDainian Tomlinson Award: The Top Fantasy Ball Carrier
1. Devonta Freeman, Atlanta
2. Adrian Peterson, Minnesota
3. DeAngelo Williams, Pittsburgh
Devonta Freeman, Atlanta
Freeman was the top scoring RB in both PPR and standard formats this year. Couple that with the fact that he was likely drafted to an owner's RB3 at best makes him a slam-dunk choice as the fantasy RB of the year.
Adrian Peterson, Minnesota
Peterson was the second scoring RB in fantasy football this year but he also belonged to a rare class: First round running backs that lived up to their draft status. That fact that you got what you paid for when you drafted AP earns him the nod as the second ball carrier over others who had bigger fantasy playoff runs.
DeAngelo Williams, Pittsburgh
Williams was a top five RB in both PPR and standard formats, and he was HUGE in the fantasy playoffs. Many drafted him to simply cover the first two weeks when LeVeon Bell was suspended but savvy owners who held on to him were rewarded as Williams was the top fantasy RB over the final nine weeks of the season.
--