Preseason Week 1 Stock Up, Stock Down, Buyer Beware Fantasy Football
By Jen Ryan
The first week of the preseason is in the books. Looking back on the 16 games from the long weekend there are a few takeaways and players who stood out for reasons good and bad.


STOCK UP
Nelson Spruce, LA Rams
Spruce secured six of his eight targets for 51 yards and a score in the Rams return to Los Angeles against the Dallas Cowboys. The touchdown was a bonus, but the eight targets are what stood out most for me. Targets are important to chase in fantasy football and Spruce found himself in a three way tie for the second-most targeted receiver among 457 players who saw at least one target this weekend.

Darrius Heyward-Bey, Pittsburgh Steelers
Heyward-Bey had one reception, which was a 29 yard touchdown. If you saw his toe-tap catch you understand why his stock his up. While everyone is busy buying up Sammie Coates as the WR48 and Markus Wheaton as the WR51, Heyward-Bey is so cheap he is going undrafted in plenty of leagues. He has a sneaky inside track to benefit the most from Martavis Bryant's absence this season.

Dak Prescott, Dallas Cowboys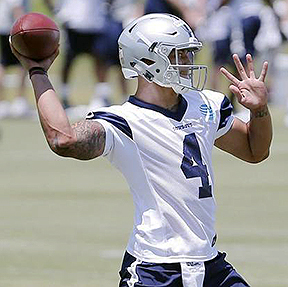 Prescott did more than enough on Saturday night for the Cowboys to pump the brakes on their backup quarterback search. The reason Dak's stock is on the rise is because of what he was able to do with the first-team offense, mainly Dez Bryant. The Dallas Cowboys offense was a dumpster fire without Tony Romo last season. If he were to succumb to injury again in 2016, Prescott gave us a glimmer of hope for the fantasy value of the Cowboys' offensive skill players.

Tyler Gaffney, New England Patriots
After coming out of Stanford as a high prospect, Gaffney has been bitten by the injury bug for the past two seasons. He is finally healthy and made a ton of noise at camp this summer. He recently put in a lot of work with the first team offense. He showed what he was capable of this weekend when he took nine carries for 64 yards and a score. It is a small sample but that is good for 7.1 YPC. Dion Lewis is the back to own in New England, but he is still recovering from a torn ACL. Gaffney should be on your radar for the remainder of the preseason.

Aldrick Robinson, Atlanta Falcons
Anyone who was busy looking for Mohamed Sanu or Justin Hardy would have missed out on Aldrick Robinson doing his best Allen Hurns impression this weekend, going for 118 yards on three receptions. Matt Ryan has been talking him up and we saw this was not just some quarterback motivation. Robinson appears to be the real deal and could edge Hardy out for snaps and targets.


STOCK DOWN
Carson Wentz, Philadelphia Eagles
The Eagles' first round pick not only underwhelmed in his professional debut but he came out of the game with a hairline fracture to his rib. This has to give his stock a bit of a hit due to the valuable reps he will miss. The Eagles will probably take a cautious approach with their quarterback of the future but he will need to get healthy fast. Sam Bradford has his own well documented injury history and Wentz could find himself in "next man up" mode sooner than later.

Malcolm Mitchell, New England Patriots
On the flipside of Wentz, Mitchell looked fantastic in his professional debut, but he also came away with a really nasty elbow injury. I'll spare you the picture, but his arm bent in a way that is beyond unnatural. His scans came back clean and he will be sore for a few weeks but, much like the Eagles, the Patriots will no doubt take cautious approach with the rookie. He should still be on your radar for the regular season but I doubt he will see much more action in the preseason.

Tevin Coleman, Atlanta Falcons
Coleman helped drive the Falcons all the way to the two-yard line this weekend, only to be pulled for Devonta Freeman to get the goal line work. In fact, Freeman saw all of the red zone work over Coleman. He saw 71% of the red zone carries in 2015 and I do not expect that to change. Coleman will be a factor in the Atlanta offense this year but his lack of usage during scoring opportunities is enough for me to kick his stock down and Freeman's up.

Jaelen Strong, Houston Texans
Both strong and Braxton Miller saw six targets this weekend. How can his stock be down if he saw decent action? It was rookie Will Fuller who ran with the ones to start the game. Someone will have to compliment DeAndre Hopkins this season and Fuller appears to have won that role already. Strong, who is in his second year, is competing for targets with the rookie Miller. His stock is down at the moment and could be further down if Miller outplays him next week.

Kenny Bell, Tampa Bay Buccaneers
Fumbling and turning over the opening kickoff of a preseason game is never a good idea, especially for a second-year player who did not see a single snap in 2015. When you have not shown your team much, special teams is the place to make an impact and show your team your worth. Bell botched that and as of today was working with the third team in practice. This is not good for Bell, who is already fighting for a roster spot. His stock is way down.


BUYERS BEWARE
The Tennessee Backfield
Both DeMarco Murray and Derrick Henry looked fresh this weekend. Even Bishop Sankey showed signs of life. I discussed this with Emil Kadlec and he brought up a really good point. They did look amazing…against an awful San Diego defense. The problem is they will not be facing the San Diego defense each week. An even bigger problem for this backfield, and for fantasy owners, is their schedule. The Titans have a Week 13 bye this season which is final week of the fantasy regular season. If you look at our Ease of Schedule tool, you will see they face the Denver Broncos in Week 14, followed by Kansas City Chiefs in Week 15. This backfield will be essentially useless during the most crucial time of your championship push.