Mid to Late Round Prospects to Watch
By Chad Stapley
Mid to Late Round Prospects to Watch
Quarterbacks
Sean Mannion – Oregon State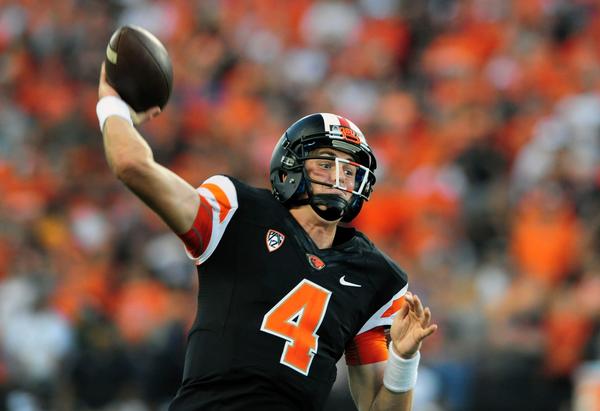 Mannion has a plethora of records at Oregon State and he played in a pro-style offense his entire career in college so he is more NFL ready than a few of the QBs that will most certainly be drafted before him. Mannion has a very strong and accurate arm especially on the downfield throws, his mid to short range passes tend to lack touch. Mannion is not fast enough to be the NFL edge rushers he will face so he will have to play with a good offensive line to succeed.
Shane Carden – East Carolina University
Carden is a poor man's Russell Wilson with nowhere near the arm. Carden can scramble with the best of them and is pretty accurate when throwing on the run. He is shorter than most coaches would like their QB to be but lately the NFL has seen its fair share of short QBs succeed. Carden is two to three years out from being ready for the NFL level competition but there is some serious upside with his winning mentality.
Running Backs
Jeremy Langford – Michigan State
Langford has been shooting up draft boards as of lately with his work at the combine and a pretty successful career at Michigan State. Langford reminds me a lot of another form Spartan in Le'Veon Bell who is having quite the NFL career. Bell isn't quite the same RB in the aspect that he doesn't have the burst that Bell has but he will beat people around the edge and he can catch the ball better than most think. Langford has an NFL ready body and can come in and play right away.
Buck Allen – University of Southern California
Allen kind of burst onto the scene last season and carried USC for a few games when they didn't seem to get the pass game going. He is strong and fast and doesn't typically go down by one tackler. Allen has the ability to come in the NFL right away and compete. Given the right opportunity he could provide a solid punch behind a proven #1 RB.
Michael Dyer – Louisville
Dyer has as checkered of a past as anyone when it comes to his background. Dyer started at Auburn (where he had back to back 1,000+ yard rushing seasons) but was dismissed due to violation of team rules. He then transferred to Arkansas State but was dismissed from the team stemming from a traffic stop where a cop found marijuana and a gun but didn't file charges. From there Dyer was out of football for a year while he got his Associates Degree, once he finished there he transferred to Louisville where he played his final two seasons. Dyer never gained the #1 RB spot at Louisville and was not allowed to play in his final game due to academic violations. There is an every down RB buried deep down in Dyer if he could ever just put all of his focus on just football. He may not get drafted but could make noise as an undrafted free agent.
Wide Receivers
Ty Montgomery – Stanford
Montgomery brings something to the table that not a lot of WR in this class do. He can run the ball as well as catch the ball. He also can return kicks and punts. He can be used all over the field and has the speed and agility to beat people to the edge. He is also strong for a WR so DBs will have trouble bringing him down one on one. If Montgomery goes to an intuitive offensive game planner he could see an expanded role early in his NFL career giving all of his assets.
Jamison Crowder – Duke
Crowder is a big bodied WR and had exceptional stats playing for a "basketball school". Crowder is 6'3 and has good enough hands to either play the slot of outside WR in the NFL. He will create mismatches if plugged in at the slot as he is faster than LBs that will cover him and at his height jump balls in the Red Zone will usually be won by him. Crowder never really had a decent QB throwing him the ball and was usually double teamed.
Austin Hill – University of Arizona
Three seasons ago Hill was an All American worthy WR and on his way to being one of the top NCAA WRs, then he tore up his knee and missed and entire season. This season at Arizona Hill was no longer their top option and his stats took a dip but the fundamentals are all there. He is 6'3 with soft hands and good straight line speed. He typically wins jump ball situations and had the burst to beat DBs in one on one coverage. Hill could be worth a late round pick to see if he continues to get his burst back.
Tight Ends
Nick O'Leary – Florida State University
O'Leary is a good old fashioned hardnosed TE that is not scared to lay out a block. He also has very good hands and was a consistent Red Zone threat throughout his career for the Seminoles. He may not be fast enough to beat any LBs in coverage but he is strong enough to come down with jump balls. He is a very hard worker and could see playing time early if drafted to a TE needy team.
Blake Bell – Oklahoma University
Bell was a former QB turned TE to help his team out and was plugged in as a starter right away. Bell is still learning the position but flourished in his first full season there especially as a pass catcher. His blocking skills are rough, and will take a few years to develop as a blocker. He was a former QB so he may never fully get there as an NFL capable blocking TE but he will be able to catch passes with the best of them. Bell is worth a late round flyer to see if his development keeps going in the upward direction.