Late Round RBs and WRs to Watch
By Chad Stapley
Dark Horse Running Back & Wide Receiver Draft Prospects
David Johnson – RB – Northern Iowa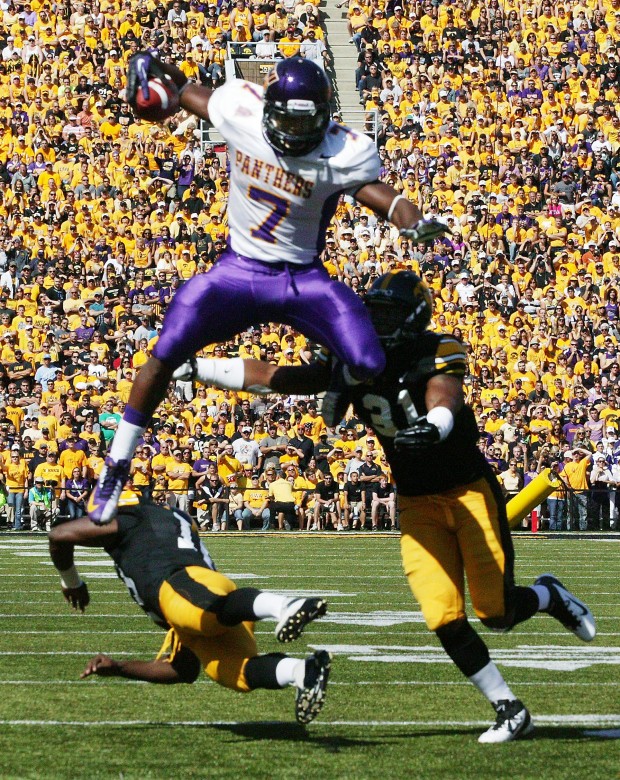 Johnson is a big former WR turned RB that stands 6'1 weighing in at 224 lbs. He lacks the gut feeling for the position as he is still learning fully how to play since transitioning from the WR position. He has exceptional hands and should easily be able to beat safeties and linebackers in man coverage. Johnson is going to be an instant threat as a pass catcher out of the backfield which is why he may see playing time immediately if drafted to the correct team.
Akeem Hunt – RB – Purdue
Hunt ran for 949 yards in 2014 and his YPC average was 5.5 which would be outstanding if he could translate that to the NFL. Hunt is too small to be an every down RB in the NFL as he stands just 5'9 and weighs only 189 lbs. With that small frame comes his lightning quickness as he runs a 4.35 40-yard dash. Hunt caught 48 passes in 2014 showing that he is a capable pass catcher out of the backfield. He should be drafted in the later rounds and due to his duel threat abilities he should see the field early. He might also be able to help in the return game with the type of speed and agility he has.
Jalston Fowler – FB – Alabama
Fowler is one of those rare FBs that can also catch the football and do some damage in the short yardage games. He isn't just your typical blocking FB. Fowler led the way for the Alabama RBs over the last few years and he is a big reason they had so much success. He caught 11 passes as a senior to go along with two TDs. If goes to a team that utilizes their FBs in the pass game then he can add a little bit of fantasy value.
Devin Funchess – WR – Michigan
Standing at 6'4 he has the frame of a tight end and his 4.7 40-yard dash time doesn't make you think he is a WR in the NFL and he has his best seasons at Michigan while playing the TE position. However, Funchess had his fair share of success lining up all over the field last season with sub-par QB play and a nagging leg injury he still proved to be a good WR threat. He will have more success in the NFL lining up at TE and using the mismatches to his advantage. Funchess can beat most LBs off the line and will have more luck beating them out for a jump ball. He doesn't possess the athleticism to beat NFL caliber CBs in man coverage as it showed this season against Michigan State. He will be a fun prospect to watch if he gets drafted to a team that can convince him to play TE full time.
Antwan Goodley – WR – Baylor
Standing at 5'10 and weighing in at 209 lbs. Goodley is built more like an NFL RB and he may eventually transition to that position in the NFL. He had some pretty dominant games last season after he returned from injury. He missed two games early in the season and still had three 100+ yard receiving games. He was Baylor's leading WR in 2013 and has proven he can create mismatches all over the field. He runs a 4.4 40-yard dash so he could do some damage as a slot WR in the NFL. If a WR needy team drafts Goodley he could see playing time right away.
Austin Hill – WR – Arizona
Hill had a breakout season in 2012 which saw a lot of people put him on the All American watch list for the 2013 season. Hill tore his ACL during practice and was forced to sit out for the entire 2013 season. In 2014 he was faced with a number of obstacles to overcome; a freshman QB starting for his first time, elite WR on his own team to compete with, and coming back from a serious injury. Hill still did pretty decent grabbing 49 passes with four TDs (none more famous than the Hill Mary) but he never got back to the elite level. A team should take a late round flyer on him to see if he can regain his athleticism that made him an All American candidate a few years back.