DFS Tips From A Million Dollar Winner
By Kyle Dvorchak
Bobby Gomes is a daily fantasy sports player, but he's not your average armchair DFS analyst. Playing under the moniker "TheFantasyBros," Bobby and his brother Dave took first place in 2014, in the DraftKings Week 11 Millionaire Maker contest. Since that life-changing weekend, Bobby has gone on to appear in numerous live finals and has notched multiple tournament wins across several sports including NBA, PGA, MLB, and of course, NFL.

He joined me virtually to talk about his path to becoming a champion DFS player, the state of the game, optimal playing strategies, and more.

When and how did you get your start in DFS, Bobby?
I started playing fantasy sports in the fifth grade. I played all four major sports, year in and year out as a season-long player. In 2014, my brother and I kept hearing about DraftKings on sports radio, so we started playing.
What skills from season-long leagues carry over into the DFS world?
I never had any luck with season-long draft orders. I was always picking late in drafts so I had to revert to "zero running back" a lot. This was something that actually helped me land on Jonas Gray way back in 2014 when I won the Millionaire Maker. I decided to go really receiver heavy in that build, which I had become comfortable doing, because I had done it so much in season-long. That's what led me to starting a running back who only cost $3,000 on that lineup's salary cap. What I didn't know at the time, or at least I didn't think about it this way, was that tournaments are a race against the PMR (possible minutes remaining) clock. It's important to encapsulate the type of high variance plays that wide receivers give you access to in order to win the race. When you do that, you're likely deviating from some sort of chalk at the RB position. Being able to find value to offset those plays has always been one of my best strengths as a tournament player.
Which contests should a new player be playing in and how should they allocate their bankroll?
I would play as many low stakes GPPs (Guaranteed Prize Pools -- the most common tournament format) as possible and not move up in stakes until I built a strong bankroll. Low stakes are any three-dollar contests and under. I would consider everything four dollars and up as high stakes because that's the lowest level sharks can play. If you want more action, just play more volume in lower stakes.
There are very few DFS players who can sustain their profitability over the long run. How did you make the leap from casual DFS player to profitable high-stake player?
Understanding your ROI (return on investment) early on is important. Once you do that you will be able to figure out what contests you have an edge in. I think the best players find what game types they are good at and stick to it, they don't deviate.
If I hit a big, let's say a $100K takedown, what should I do with the money?
It depends on how committed you are to playing DFS. If you are a casual player, take the money off the site. If you have been grinding and trying to make your way in the industry, pay bills you need to pay and leave a good portion of the money on the site.

Don't forget about the taxes you'll have to pay on those winnings.
How has the DFS game changed since you started back in 2014?
In 2014, if you had a low-owned player that hit you might make 100 times your money. That's not even close to the game today. Today you would be lucky if you make seven times your investment. The industry has become that much sharper.
Do those changes leave the game with any edge left?
There will always be an edge, but the gap between casuals and sharps is definitely not what it was. …
No! This is a common misconception from casuals around the industry. Believe it or not, you are not guaranteed a million dollars if you play MME (mass multi-entry, or large amounts of lineups). That being said, I think being able to properly play multi-entry is where the last significant edge lies in DFS.
What are some other common misconceptions new or inexperienced players have about the high rollers of DFS?

That they are playing "fantasy football" for a living, I don't think they understand the grind that goes into it.

Jumping straight into a contest without understanding the basics is a great way to lose some money on a Sunday afternoon but it's not a great way to become a profitable DFS player. Most of the money sloshing around daily fantasy sites ends up in the hands of the best players. They are often making that money at the expense of new and unskilled players.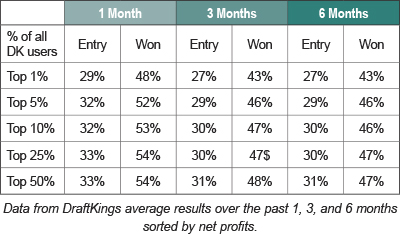 The top 1 percent of DraftKings users are accounting for an astounding 47 percent of the winnings. Acquiring a strong fantasy foundation is the first step in ensuring you aren't just funneling your money to the top players. What are the essential skills a new player needs to learn?

Contest selection and bankroll management are probably more important than actually building the lineup itself. I think building lineups tailored to a specific contest, whether it's a large field or small field, is extremely important. Learning how to build a quality cash game team will help you in tournaments. A lot has been made of playing the "right" plays in tournaments. You learn what the right plays are through understanding cash games and learning to trust projections.

What makes a play "right" in cash?

Whoever is really projecting the best.
How much of your decision-making is based on what you see on the field versus what projections and advanced models tell you to do?
I rarely watch games for decision-making purposes. I just rely on projections and then try to incorporate game theory. Projections that show a player's range of outcomes are something I am trying to focus on more and incorporate into my builds. Just caring about a player's mean or median projection is not enough to win anymore.
What does the future of DFS look like?
I think understanding an athlete's range of outcomes and incorporating that into your lineup builds and game theory is the way the game is trending. In terms of the actual future of the industry, it's tough to say.
Is there any merit to focusing on niche NFL formats like single-game contests, game types with unique roster settings (FanDuel has a Superflex game), or contests on second-tier sites like SuperDraft or the now-defunct DRAFT site?
I think there is definitely merit to find out where your edge is, in terms of format or game type, and hammer those games.
How do you celebrate a good week?
I just like to get my work done and watch games with my family on Sundays.

Bobby can be found on both Instagram and Twitter

@BobbyGomesDFS