Shaun Alexander:
Answering All The Questions
An exclusive interview with senior editor Bob Harris (5/2006)
One would think that a quick glance at Shaun Alexander's career totals might be sufficient to convince the unsold, quiet the critics and answer all the questions still surrounding one of the most productive running backs in recent memory.

Apparently that's not the case.

In fact, in an article published shortly after Alexander signed his new eight-year, $62 million contact to remain with the Seahawks (the first week of March), the Seattle Post-Intelligencer floated the following notion:

"Over seasons past, the Seahawks pushed every button and milked every ounce out of Alexander in his quest for the ego-fulfilling, gigantic contract. ..."

And after going on to suggest that Alexander has been notorious for dying early on running plays (primarily those to the outside) when he didn't like the play call or the run, the piece stated: "Alexander always has been classified as a guy whose individual desires superseded the importance of team needs."

The writer, David Locke -- qualifying his queries by noting the "money run" is now in Alexander's rear-view mirror, asked the following questions: "What will the motivation be at this point? Will his ego put him on a quest to Canton, Ohio, and the Pro Football Hall of Fame? Or will the accomplishment of his primary goal, the contract, create a slippage in his performance?

"Contract in hand, will he look beyond the team elements of a running back -- blitz pickup, pass routes and decoy situations -- and become even more obsessed in his quest for stats?"

Not all of the criticism is as overt. For example, one local scribe recently offered this analysis: "Opponents tend to underestimate Alexander because he doesn't appear fast or particularly willing to take on defenders."

While it's much more subtle, the theme is clearly repeated. Alexander doesn't run hard; he doesn't block; he's not team oriented. ...

Shaun Alexander is selfish.

Of course, there have been occasions when Alexander seemed to fit their description. None have been as notable as his infamous comments following the team's 2004 regular-season closer against the Falcons, when Alexander finished one yard shy of tying for the NFL rushing championship.

Faced with a second-and-goal from the Falcons' 1-yard line with less than five minutes to play, head coach Mike Holmgren called for quarterback sneak by Matt Hasselbeck rather than a handoff to Alexander.

As a result, he finished with 80 rushing yards in the game and 1,696 for the season. The Jets' Curtis Martin, who began the day 72 yards behind Alexander, rushed for 153 in and overtime loss to the St. Louis Rams to finish with 1,697.

Alexander's post-game response?

"Are you kidding me? You know the play," Alexander is quoted as saying. "We all know what it was. Stabbed in the back."

Of course, comments like that tend to generate interest. And not all of it is going to be positive.

But in a wide-ranging conversation in early May, I got a chance to ask the Fantasy superstar about all these issues and more. He was not only willing to address the issues, he seemed downright eager to take them head on. --

DB: All right man. ... Looking back over the last year, a huge season turned into an even bigger offseason. A quick review is in order: You posted a franchise-record 1,880 yards rushing and a league-record 28 touchdowns -- a combination that earned you NFL MVP, NFL Offensive Player of the Year and Pro Bowl honors.

On a team level, Seattle not only made it to the playoffs, but through them and into the Super Bowl, where you carried 20 times for 95 yards during a 21-10 loss to the Pittsburgh Steelers.

Then moving on. ... The Seahawks finally rewarded you with a lucrative new contract the first week of March. The details are out there. ... Your agent, Jim Steiner, said the new deal included over $15.1 million in guaranteed cash. The $62 million total exceeds the eight-year, $60 million contract LaDainian Tomlinson signed with the San Diego Chargers in 2004.

All-in-all, more positives than negatives, eh? What I want to know is -- it's been a full year that included getting franchised last offseason -- how does it feel to finally have all that behind you?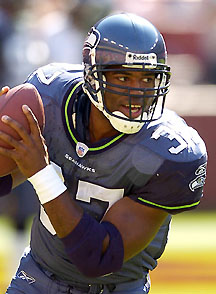 SA: Well, it just changes your focus. It's great when you say, "Man, all I have to do is get out there and get my team to the next level." You don't have to worry about insurance for your body. "Hey, if I'm going to take this extra hit knowing that they might not give me what I want" -- all the mental games are gone.

I want to go out there and play football and try to break a bunch of long runs, score a bunch of touchdowns and get back to the Super Bowl. It's a totally different mindset. When all you have to do is take things to the next level and not have to worry about yourself at all.

DB: You've acknowledged you probably could have made more by leaving Seattle as a free agent. But you have also been consistent in stating you wanted to remain. Why?

SA: I'm intrigued by the fact we were 6-10 when I got here and we were 13-3 last year. I like the fact that we went from people making fun of us when they played against us -- and laughing at us when we're on the field, to knowing that they have to play a good game to beat us.

I'm intrigued by that. And then I'm also excited about the things that we've done; things this town has never seen before, you know, winning 11 games in a row and getting to the Super Bowl.

So now it's kind of like, "Okay. Let's go put the icing on the cake. And let's put the cherry on the sundae."

DB: Nobody is laughing now. ... And just so we're clear, the icing on the cake is getting back to and winning the Super Bowl, correct?

SA: Yes, it is. Like I said before: When I got here, I'm looking around saying, "We don't practice. We don't act like we're one of those (winning) teams. We're going to have to work at this thing."

But now you see changed attitudes, you know?

You see how people prepare for the game; it's totally different. So, for me, it was like we're going in the right direction. We're going to get this thing done.

DB: Still, Seattle ain't New York City. You were a marketing major at Alabama; you've known all along that working in the Pacific Northwest would mean fewer business opportunities.

SA: Oh, that's rough (laughing). It is rough because of the things that I've done. I'm blessed and honored and proud of what my offensive line has done and the numbers I put up, but if we had done it New York or San Francisco or San Diego -- or just about anywhere else. ...

DB: It would have gotten more play?

SA: Yes.

DB: It appears you're starting to overcome that. Let's start with the "Madden NFL '07." EA Sports is putting you on the cover this fall. We're talking the best-selling sports video game in history.

SA: It's exciting. I tell everybody I finally got a compliment from my little cousin. He's like, "You know, Shaun, now you're cool." That's just how it is, you know.

It's the people that don't even know football, that don't play football, everybody plays Madden

I told the EA Sports people it was an honor for them to pick me. And they told me I was the first football player ever to be on the cover of both their college game and the pro game.

DB: You've been on the Madden cover before? So there's no worry about that cover curse?

SA: Oh, no. I don't believe in curses.

DB: What about Matt [Hasselbeck] and the Chunky Soup curse?

SA: Matt and I, we talk a lot about our families and our faith and things. And we're like, "You know, if we get into curses, all of a sudden we have to decide which sock we use. How do we come to the stadium? Did we drive this car or that car?"

"Who did I shake hands with? Did I give a high-five to the security?"

You know by that time you're late for the game because the game has already started by the time you figure it all out.

DB: Recent reports say major companies like Jaguar, Chrysler, Ford and Disney have begun to approach you since the Super Bowl. That's not to say companies have been avoiding you all along; you've been endorsing Nike for six years now and you have another long-standing endorsement deal with Sprint. They haven't been pushing you up to this point, but could that change?

SA: Yes. It's exciting.

DB: Do you think it's about time?

SA: The idea that we're being recognized nationally? Yes. And the truth is we have the capability of being this good for three or four more years -- and we all know that.

I'm 28. Matt is 29. We're young, you know. Our defense is really young. They're really physical. We just started Julian Peterson. I think he's 28, too. It's just, "Well, you got a bunch a 20-year-old guys that are just now stepping to the prime of their career."

This thing could be really exciting for awhile.

DB: You've made a pretty strong commitment to your charitable organization -- the Shaun Alexander Foundation. Can you tell me a little bit about how you're giving back?

SA: Well, my foundation empowers young men. This is through education, athletics, leadership training and character programs, inspiring them to reach their full potential as mentors and role models for the next generation. Our mission statement is: Mentor young men to change the world.

I believe that if we gave every young man on this earth programs like mine, it would start to teach them that they can be successful. They could do what they want to do. You know, Black, White, Hispanic, Asian, rich or poor. Every young man needs things like this to focus on.

I tell everybody that one of the biggest issues out there has been a lack of good fathers. Fathers back in the day were involved. "Where did you learn how to fish?" "Oh, my dad." "Where did you learn how to drive a car?" "Oh, my dad."

Nowadays it's not like that. Now we have to give kids more help.

DB: You have a program called First Move. You want to tell me a little bit about that?

SA: First Move is a program to teach every second and third grader how to play chess. The goal is -- you could go teach your kids on how to have a vision, how to think three four steps at a time, knowing that with every action there is a reaction. Those things are good for a kid to learn.

DB: Absolutely.

SA: Plus, there's fun in competing. And when you learn how to play chess all of a sudden, you start thinking, "Oh, I'm smart. I can do anything."

Then our junior high program called Choices of Seattle. And that's about kids staying in school and making wise decisions. That's a junior high program. And the third program is with the Fellowship of Christian Athletes. Those are summer camps all around the country. The goal is teaching kids about the way to play -- drug and alcohol free, playing with integrity, having fun, winning. You know what I mean?

Sometimes people get, "Oh, if I'm going to be a big guy, I don't have be so focused or I don't have to win."

No, no, you need to win.

DB: All right. ... I want to ask you a little bit about perception versus reality. I'm sure you know what I'm getting at. There seems to be an element in the Seattle-area media -- and to a degree in the national media -- that wants to paint you a certain way.

And what they'd like us to believe is that you're selfish; you don't run hard; you're not an enthusiastic blocker; you're not a team player. ... Does any of that bother you? Do you even pay attention to it?

SA: Well, I think like if you talk to me, like you and I are talking now, in any time at all, you'd be like, "Oh, wow, that's not what I expected." My mother just raised me to say, "Hey, Shaun, you just stand what you stand for. If you want to live like a Christian, you live like a Christian. If you want to say this, you need to say this. If you do this, you can do that."

And I think that at times it can come off as, "Well, man, he's just not doing what I want him to do."

And then I look like I'm a little selfish. I'm trying to give you a good example. Okay. Let's say you ask me to do a commercial. And I'm like, "Well, yeah. I don't mind doing a commercial, but I have to leave at 1 o'clock because I am taking my wife out to lunch. We're going on a picnic, so at 1 o'clock, I'm leaving."

If you say, Okay," and then at 11 o'clock you're not ready. At 12 o'clock you're not ready. 12:30 you're not ready. At 12:50 you're like ready to start. And I'm like, "Well, you know I'm still leaving at one." And you're like, "Well, can you just push it back?" I'm like, "No. I gave you all day, you know."

That's where it's like, "Oh, you're just selfish."

I've always been like that. I'm really a structured person.

DB: Do you feel a need to close the gap between your view and that view? You see the articles. You see what people are saying out there. Do you need to set the record straight?

SA: Honestly, I think if you ask me about my life. I'm like, "Well, we could help almost 10,000 kids in the city of Seattle alone, really, with the foundation." Then somebody else says, "Well, you know, Shaun this is really selfish." I'm like, "Well, you're talking off whatever your issue is. But here's the proof."

DB: Many of the critics point to the thing: When you came up a yard short of the rushing title in 2004, there was the famous "stabbed in the back" comment.

SA: That was so blown out of proportion. That situation is if you were around me -- and knew me, you would think, "Well, that wasn't with any malicious intent at all." That was kind of like how Shaun speaks.

It was totally out of context.

Everybody was around there saying, "Hey, you know, you only lost the rushing title by one yard. You lost the scoring title by four points. You had the most overall touchdowns, but you lost the rushing title by one."

I was like, "Oh, well, we tried."

They're like, "No. We asked [Holmgren] about that and he said he did what he thought was the best for the team." And I was like, "Well, Mike couldn't have known (how close I was to the rushing title), because if he would have known, I think he would have done differently."

They said that wasn't the case. I was like, "Well, if he did that, he stabbed me in the back."

And I tell everybody, it's really funny; there were 20 cameras there. It wasn't like it was a regular game. We won the division that day. All the cameras, all the media there, how come no one has it on camera?

Why, because, in reality, there was no story. Because if you would have seen the way I said it, you would have been like, "Oh, that's not even you at all."

But with that, I think it's a juicy story. I really learned that day that the media's job is to sell stories, to sell papers and sell magazines.

DB: Do you think the media wants to have it both ways? By that I mean, do you get the feeling they want you to be open and honest and complain when you play it safe with answers?

SA: I don't know. I have run into some great interviewers. And I'm just like, "Wow, I probably said too much. I probably shouldn't have said it like that." And they're like, "Man, I would not say that because I know that you're not meaning it."

And I know other [reporters] who are like, "Yeah, Shaun, what do you think about the Super Bowl refs?" I'm like, "Well, I'm sure they did the best they could. They probably just had a bad night," you know.

And then it reads, "Super Bowl refs call bad game."

And I'm like, "That's not what I said. I said they had a bad night."

DB: You believe it's because the people don't know your personality and don't realize where you're coming from. And when reporters run with it, people believe it?

SA: Right. I think that's how it is.

DB: Is that something you're okay with? Is that just a fact of life for you?

SA: I think so. I think, honestly, when you're a good guy, people want write about your bad side. ... And it's so funny because Seattle is the type of town where you come in and they are going to be like, "Yeah, we love you."

But they'll still try to find some dirt.

DB: So it's something you're used to; you're going to deal with it. And whatever anyone says, you're not really going to worry too much about it. You're just going to do your job?

SA: You know what, honestly? To me, I have fun and my life is fun. And I love helping people and I love building up our football team. So with all that, when people say anything negative, I'm like, "That doesn't even fit my character."

DB: Fair enough. Going back to 2000. ... When Seattle drafted you, they already had a starting running back in Ricky Watters. Jamal Lewis, Thomas Jones and Ron Dayne were drafted ahead of you. Heck, Al Davis drafted Sebastian Janikowski ahead of you. ... How did all that affect you coming out -- and as you moved on through your career?

SA: Well, when I came into the league -- oh, that would be a good word?

I was hungry (laughs).

I think I was more fired up about Arizona because they called me right before the draft and they were like, "Hey, we know Baltimore is interested in you. We hope that you're around. If you're still around, we're going to pick you." The draft started at 12:00; that was like at 11:50.

So here I am and we had our draft party at the Montgomery Boathouse, which is (a restaurant) in Cincinnati. My family and friends are there. It was a good time; we're all having fun. It starts and the Ravens picked fifth and they picked Jamal.

And it was between me and Jamal. The Ravens were very open about it. They were like, "Shaun, we're either going to pick you or Jamal. We're kind of 50/50 in the room. We don't know what we're going to do."

I was like, "You know what, that's fine."

DB: Because Arizona was sitting there at seven, you were good. ...

SA: Yes. ... Until I hear, "Hey, here's Arizona. They picked someone else. Arizona picks Thomas Jones." I was like, "You know what, they've picked a bitter enemy."

DB: Needless to say, you were pleased to join the NFC West a couple of years ago?

SA: Honestly, I thought -- as inspired as I was, that might have been the worst thing that ever happened to them. You can go see my stats. Something bad was going to happen (to them).

I'm just now starting to calm down from it (laughing).

DB: Now, you started only one game as a rookie, being limited to a role as third- and fourth-down, short-yardage back. You had only 64 carries that year. Was that frustrating? And how was working with Ricky Watters?

SA: Ricky took me under the wing. He was like a big brother. He was always fun, cracking jokes. He was always helping me. He taught me so much on and off the field about the game of football. It was almost like no learning curve.

And he was kind of like, "Yeah, you know, you're coming here to replace me." He was open about it the whole time.

And I was like, "This is amazing."

Because everybody told me that he was going to be so flashy and so hot that he's never going to talk to me. He's not going to teach me how to run plays. He's not going to teach me the flow of the game and how to fool the defense.

So I got all that. It was like he was saying, "I'm passing you the gift." So I was like, "Wow, this guy is amazing."

DB: Did that help ease a lot of the frustration that you might have felt? Or was there still some frustration there, knowing you could probably contribute some more?

SA: No, there was no frustration at all. Well, and then you also got to remember my story. In high school, I didn't start my first game until the middle of my junior year because I had an All-State running back ahead of me.

Same thing at Alabama. It was really nothing new.

So here I get to the pros and I'm just like, "Okay. [Watters] is the 'Man.'" I've been with the "Man" at every level. I'm going to learn from this person and enjoy. There was no frustration at all. So it was kind of like when I get in there, I don't have to force my way out there because the timing will take care of itself.

DB: And it's obviously worked out well. If you'll bear with me for a moment here. ... You just became the 16th player in NFL history to surpass 1,800 yards rushing in a season.

You easily could have topped 2,000 yards last year, but coaches held you out late in games when the team was well ahead.

You had 11 100 yard rushing games, topped by a 173-yard effort against -- guess who? -- Arizona on Nov. 6.

You were named offensive player of the week three times.

You scored 27 TDs on the ground and one as a receiver to break Priest Holmes' NFL single-season record by one. You became the only player in NFL history with at least 15 TDs in five straight seasons and the fourth with consecutive 20-touchdown years.

You became Seahawks' career rushing leader with 7,817 yards; you have 100 career touchdowns, 98 of them over the past five seasons.

So. ... The question is, what's next? Where do you go from here?

SA: My goal every year is the same, just get a little better than last year.

DB: I'm glad to hear that. I think Fantasy Nation would be quite pleased to see you achieve that one.

SA: Yeah. I want to get a little better than last year. I train a little bit harder. I run a little bit more and I get a little bit better. I study a little bit harder. You know I'm not one of those guys that say "I'm going from doing one pushup a day forever." If I do one today, then tomorrow I'm going to do two.

That's how I do it.

DB: We look at the career touchdown totals; the yardage; the fact you've appeared in all 16 regular season games for six straight years. ... The consistent production; the good health. How much of that do you attribute to your style of play?

SA: I think it's all of it.

DB: Is that something you think the critics tend to overlook?

SA: I think so. If you looked at it, I'm like a boxer. Whenever I see a weakness, I'll throw the best punch I have.

And if you look at our team, we have kind of taken on that attitude. We're going to play with you, but if you have a weakness, we will exploit you -- whether it's throwing, whether it's our defense, passes or runs. We exploit things to the optimal level, when we find it.

I run like that. Our team is like that now.

DB: How much credit should we give Mike Holmgren and his scheme for those totals?

SA: I think it's a big part because it's consistent. Mike says, "Hey, we're a throwing offense. We're going to throw the ball." But he'll also say, "Hey, Shaun, you know, we want to run the ball, too."

It's really, really good. But it is focused and it takes discipline.

DB: Yes. I think the perception out there it's not a run-first scheme and it may not be. But something explains the numbers you're putting up. Someone is putting the ball in your hands and you're doing something with it when you have it.

SA: Right. And I think it's because we've evolved as a team. We all have been together for about five years now. Matt came over my second year. We got [Steve Hutchinson] my second year -- but he's gone now.

DB: We're going to talk about that a little bit.

SA: We got Robbie Tobeck the first year; Darrell Jackson my first year. We get all these pieces and we shuffle them around a little bit. And we got all those receivers. Bobby Engram came in my second year. The next thing we know we're like, "Okay. We got this nucleus. ... Everybody understands their roles. It's focused. It's well organized."

DB: Generally speaking, what percent of an NFL team's success is due to talent and what percent should be attributed to coaching/system?

SA: Honestly, I think everything is talent. The talent has to be there. Now, once the talent is equal then coaching matters.

DB: Okay; let's say the talent is within five to ten percent across the board at the pro level.

SA: And that's where the coach says, "Hey, you know what I can put up this scheme or that scheme." Now, that takes us to another level. The biggest thing, to me, is on game day.

There is always a good 25 percent of that game that's going to be decided on a game-day decision.

DB: Some of that goes to Matt with audibles, too, right?

SA: Right. So if the coaches coach right and the players play right -- and that 25 percent is really well handled, that's what makes a team.

DB: You seem to have a unique relationship with Holmgren -- it seems to run a bit deeper than the normal coach-player relationship. Do you see it that way?

SA: I would say yes. With Mike, I love his mind. I respect how he thinks of the game. And then from day one, he's always told me, "Shaun, you come talk to me." And he doesn't open that door to anybody.

So there have been times where we've been on the field yelling at each other. But at the same time, we have that mutual respect because he's the coach and I'm the player. Do you know what I mean?

DB: Looking from the outside, it looks like he enjoys working with you.

SA: Yes. I think sometimes he'll crack a joke. Or he'll be a little more serious. Or he'll downgrade something I did a little bit more than other people. But I think it's because he expects so much.

It's kind of like when I was in my second year and I had that 266 yards against the Raiders. He was asked, "What do you think about young tailback?" He was like, "Yeah, he thinks he's good." Even I was laughing.

But the rest of world is thinking there is something wrong with me.

You just have to understand our relationship. Our relationship has always been up front. Like we argued up and down the sideline one time about a play on the goal line. It's first down. He's like, "Man, I can't argue." We're on the 15 yard line; we throw a pass. And then I said, "Well, what would you do [if you were me]?" He was like, "I would want the ball. I'm going in."

He gives me the ball; we score the touchdown; we hug each other (laughs).

DB: Again, it's a little easier to argue when you have the kind of numbers you have to back it up. Let's face it, not everyone is going get that leeway.

SA: Right. And that's how it is. You have fun with it. But at the same time, there is so much respect. Do you know what I mean?

I definitely give him that respect because I'm the player. But it's one of those things where he gives me so much love. Sometimes everybody is like, "Wow, I can't believe you can do that."

DB: Holmgren calls the plays on Sundays -- can you explain Gil Haskell's role on Sunday's and during the week?

SA: He's so awesome for us. He's kind of like an equal. To me, he puts together the whole offense, in my eyes. He drills it all through the whole week how our practice goes. He calls all the plays at the practice. He's making sure everything goes smoothly. And Mike kind of sits back and watches.

So it's almost like its Gil's offense and Mike is kind of looking back. "Okay. Well, when that happens, this kind of shifts like this."

So then we get in the game and they switch roles. Mike is calling the game. And Gil is up there looking, "Okay. Well, during the whole week I saw this and this really worked. And now I'm seeing this stuff start to happen here in the game. So, Mike, call this play."

DB: Gil is building the jet during the week. And Mike's the pilot on Sunday.

SA: There you go. That's working.

DB: If you were running a team, what would your offensive philosophy be?

SA: I'm a running back, so we run every play (laughing).

Seriously, I believe in balance. But I also believe that most teams in the NFL, if the quarterback throws it over 35 times or 32 times, they're not winning. So I would always try to follow --

DB: Unless eight of those passes are to you?

SA: Well, no. That's just across the board. Once you get into a rhythm where you're throwing it a lot, defenses can all of a sudden put their players in positions where you're going to be screwed. You can't do that when you're running the ball because a big pass play at any time can kill you.

DB: I also think you get your offensive linemen in that rhythm where they're rolling and they don't want to stop. They don't want to throw the ball; they want to keep running.

SA: Yup.

DB: Throughout the press conference -- after you were named MVP -- you called it as group award. You talked about coaching and your blockers. You also pointed out that Hasselbeck's efficiency and knack for changing into the right play at the line of scrimmage were factors.

So, how important is team chemistry to your individual success?

SA: I think it's huge, especially the way I run. If I was one of those guys that I'm just going to run downhill. I'm going to beat somebody up and I'm going to smash my body into their body, I don't think you need as much chemistry. You just need everybody to do their job.

But with the way I play, hey, I'm going to run. I'm going to set this thing up. "How good are you compared to your guys? Can you whup your guy every play?" Okay. That's cool. "Can you beat your guy now? Your guy is a little bit stronger."

So the way I run, we take what they can't give us. We have a goal. We're going to run into this hole, but we also have an idea that this guy can't beat our guy.

DB: So understanding what each player on your offense is capable of against each week's opponent is important to you. As the games roll on, having that feel for what guys are doing on their one-on-one match ups, all that's part of the chemistry issue?

SA: Right. So we start picking out during the week. We'll sit in there and be like, "I want you to be honest. [Walter Jones], are you going to be able to throw this on the ground like you did every week?"

DB: When was the last time Jones couldn't throw a guy on the ground, though?

SA: Well, we're still looking for that guy (laughs). ...

But then we'll go right down the line. Okay, to be honest, Walt, what is his best thing? Do I need to chip? Do I need to get on pass break?" And we're just up front and totally honest with each other. So everything is in front of you. So you're like, "Okay. Well, this guy is really strong. So if we run a play to the right and you can't get it, and at the last second you let him win and Walt cut to the left."

DB: Just curious. Do you do a lot of chipping on Jones' side?

SA: No.

DB: I've started to notice -- especially this past season -- how comfortable Hasselbeck looks running the offense. How much better can he get?

SA: I was really proud of Matt this last year. I just tell him all the time, "Bro, you're getting it." It's just awesome.

DB: Now, tell me a little bit about Mack Strong.

SA: He's awesome. He is the best and most underrated player in the NFL.

DB: People talk about (Chargers fullback) Lorenzo Neil. Do you wonder why they're not talking about Strong as much?

SA: Right. Well, we are in Seattle (laughs). But to me, stats just don't lie.

DB: How is Maurice Morris holding up in the number two there? Is he getting frustrated?

SA: No, he's awesome. Everybody puts everything on the front. Like there are times I'll say, "Well, I'm going to tell you this. You are not going to step on this field today." And he's like, "You're still mad at Arizona, huh?"

There are some times I'm like, "Hey, I'm going to get you a bunch of carries today. I'm going to run. I'm getting a good flow. I'm going to come out a lot. You know, getting him in the flow of the game. It works out. He gets his piece of cake. Everybody is just up front and it works.

DB: Turnover is always an issue in the NFL. You'll be hitting the field this fall without Joe Jurevicius and Hutchinson. You've added Nate Burleson. Does adjusting to these year-to-year changes get easier over time?

SA: I think it's easier for us if you keep most of the same pieces. It's easy for any team, if you keep teammates. Like Joe was a key part of the puzzle.

But if Joe didn't catch any balls, we would have still won some games. We had to move Bobby around. We had to move Jerramy Stevens around.

DB: Do you think landing Burleson is going to help -- allowing Bobby to move back to just working the slot?

SA: I don't know. Bobby could be a great starter and do great things. He had a great year.

DB: The perception is out there that Engram is better as the No. 3 than as a starter.

SA: I think it's just one of those things. Sometimes it's perception and it grabs on to you. It's just like me. For me, the perception of me is Shaun always needs to get better, honestly.

So no matter what I do, the very first thing they're going to say is "Well, he did that good, but he needs to get better." It's like, "Hold on a second."

DB: It's funny you say that. Because even (Seahawks president) Tim Ruskell, in announcing your new contract said: "We expected more things of Shaun. Little things and he did those things." It was like, "Well, what wasn't he doing before?"

SA: Right. That's what I say. So it's kind of funny.

DB: You laugh, but don't you tuck it away?

SA: Right. "Okay. Now, you just told me to get better." My last season was better than anybody that's ever played the game so I'm laughing. I'm like, "Oh, yeah, I'll try to get better."

It's like, "Well, so what. He ran for 11 100 yard games this year. It was only 11." You're like, "Well, hold on a second. What do I have to do here? I have to do 16 to make you feel good?"

That's like, "Okay. If I did eight, is that also a bad year?" There is not even going to be seven guys that have eight 100 yard games.

At the same time, you're like, "I'm not going to change. I'm going to try and stay on this good rhythm. I scored 28 last year. Okay. Let's try go and get 50."

DB: Hey, you know, there is not a fantasy owner in America who is going to argue with that. What is your perception fantasy football? How do you feel about it? And how much do you hear about it?

SA: I hear about it every day of my life.

DB: Is that a good thing?

SA: I think it's fine. I think it's made people that wouldn't necessarily watch football. And now they start to pay attention to other teams.

I remember the Eagles, we beat them really good -- unless you like Fantasy football. I had two touchdowns in the first half. We really didn't have any yards. And everybody knew, mostly everybody new, "Shaun, we'll give you one more drive. We're taking you out."

The first drive of the game, they fumble and we pick it up and run for a touchdown.

And coach was like, "I can't put you back in the game." "All right, coach, come on. Let's go get this thing." And I thought, you're right. I can't take these hit or be hit like this."

But I know there were Fantasy guys right there booing, yelling "You're losing my game" and throwing all kinds of stuff on the field.

DB: Something I found interesting -- and I'm probably not alone. ... You seem to pick up the pace in primetime. You mentioned earlier that you had that 266 yarder on a Sunday night game against Oakland in 2001.

In 2002, you had a five touchdown first half against Minnesota. What happens?

SA: Honestly, I think everybody expects it. I do too. But everybody expects it, even the other teams. And it just takes one or two plays and then all of a sudden there's like, "Okay. It's happening to us now."

And I think that our team is like, "Yeah, here we go. Let's get it going really good." It's almost like a mindset. I don't think I run the plays any different. I'm just there having fun and just cracking jokes and being silly and then it's just work.

I think overall we all expect something big to happen.

DB: And it does more often than not. Now, I know you want the ball when it counts the most. I read where you once said you want to be the Michael Jordan of football? How close are you?

SA: You know if my team keeps working the way it is. ... We're in a good place right now.

DB: No arguments here. Do what you can to keep it there.


---

Our latest Cheat Sheets updated constantly through September.
---
class="headline" onClick="expanddiv('tr1')" style="cursor:hand; cursor:pointer" onmouseover="window.status=' ';return true">Brandon LaFell Will Miss The Remainder Of the Season (11/18 10:00 PM PT)


class="headline" onClick="expanddiv('tr2')" style="cursor:hand; cursor:pointer" onmouseover="window.status=' ';return true">Brandon LaFell Suffer Achilles Injury (11/18 3:36 PM PT)


class="headline" onClick="expanddiv('tr3')" style="cursor:hand; cursor:pointer" onmouseover="window.status=' ';return true">Alex Smith Done For The Season (11/18 2:14 PM PT)


class="headline" onClick="expanddiv('tr4')" style="cursor:hand; cursor:pointer" onmouseover="window.status=' ';return true">Kerryon Johnson Exits With Leg Injury (11/18 2:11 PM PT)


class="headline" onClick="expanddiv('tr5')" style="cursor:hand; cursor:pointer" onmouseover="window.status=' ';return true">Alex Smith Carted Off Vs. Texans (11/18 1:58 PM PT)


class="headline" onClick="expanddiv('tr6')" style="cursor:hand; cursor:pointer" onmouseover="window.status=' ';return true">Jameis Winston Enters The Game For The Bucs (11/18 1:57 PM PT)


class="headline" onClick="expanddiv('tr7')" style="cursor:hand; cursor:pointer" onmouseover="window.status=' ';return true">Marcus Mariota Questionable To Return (11/18 1:49 PM PT)


class="headline" onClick="expanddiv('tr8')" style="cursor:hand; cursor:pointer" onmouseover="window.status=' ';return true">Marcus Mariota Suffers Injury Vs. Colts (11/18 12:02 PM PT)


class="headline" onClick="expanddiv('tr9')" style="cursor:hand; cursor:pointer" onmouseover="window.status=' ';return true">Sam Darnold Expected To Return Week 12 (11/18 9:19 AM PT)


class="headline" onClick="expanddiv('tr10')" style="cursor:hand; cursor:pointer" onmouseover="window.status=' ';return true">Rob Gronkowski Expected Back Week 12 (11/18 8:25 AM PT)


---