Head On: An Exclusive
Interview with Larry Johnson
By Pro Forecast Senior Editor Bob Harris (5/2006)
Larry Johnson has plenty to be happy about.

After all, one of the first things new head coach Herman Edward did upon arrival in Kansas City was inform the former Penn State star he would be the Chiefs starter in 2006 -- a decision undoubtedly made easier by Johnson's 1,750-yard performance in nine starts after Priest Holmes' season-ending injury last year. Johnson played so well in fact, he earned the team's MVP designation in a vote by his teammates as well as his first Pro Bowl berth.

And now, even if Holmes is able to come back and resume his career, Edwards has assured Johnson that he, not Holmes, will go into camp as the starter and hold down the featured role this season.

Meaning, for the first time since he was a high school senior, Johnson has a head coach who's in his corner.

Johnson should be happy, too, that Mike Solari, who as Kansas City's offensive line coach engineered the running game that's been so effective in recent years, was promoted to offensive coordinator after predecessor Al Saunders left for Washington.

Things are going well off the field, too. Johnson reportedly spends time in New York with Jay-Z at hip-hop mogul's 40/40 Club. In April, Johnson traveled to Aspen to hang with Jay-Z and pop star Beyonce -- and to serve as a model for a catalog shoot promoting the rapper's line of hip-hop clothing, Rocawear.

Heck, he should be the happiest guy in the world.

But apparently, Johnson can never allow himself to be completely happy.

As the Sports Xchange recently suggested, the angry young man facade he shows the world may or may not be the way he truly feels about things. But it is his motivation, and the desire to lash out translates into a punishing running style on the field.

So, during an exclusive, one-on-one conversation with the Pro Forecast, it only seemed fitting to get the ball rolling by discussing that very motivation.

PF: Are you angry or do you just run that way?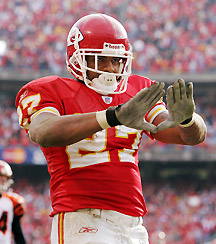 LJ: I think sometimes I am angry. ... It's the emotion of the game and some defensive players choose to take cheap shots at me. That will get me real angry. ... But I think people say I run angry because of the way I play. I don't duck out of bounds. That's not my credo. I don't do that.

I usually show that I'm big enough and strong enough to take on most defenders in the NFL, so why not have fun doing it? I just like to be physical.

PF: It looks fun. I think that's something that people pick up on -- especially late in games. It looks like defenders aren't as eager to mix it up with you in the fourth quarter as they are earlier on. Do you notice that -- opponents shying away as the game goes on?

LJ: Yes, especially when you get one of those games where it's real cold. A lot of times, it gets even colder in the second half because the sun goes down. But I'm just getting warmed up. You can kind of see guys take tackling you a little differently than they did in the first half.

PF: Apparently so. ... You had a huge 2005 season despite being limited to just nine starts. In those nine starts, you posted 1,351 of you total 1,750 rushing yards, 16 of 20 rushing touchdowns and 1,627 of your conference-best 2,093 yards from scrimmage. Projected over a 16-game period, you might have had 2,300 rushing yards. Is that the goal this year?

LJ: I don't think that is the goal for this year.

I want to get to a Super Bowl because they put so much emphasis on playoff teams and Super Bowls. Those guys get all the attention. I did well last season, but there was more talk about the Pittsburgh Steelers and the Seattle Seahawks -- more than about the Kansas City Chiefs. I think that's what I want to see.

Of course everybody talks about that (NFL rushing) record. I would love nothing more than to try to get that record, but I'm still in the start of my career. Hopefully I can get that over time.

PF: The most obvious question, of course, is whether you can maintain that pace -- averaging better than 30 touches per game -- over the course of a full season? And do you think a good running back needs that many touches?

LJ: It all depends on who the running back is. Running backs like me, like when I played the Houston game, I didn't realize I took the ball 32 times. I didn't realize that because my body just didn't feel that way. It's different for each running back.

But to me it feels like I need to have 32 touches just to feel like I'm doing something.

PF: You racked up 201 yards and three touchdowns in the regular-season closer against Cincinnati; it was your ninth straight 100-plus yard game. Only two other players in NFL history --Barry Sanders with 14, and Marcus Allen with 11 -- have had longer streaks of 100-yard games. That's as an exclusive a club as you'll find, no?

LJ: I think it's a great achievement by those guys and it would be great if I can get it. You know, as far as being a player that hasn't really stepped into his own yet and then coming in and really challenging for that 100-yard game record is an amazing feeling.

You get 14 straight 100-yard games like Barry -- and Marcus Allen is the next guy, it just shows how much they were worth to their teams. Hopefully I can do the same thing, because I know defenses are going to be really trying to stop me.

PF: What's the secret to playing at that high a level week in and week out?

LJ: I think it was the preparation and knowing who the (opposing) teams were and knowing their personnel. And at the end you can say all you want, but when you have the best offensive line of football and on top of that you can't miss.

Once I'm starting to get warmed up, I'm not going to let up. I'm not a guy that's going to duck from tacklers or shy away from contact. That makes me consistent.

I have so much fun week in, week out because I knew teams were going to game plan to try to stop me first and it just got fun because then I may be getting 50 yards, or 40 yards in the first half, but in the second half I was getting warmed up while they were getting tired and that's when I was having my most fun.

PF: All right. ... The Chiefs head into '06 facing some major changes, starting at head coach, where Herman Edwards takes over for Dick Vermeil. You first met with Edwards on January 17 and he told you what?

LJ: Just basically that. ... He's been telling me that I'm the guy. That I've got to be prepared to go in as a professional and as a starter to do what I need to do to get ready. He said just to rest up and I have a workload ahead of me which is fine.

Sometimes they say you get what you ask for. Well I know this season I'm going to get what I've been asking for since I've been in Kansas City. All I've got to do is deliver.

PF: There's no doubt in your mind it's time. ... Even if Priest Holmes comes back at 100 percent, you deserve to be the starter, right?

LJ: Yeah. I'm ready. I never had somebody in my career say you're the guy until that guy left on his own or some guy graduated. Now Herman Edwards really knows I'm the guy and this is how we're going to do things. When you have a coach like that that can be behind you, that makes you even more excited to go in and try to run through brick walls if you have to.

PF: So needless to say your first impression of Edwards is a pretty good impression, right?

LJ: Yes.

PF: Have you talked to him much since then or have you worked with him much? What further impressions do you have?

LJ: We go back and forth. Any time he sees me he comes out to my charity events and I go to the office sometimes just to say "What's up?" It's just building up that relationship. I know he's going to be here for five years. I'm going to be here hopefully more than my (current) contract allows me and really build a good relationship -- where it's kind of like a father/son relationship.

PF: While we're talking about coaches and getting along, let's touch on Vermeil, too. We all know you had your differences, but looking back on it, how do you view your relationship with him?

LJ: Right now it really isn't a relationship, because I really don't talk to him on a daily basis.

Looking back, it was just a real strenuous relationship. I had just got out of a relationship with [Penn State head coach Joe] Paterno -- you know, that old guy mentality. They do things their way and if it's not their way it's no way, and I was tired of that philosophy already.

PF: And then you walked right into it again.

LJ: And I walked right into it again. Somebody was saying "we like the older guy better" and "you'll have your time in the sun" and "we have to get Priest Holmes his touches. ..."

Otherwise this is not college any more. This is NFL. You play the guys you can produce. I had to really fight, scratch and yell just to show a little bit of what I can do.

PF: So, you came out of college after leading the nation in rushing during your final season at Penn State. And Vermeil says you'll make a "great security blanket"; your offensive coordinator, Al Saunders, called you a "contingency plan;" general manager Carl Peterson, "an insurance policy." When did you start to realize how things were going to work out?

LJ: It was real clear right away. When they first told me I had no problems being Priest Holmes' backup. Obviously he did his thing before I even got there, so I was just running behind him. But when they played another running back (Derrick Blaylock) in front of me and tried to use the excuse that I didn't learn the offense or I couldn't pick up the protections fast enough for me to play as a backup; that was when it hurt my feelings.

If you don't think I can do it then get rid of me. Send me to a team that doesn't mind playing me when I'm young and I'll learn from there, because you can't learn sitting in a classroom in football. You learn when you're on the field. That's when you learn best.

PF: So they're preaching patience but from your perspective, this is not something you can do forever, right?

LJ: Yeah, exactly. I played the patient game my whole career -- I played it in high school and I played it in college and at some point in time you just get tired of people saying you're going to have to be patient and patience is a virtue. ...

I think I understand patience because I've been through that more than twice in my football career. Sometimes you just have to cut the strings to let one person loose.

PF: And how much are you thinking about that late in games when someone's standing in front of you and you have a chance to put a shoulder into them?

LJ: All the time. I usually hear it all week: He's not going to be good enough to do it this week. He can't do it next week. This defense is too good against the run. ...

I gather all that information. I shouldn't be listening to it, but it's just so hard, because I love football so much. I hear all the negative things and use all those negative things. When I'm on the field I kind of let it all go. That's a great time for me to really release it.

I just need to go out and try to run everybody over or make somebody miss and run tough.

PF: Given all his comments about patience and bringing you along slowly, did you feel like Vermeil was intentionally holding you back simply because you were a rookie?

LJ: A little bit had to do with that. A little bit had to do with his philosophy; what he was thinking should be the plan for me. That was his mindset and his motive and I couldn't do anything about it because it was just his thing, so all I had to do was just sit there and take it.

PF: Seems to me that Carl Peterson took a fair amount of heat for picking you -- at least initially -- and I've always had the impression he's had your back -- primarily because you were his pick. Do you see it that way?

LJ: Yeah. Exactly, because he realizes that he brought me in here. He always used to tell me we're joined at the hip whether I like it or not, because it was his decision and his pick and all the guys wanted to go in another direction, but Carl came and watched me work out so he was more impressed with me.

I guess some of the other coaches at that time thought that they needed a defensive guy, and Carl Peterson kind of stuck his neck out there and picked the guy that played the position behind a guy that was already established at that position.

PF: Is it true that Peterson timed you at 4.37 in your pro day workout (in 2003).

LJ: Yeah.

PF: Seeing a guy your size moving that fast might have had something to do with his support. ... I want to run this by you: Peterson told Pro Football Weekly in January of 05: "Sometimes he gets asked a direct question, and he gives a direct answer." Do you think that's created a misperception about you? Do you think it allows the media to turn things against you?

LJ: All the time. ... Some people are afraid of honesty and I think that sometimes when I speak my mind in an honest manner people turn that on me and say, okay he's selfish. He thinks only about himself, but they don't look at the example that I'm living.

I'm glad I'm doing 100-yard games but I always said blocking was the key; the coaching calls were the key. That our defense shutting the guys down so I can get the opportunity to even get the ball again was the key. I never even talked about myself and people call me selfish and turn it to where I was always thinking about me.

When I do charity events I don't want TV cameras and stuff to be there because that's what I do. I don't do it for the publicity. I do it because I feel in my heart that's what I have to do.

PF: It seems like a double-edged sword. I mean everyone would like all the athletes in the world to be honest with them and then when someone is, the truth doesn't set them free. It irritates them.

LJ: Yeah, it's like, "Aw, what is he talking about? He doesn't know what he's talking about. ..." I'm not out here to yell and talk behind my teammates' backs and then go and pretend like I'm an honest person. I'm not going to do that, but I'm going to tell you the truth and tell you how I feel about this certain situation.

If you don't like it I'll respect your opinion. But don't try to paint it like I'm all for me, because I never even came to this game trying to have it all be for me.

PF: You mentioned charity events. What do you have going in that regard?

LJ: My foundation is called the Growth and Legacy Foundation. I have the 2.7 Program -- because I wear No. 27-- underneath that foundation. ... Right now, I'm taking kids who earn a 2.7 (grade-point average) for the [school year] on real big trips.

I may take a trip to Disney World. I may take a trip to Six Flags. Those groups of kids that qualify in the 2.7 Program I take them to do different things. Sometimes I just take them out to dinner at a classy place so they know what it's like to have class and know how to handle themselves in an environment that's not a McDonald's or a Burger King.

PF: How important do you think it is to give something back to the community? Is that pretty high on your list?

LJ: I mean it's real big. Some guys they feel like it's a must because of where they came from. Like me, I never grew up as a poor kid. I never grew up without a mother or a father. I had both my parents and they're still together, but at the same time I lived through my dad and my dad was always the kind of guy that helped out the kids that's weren't fortunate; who didn't have those same type of morals that he grew up with and I grew up with.

So I try my best to get it through these minds that there's more out there than what they see on TV or what they go through in their daily lives. There's more out there for them to reach, and I just think that it's a responsibility of mine as an athlete to make them see that.

PF: All right. ... Going back to August of 2004, we started hearing trade rumors. The first involved Miami shortly after Ricky Williams' surprise retirement. What did think about those rumors at the time?

LJ: I thought it was funny. I was hoping that it was really true and they would send me somewhere where I could play because. ...

PF: You wanted the ball in your hands.

LJ: Yeah. If you have somebody that can produce why sit them on the bench? If you're not going to use them have somebody else use them. I felt that way and then when they started talking about Tampa Bay and Miami trades I was like well, "I hope they can get it done." Both teams at that time -- before they had Ronnie Brown and Cadillac Williams -- they really didn't have a running back they could depend on, but I would have loved to go down there and play for John Gruden or whoever coached over there at Miami.

Especially coaches that want young talent to go out there and play.

PF: There were also rumors emanating from in the Pittsburgh area that the Chiefs and the Steelers were talking about a trade that would send you to the Steelers for wide receiver Plaxico Burress. Did you hear that one?

LJ: Yeah, I've heard that a little bit.

PF: What did you think about it?

LJ: Even when they took Kansas City's spot at 16 and bumped me down to 27, I thought Pittsburgh was going to take me at that spot and they didn't. I'm still pissed about that because I thought that, you know, a home-town kid they could have drafted me.

PF: Tell me a little bit about (new offensive coordinator) Mike Solari. I heard him described as "the architect of the running game" under Vermeil and Saunders. What we can expect from him as a play caller?

LJ: I think he's going to be the same but it's not going to be more of that razzle-dazzle that you've seen with Al Saunders where there's going to be multiple shifting and all that stuff. I don't you'll see me many times shifting out to where the wideout is or run routes any more, but I think it's going to be obviously a little bit more fun as far as the runs go, because it's not going to be predictable.

We're not going to have 32 runs in a game and let that be that any more than we're going to pass 50 times a game. I think we're going to have a balance of both so you don't know where we're going to come and hit you from. I think it's good having Mike Solari because we don't have to bring in a new system. We can use the system that we already have.

PF: The rushing attack produced an average of 149 rushing yards a game last season. That counts for something I would imagine.

LJ: Oh yeah.

PF: Solari will get an assist in the passing game from Terry Shea, who returns as quarterbacks coach. Also returning on offense will be receivers coach Charlie Joiner and running backs coach James Saxon. In other words, most of the offensive staff has been retained. Is that helpful?

LJ: Yeah, it will help me because I will know what Charlie is telling the wideouts. I would know what the coach is telling the quarterbacks and I will know what the different coaches are telling the offensive linemen, so everybody can be on the same page rather than bringing in somebody new that you have to teach a whole new different technique and I don't know what I'm seeing in the game -- if this receiver is running this new blocking technique where I have to adjust.

It's the same guy and I can expect the same out of every single player now.

PF: Which brings us to another positive. Getting back most of the elements in an offense that led the league in total yards over the past two seasons has to help, too.

LJ: Definitely. The offense has been doing so good. It's been No. 1 in NFL or No. 2 in NFL from year to year. You've got to leave greatness alone and let us just do what we do.

PF: Holmes was put on the disabled list Nov. 9 with head and neck trauma and the team is still awaiting a decision on whether he returns. Edwards and Peterson (in April) made it sound like they expect him back -- Peterson said he would count Holmes "in" until he hears otherwise. ... Have you heard anything -- from Holmes or others -- about his intentions? Or do you just hear what we hear?

LJ: I hear what you hear, and I really don't care whether he comes back or not. If I was a player in his position and our team was. ... Seeing if he wants to come back or not, why not pick up the phone and call the coaches.

None of them got a phone call from him yet I don't think.

You would think that a guy like that he would respect his profession to say hey, this is what I'm thinking. This is what I want to do, and I'm working out right now. I'm with my family. At least call and say something so that when people ask the Priest Holmes questions they don't have to bring up answers out of the dark because they really are not sure.

I've got to kind of move on with my career. When people ask me Priest Holmes questions I really don't really want to get into it because. ...

PF: It's not really an issue for you.

LJ: It's not an issue for me. It would be better if he was like a Tony Richardson -- where Tony was more of a hands-on person in my growth process in the NFL. I know Tony would call me. Even now he's with the Vikings. Tony still calls me and sees how I'm doing and I'm seeing how he's doing. That's what being friends and professionals is about.

But when you're just a guy on the team that nobody knows what you're going to do from day to day, how can you wait on that person?

PF: How much will Richardson's loss hurt you?

LJ: It will hurt me a lot because now I've got to be the focal point and leader and usually I just follow behind him because he's been such an inspiration to me. Not only as a blocker on the field but I also feel like, not that I'm a bad seed or something, but he kept me in line as far as what he thought of what I'm doing and what I'm doing from day to day and how I can get better.

I'm going to lose that because now I won't have nobody to talk to when things are going rough. I won't have nobody to bring that out of me like Tony did.

PF: In terms of on the field, do you know much about (fullback) Ronnie Cruz? Right now it looks like he's the guy.

LJ: Ronnie Cruz right now is a little unproven because he still has to learn. He's almost a year behind me where he has to learn the offense. He's still a little uncertain about who he has to block, which I'm pretty sure he'll learn just like I've learned, but sometimes some of those slip-ups in the game just like I had to experience with blocking -- some of those slip-ups can cost you a game, a player on your team. You don't know what, but right now we have to get Ronnie Cruz ready to play.

PF: In an interview published on the team's official web site the first week of April, Trent Green was asked how you'll get along without Richardson and Holmes -- if that's how it works out, and he suggested you're ready to take on a leadership role yourself. Do you agree?

LJ: As far as the way I play and the excitement I bring. I have so much fun out there banging against guys and I think guys can kind of feed off my image, because I'm out there trash talking against D-linemen and linebackers. Trent knows that I don't want to make mistakes and I don't want my other players on the team to make mistakes, so I'm going to care about the next guy that has to work with me.

PF: Tell me, what do you like about Trent Green?

LJ: It seems that he's an example of the old adage that like wine it gets great over time. I think that's how he plays. He's getting better every year. He gets older, but at the same time he's always been that solid leader. He's right about some of the things he's said about me because I feel like I owe so much to Trent. There's been times when I let Trent down but he never looked at me like "Oh, you're screwing up" or stuff like that, and that's why I feel like I can't do enough for Trent. He's been there for me.

PF: Much like Richardson, Eddie Kennison tends to draw a lot of praise for his locker room presence. What do you think about the way he handles himself? Are you close to him at all too?

LJ: Yeah. I'm very close to him. When I was going through my two (recent assault) cases he was always there. You would expect those guys that are in your position to show up at your door. Eddie was always the first guy that would show up at my door like "Hey, are you all right? Do you need anything?"

He's been great inviting me over to his house to eat dinner and stuff like that when I was just living by myself. He's always been there as far as a spiritual person to rely on because he's always been consistent. He has his own family so he knows as far as responsibility goes what's important.

PF: That's cool. Do you think that both you and Tony Gonzales can be happy in this offense? He wants a lot of touches. You want a lot of touches. Is there enough ball to go around?

LJ: I think so as far as what we do game planning wise. He's successful at one thing. He has to keep going. Obviously Tony's a great tight end. He's going to get his chance to get some balls this year.

PF: All right. ... One last question: What's your overall perception of Fantasy Football? What do you hear about it?

LJ: I love it because it makes a diehard Philadelphia Eagles fan become a Larry Johnson fan; it makes a Chicago Bears diehard fan from like the 60s and 70s become a Larry Johnson fan.

It's so fun to watch other people pay attention to their own team but also pay attention to their Fantasy team. It's kind of cliché, but they come up to me like "Hey, you saved my fantasy football team. You made me win the championship."

If I had a dollar for every time I heard that I'd be doing pretty good.

PF: You're doing pretty good as it is man. ... Keep it up. And let us know if there's anything we as Fantasy owners can do to make you any angrier.

LJ: (Laughing) I will. Thanks.


---

Our latest Cheat Sheets updated constantly through September.
---
class="headline" onClick="expanddiv('tr1')" style="cursor:hand; cursor:pointer" onmouseover="window.status=' ';return true">Report: Le'Veon Bell Won't Show Up This Week (10/22 5:03 PM PT)


class="headline" onClick="expanddiv('tr2')" style="cursor:hand; cursor:pointer" onmouseover="window.status=' ';return true">Raiders Placing Marshawn Lynch On Injured Reserve (10/22 4:52 PM PT)


class="headline" onClick="expanddiv('tr3')" style="cursor:hand; cursor:pointer" onmouseover="window.status=' ';return true">Marrone Announces Blake Bortles Will Start Week 8 (10/22 3:31 PM PT)


class="headline" onClick="expanddiv('tr4')" style="cursor:hand; cursor:pointer" onmouseover="window.status=' ';return true">Derek Anderson Will Start Week 8 For The Bills (10/22 3:30 PM PT)


class="headline" onClick="expanddiv('tr5')" style="cursor:hand; cursor:pointer" onmouseover="window.status=' ';return true">Ryan Tannehill Will Not Play Again This Week (10/22 2:56 PM PT)


class="headline" onClick="expanddiv('tr6')" style="cursor:hand; cursor:pointer" onmouseover="window.status=' ';return true">Marrone Knows His Plan For Blake Bortles This Week, But He Isn't Saying (10/22 2:49 PM PT)


class="headline" onClick="expanddiv('tr7')" style="cursor:hand; cursor:pointer" onmouseover="window.status=' ';return true">Cowboys Deal For Raiders WR Amari Cooper (10/22 2:12 PM PT)


class="headline" onClick="expanddiv('tr8')" style="cursor:hand; cursor:pointer" onmouseover="window.status=' ';return true">Josh Rosen Out Of Walking Boot But Not Practicing (10/22 12:54 PM PT)


class="headline" onClick="expanddiv('tr9')" style="cursor:hand; cursor:pointer" onmouseover="window.status=' ';return true">Keke Coutee Likely Out This Week, But Injury Isn't Considered Serious (10/22 12:54 PM PT)


class="headline" onClick="expanddiv('tr10')" style="cursor:hand; cursor:pointer" onmouseover="window.status=' ';return true">Report: Sony Michel's Knee Injury Isn't Serious (10/22 12:31 PM PT)


---