WCOFF Interview with Jed Michaelson
2004


On the weekend of Super Bowl XXXVIII, Alex Hayden and Jed Michaelson were in Houston, Texas. They were there to be crowned as the 2003 winners of the World Championship of Fantasy Football. Alex and Jed received a $200,000 check and the WCOFF Crystal Trophy. Lenny Pappano, editor of draftsharks.com and co-founder of the WCOFF, sat down to chat with Jed about his Championship season.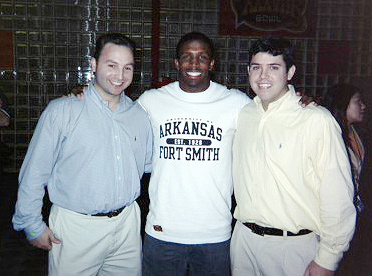 LP: I've heard that you guys are friends from preschool days. ... Is that true?

JM: We've known each other since we were four or five.

LP: Tell me how you first heard about the WCOFF, and what your thoughts were about entering. How confident were you in being able to compete for the World Championship?

JM: We do a lot of fantasy research for our local leagues, and came upon the WCOFF while surfing the web prior to your inaugural season. We didn't end up entering that first year, but were very interested. When it came time to enter in Year 2, we went for it. Working together, we felt there wouldn't be many teams that would have an advantage over us because we pride ourselves in knowing every move that happens week to week. To be honest, we felt we could win our league but never really considered the possibility of winning it all until after we won our league championship game.

LP: Describe the experience of preparing for the draft. How many hours do you think you put in?

JM: In terms of sitting down and preparing together, we barely put in any time at all. We exchanged lists over email, talked a few times, etc. If we were to include the time we put in just doing research on players, however, I think that would be tough to measure. Prior to and during the season, we scour the web for info whenever there is a free moment.

LP: What was it like drafting? Were you overwhelmed or excited to be drafting in Vegas with 1,000 other people in the room? Did the TV cameras bother you?

JM: The draft experience is just awesome. To be honest with you, we really just took it all in and went about our business (football cliché). We each had a binder full of player information, and because we were working together, we were always ready to pick when it was our turn. Regarding the cameras, they weren't really a disruption at all. Strangely enough, the team next to us in the draft was working with a film crew as part of a documentary. ...Guess they asked the wrong team to do that one!

LP: Take us through the first 10 rounds of your draft. What were your best and worst picks?

JM: We picked No. 4 and took Priest Holmes because he was available. However, if we had picked No. 1, we still would have taken him. Our best pick of the first 10 rounds was probably Torry Holt, who we were targeting to get with our third pick. Everything fell right, and we got him in that position. Our worst pick was probably Onterrio Smith at No. 5. We took him because all other good backs were going at that point, and we had to address the need.

LP: Did you have any critical free agent pick-ups during the season?

JM: We had two pick-ups that made our season… after week one, we picked up Anquan Boldin, who everyone knows turned out to be a complete stud. Moreover, we got Boldin for the third lowest price out of all the 50 WCOFF leagues-I think we paid $301. Our second great pickup was Brian Westbrook, whom we paid $11 for. We picked him up before he began to take on a larger role, and he was amazing for us throughout the year.

LP: Where was your team ranked at the beginning of the WCOFF playoffs, and when did you realize that you had a good chance to win the Championship?

JM: We were ranked fifth going into the playoffs, and that was really the first time we thought we'd have a good shot to win. Once all the bye weeks were finished, we realized that when our lineup was at its best, we would score 150+ points per week. That is when we knew we really had a shot.

LP: You were in first place heading into the final week of the WCOFF playoffs. Describe that experience. Any sleepless nights?

JM: After week 2 of the playoffs, the pressure started to mount. We felt that we were in good position (2nd place, down 20 points), and the leader had Clinton Portis, who was injured and was not going to play in week 3. To top it all off, we had hundreds of co-workers and friends following along and rooting for us. If we lost, it would have felt like we let everyone down, even though there was nothing we could do but enter our lineup. Alex, I, and a group of friends went out to dinner on Saturday night of the last week of the playoffs, just after Priest Holmes had run wild in the second half versus Minnesota and scored three touchdowns. We tried to temper our enthusiasm, but it was tough.

LP: When did you feel comfortable that you were going to win the Championship? Last year's champ, Chris Schussman, described a feeling of being relieved when he finally won.

JM: After the early games on Sunday, we felt like we would have to have a big collapse to lose it. We had a lot of players that overlapped with the closest competition going in the late games-Boldin, TO, Garcia-so there were very few areas where our lead could be cut. The feeling after winning was kind of hard to describe. ... Like we knew going in that we had a good chance to win this thing, it actually happened, it was over and what do we do now?

LP: What players came up big for you down the stretch?

JM: Aside for our consistent performers like Holmes, Boldin and Holt, the guy who really came up big for us was Jeff Garcia. He had monster weeks during the playoffs. Also, we had a hole all year with our flex player, and Anthony Thomas came up huge for us when we needed it most down the stretch.

LP: Tell us about the WCOFF Check and Trophy presentation. How was it to be in Houston on Super Bowl weekend? And what are your best memories about the weekend?

JM: It was great. The Super Bowl is crazy-like an NFL Players convention. We met a lot of the players, but meeting Priest Holmes and telling him that he won us $200,000 was great. He was so cool about it, like he was really into Fantasy Football, and was genuinely excited for us.

LP: ESPN's Suzy Kolber presented you with the check and Trophy… Is she as cute and spunky in person as she is on TV? Did either of you guys pull a "Joe Namath?"

JM: She is very cute, smart, and cool. Neither of us pulled a Namath, although that joke was bandied about beforehand several times prior to us meeting her.

LP: What's been the reaction of friends and family about your Championship?

JM: We had a huge following for the last few weeks when it was coming down to the wire, so everyone was just really happy for us.

LP: What are you plans for the $200,000 grand prize?

JM: I think Alex is putting a pool into his house, and I'm going to save a good chunk of it to put toward a down payment on a house.

LP: Has anybody commented on the WCOFF Crystal Trophy? Are you guys going to split time with the Trophy?

JM: We are going to handle it with white gloves only.

LP: Have you received any media attention?

JM:We were on FOX 5 News in NY-a three-minute segment that ended up being a very positive piece about us and the WCOFF.

LP: Sum up your thoughts on the WCOFF.

JM: A fantastic experience-one that we've recommended to all of our friends and many are entering their own teams this year. I would say it was once-in-a-lifetime, but we plan to defend our title again this year.


---

Our latest Cheat Sheets updated constantly through September.
---
class="headline" onClick="expanddiv('tr1')" style="cursor:hand; cursor:pointer" onmouseover="window.status=' ';return true">Randall Cobb And Geronimo Allison Are Practicing Tuesday (10/23 11:00 AM PT)


class="headline" onClick="expanddiv('tr2')" style="cursor:hand; cursor:pointer" onmouseover="window.status=' ';return true">Report: Le'Veon Bell Won't Show Up This Week (10/22 5:03 PM PT)


class="headline" onClick="expanddiv('tr3')" style="cursor:hand; cursor:pointer" onmouseover="window.status=' ';return true">Raiders Placing Marshawn Lynch On Injured Reserve (10/22 4:52 PM PT)


class="headline" onClick="expanddiv('tr4')" style="cursor:hand; cursor:pointer" onmouseover="window.status=' ';return true">Marrone Announces Blake Bortles Will Start Week 8 (10/22 3:31 PM PT)


class="headline" onClick="expanddiv('tr5')" style="cursor:hand; cursor:pointer" onmouseover="window.status=' ';return true">Derek Anderson Will Start Week 8 For The Bills (10/22 3:30 PM PT)


class="headline" onClick="expanddiv('tr6')" style="cursor:hand; cursor:pointer" onmouseover="window.status=' ';return true">Ryan Tannehill Will Not Play Again This Week (10/22 2:56 PM PT)


class="headline" onClick="expanddiv('tr7')" style="cursor:hand; cursor:pointer" onmouseover="window.status=' ';return true">Marrone Knows His Plan For Blake Bortles This Week, But He Isn't Saying (10/22 2:49 PM PT)


class="headline" onClick="expanddiv('tr8')" style="cursor:hand; cursor:pointer" onmouseover="window.status=' ';return true">Cowboys Deal For Raiders WR Amari Cooper (10/22 2:12 PM PT)


class="headline" onClick="expanddiv('tr9')" style="cursor:hand; cursor:pointer" onmouseover="window.status=' ';return true">Josh Rosen Out Of Walking Boot But Not Practicing (10/22 12:54 PM PT)


class="headline" onClick="expanddiv('tr10')" style="cursor:hand; cursor:pointer" onmouseover="window.status=' ';return true">Keke Coutee Likely Out This Week, But Injury Isn't Considered Serious (10/22 12:54 PM PT)


---