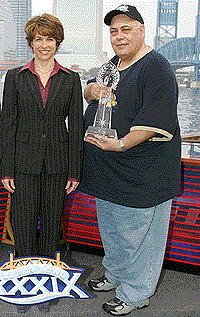 WHAT THE HECK HAPPENED THIS YEAR! II
(AND WHAT'S GOING TO HAPPEN IN 2007)
By John Culligan (2004 WCOFF co-champion)


Wild Card Weekend is over and the fans from New York, Dallas and Kansas City are now looking forward to next year. Hope springs eternal for the Colts, Seahawks, Patriots and Eagles as they advance. Bobby Petrino has left the safe confines of Louisville and entered the den of the coach killer in Atlanta. Personally, I think the transition from college and a new staff will make Bobby's first year extremely difficult. As a follow-up to last week, I also don't see good things for the skill players in Atlanta next season. Also, we've added to the "club" of teams looking for a new head coach, the Steelers and the Raiders – soon to be joined by the Giants?
So moving right along to our next group, I'm starting with (alphabetically) the …

DALLAS COWBOYS
Having been eliminated, the "big" question is - will Bill Parcells be back and Terrell Owens gone or vice versa? I think they're both staying.
To me the more important question is - will the running back situation stay the same? It seems that every time the Big Tuna yanks Julius Jones for Marion Barber that Jones loses a little more of his manhood. Then, when it's most important, the emasculated Jones doesn't have the heart to finish out a play - seeming to go down as easy as the school…well you know what I mean. Barber, on the other hand, is an overachiever that doesn't have the "natural" talent of a top back, but the drive and determination of a man who knows his physical limitations and has the fire within to overcome. With just one third of the touches, Marion had four times the number of TDs, over twice the number of catches and a higher yards p/carry average than the man who starts ahead of him. I think if a stud college back is available to Parcells in the draft, Tuna would be wise to grab him and then trade Jones and/or Barber for another draft pick to use on a lineman. It's hard to project who you should draft first next year if you have no other choices. I personally would take Barber.
Tony Romo, starting just ten games and taking his first regular season snaps in the NFL, took a lot of heat for faltering down the stretch. No matter what, he's still a better fit for this team than Drew Bledsoe. Drew, with his lack of mobility and predictable tendencies, had and has no upside. Tony, will continue to mature with experience and develop his skills, being a fine top ten fantasy QB for years to come, especially if...
Terrell is retained, as I think he will be, even with all the negative talk about his drops and distraction-laden personality. I dislike T.O.'s off the field persona intensely but the numbers bear him out. Playing with a broken hand, then a surgically repaired hand, I look at his production and say, "What if?" Sure you're disgusted with the whining and crying displays, the "it's all about me" publicity hog attitude and the selfishness that comes out in his sideline tirades. Who isn't? Just look at this year's numbers and imagine an increase to 90 catches, 1,300 yards and another 13 to 16 TDS and tell me that you wouldn't take him as one of your top five receivers. Also, having Terry Glenn as your third receiver, based on this year's production (70, 1,047 & 6), is strong, especially since you'll be able to get him somewhere in rounds seven through nine. Finally, you should take Patrick Crayton as your insurance policy for either of them. He's demonstrated his talent and reliability enough to be a solid bench player drafted in the later rounds.
At TE, Jason Witten is the definitive team player. Earlier in the season, with the immobile Bledsoe needing extra protection, Jason stayed at home blocking with the rookie, Anthony Fasano. His production immediately went up when Romo started taking the snaps. One quarter of his production (16) came with Drew and he caught 48 passes from Tony. You do the math and then tell me, that next year, Witten won't be closer to the 87 catches he had in 2004. With Owens, Glenn and Crayton, I know he won't catch as many TDs but he'll be worth spending an eighth round pick as your starting TE.
Expect the D/STs to improve and be ranked as they are now in the top ten, maybe even moving up a few spots. Still you won't want to draft them any where near the time you'd draft the Ravens or Bears. They can wait. Forget about taking the eccentric, excitable and enigmatic Martin Gramatica; he's average and with Parcells penchant for losing confidence in his kickers, who knows what can happen.

DENVER BRONCOS
My fantasy nemesis, Mike Shanahan, thinks that he knows so much about football. Just because he's coached real players for decades and won a couple of Super Bowls, he thinks he can mess with my fantasy football team. Well let's face it; it's not as if this is something new. Sure it's frustrating and we can offer all kinds of opinions about this control freak maniac until cows grow wings and fly, but it's not going to change a thing. Mike Bell – proclaimed season starter, drafted in the fourth round by FF GMs – waste of time. Tatum Bell, smarter FF GM knowing that he has more talent takes him later in the fourth round – waste of time. You just never knew when Shanahan was going to have an ego-fit and sit one of these guys on the bench.
Then there's Jake Plummer. "He's my GUY," says Shanahan -- at least for the first 11 games -- then Shanny throws away the season and the playoffs by starting the rookie, Jay Cutler. Okay, enough with the griping. Everyone of us know what we're getting when we draft a Bronco player, so instead let's speculate on the future.
Cutler is the man in Denver and with the valuable experience he got with starting the last five games, the learning he'll get in the minis and pre-season and his flat out abundance of physical talent, Jay will be a good backup for your fantasy team next year and Plummer will likely find himself in Houston or another NFL city. Just remember, the team prefers to run first and as talented as Cutler, Javon Walker and Brandon Marshall are, they won't be the focus of this offensive scheme. I mentioned last summer that Walker would have about 70 catches and that Rod Smith would see his production go down. I didn't realize just how much Rod's numbers would drop as his production fell to the lowest level since he became a starter in the league. I also believe that if Smith (who'll be 37 years old) doesn't retire that he'll see the young man, Brandon Marshall take away more of his targets. Look for an increase in Tony Schefter's FF value at TE as his knowledge and experience see him become more important to Denver's offense.
As far as RBs go, will Shanahan look to add to his stable of horses? Watch the draft for those unpolished gems that may find their way onto the Denver roster. I'd like to think that Tatum Bell, the most talented back on the roster, would be handed the unconditional every down starting job. Don't believe it? Look for the same mess again unless someone else emerges with an impressive spring and summer.
The defense started out strong but by the end of the season they were just average. They're not worth drafting and looking at the kicking game nothing's changed in the last 14 years. The ageless Jason Elam is the kicker's model of consistency and is only limited by the number of opportunities the offense gives him. Take him late in the draft.

DETROIT LIONS
So I've heard that Matt Millen has blackmail pictures of the Lions owner with outerspace farm animals (LOL). How else can we explain why Millen is retained with his record of ineptitude? Look out you rookie wide receivers in the first round; the Lions have the number two pick! All jokes aside, the Lions aren't that far away from becoming contenders. Well maybe? I do like what Rod Marinelli and Mike Martz have brought to this team, so it's possible with a few additions…
Look at Jon Kitna, already named the starting QB for 2007. While a little short on the TD (21) passes and long on the interceptions (22) - he was just introduced to Martz's offense this year – he is up there in FF point production. Another black mark was his being shutout in four games, so no along with his age I wouldn't recommend him in a Keeper League, but if the Lions are true to their word and leave him as their number one, then you can expect his numbers to get better. His completion rate was the same as the last time he was a full-time starter in Cincinnati and he has just enough mobility to make him viable for a couple of rushing TDs (156 yds & 2 TDs) that somewhat mitigate the interceptions. If the Lions take a QB with the second pick, then all bets are off; if they go with a RB, then I think that Kitna can be a starting sleeper (simply because people will say, "Jon Kitna??????") who will be available in the tenth round.
Lisfranc surgery has Kevin Jones possibly sidelined for all of 2007 and until the season-ending injury; he was on a pace for 1,600 combined yards, 80 catches and 11 TDs. Not bad, huh? Well, let's toss those numbers out the window for now (looking at his age, he could rebound in 2008) and we see that the Lions have a problem at RB. Unproven Brian Calhoun is recovering from a torn ACL. Aging Shawn Bryson's season also ended with a knee injury. Arlen Harris and Lamar Gordon haven't shown they are frontline starters and the possibility of Marshall Faulk reuniting with Martz does little to inspire dreams of resurrected fantasy glory. I think the Lions have to take the best RB coming out of college, sign him fast and have him in the starting lineup on opening day.
The Lion's WRs could be upgraded, whether it takes place with Mike Williams finally making the grade, another draft choice (please, not in the first round) or a free agent, it's a necessary addition to the dependable Roy Williams and converted safety Mike Furrey. If the status quo is unchanged, you can feel comfortable taking Roy as your number one receiver if you've gone RB, RB and Furrey has gained enough respect to be moved up to a number two spot on your roster, probably around the fifth or sixth round. Don't expect much production from any Detroit TE, it's just not an important facet of a Mike Martz offense.
Considering that Marinelli was a defensive coordinator, it was expected that the Lion's would improve in this department. They didn't and you shouldn't even consider them as they don't force turnovers, give up too much yardage and can't stop anyone from scoring. Jason Hanson, another ageless wunderkicker has always been accurate and there's no shame in having him on your roster.

GREEN BAY PACKERS
I believe Brett Favre will be back and 2007 will be his final year; it's Ahman Green that I'm not sure about. Entering his tenth year, Green only had 100 yards in five games and seemed to disappear entirely in others. He missed two games completely and the Packers may be looking to part ways with the 30-year-old back. If they don't, you will still see the younger Vernand Morency becoming more of a factor in the offense. He's got good burst at the line of scrimmage and dependable hands. If Ahman departs you can feel confident in taking Morency as early as the third round.
Brett, working with a young team, is no longer every game starting material for your fantasy team. As a backup or situational starter, you might want to take him as your second or third QB (can you live with the interceptions?) in one of the last six rounds of the draft. Don't think that he'll be someone you can depend on as your number one.
Donald Driver still has that special connection with Favre but inexplicably disappeared for six games with less than 3 catches in each of them. Yet in seven games, he had seven or more catches for some monster fantasy points. He's worthy of being your second receiver as long as Brett is throwing to him. The rookie, Greg Jennings, was a pleasant surprise in the first half of 2006 before fading in the second half. He was nicked up a bit and probably was a victim of the "rookie wall." I believe he's an excellent compliment to Driver and will get better. He's a good bench player for 2007 and as your bye-week fill-in or injury replacement but don't draft him too high. The Packers would do well to sign a dependable free-agent receiver to draw attention away from their top two as a slot receiver making everyone in the WR corps more valuable. Whether it's the scheme or diminishing talent, the TE position led by Bubba Franks, David Martin and Donald Lee couldn't be counted on to produce for "your" team unless you were absolutely desperate. Don't look at any of those TEs for your fantasy team.
Green Bay's D/STs were horrible statistically and gave up a lot of TDs. Because of turnovers and defensive scores they looked great. The team has an opportunistic character but you can't rely on those turnovers when you're drafting. Dave Rayner was just average and both the D/STs and kicker for the Packers shouldn't be on your draft board.

HOUSTON TEXANS
Where do you start with this team? Andre Johnson started strong, became erratic, then faded down the stretch. Was it his fault or did the play at QB cause Johnson, who you counted on as a stud, to perform at less than full potential? I'm not sure but given a choice next season, he's still a number one WR for your team after RB, RB in the first two rounds. Eric Moulds performed as about expected, except in the TD department, but that was an area that Johnson also was deficient in. The Texans offense still hasn't caught on to the scheme enough to learn how to get in the end zone.
For this reason, I believe if the Broncos let Plummer go, the Texans will try to bring him in. And if, as I read in FootballDiehards.com that, Domanick Williams formerly know as the stud, Davis, is nearly 100 percent, we will see an upsurge in scoring for all these fantasy players. If David Carr remains the starter, I don't see much more value in the Texans' skill position players. So here's the recap for the skill positions: Neither Carr or Plummer are top fantasy producers and shouldn't be more than the third QB on your rosters. Andre's a stud and deserves to be a top ten WR. Moulds, in his declining years, is nothing but a fantasy bench player as insurance or bye-week fill-in duty. Williams if back at full strength should be an early second round choice. Last year's multiple RB starters, Ron Dayne, Wali Lundy and Samkon Gado (all at various points during the year) are late round options. A final note on the RB situation is for you to keep your eye on Chris Taylor, who I believe to have some promise. It's pretty sure that one of the three I mentioned as a group above won't be on the Texans opening day roster in '07.
At TE, Owen Daniels had a good promising middle season in '06 before the team's late season offensive fade and is worthy of drafting as your second TE somewhere in rounds 14 or 15. He has good hands and a nose for the end zone but don't believe that he'll take you to the fantasy promised land as a starter.
D/STs and kicker, Kris Brown, aren't even on the fantasy radar as the defense can't pressure turnovers and Brown doesn't get enough chances. Aside from the two obvious choices and a possibility at TE, stay away from the Texans in your 2007 draft.

INDIANAPOLIS COLTS
The team, the players and the system are the promised land of fantasy production. I'm not telling you anything you don't know. So let's look at something different. When should you draft each of their studs?
Looking for a repeat of the 2004 season, people are still drafting Peyton Manning in the first three rounds. Yes, he's a lock for the best QB numbers (or close to them), but is the differential enough to have him drafted so high? Considering the drop-off at the RB and WR positions and a differential of 6.5 points per game between the #1 and #12 fantasy QBs in ranking, I would forego Peyton earlier than the fourth round and take Drew Brees, Marc Bulger, Carson Palmer, Donovan McNabb and even Jon Kitna in the rounds five thru ten. The difference in value is just over 3 points per game for those I just mentioned, leaving you free to take a higher ranked RB or WR before their drop-offs occur.
At RB, I know that Joseph Addai will be the opening day starter next season and you can count on the job not being a shared position. Yes, Dominic Rhodes will provide Addai with relief and injury insurance, but you can count on Joe going in the late first round or early second round. He'll be a model of consistency in the FF points department and allow you to take a top five WR if you choose to go RB, WR as your draft strategy. Oh, did I mention he catches the ball well also!
There's good news and bad news for WRs, Marvin Harrison and Reggie Wayne. They're both so good that their numbers will be very close. The difference between them amounted to less than a catch per game, less than 4 yards per game and just three TDs for the season. The bad news is the difference could shift each year on the basis of who's seeing the better coverage from week-to-week. I don't believe that either one will reach 100 catches as long as the other one is on the field. Actually, their numbers were better with Brandon Stokley out of the lineup for most of the 2006 campaign and might dip a little bit next year if Stokley returns healthy. Even so the TE position siphoned off 85 catches this past year and as Manning trusts a receiver, the more he'll get targeted. Taking either one in the middle to late second round won't leave you disappointed.
Okay, the TE position got 85 receptions, I said that already but if Stokley is back, that number will come down a little. And because Dallas Clark, Ben Utecht and Bryan Fletcher are all so adept in the system, none of them makes a good starting fantasy player for your team. Taking one of them, starting with Clark, as your backup in the later rounds is a good idea, but don't count on them for great production.
Adam Vinatieri is one of the top kickers in fantasy land because he's clutch and on a high scoring team. Even missing three games in '06 still saw him finish in the top ten and there's no doubt that he would have finished in the top five if he'd played the full schedule. Still, as kickers go, you shouldn't draft any kicker earlier than the fifteenth round.
The Colts D/STs earned a big knock this year for its failure to stop the run. It was deserved as injuries to key run stopping personnel caused the entire defense to play off-kilter. When healthy, they're good enough to force turnovers because of the intense pressure their offense puts on opposing teams. It's not necessary to draft them but keep an eye on them as a waiver wire pickup if your original draft selection doesn't start well.

JACKSONVILLE JAGUARS
Frankly I'm surprised that Jack Del Rio didn't lose his job too. The expectations for the Jaguars, after a terrific 2005 season, were high and yet if the team were a car with the same name, we would be hollering at the dealer that we got a lemon. Sure, at times, we got the appearance of the luxury model with all the bells and whistles, but the lemon didn't do well on the road and the real troubling thing was that a couple of times it couldn't even get out of the garage (playing badly at home). The parts were constantly breaking down or not performing as promised. They should have been a rollercoaster with the up and down play that was exhibited by the skill players.
Byron Leftwich was ineffective, in the eyes of the coaching staff, even when he wasn't hurt. David Garrard became the chosen one only to throw off the anointing with some very erratic play at crunch time. It seems like a foregone conclusion that Leftwich won't be back. His delivery and lack of mobility have the team looking at Garrard and not being sure he's the answer either. Anyone drafting them in '06 was disappointed and frankly, regardless of the team they play for in '07, I can't see them being drafted on any team of mine.
RB was just less than a bright spot, for fantasy GMs, with Fred Taylor being limited or missing time in "only" three games. Unfortunately for the FF playoffs, the time was in the last three weeks of the season. His rushing and receiving yardage was acceptable but his TD (6) total was disappointing as he gave way to the rookie, Maurice Jones-Drew, who to most people was brightest spot at the position. Fred carried the ball 65 times more than Maurice but the youngster was the back of choice in the red zone. Jones-Drew also caught twice as many passes and as we all know led the team in TDs (16) scored. I think that Taylor will probably be around for next year but the bigger load will go to Jones-Drew. It goes without saying who you should have ranked higher on your draftboard.
While you weren't totally dissatisfied with either RB, I'm pretty sure that WR position is an entirely different matter. When Jimmy Smith decided to pull the plug on his career, the speculation was high on who would become the number one receiving target. Would it be Matt Jones, who showed such promise with his natural size and speed, Ernest Wilford, with his soft hands and nose for the end zone, or would Reggie Williams, in that NFL magical third year, finally blossoming to become the new number one. Looking at the erratic play of all three proved us all wrong in our choices. Williams started strong and then disappeared. Jones' running stride and injured hamstring left him with a lot of fantasy owners and Wilford left us shaking our heads with 10 games of two or less receptions and only one game of five catches. Looking ahead, I would have a hard time drafting any of the three come draft day in '07.
Marcedes Lewis was highly touted as the TE that could give the Jags an elite player at that position. The fantasy judges so often overlook the NFL rookie learning curve at that spot. Instead, the most consistent, TE receiver was George Wrighster, an unknown fourth year player, who tripled any of his previous years' production. That's not to say that Lewis will be a bust, it's more of a "let's wait and see" as neither one of them should be your starting FF TE.
Josh Scobee was probably the brightest spot on the team from a consistency point of view. He, too, is a question mark in terms of fantasy value. His accuracy goes down considerably after 40 yards (14/19) and there's no reason that you should consider him any earlier than the 19th or 20th rounds. The D/STs were a major disappointment. How does a team that holds opponents to 17 or less points in half their games finish 26th in fantasy scoring? They just couldn't take the ball away. Yes, they lost key players but their inability to be opportunistic causes me to take a wait and see approach in next year's draft.

KANSAS CITY CHIEFS
The Chiefs snuck in the back door of the NFL playoffs and if you had any of their skill players on your fantasy team, you probably went out the back door of your own playoffs. Taking Larry Johnson with the first pick, based on his phenomenal numbers from nine starts in 2005, probably earned you a season-ending horselaugh from the guy who took LaDainian Tomlinson. In any other year, even with the expectations you had for LJ, you would be happy with 2,200 combined yards, 19 TDs and 41 catches. He's a bona fide superstar on any fantasy team and a top three pick (number two or three) next year.
Trent Green, for all intents and purposes, played only six games this past season. The first game where he suffered that ugly concussion and his first game back where he was limited should be added to the eight he flat out missed. Still, his FF numbers for the rest of the season were lackluster at best. He's getting up there in age and seems to be losing a step and some arm-strength. He's no longer a starter for most FF leagues as his days of putting up over 4,000 yards are probably gone. Drafting him later as a third QB on your team is just an insurance policy, but that's all the recommendation that he'll get from me.
Tony Gonzalez is still a premier TE in FF circles. The Chiefs offensive line woes force him to block more for protection, yet he still manages to put up numbers that equal his career average. He's been fortunate to have two career years (in 2000 and 2004) and if K.C. manages to get some help on the line, he still might have another one in him. Still one of the top three TEs to be considered on draft day.
It drives me crazy that the Chiefs fail to find at least one stud WR. Even if Eddie Kennison disagrees with me, that failure prevents players like Tony G and LJ from performing at their best. On Kennison, he's never caught 70 passes in a season and his best year, TD wise, was his first year with the Rams (9). Yes, he has great straight-ahead speed and always manages to have about three great games a year. The rest of the time he disappears. If you positively need a fourth receiver and he's available around the 13th round, then take him, otherwise he a benchwarmer at best. Samie Parker has shown flashes but now going into his fourth year, he hasn't proven that he deserves a spot on a fantasy roster. He doesn't need to be drafted, as he'll be available on waivers. Dante Hall is another afterthought unless your league counts points for individual special team production. His straight-up fantasy value doesn't warrant being drafted.
Lawrence Tynes has a strong leg but his accuracy will drive you crazy. As far as drafting him, let's not and say we didn't. The Chiefs D/STs are in the lower half of the rankings. Other than Dante Hall, as a legitimate threat on returns, there's no reason to put this group on your roster.
Well, I hope that you're getting something out of reading this, even if it's just a good laugh or a way to satisfy you FF-Jones. If you want to let me know that you disagree, drop me a line at John.Culligan@Gmail.com . So until next week, when I'll be covering the next eight teams, enjoy the playoffs.