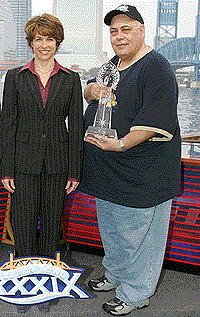 WHAT THE HECK HAPPENED THIS YEAR! III
(AND WHAT'S GOING TO HAPPEN IN 2007)
By John Culligan (2004 WCOFF co-champion)


How about those games this past weekend! They were fantastic and I hope that you enjoyed them as much as I did. And so we move on to the AFC and NFC Championship Games this weekend. Who will take the next step to the BIG game? I would like to see the Patriots beat the Colts and then meet the Bears after they take care of the Saints. I don't know if that's going to happen but both games should be interesting. The Cardinals decided on Ken Whisenhunt (A Whise choice, especially if he can stabilize that offensive line) to take the next step forward and just as importantly that means the Steelers have probably decided on Russ Grimm to coach their franchise next season. I still think that Mike Martz would have been a better fit for the Cardinals, but hey, it's not my money. Another impending head coaching hiring brings us to our next team in my look at the NFL and your fantasy performances and prospects.

MIAMI DOLPHINS
The word on FootballDiehards.com is that Jim Mora has been brought back for a second interview. After the disastrous comments about his "dream" job, I can't imagine any NFL team wanting to bring on Mora knowing that his sense of loyalty could interfere with his commitment. So the team is in a mess with Nick Saban's departure, deciding the grass is greener at Alabama. The amount of money didn't seem that much greater, so I wonder if Saban felt that the components just weren't right for putting out a winner in South Florida next season.
On paper you can't say that Joey Harrington deserves a shot at the starting job next season. Despite a four game winning streak in November when he threw seven TDs and four interceptions, while beating the Bears, Chiefs, and Vikings (the Lions don't really count, do they?), he really never looked that good. His passer rating during this "hot" streak was a low 79.5, which looked good compared to his season rating of 68.2 with three more interceptions than TDs. I think the club knows that he's not the answer and is nothing more than a backup. By the same token, I'm not sure the club believes that Daunte Culpepper is the answer. Sure it was just 2004 that he accounted for 39 TDs but without the enigmatic Randy Moss and his own limited mobility there have been a lot of people questioning Culpepper's capabilities. I believe in him. I think with the additional healing and rehab time that he could be your sleeper QB next season. The expectations were high for him in 2006 and it was just too soon. If you secure him as your starter, somewhere around the tenth round in the draft, be prepared to select another starter soon after. Otherwise he makes a good backup.
Ronnie Brown seems to have the ability to be a FF star, but without having to share carries with the eccentric Ricky Williams the team managed to give him only 20 plus carries in five games out of the 13 he played in. Sure he broke the thousand yard mark and added another 276 on 33 receptions, but his numbers, which included just five TDs, didn't do justice to his being drafted in the mid to late first round of most FF drafts. Is there a question of his endurance? Because of his disappointing FF performance and the possibility of Ricky's return, I can't see drafting him as more than your second, and maybe even your third RB and at the earliest in the late second or even third round.
Speaking of disappointments, Chris Chambers was expected to have a great year on the heels of his 2005 season. Well I guess that was an illusion too, as Chambers was probably the third best WR on the Dolphins this past campaign. Both Marty Booker and Wes Welker outplayed the gifted and talented number one receiver. After six years in the NFL, I can't even consider drafting Chris as anything more than the third receiver on my FF team. The undersized Wes Welker seemed to make the necessary clutch catches as the Dolphins often were playing from behind against loose coverage and even at that, he never had a 100 yards in a game and scored only one TD for the season. As exciting as it is to see watch the speedy WR, I wouldn't draft him, but I would keep him on my waiver list as a pickup in case of an injury to Chambers or Booker.
Probably the first Miami WR I would take is Marty Booker. He's not flashy or speedy but he runs good routes and has soft hands. He was signed as a compliment to Chambers and is clearly not the first targeted option. His value is under most radars and he should be available in round 12 when you're looking for backups on your bench.
Randy McMichael, the underachieving TE was quietly viewed as a sleeper for 2006. After all, with Culpepper (and his reputation for utilizing that position) at the helm, Randy was going to be a major part of the Dolphins' game plans. Well let's flush that idea down the commode as even during the four games that Culpepper played, McMichael had a whopping ten catches for 113 yards and no TDs. Sure he had a little hot streak of three games where he managed to catch 21 of his overall 62 receptions but his failure to score TDs makes him less desirable for your draft board. Although he ranked 11th, there are at least five other TEs ranked lower in fantasy points that I see with more upside for next season than McMichael.
The Dolphins D/STs are considered to be one of the better ones in the NFL. They put enough pressure on teams to force turnovers and even converted three of them into TDs. Although they shouldn't be considered for early drafting, it wouldn't be a bad decision to take them in the last four rounds of the draft. Olindo Mare had his poorest season since coming into the league ten years ago. The team will probably not retain him, but even if it does, his failing leg strength doesn't allow you to consider him for your list of possible kickers.

MINNESOTA VIKINGS
The Vikings are a fantasy wasteland, well, not quite but close – the Raiders are worse. Coach Brad Childress still has a lot of work to do. Except for Chester Taylor, there's no one else on this team that you would say, "how could I have missed him." Even the defense, which is one of the hardest to run against, is not worthy of draft consideration as an elite D/STs. They're probably in the top six, but as defenses change so much from year-to-year, I would probably put them beneath Miami, unless they make a significant free-agent acquisition. Speaking of free-agent acquisitions, Ryan Longwell was hardly worth your consideration in '06 and unless the offense can move the ball any better in 2007, he's not someone you want to draft.
Unless the Vikings add a veteran free agent QB, like Jeff Garcia, as a starter (are you listening, Brad?), it looks as though the team will go with second year man Tarvaris Jackson. You, like they, would have to endure the growing pains of his learning on the job. He may be a good FF QB in the future, but should not be considered for your line-up next season.
One of the Vikings' WRs may emerge in 2007; it's just a question of who it will be. Travis Taylor has probably peaked in his career and has never fulfilled the expectations of drafting him on your team. He lacks focus, making a difficult catch one moment and dropping an easy one the next. After seven years this is unacceptable and the only way he winds up on your squad is if your top three WRs get hurt and he's all that's left on waivers. It's still too early to give up on Troy Williamson as he enters his third year. When the Vikings selected him, it was said that he would be a project. With natural good moves and great speed, there's great potential but he could turn out to be like Taylor. He's another one who needs concentration and better route running, but he's more acceptable than any of the other's presently on the team. Take him only in the very late rounds.
Billy McMullen (who the coach is familiar with from his Eagles days) and Bethel Johnson are two more choices that have failed to impress enough to win starting gigs in previous stops for teams that needed help at WR. Don't consider them unless your draft is 30 rounds deep. Now Jermaine Wiggins, by all accounts, was solid in '04 and '05, but whether it was the schemes brought in by Childress or a lack of confidence in his abilities, he never seemed to be part of the game plan. Still, he was second on the team in receptions and may have a bounce back year in '07. He's never scored a lot of TDs, so he should only be considered as a backup TE in leagues that count yardage and points per catch. He'll be there in the later rounds.
Saving the best for last, Chester Taylor, despite missing a game, and the disastrous game the Vikings played against New England, and the final three games of the season (playing hurt) was the workhorse some expected him to be. The doubters were shown up. I look for significant improvement next year running behind a good offensive line; if the Vikings can fool everyone into thinking they have a chance at throwing the ball. He's proven that he can catch the ball, go the distance and pound for short yardage. There won't be a RBBC situation in Minnesota and this makes Taylor a good option at the end of round one or early round two.

NEW ENGLAND PATRIOTS
One of my favorite teams because from the top on down, they are focused on putting the team together as a winning unit. It doesn't always make for great fantasy football, but it's enough that some of the skill players are moderately draft worthy. You just have to formulate a plan of when you can get them at best value.
No question Tom Brady is the most draft worthy Patriot. He is a top NFL signal caller and among the top six FF QBs. Early in the season, he was bothered by the loss of Deion Branch and David Givens, two of the WRs he was most comfortable with. He had to readjust his timing to hook up with Charger retread, Reche Caldwell, failed experiment, Doug Gabriel, another never-was Jabar Gaffney, and finally, rookie Chad Jackson. The only familiar face was Troy Brown, who has done everything the Patriots have asked of him and more. Brady was unhappy (and pouting, some say) in the early part of the season. After the first six games his timing and familiarity with his receivers improved and so did his game. Except for poor showings against the Colts and Dolphins, the rest of his year was pretty solid. The Pat's system calls for him to use everyone on the field and his work with his new supporting cast puts him in a position to excel, again, next year. You won't be able to ride him to a fantasy championship, but he will be a solid part of your team. You shouldn't take him before the sixth round.
Looking at the WRs, I believe that it's finally time for "Mr. Everything," Troy Brown to call it a career; at least as far as FF value is concerned. His numbers will continue to slip as Brady becomes more comfortable with Caldwell, Gaffney and Jackson. Look for Reche to take it up a notch as the possession receiver and add some of the receptions that won't be going to Troy. Gaffney could be the sleeper in the bunch after five years of doing little in the NFL. Whether it was playing in the shadow of Andre Johnson, or a question of focus, Jabar never lived up to his status as a high draft pick in Houston. The Patriots rarely make mistakes and must see some potential here. The first two playoff games have shown his capabilities as he was targeted 11 and 15 times, respectively, catching eight and ten passes for his troubles. He looks to be a clutch receiver and could be an important part of this offense. As I said, the Patriots rarely make mistakes in evaluating talent; so taking Chad Jackson and nurturing him along in the system seems to be part of the plan. His skills indicate that he can be a top notch NFL receiver, with home run capabilities, if he's a fit for the system. As things stand, I would draft Caldwell as my third receiver after the ninth round, Gaffney as my third if I need one in the 11th and Jackson for my bench and as a sleeper in hopes of breaking out around the 14th round.
Another player that will see a diminished roll is Corey Dillon. Whether he's a cap casualty or just takes a backseat to Laurence Maroney's youth and talent remains to be seen. Coach Bill Belichick likes to have plenty of insurance and balance in his backfield but the question remains, at what cost. Dillon could be hitting the proverbial RB wall at his age, despite scoring a career high 13 rushing TDs. New England is well known for cutting players loose before they lose their effectiveness. Keep your eyes open this off-season to see what his status will be. Maroney has plenty of upside and should be taken as your second back no later than the third round and Dillon if still on the team could be had a few rounds later. Kevin Faulk is a roll player in this multi-faceted offense, who consistently catches the ball out of the backfield. He not draft worthy but should be available on waivers if Maroney or Dillon get hurt and his time increases.
Ben Watson was a disappointment for those that thought he would be this year's "sleeper" TE. He started off slowly and except for a small number of games in the middle of the season before missing the last three games he couldn't give fantasy owners what they wanted. He has elite talent but the diversity of the offensive scheme doesn't call for him to be the number one option. If you're one of the last teams in your draft to take your starting TE, he could be available and pleasantly surprise you. You can wait until the tenth round or little later to take this "sleeper."
Stephen Gostkowski gained confidence as the season progressed. He's looked clutch in his two playoff appearances hitting six out of six attempts. He may never be as clutch as Adam Vinatieri, but it appears as if he'll be around for quite sometime. He's another good kicker to be taken in the last two rounds.
The Patriots D/STs are simply amazing. Even when they lose key players they just plug-in another one and the machine still runs. They had only one defensive score this season and it was a safety. Still they were rated seventh as a fantasy defense primarily because of tying the Ravens for the least TDs allowed and having enough ball hawkers to sniff out the turnovers, where there were only three teams better. And yes, they can sack opposing QBs, with only four teams being better in that category. This is a very good defense but not one that should be taken before the 16th round.

NEW ORLEANS SAINTS
Count me among the unbelievers, that didn't think that Deuce McAllister and Reggie Bush could co-exist productively in the same backfield. I didn't think that Deuce would be fully recovered from his season ending surgery in '05 and I was unsure that Bush would discover how to use his speed so quickly in the pro game. With all the statistics taken into account, Bush actually out performed Deuce, but not enough to make you think McAllister was a bum. Bush can be a late first round pick and McAllister an early second rounder.
So does this make the rest of the team play second fiddle? No, I don't think so. The Saints can be counted on to be right up there with Indy as potentially the highest scoring team in the NFL. Drew Brees, coming off shoulder surgery, showed why San Diego was stupid to let him go, why Miami was stupid not to sign him and why New Orleans looks like a genius. Barring injury, Drew is definitely among the elite five QBs in fantasy football. He's good enough to take in the fifth round, plus with all the young weapons at his disposal, he will be great for a long time to come.
Now about those young weapons, the surprising career start for rookie, Marques Colston along with the development of Devery Henderson and Terrance Copper have the Saints hardly skipping a beat with Joe Horn's chronic groin injury. There's still room for improvement in the two third-year men, but I see enough to believe that if Horn doesn't stay with the Saints, that Henderson and Copper will pick up the slack again and still have this offense clicking on all cylinders. Colston will be someone's first receiver taken, possibly in the third round. Watch the off-season maneuvers to check on the status of Horn and who may be touted to replace him. Horn is aging and may not be part of the future if his salary can't be renegotiated. He may even be traded to a receiver-poor team, like the Vikings. I think it may be Henderson that gets the call if a replacement is needed. No matter what happens, whoever is the second Saints receiver could be your second or third starter.
TE is an area that the Saints need to develop. Mark Campbell is the best of the bunch and when you consider how Coach Sean Payton used the TE position in Dallas, you would think, he's like to have yet another weapon to use. Campbell is no Jason Witten, but you can expect his numbers to go up, if it's in Payton's plan. Again, watch the mini-camps. He's probably not worth drafting, but keep an eye in case one of your starters goes down.
Did you know that John Carney would start the 2007 season at the age of 43? Still the old man is out there coming off the highest percentage of his career (for a full season) and he even nailed one from 51 yards. From a FF perspective you could do better or worse, but if you're looking for an accurate dome kicker and it's the last round, go ahead, pick him up. Now the D/STs for the Saints have the advantage of Bush returning punts and kicks. Aside from that, they are a bend but don't break defense that doesn't create turnovers and is fairly average in sacking the QB. Their offense is so dominating that the defense can afford to be lax and you shouldn't expect a lot from them. They're not worth drafting.

NEW YORK GIANTS
The playoffs are not even done and already I'm wrong in forecasting for next year. Tom Coughlin didn't get fired by the Giants and instead was given a one-year extension on his contract. Well, that's one in the minus column and I'm sure before it's all said and done there will be a few more to chalk up there. But here's where I think I'm smarter than the Giants hierarchy. Coughlin can't be any more of a disciplinarian and it still hasn't worked. The extension gives the illusion of a non-lame duck status, but he no longer commands the respect of the players and this was evidenced by the stupid and senseless mistakes and penalties that plagued the team in their stretch drive. The Giants are delaying the inevitable and, with Tiki Barber's retirement, have little if any chance to make the 2007 playoffs. That being said, let's take a look at Eli Manning.
The problem with Eli is that he's not Peyton; he's also not Philip Rivers; he's just Eli, having played two and a half season in the spotlight of N.Y.C. with a gifted but flakey number one receiver, a talented but weird TE, without a legitimate second receiver for half of 2006 and a great RB that was left out of the offense by the coaching staff in almost half the games. Of course, his numbers were down slightly from last year, but it would have hardly been a blip if the expectations for him weren't so high. Look for continued improvement and count him among the QBs that you can have as a starter on your team. He deserves to be about the 12th QB drafted.
With Tiki Barber, who got under 20 carries in seven of his games, now retired, should we look to Brandon Jacobs as the heir apparent? With good numbers in limited duty many think the obvious answer is yes. Just look at him, 6'4" 265 lbs. He can make linebackers feel pain and boy can he move that pile. Stop! He may prove to work out but not in the same way as Barber. His upright running style and body mass is going to expose him to more and bigger hits than a "Barber type" back. It may be him that wears down as the games and the season go on. He's not a first back on my FF team and unless I'm in a TD only league, I can't even see him as my second back. Save him for the sixth round as your third back.
Plaxico Burress puts himself in the diva WR class but with less talent. In nine games he had four or less catches. In four of those nine, he had two or less. He doesn't like to work out with the team (translation: timing problems with Manning), shows up late for meetings and butts heads with the coaching staff. Other than that he's a great teammate that has a lot of friends in the locker room (sarcasm intended). He's not a fantasy stud because of his erratic play and disappearing act for games at a time. At best he's a number two receiver on your squad that shouldn't be taken before the sixth round. Amani Toomer is getting older and slower. He's past his prime but plays with a lot of heart. If his rehab goes well, he can still be a good complimentary receiver and a good backup on your draft board. Peg him as your fourth WR after the 12th round and spot start him on bye-weeks and in case of injury. Sinorice Moss, in the mold of his brother, Santana, has electrifying speed and great moves but is questionable in his ability to take the wear and tear of the NFL. He may take a little time to develop and shouldn't be counted on to be one of your starters. Tim Carter and David Tyree, given the chance with Toomer's injury did nothing to impress and shouldn't be a fantasy consideration in your plans.
Jeremy Shockey is an intense competitor, who will often lose sight of the big picture. His fiery personality borders on strangeness as he'll make a superb play one moment then blow up and take a stupid penalty the next. Some call it intensity, I think it's insanity. He was expected to be better this year and actually took a few steps backward. He's willing to play hurt but then is ineffective on the field. It could be blamed, in some small part, on the offensive scheme, but if you've ever listened to Shockey, you get the feeling he's not playing with a full deck. Think of him as your fantasy starter after the top seven have been taken somewhere around the eighth round.
The Giants D/STs were a major disappointment and who knows they may not have been if Michael Strahan and Lavar Arrington had not been injured. The poor play is another example of the team's lack of focus, playing undisciplined ball and taking too many stupid penalties. They took a giant step back after showing so much promise the year before. Don't draft them as your first team defense. Jay Feely is accurate from 40 yards in and he has a strong leg for the longer ones but loses some of his accuracy. He'll only do as well as the offense gives him the opportunity. If you really want him you can have him late.

NEW YORK JETS
Coach Eric Mangini is being referred to as "Man Genius' in some circles for the feel good story of the year in N.Y.C. The amazing turnaround of the J – E – T - S, Jets Jets Jets! is not even diminished by their quick exit from the playoffs. Well Eric wasn't between the white lines making the plays and it's players like Chad Pennington and Laveranues Coles that make us stand up and pay attention. So what happened and what does the future hold.
Chad had the second best season of his injury-plagued career and, if I recall correctly, he attributes a good part of it to off-season martial arts training. Keep up the karate chops, Chad. No he didn't kick the butt of blitzing linebackers, he says that his training regimen rehabbed him and added strength to his noodle arm. Nobody will ever mistake Pennington for Brett Favre in getting the ball deep, but Chad does use his head and stay within the confines of the game plan. He's accurate with touch and knows his limitations. He's a good leader on the field and the translation of all this, is that he's not a FF QB! Sitting at number 13 in FF rankings, his status slides when you think of Donovan McNabb, coming back to leap frog by him, Matt Hasselbeck, Tony Romo, Jake Delhomme and Matt Leinart playing a full slate of games. That sets Chad smack dab in the middle of the pack. If you're a Jets fan and must have him, take him as your backup, but only if he's got a favorable match up when your starter's on a bye. Draft position – somewhere around the 15th round.
Kevan Barlow was brought in probably in peak physical condition to replace Curtis Martin. After all wasn't he going to compete for the starting job in San Francisco with Frank Gore? I heard that he had a hard time with the playbook. He's big, strong and pretty good at the goal line, so what was the problem. I also heard he's got attitude and that's something that Mangini doesn't tolerate. Unless there are some drastic changes in the off-season, don't include Barlow on your draft board as anything more than a backup. Leon Washington has good speed, great moves and a big heart. He's a team player but it's hard to envision him as more than a Kevin Faulk type player for the Jets. He'll get you fantasy points but not on a consistent basis. If you've stockpiled WRs early in your draft, you might want to take him because all the RBs are gone. Cedric Houston is the best of the bunch in New York and that's not saying much. He's big like Barlow and has a big heart like Washington, but he's not as durable and doesn't have the talent of a top notch FF running back. He's more than a roll player, if he starts next season as the Jets number one back, but he shouldn't be more than your number three fantasy back. It's another case of taking him if you NEED too.
Laveranues Coles is another example of a true competitor. He's not the biggest or fastest, but he does catch the ball. Excluding 2005 when he had no one throwing the ball (still had 73 catches) to him, you'll find that he always has 80 to 90 catches and is around 1,000 yards. He doesn't get a lot of TDs, but he's a good number two receiver for your team and he plays hurt. He should go around the fourth round. Jerricho Cotchery came out of nowhere this year to show what he's capable of. It's been said that Herman Edwards never gave him a chance. Whether that's true or not, Jerricho's had his chance and shown that he should be drafted right around the same time as Coles. He's got very good speed and at some point may become the number one receiver on the Jets. Let's not even give any thought to Justin McCareins, a bust free agent pickup or Brad Smith, an Antwaan Randle-el experiment, as draftable options.
Chris Baker at TE will be interesting to watch. Mangini gave him more opportunities and Baker came through for him. With Chad's arm being vertically challenged, Baker could come more into play next year. Baker's not draft worthy but keep him on your waiver watch list.
The Jets D/STs are in the bottom half of the league and are not draftable. They may improve but don't expect too much in 2007 and if by some chance they do break out defensively, you'll find them as free agents. Mike Nugent has a big leg and it's accurate. He's held back by the lack of opportunities. If the Jets should become an offensive juggernaut, you'll more than likely find Nugent available.

OAKLAND RAIDERS
There's not much you can say about the Raiders. They must have a senile managing partner, in Al Davis, they had a nice guy "pretend tough" head coach resurrected from the 80s, in Art Shell, and who was that offensive coordinator from the bed and breakfast… Now they have no coach. Let's get real; the Raiders are a mere shadow of their former "Commitment to Excellence" motto. The biggest star on the team publicly can't wait to get off which lowers his value to the team and himself. Okay let's not rant and start analyzing!
Randy Moss has a big mouth. From his talk about past recreational marijuana use, to telling the coaching staff how to coach, to his admission that he doesn't want to go all out – he does nothing but lower the chances of some team wanting to pick him up. I have no idea where he should be on any team. I don't think he's lost his talent but he's certainly lost a lot of respect as well as draft value. Will the Raiders keep him? Who knows?
Jerry Porter signed a good contract two years ago with a great signing bonus and then wants to renegotiate. Is he crazy? Then to force the issue, he wears a Steelers shirt to a team meeting, parks in Al Davis' parking spot and is laughing with fans on the sidelines during a game. Here's another piece from the fruitcake Aunt Matilda sent at Christmas. Don't waste a draft pick. It's possible that the Raiders' starting receivers next season will be Ronald Curry and Johnnie Morant. Curry might make a good third option for your team. You can probably get him late.
The quarterback position will probably get a facelift in the 2007 NFL draft. Forget about Aaron Brooks, who many had touted as a sleeper because of the Randy Moss/Jerry Porter hookups. It didn't work. Andrew Walter is also not the answer. The shell shock from '06 probably traumatized the two of them and will result in their becoming QB scrap heap material for the foreseeable future. Don't even consider them, even if you were a founding father to the Raider Nation.
Lamont Jordan didn't lose his skills overnight, did he? No, I think not. The QB play and the O-line's ineptitude turned a first round RB into something you scrape off your shoe. If the Raiders dump the dead wood on the line and bring in a QB that will draw some attention, then Lamont may resurrect himself to his 2005 status. Why didn't the coaches see that he had 70 catches in 14 games the previous season? Jordan would have been the QB's best friend out there if some people weren't living in the 80s. There are a lot of ifs that encompass the question of where you draft Jordan in '07 and there's not enough room to go into them all. Let's just say, for now, plan on taking him as your third string RB or lower until we see what's going on in Oakland.
Between Courtney Anderson and Randall Williams there were 53 catches at the TE position but neither of them impressed me enough to consider them for even a back up position on my fantasy team. I'd advise you to think in the same fashion. The Raiders D/STs managed to get four defensive TDs and a safety - probably as a result of the opposing teams falling asleep out of boredom. They didn't have a lot of takeaways and their pass rush was just average. There's no reason to consider them draft worthy. Sebastian Janikowski had nothing going for him due to one of the poorest offenses I've ever seen. Putting a positive spin on his season is saying that he hit five out of eight from forty yards and beyond. Don't draft him until this team rejoins the NFL.

PHILADELPHIA EAGLES
The Eagles like a few other NFL teams work the system from top-to-bottom. Good ownership, good management, good coaching and good personnel. Even after their worst season (2005) in a long time, they rebounded to the top of their division. I remember reading forecasts of the Eagles bringing up the bottom of the NFC East. Surprise, Surprise, Surprise! Andy Reid knows how to play plug-in the player and, even after their departure from the playoffs, the city of Philadelphia should be pleased with their 2006 showing.
Despite Jeff Garcia's excellent understudy performance in the starring roll, we won't have any controversy as to Donovan McNabb's reclaiming the QB job. Up to the point he was injured in the beginning of the second quarter of week ten, McNabb was having what amounted to a career year. If his rehab is on schedule, there's no doubt that he'll be the starter on opening day of '07. Kudos to Jeff for his fine performance, his leadership, his familiarity with the West Coast offense and his heart, but he's not as young or strong as McNabb and he can remain in Philly as the understudy or go collect a big final paycheck with a team like the Vikings. McNabb should be drafted among the top four fantasy QBs and as long as his supporting cast remains healthy, he can lead your fantasy team into contention. He'll be gone before the sixth round.
When Brian Westbrook is on the field, he's one of the most versatile FF players in the league. The big IF is his health. His practices are limited and starting status in doubt on a regular basis due to the pounding his body takes. He missed only one game and parts of two others this year but still came up with over 1,900 combined yards, 77 receptions and 11 TDs. If you're able to live with nervous anxiety for 17 weeks then you should take Westbrook among the first six RBs and hold your breath. Also remember to take Correll Buckhalter as your insurance policy, probably before the eighth round.
Donte Stallworth, despite missing five games and being limited in two more, was a difference maker among the Eagles' receivers. He wants to return to Philly and if the money is right the team wants him to come back. He only caught 38 passes, but they accounted for 725 yards and five scores. He's got the talent and speed to be a stud if he can stay on the field long enough. He's a risky pick at anything more than your third receiver and at any point higher than the sixth round, but the reward if he manages to play a full slate of games with McNabb can make you a playoff contender from the start. Someone will overvalue him and take him early. Reggie Brown is a good receiver, who showed improvement from his rookie year. Somehow I think the expectations for him were higher. The team is becoming a little like the Patriots in the way they spread the ball among the WRs. Look for his continued improvement and feel comfortable with him as your third receiver even if he's not the homerun hitter that Stallworth is. Greg Lewis and Hank Baskett are solid role players that shouldn't be drafted unless you're thinking insurance for Stallworth. If that's the case you should choose Baskett first because he has better upside. Not before the later rounds because his value isn't that high.
LJ Smith could have been better, except that the former Bengal, Matt Schobel didn't come over just as a blocking TE and McNabb got hurt. Schobel's ability to catch probably took about ten catches, 100 yards and two TDs away from Smith. LJ's numbers went down after McNabb's injury, so look for a boost in his production if Donovan is healthy all season. He's a clutch player that merits consideration as your starting TE. He should go about the same time as Shockey.
David Akers is a strong-legged kicker who's been a little off since he was injured in '05. He didn't have a lot of opportunities but still his percentage was down from the past, particularly from beyond the 40-yard line. He's not a top kicker for your consideration so don't think about taking him earlier than the last two rounds. The Eagles D/STs lost Jevon Kearse early in the season, but even without "the Freak" were still a very opportunistic unit. They're in the upper tier behind the Ravens, Bears and Chargers and wouldn't be a bad selection after 16 rounds have gone by.
My next column will be my last for this season and I hope that you've enjoyed reading them up to now as much as I've enjoyed writing them. If you feel the need for more information or analysis, you can reach me at John.Culligan@Gmail.com . Good-bye, good luck and have fun until next week.