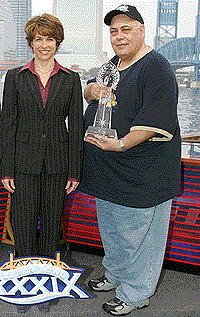 WHAT THE HECK HAPPENED THIS YEAR!
(AND WHAT'S GOING TO HAPPEN IN 2007)
By John Culligan (2004 WCOFF co-champion)


We already know what happened if our top fantasy studs missed time with injuries. That's a part of the game. It seems as though there was a whole host of other things that occurred during the 2006 season that need to be evaluated as you the dedicated fantasy football junkie immediately start to prepare to maintain your winning ways or redeem yourself in the face of a dismal finish this year.
I'll be taking a look for the next four weeks at all of the teams in the NFL and offering my opinion of what you might expect from the studs, the newly found gems, the duds and those facing injury rehab. The columns will feature eight NFL teams each week in alphabetical order and may not be able to account for coaching changes and definitely will not account for free-agency or draft additions. So here we go…

ARIZONA CARDINALS
In this case we know that Dennis Green is gone, but a tremendous nucleus of skilled players is there to build a foundation on. The team must address the mediocre play (this means a lot to the skill players' fantasy value) of the offensive line, whether by free agent additions or the draft, the Cardinals must improve this facet of the team. Matt Leinart started 11 games, and for a rookie, put up very good numbers. Look for continued improvement from the future fantasy stud as he grows into the job. He's a winner, who with the benefit of off-season mini-camps and a full training camp, will cut down on his interceptions and increase his TD production. Of course, none of us knew that Kurt Warner would get the quick hook (his play may have warranted it) as so many drafted him as a top 10 QB. I believe that Warner will accept the backup role and come back to the Cardinals, providing tutelage to Matt and provide adequate support in case of injury. Hopefully, the new coaching regime will not try to change things with a complicated offense that will take some getting used to. Leinart should be considered as a backup QB for your fantasy team next year.
Edgerrin James clearly disappointed fantasy owners for the first half of the season averaging less than 2.8 yards per carry with just three TDs. In leagues that give points for receptions, he made up a little for the disappointment with 27 catches for 162 yards during that span of games. Then in the second half of the season, we got to see more of the Edge running we expected when we drafted him in the first round. Averaging over 4.2 yards per carry, he still didn't measure up to expectations as his pass receptions came down and his TDs failed to surpass his first half production of three. So what of next season, should we expect more and should we draft him again in the first round? Absolutely! With one or two new offensive linemen, a coaching regime that appreciates his talent for catching the ball and using him at the goal line, I believe that James can reach middle double digit TDs and attain 1,800 all-purpose yards. I don't expect Marcell Shipp to vulture away TDs and JJ Arrington is nothing more than a gemstone (notice I didn't say diamond) in the rough who could blossom as a backup.
Comparing the last two seasons for the dynamic duo of Larry Fitzgerald and Anquan Boldin leaves us weak in the knees as we contemplate how high we drafted the young studs and their failures to meet our expectations in 2006. The drop-offs were significant and can be partially blamed on the coaching staff, the addition of Edge and the change in QBs. Can those be the reasons? I'm at a loss to validate them. I was sure that one or the other would miss some games due to injury and highly recommended taking Bryant Johnson as a bench player to insure the inevitable. When Johnson got his chance he, too, was a disappointment. I project a rebound for both of the studs, especially if the Cardinals bring in Mike Martz as their new coach. Leonard Pope, like almost all first year TEs, was slow to start. He's still adapting to the pro-game and if you see that half his production came in the final weeks of the season, then a good case can be made for significant improvement in 2007.
Kicking and Defense are so highly unpredictable that I'm going to leave it alone, except to say that Neil Rackers decline was not entirely unexpected and he was not the Svengali from beyond fifty that he was in 2006. He's okay but not worthy of a high draft spot. Apart from the O-line the Cardinals will need to add a playmaker or two on Defense to move up from the middle of the pack.

ATLANTA FALCONS
Jim Mora, Jr. is gone, another victim of the coach killer, a poor record and his own big mouth. So what happens now in Atlanta? For one, whether you love him or hate him, Michael Vick is number one – but not in fantasy football. It isn't that he's lacking in talent. It's his failure to put it all together on a consistent basis. In a game at Cincinnati, he had a passer rating of 142.7 and rushed for 55 yards, while throwing for 291 yards and three TDs – the next four weeks he failed to break 90 for a rating, throwing four picks and only three TDs while never throwing for 200 yards. Michael Vick owners, I feel your pain. I can't even say take him as a good backup for spot duty because you never know when he's going to explode or fizzle out. For the season, his overall numbers look great, but can you stand the droughts? Meanwhile, the Falcons will probably lose highly rated Matt Schaub because they have all their eggs in Vick's basket. Matt may even prove to be a good number one with another team; it's just that it doesn't concern you immediately as a fantasy player.
Warrick Dunn is done; the first signs of hitting the wall are there. The numbers are down, the burst is disappearing and the niggling injuries are tougher to recover from. His heart will always be there but the backfield will belong to Jerious Norwood, who adds a little more size and speed while putting up better numbers per touch than Dunn. You may want to keep an eye on Norwood as a late second or early third round draft choice in 2007. He was a happy surprise in limited play.
Alge Crumpler was the most consistent Falcon receiver as Vick's go-to-guy, but even his numbers were down from 2006. He ranked, by some scoring systems as the number two TE in FF, but because of Vick, his numbers were maddeningly inconsistent. He had five games with two catches or less and if not for the one game against the Steelers with six catches for 117 yards and three TDs, he would be about five slots lower in the rankings. Although a little disappointing from the standpoint of if you're not moving ahead, you're falling behind, Alge is still worthy of being selected among the top six TEs in your draft. The rest of the WRs are worthless, underachievers. If it's because of Vick, bad hands, poor route running or just a mediocre level of talent I can't say. I just don't see any improvement coming from, Michael Jenkins (50), Roddy White (80) and Ashley Lelie (81). Stay away from them in next year's draft.
The Falcons, despite a wealth of talent, defensively, couldn't stay healthy enough to form a cohesive unit. Their ranking in the lower twenties of the league says stay away from them as well as the ageless wonder, Morten Andersen, who should stay retired next year. If he comes back; he along with the defense should be available on the waiver wire.

BALTIMORE RAVENS
The bright spot is the consistent excellent play from the Defense/Special Teams. They're so good they should be drafted in the tenth round. They pitched two shutouts, held opposing offenses fewer than ten points on three more occasions, had 60 sacks, 12 recovered fumbles, 28 interceptions, six defensive scores and a safety. With standard FF defensive scoring that made them more valuable than most TEs in the league except Antonio Gates, Tony Gonzalez, Kellen Winslow and Crumpler. Only QB Steve McNair had more fantasy points (just barely) for the Ravens. On that subject, McNair reminds me of the old Dallas QBs that won but never gave you good FF stats. Ranking just below the halfway mark among QBs, McNair is nothing more than a backup on your roster, this year, and in the future. Winning and leadership do not equate to fantasy value for your squad.
Among the WRs, Mark Clayton seems to have the best fantasy future as he approaches his third NFL season. He's shown consistent growth in his first two years and has replaced Derrick Mason as the primary wideout in the Baltimore passing game. Of course TE, Todd Heap is the favorite target catching more balls and TDs than anyone on the team while playing through a variety of injuries. He's worthy enough to be in the top five of TEs taken in your 2007 draft. Look for Demetrius Williams to grow next year and begin to phase out Mason in the team pecking order.
Jamal Lewis just doesn't have it anymore to be a top FF RB. Since 2003, for whatever reasons, he's failed to produce at a top level and the outlook for the Ravens running game in the fantasy world is grim. Absent a free agent pick up or a promising draftee, any Baltimore RB, including Mike Anderson and a healthy Musa Smith, will be no more than a third RB on your team. Rounding things up, Matt Stover is the model of consistency and you could do a lot worse if you're picking him in the late rounds.

BUFFALO BILLS
There's a lot of potential fantasy value here in JP Losman, Lee Evans and Willis McGahee, all of whom have just completed their third years in the pros. While still inconsistent, the growth each of them has shown give you reason to believe that they'll all be solid performers for years to come. Initially, I had no confidence in Losman's development but based on watching him, I can see a solid if not spectacular FF points producer as early as next year. With this past season and the off-season in 2007 look for JP to cut back on the interceptions and find comfort in the team's offensive scheme. He'll be a solid number two QB next season. Looking at McGahee gutting out broken ribs to return after missing just two games told me a lot about his heart. Had he been healthy he more than likely would have finished the season with numbers surpassing 2005. He's a good choice as your second RB if you've got an early second round pick next year.
Lee Evans has proven he has what it takes to be a number one option. With a no longer dependable Peerless Price and streaky Josh Reed providing little help, he managed to put up FF numbers that made him a top ten WR. If the Bills can find him a more consistent compliment, then you can expect Evans to get better and be worthy of being your top receiver taken, if you go RB-RB in the draft. Don't look for help at the TE position on the Bills, whether it's a lack of talent or the nature of the offense, Robert Royal is not worthy of being a number one TE on your team.
Rian Lindell is strong legged and accurate. His value is predicated on how many opportunities the offense will give him. You may not draft him, but keep an eye on him as a waiver pick up early in the season. It's been said the Bills D/STs are strong and I don't agree. They're not opportunistic enough to cause turnovers. They need to mature and add a defensive playmaker to make them a fantasy value.

CAROLINA PANTHERS
Where's that vaunted running game that most of us expected with a healthy DeShaun Foster? Does the team have a lack of faith in his ability to run hard, catch the ball and avoid fumbling? I think the Panthers are setting the stage for turning over the bulk of the work to DeAngelo Williams. You may want to follow closely the off-season news out of Carolina before deciding which one will be more valuable in 2007. For now, neither should be one of your top two RBs.
Jake Delhomme, despite his erratic play and missing three games due to injury, didn't play badly from a fantasy perspective. He's always been prone to interceptions, but that's the gunslinger mentality in him. Look for 2007 to be more on a level of his previous seasons and chalk 2006 up to a bad year. He could be in prime form. If you wait to select your starting QB it won't hurt too bad to pick him in the ninth or tenth round.
Steve Smith and Keyshawn Johnson are great receivers and despite an undercurrent of animosity, really compliment each other's talent. Smith missed two games and suffered with Chris Weinke at the helm for three more still put up good FF points; maybe not what we expected of him, especially if we took him in the first or second round, but still good numbers. Look for him to rebound next year with over 100 catches, 1,400 yards and a dozen TDs. Consider him in the second round if you're not the type to grab two RBs right away. Keyshawn, on the other hand, is approaching the end of his career, which makes him ideal as Smith's compliment. He's never been a big touchdown producer with only one career season in double digits, but he's fearless going over the middle and seems to be there when you need him. He can be your third or fourth receiver and probably be taken in the late middle rounds. Carolina is another team that just doesn't use their TE as an integral part of their offense. Michael Gaines and Kris Magnum have no FF value.
What happened to the great expectations for the Carolina D/STs? Their performance was mediocre at best. They couldn't take away the ball, despite pressuring the opposing QBs with a respectable 41 sacks, and that's what it's all about – takeaways. Look for a better showing from them in 2007 but don't you select them until after the 15th round. As for the Panther's kicking game, John Kasay was, as usual, reliable; he's only hindered by the number of chances he gets from the team's offense. His age doesn't seem to have slowed him down, he stays in good shape and he's worthy of being on your team as a late round selection.

CHICAGO BEARS
The Bears defense has to be spoken about before any thing else. Dominant for the first half of the season, they succumbed, due to injuries, into being just very good in the second half of the year. Next year, if a D/STs is worthy of being taken as early as the tenth round, it's only the Ravens and the BEARS. FF points wise, they are certainly more valuable than a fourth RB/WR, etc.
Rex Grossman still hasn't convinced me that he will ever be an elite FF QB. Perhaps because he's still in the learning stages having just completed his first full NFL season. He has to use better judgment and avoid turnovers. Early in the season, he was ranked pretty high before finishing in the middle range of QB rankings. He has good weapons at his disposal in Desmond Clark, Muhsin Muhammad, Bernard Berrian and Mark Bradley. The Bears being the defensive juggernaut that they are will never really turn him loose, preferring instead for him to be a steady field general. Don't take him as anything more than your backup QB as the Bears will utilize their great RBs to make their offense go.
Cedric Benson should finally become the number one back in 2007. Yes, I know that Thomas Jones is great out of the backfield catching the ball and that he doesn't have much mileage on his tires, but Benson has more explosiveness and is getting first round draft pick money. If Cedric can grow up a little and earn the trust of the veterans on the team, he should take over the starting job, with Jones being moved elsewhere or resigning himself to being the number two back on the squad. Watch off-season mini-camps carefully for future developments.
The Bears receivers are all capable of great play but will always be second fiddle with this offense. Don't look for any of them to catch 80 plus passes or to score double digit TDs. It's just not in the cards for the scheme. Muhammad is a great possession receiver, with Berrian and Bradley legitimate downfield threats, but none of them should be more than your third or fourth WR. Desmond Clark was a surprise matching the type of numbers he had in his final year in Denver and after a recent two-year drought with the Bears. I don't think it's him that causes his numbers to go down. I think it's the team's offensive focus. Even though he finished in the top ten of TEs, I wouldn't take him until the middle rounds and probably not as my starter.
Robbie Gould was this year's Neil Rackers, without the benefit of the over 50 yards field goals. He was a surprise on a team that scored a lot. Don't draft him high next year and suffer the disappointment that comes with drafting a kicker before his time.

CINCINNATI BENGALS
Should they have visiting hours at a facility next to the Bengals training camp? What is going on with these delinquents? Okay, so setting aside the moral turpitude questions that infect this team, what do we have to look forward to in fantasyland? Carson Palmer rebounded from his devastating injury in last year's playoff game to show us he still has what it takes to be a top flight QB for fantasy owners. Yes, by all means take him as your starter in the fifth or sixth round.
Rudi Johnson is the model of consistency, scoring the same as 2005, catching the same number of passes, playing in all the games and doing whatever the coaches ask him to do. Can you get any better than that? I've always been down on his value because the team doesn't throw the ball to him enough. Still when everything is taken into account, he's no surprise; he's just steady and definitely shouldn't slip to the second round as he's in his prime.
The Bengals have some of the finest receivers in the game today. Chad Johnson's numbers were down a little bit as the double teams forced Palmer to utilize TJ Houshmandzadeh and the miscreant, Chris Henry to keep the ball moving. When you combine all their numbers together they actually surpass 2005 in total yardage. It's quite possible, that if the delinquency problems on this team end, that you will see even better overall numbers next year from this group. Chad Johnson should be taken in the middle second round, with "Housh" going in the third and Henry being taken in the tenth or eleventh round as a back up for insurance.
The TEs Reggie Kelly and Tony Stewart are more than afterthoughts on this team but not of the caliber that you want them on your fantasy roster. If you suffer injuries to your TEs after the season starts and there's absolutely no one else available, then and only then should you be looking at what kind of season they are having.
Shayne Graham is okay and finished in the top ten among kickers but the difference in his point totals and the 21st ranked kicker was a mere one fantasy point per game. Again you can wait. The Bengals' D/STs in 2005 were among the leaders and it didn't happen again this year. I believe they'll rebound to a level somewhere in between if the convicts can learn to play nice and be on the field.

CLEVELAND BROWNS
What would Reuben Droughns' season have been like if the offensive line was healthy? Would Charlie Frye have matured faster if he weren't running for his life? Would Braylon Edwards have been able to work some magic downfield if he had some more time? It didn't seem to hinder the bionically reconstructed Kellen Winslow as he caught 89 passes, but could he have scored more TDs? These are all questions that will be answered in 2007 provided the wounded are fully recovered. Will Romeo Crennel still be around to find out? I hope so as I believe he has the team pointed in the right direction after so many dismal years.
I'm not sure Charlie Frye is the answer at QB. I don't question his heart, just his talent. Is he good enough to start in the NFL? I do know that he's not a solid option in fantasy football, at least not yet and that will hold back the other skill players with the Browns.
Reuben Droughns will be hard pressed to keep his stating job with youngsters Jason Wright and Jerome Harrison on his heels. He can't find the end zone enough to satisfy FF owners and that makes him unattractive come draft day in 2007. He lacks that elite RBs shiftiness and determination at the goal line. He's proven he can catch the ball by his 2005 numbers but I don't believe he's the solution at RB for any FF team.
Braylon Edwards is entering that third year that WRs are supposed to breakout and by all indications, if the QB can get him the ball, he will. Look for great improvement and be willing to take him as your second or third receiver if the Charlie matures or they bring on a more veteran signal caller. Joe Jurevicius, when healthy, can play very well as a second option, but not well enough to be on your fantasy team. Don't draft him and wait to see how things shake out before adding him as a waiver pick up after the season begins. Winslow, on the other hand will be a top five TE pick next season and as long as his surgically repaired body continues to improve, you can count on him to be a dynamic force at TE.
Phil Dawson is mediocre at best as a kicker and has no value in being drafted. The Browns D/Sts made strides in 2006 but still need more depth and time to mesh together before you consider taking them with a draft pick. -----
That's it for this week and look for my thought and analysis of the Cowboys, Lions, Broncos, Packers, Texans, Colts, Jaguars and Chiefs next week. You can reach me at John.Culligan@Gmail.com with any thoughts or comments.