2019 Wide Receiver Prospects
By John Laub
2019 Wide Receiver Prospects

Rating the Receivers

As a life-long educator in Connecticut, I look forward to February vacation every winter. While some of my co-workers take trips skiing in the mountains or relaxing at an ocean beach resort, I'm grinding film of NFL Draft prospects. I am a regimented person and wake early to feed and walk the dogs every morning. Afterwards, I'm observing elite playmakers, who are another step closer to achieving their professional dreams.
Watching football in the Seventies and Eighties, Seattle WR Steve Largent became one of my favorite players. Cable television did not exist, and there were limited highlights. Largent's production jumped out of the box scores and weekly statistics in the papers, and I read every possible article on the Seahawks' star. In 1989, Largent retired as the NFL leader in receptions (819) and touchdowns (100), and he still provides an elite standard for shrewd route running, incomparable hands and football intelligence.

I'll never forget when the 49ers traded up in the Draft to select Jerry Rice from Mississippi Valley State, an Historically Black College public university. In 1985, game film could not be viewed by the casual fan and only ESPN provided any footage of the Delta Devils' star. Nonetheless, his statistics were circulated, and the numbers intrigued football diehards like myself.
In the 1985 Draft, coach Bill Walsh wanted to acquire an impact player on the Super Bowl Champion 49ers and saw clips of the Mississippi Valley State star. Walsh decided that Rice could became a "living legend" in his west-coast system. But he needed a trading partner to acquire the future Hall of Famer. Luckily, the New England Patriots were willing partners...The rest is history.
Over a decade later in 1996, one of the greatest assemblies of wide receivers entered the league: Keyshawn Johnson (Jets), Terry Glenn (Patriots), Eddie Kennison (Rams), Marvin Harrison (Colts) and Eric Moulds (Bills) were all selected in the first round and became impact players for nearly a decade. In the second round, Amani Toomer (Giants) and Mushin Muhammad (Panthers) were drafted and also chronicled prolific careers.
Of course, the 2014 wide receiver class spoiled fantasy owners: Sammy Watkins (Bills), Mike Evans (Buccaneers), Odell Beckham (Giants), Brandin Cooks (Saints) and Kelvin Benjamin (Panthers) were all selected among the first 32 picks. In the second round, Davante Adams (Packers) and Allen Robinson (Jaguars) went off the board. Afterwards, expectations for rookies skyrocketed, and the traditional narrative—receivers need three years to learn, and adjust, to the NFL—has been challenged. Unfortunately, the last four crops of freshman did not come close to the Class of '14.
The 2019 wide receiver faction is deep and talented. Franchises in need of assistance at the position will have a bounty of big-bodied prospects to choose from. In regard to the top twelve players available, there is extensive disparity among the scouting community. I have watched hours of film and identified the elite wide outs to target in fantasy drafts.
Without question, speed and size often separates the college all-star from a professional superstar and cannot be ignored when evaluating players. Six indicators (Career Receptions, Yards per Reception, Team Target Share, 40-yard Dash, 3-cone Drill and 20-yard Shuttle) among future receivers provide additional insight into long-term NFL potential.

Listed below are profiles on the top playmakers as well as their benchmark stats to assist in identifying potential stars as professionals.
Excelsior Diehards!

Benchmark Statistics and Measurements for Draft Consideration
Receptions: 150
Yards per Reception: 15.0
Team Target Share: 25%
Breakaway Ability
40-yard Dash: 4.50 seconds (or less)
3-cone Drill: 6.90 seconds (or less)
20-yard Shuttle: 4.20 seconds (or less)
1. N'Keal Harry, Arizona State
Sensational Sun Devil stands atop receiver rankings. In 2018 and 2017, earned Pac-12 All-Conference First Team. In past two seasons, posted consecutive 1,000-yard campaigns on 155 catches. In 2016, named Freshman All-American honors after leading all first-year collegians in receptions with 58 and finishing with 659 receiving yards. Recorded a catch in all 37 games at Arizona State. Ended career third on Sun Devils' all-time list in receptions (213) and yards (2,889). Long strider with daunting size and strong frame at 6-foot-2 and 228 pounds. Quick off the line of scrimmage. Physical playmaker who uses body to get open. Brute strength to box out defenders. Maximizes space with leverage, timing and subtle push offs. Big catch radius and provides a prodigious red zone threat. Corrales pigskin at peak of the pass. Strong hands: Makes contested and acrobatic catches. Wins jump balls in man-to-man coverage. Stops and starts on a dime and fluid in space. Swift feet for a big athlete and good short-area quickness. Good boundary awareness: Gets feet down on sideline passes. Plays through contact. Difficult to bring down: Creates yards after catch. Does not possess elite acceleration or change of direction skills. Not an elusive runner or quick twitch athlete. Occasionally, loses focus while catching the football and drops it. Sporadically, trouble separating and appears to take plays off. Lack of overall athleticism: Talent level be determined at Combine. Prototypical X-receiver with size, strength and length, but enjoyed tremendous success in the slot.
Key Career Stats
Receptions: 213
Yards per Reception: 18.3
Team Target Share: 32% (2018)
Breakaway Ability
40-yard Dash: 4.53
3-cone Drill: n/a
20-yard Shuttle: n/a
Draft Grade: First round
2. A.J. Brown, Mississippi
Marvelous Mississippi product ranks among the elite. 2018 and 2017 All-SEC First Team. In 2017, numerous All-American Teams and Biletnikoff Award Semifinalist after leading the SEC in receiving. Established single-season school record for receiving yards (1,252) and tied mark for receiving touchdowns (11). In each of past two campaigns, totaled over 1,200 yards while reaching the end zone 17 times. A thickly built playmaker with outstanding size at 6-foot-1 and 225-pounds. For a big competitor, sudden in-and-out of breaks. Shines on quick slants and pivot and seam routes. Employs head fakes, snaps hips and jab steps to get open. Uses hands to blow past corners. Noble elusiveness and incredible savvy. Varies strides and speed to manipulates defenders. Runs through arm tackles with stout body and frame. Finds opening in zone coverage. Excellent vision in the open field. Possession receiver with strong hands. Wiggle to make tacklers miss. Creates separation at the top of stem. Flourishes after the catch. Tough and physical with ball in hands. Impressive short and intermediate pass catcher. Not an explosive deep threat: Lacks elite speed on film. Struggled against top-notch opponents. Drops too many easy passes. Often enjoyed free releases in college. Can he beat press coverage in the NFL? Quick feet but not nuanced. Employed predominately as a slot receiver and limited route tree. Can he play on the outside as a professional? Opened the 2018 campaign as top WR prospect on most position rankings: Fell a few spots over the last six months. High floor and lower ceiling than other prospects in the Class of 2019. Projects as a top-end possession receiver in the NFL.
Key Career Stats
Receptions: 189
Yards per Reception: 15.8
Team Target Share: 29% (2018)
Breakaway Ability
40-yard Dash: 4.49
3-cone Drill: n/a
20-yard Shuttle: n/a
Draft Grade: First round
3. Hakeem Butler, Iowa State
Voluminous viewpoints on the Cyclones' celebrity and professional future: Among some Draft aficionados, rated as the No.1 receiver while others rank below the top 10. 2018 All-Big 12 Second Team and Tyler Rose Award Semifinalist after totaling 60 catches for 1,318 yards and nine touchdowns. Shattered single-season school record for receiving yards and established a new mark for yards per catch at 22.0. Posted six 100-yard receiving games and ended campus tenure with a 28-game catch streak. In 2017, logged four plays from scrimmage over 50 yards (74, 67, 57 and 52). A 6-foot-5 and 227-pound redshirt junior. An aggressive competitor with athletic power forward body. Long strider who wins on deep routes: Impressive yards per target (12.8) and 42% of catches over 20 yards in 2018. Gobbles up yards with big strides. Stacks opponents on vertical routes. Stupendous back shoulder catcher and red zone threat. First-rate leverage and boxes out defenders. Triumphant on contested passes. Good boundary awareness. Huge catch radius and high-points ball well. Subtle burst at the line of scrimmage. Maintains balance through contact after the catch: Breaks tackles. Inconsistant hands: Only a 58% catch rate. Needs to improve technique. Sporadically allows ball into frame. Not an agile athlete. Limited route tree: Primarily ran Go, Post and Cross routes. A wide range of outcomes in NFL: Possible All-Pro but could fail to reach expectations. I'll wager on a future Pro Bowler.
Key Career Stats
Receptions: 110
Yards per Reception: 19.5
Team Target Share: 31% (2018)
Breakaway Ability
40-yard Dash: 4.48
3-cone Drill: n/a
20-yard Shuttle: n/a
Draft Grade: First round
4. D.K. Metcalf, Mississippi
Is the Dynamic Rebel the next Calvin Johnson or Jon Baldwin? Consensus 4-star recruit in high school: U.S. Army and Max Preps All-American. In 2017, All-SEC Freshman after snatching 39 passes for 646 yards and seven touchdowns. Last season, suffered a season-ending neck injury and played in just seven games, recording 26 catches for 569 yards and five touchdowns. Prospect Paradox: Rare physical skill set and size but only played in 21 games and logged 67 catches. At 6-foot-3 and 228 pounds, large frame and long arms to outmaneuver opponents. Rare blend of quickness and physicality. Nice combination of upper body strength, swift feet and elite size. Pronounced balance and body control. Regularly beats press coverage and rapid acceleration. Eye-popping footwork. Strong hands and makes circus catches. Uses hands well to gain separation: At line of scrimmage, throughout route and at catch point. Employs a strong stiff arm to escape tacklers. Top-end speed to attack defenses vertically. Massive catch radius. High-points ball in mid-air and secures contested passes in traffic. Grasps zone coverages and finds holes. Not a polished runner and does not have a diverse route tree on resume. After breaking a foot in 2016, medical redshirt freshman campaign. Combine results and medical reports will dictate final Draft grade for scouting departments. A raw prospect, only 21-years old and projects as a prototypical X-receiver in the NFL.
Key Career Stats
Receptions: 67
Yards per Reception: 18.5
Team Target Share: 10% (2018)
Breakaway Ability
40-yard Dash: 4.33
3-cone Drill: 7.38
20-yard Shuttle: 4.50
Draft Grade: First round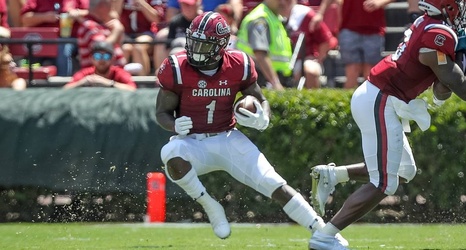 5. Deebo Samuel, South Carolina
Game breaking Gamecock garners lots of adoration. 2018 All-SEC Return Specialist and All-Purpose First Team. In 2016, Steve Spurrier Award winner as the Offensive MVP. Electrifying return specialist: 42 kick offs for 1,219 yards and four touchdowns during career. In 2017, suffered broken leg in third quarter versus Kentucky and missed remainder of the season. In 2018, rebounded with 62 catches for 882 yards and 11 touchdowns. Stupendous game versus National Champion Clemson in late November: 10 receptions for 210 yards and three touchdowns. A 5-foot-11 and 216-pound senior. Physical runner who is competitive with a well-built frame. Smooth, savvy and graceful athlete. Very good quickness and body control. Elusive and agile in space. Manipulates opponents and rapidly changes directions. Tremendous open field vision. Impressive cuts to gain extra yardage. Beats press coverage off the line of scrimmage and rapidly separates from defenders. First-rate lateral quickness: Darts in-and-out of space. Forces missed tackles. Effective on jet sweeps. Stupendous hand-eye coordination. Incredibly strong hands: Easily plucks football out of the air. Adjusts well to ball in flight and catches ball away from frame. Attempted two passes and completed both for touchdowns. Can be employed in the slot and on the perimeter. Great route running salesman. Navigates boundary well. Excels on underneath routes. Gains separation by stacking defenders. Performed with an ineffective quarterback. Not a speed demon and will not challenge the defense vertically every play. Limited catch radius. Occasionally drops the football. Endured a number of injuries during career, which will concern some organizations. Might sneak into the first round if a team falls head over heals for the former South Carolina star.
Key Career Stats
Receptions: 148
Yards per Reception: 14.0
Team Target Share: 24% (2018)
Breakaway Ability
40-yard Dash: 4.48
3-cone Drill: 7.03
20-yard Shuttle: 4.14
Draft Grade: Second Round
6. Parris Campbell, Ohio State
Buckeyes' playmaker rising up draft boards. In 2018, First Team All-Big Ten and earned a bachelor's degree in sociology in December. Established a school record with 90 receptions and only the fifth Buckeye to eclipse 1,000 yards receiving in a season. In 2016, led the Big Ten in kickoff returns (27.8) and averaged 30.4 yards per return during career. In high school, a track and field star who anchored the 4x100 and 4x200 meter relays. Remarkable Combine performance: Finished first among receivers in the 40-yard dash and 20-yard shuttle and ranked third in broad jump (135') and fifth in vertical jump (40'). At 6-foot-0 and 205 pounds, a notable blazer with long arms, strong hands and nice catch radius. Fluid and explosive athlete. Excellent runner after the catch and difficult to bring down in the open field. Effortlessly separates off the line of scrimmage. Quick ankle-breaking cuts and loose hips. Breaks tackles with vigor and identifies angles to avoid tackler. Excels on quick passes, scoring a career-long 78-yard push pass against Michigan. Often employed in the slot and ran a limited route tree: bubble screens, crossing routes, jet sweeps and hitches. Not a natural hands catcher and intermittently doubles clutches pass. A system player at Ohio State under Urban Meyer. Possibly, a special teamer and package player early in career while learning a complete passing tree. An elite athlete who needs to be coached up as a route runner.
Key Career Stats
Receptions: 143
Yards per Reception: 12.4
Team Catch Share: 21% (2018)
Breakaway Ability
40-yard Dash: 4.31
3-cone Drill: n/a
20-yard Shuttle: 4.03
Draft Grade: Second round
With his Masters in history and professional experience as an educator, John Laub is uniquely qualified to research, analyze and discover new insights and trends in college and professional football. Laub has played fantasy football for thirty years and published articles for FootballDiehards.com for well over 20 years. He won $10,000 in 1993, defeating nearly 15,000 owners, and published Audibles: Winning is Everything in the 1990s. He is co-host of the DFSDudes and CFF: On Campus PodCasts. He truly is The Gridiron Scholar.
Twitter: @GridironSchol91 or e-mail: Audibles@aol.com