| | |
| --- | --- |
| Daily / DFS Articles 2018: | |
Week4: Building a Draft Kings Line Up Without a RB1
By Jen Ryan
(
Lineup Tool:
http://www.footballdiehards.com/fantasyfootball/dailygames/Lineup-Generator.cfm
)
The growing popularity in daily fantasy has brought upon us the growing amount of content, podcasts, theories, etc. advising on the best ways to build a line up. Experts everywhere have their own twists and ideas on how to win big. I consume a ton of this content on a daily basis due to the convenience of having a desk job. I am not a DFS expert. I am simply a DFS junkie who researches it, listens to podcasts and satellite radio shows about it, and absolutely loves it. I'll admit all the information can be overwhelming at times, and each week I'll save one line up for myself where I try to tune out the things I've heard throughout the week and simplify my process.
This week, I've built a line up around the simple notion of points per reception. I want a line up with nothing but pass catchers, including running backs. This led me to starting off with running backs further down on their depth charts - the backs that come in for a change of pass on third down. These tend to be the pass catching backs. Below is the lineup I built and will be playing in a contest this Sunday which I hope will win me a ticket into next week's Millionaire Maker.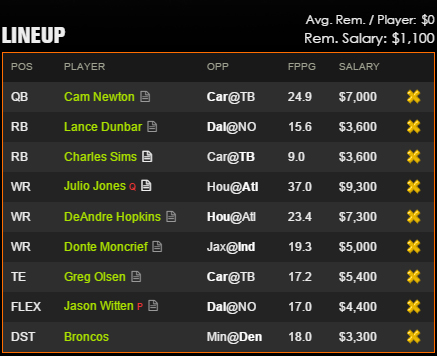 This is not exactly your average winning line up. As you can see there is no top tier running back on here. However, I feel good with these pass catching backs I am rolling out due to their low cost and the flexibility it allows me elsewhere.
Lance Dunbar - $3,600
Dunbar had one carry for five yards last week, but his ten receptions for 100 yards earned him 23.5 points on Draft Kings, where a three point bonus is awarded for 100+ receiving yards. I'm hoping Dunbar's usage carries over into this week's game against the Saints.
Brandon Weeden
appears hesitant to pull the trigger on deep balls to his receivers, leaving loads of opportunity for Dunbar. The Saints defense is friendly to pass catching backs which could lead to Dunbar being the top receiving option in Dallas for a second week in a row.
Charles Sims - $3,600
As the change of pace back in Tampa, Sims could find himself in a starting role this week with
Doug Martin
's status up in the air. The
Carolina Panthers
have a formidable defensive front which may leave
Jameis Winston
with little choices outside of dumping off passes to Sims. If he catches a few balls and scores he will return value well beyond his cheap price tag.
Going cheap on running back is risky but the focus was to find pass catchers. This allowed me to load up on some heavy hitting pass catchers elsewhere.
Julio Jones - $9,000
Matt Ryan
targets Jones with more frequency each week. He is the highest priced receiver and is well within my budget. If there is any receiver worth paying top dollar for it is
Julio Jones
.
DeAndre Hopkins - $7,300
Hopkins is another target monster and since I expect this game to be a back and forth shoot out it made perfect sense to play the WR1 on the other side of the field. He is nearly match up proof, quarterback agnostic, and has the weekly upside to go for over 100 yards and multiple scores.
Donte Moncrief - $5,000
It's hard to imagine Moncrief's price being this low for much longer. There is a new WR1 in town and in a must win game for the Colts I like the odds of
Andrew Luck
slinging it. Moncrief has been getting a ton of attention in the passing game; I just have to hope that carries over this week.
Greg Olsen - $5,400
Olsen is the second highest priced tight end outside of
Jimmy Graham
. Not only can I afford him due to my running backs, but I consider his price cheap due to the fact that he is the WR1 in Carolina in my eyes. The Buccaneers could have their hands full with both Olsen and
Cam Newton
this week. Speaking of…
Cam Newton - $7,000
If I am going to punt running back I make every attempt to grab a quarterback who can pick me up some yards with his legs to make up for it. Not only is Newton good for yards on the ground but he also plays the role of the goal line back in Carolina. Both he and
Russell Wilson
are my go-to quarterbacks when I do not have a RB1 in my line up. Newton made sense for me this week in pairing him with
Greg Olsen
. If he throws a touchdown to Olsen and runs one in himself he will have a solid day for me.
Jason Witten - $4,400
When the Cowboys do get in the red zone
Jason Witten
is always a threat for a touchdown. PPR scoring on Draft Kings makes him a nice flex option for me. Witten has the ceiling for double digit catches and a touchdown each week. I left some money left over in my salary cap to allow me to swap Witten out for other
player
s I can afford in either the Sunday or Monday night game. Depending on how I'm looking going into the night games I'll either leave Witten in for his safe floor or swap him out for a boom or bust
player
with a high ceiling.
Broncos - $3,300
The Broncos are the third highest priced defense but they are the number one defense on paper, so I'll take them and their match up while the price is still right. I could have afforded both of the two top priced defensive units, but I love Denver's chances at a turnover or two this week.
This may not be the smartest or safest line up but that was not my intention. I play a few safe line ups each week and then toy around with a riskier one. Not having a stud running back is not usually advised but if my two low budget pass catching backs get me scores in the 15-20 point range they will return a ridiculous value. I have achieved moderate success rostering backs further down on the depth chart and hope to continue that this week.