2017 NFL RB Prospects Part II
By John Laub
2017 NFL Running Back Prospects
Part II
7. Joe Mixon, Oklahoma
One of the more polarizing prospect evaluations in the Draft. Off-the-field issues well documented after video surfaced punching a woman: Suspended for entire 2014 season and avoided jail time after plea agreement. On the gridiron, first-class talent and possible first-round selection. Each NFL franchise will make own assessment: Some teams likely to remove talented back from Draft boards while other franchises will determine that the upside athletic ability warrants an investment. Not invited to Combine. Named First Team All-Big 12 honors last year. An explosive, quick-twitch athlete. Good vision, great initial burst and stupendous speed foreshadows homerun ability as a professional. Impacts games as a runner, receiver and returner. Finished second in FBS in all-purpose yards, totaling 194 yards per game. Scampers with tremendous balance and wonderful change of direction skills. Can be employed in a variety of formation assignments. Extraordinary pass catcher and pronounced route runner with soft hands, plucking ball away from body. Challenges defense deep down the seam and makes one-handed grabs. Corrales ball and immediately turns up field. After the catch, dangerous in open field. Slow feet in congestion and not creative like an elite runner. On occasion, too patient. Needs to improve plant-and-go ability when holes open. Skills foreshadow an every-down game breaker. If drafted by a franchise with a veteran locker room and encouraging coaching staff, might reach career ceiling talent suggests.
Key Career Stats
Yards per Carry: 6.8
Receptions: 65
Breakaway Ability
40-yard Dash:
3-Cone Drill:
Draft Potential: Third round
8. Wayne Gallman, Clemson
One half of the preeminent QB-RB combo in the nation during the past two years. In high school, failed to garner the attention of coaching staffs and landed at Clemson without much fanfare. Became a star in coach Dabo Swinney's offense. During past two seasons, recorded back-to-back 1,000-yard campaigns, rushing for 1,514 and 1,133 yards respectively. In three seasons at Clemson, snatched 66 catches and scored 36 times. In 2015, shared Clemson's Offensive MVP Award with Deshaun Watson and named First Team All-ACC. Plays with a chip on his shoulder and combines power with finesse to demolish opponents. At 5'11" and 215 pounds, physical on inside runs and can scamper to the edge of the defense. Drops shoulder into opponents. Solid burst into hole and churns feet through tacklers. Changes direction easily with hip flexibility, patience and vision while stringing together moves. Once in the secondary, off to the races. Extraordinary competitor with high motor. Earned the fourth-down and short-yardage situations: Resolute runner in the red zone. An above average pass catcher. Lacks the elite speed of other prospects. In crowds, struggles to make ankle-breaking cuts. Does not own a lot of finesse. Long strider who attacks the line of scrimmage upright and permits tacklers to gain leverage. Out of cuts, short on explosiveness. Pass protection could keep him sidelined early as a professional. Can be tracked down from behind and not many "chunk" runs. Needs to improve knee bend and pad level. A good prospect who runs well north-south and physical nature guarantees a role in the NFL.
Key Career Stats
Yards per Carry: 5.1
Receptions: 66
Breakaway Ability
40-yard Dash:
3-Cone Drill:
Draft Potential: Third round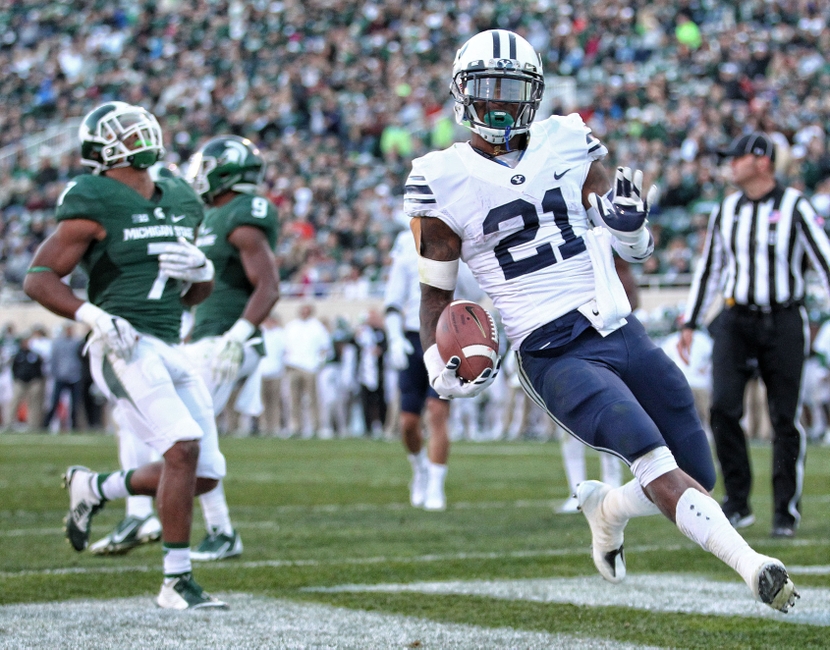 9. Jamaal Williams, BYU
Led Cougars in rushing all four seasons on campus. Last year, established BYU single game rushing record vs. Toledo with 286 and career rushing mark with 3,901. Scored 35 career rushing touchdowns. Immediate starter as a freshman, scampering for 755 yards and 12 touchdowns. In 2013, All-Independent team selection after totaling 1,233 rushing yards and averaging 5.7 ypc. In 2016, missed three games after suffering ankle injury: Still rambled for a career-high 1,375 yards and scored 12 times. At 6'2" and 215 lbs., decisive and impressive downhill runner. Flexible hips. Long strider who runs hard. Muscles through arm tacklers: Attacks defenders with power and leverage. Slippery and quick enough to get through congestion. Noble stiff arm and spin move to elude defenders. Generates yards after contact. Excellent lower-body strength with good lateral agility. Shifty ball carrier with good balance. Gets skinny in the hole. Vision and patience to break outside. Smooth runner who hits holes with burst. Excels in short-yardage and goal line situations. Only fumbled five times on 726 attempts: Terrific technique carrying the football. Arrested for suspicion of underage drinking and suspended for season opener at UConn in 2014. Not a likely three-down back. Needs to improve pass protection skills. Route running skills below par and not an instinctive pass catcher. Lacks elite athleticism and not a dynamic ball carrier. An overlooked prospect who will find a role in the NFL and possibly become a weekly starter.
Key Career Stats
Yards per Carry: 5.4
Receptions: 60
Breakaway Ability
40-yard Dash:
3-Cone Drill:
Draft Potential: Third round
10. Kareem Hunt, Toledo
Quickly ascending Draft boards after impressive senior season. Concluded college career as Toledo's all-time rushing leader with 4,945 yards and finished second in touchdowns with 44. Produced two 1,000-yard campaigns: 1,631 (2014) and 1,475 (2016). Eclipsed 100 yards rushing in 28 of 38 games since becoming the starter as a freshman. Went over 100 yards rushing in every game (10) as a sophomore. Dashed for over 200 yards in three contests and scored at least two touchdowns in 11 games during career. Impressive week of practice at the Senior Bowl and named North Outstanding Player Honors after rushing for 118 yards on 15 carries. At 6'0" and 225 lbs., physically prepared for the rigors of the NFL. Ideal mix of power, speed and agility. Very elusive runner with great vision and balance. Great cutback ability and top-notch jump cut. Excellent at making tacklers whiff. Finishes runs well, fights for every yard and falls forward. Patient playmaker who reads blocks well. Low center of gravity. Discovers holes and shoots through the opening. Effortlessly changes direction and creates big gains. Workhorse back at Toledo last three crusades and only fumbled once in four seasons. In the aerial assault, not asked to contribute often nor a natural pass catcher. A few injury concerns on resume: Missed three games as a sophomore with ankle injury and hamstring issues sidelined him for two contests as a junior. Also, suspended two games for team violation in 2015. Among prospects, the best senior ball carrier who projects as a zone-scheme runner. Can the former Rocket jump from MAC competition to the NFL? Athletic ability and skill set foretell a noble professional career forthcoming.
Key Career Stats
Yards per Carry: 6.3
Receptions: 73
Breakaway Ability
40-yard Dash:
3-Cone Drill:
Draft Potential: Third round
11. Marlon Mack, South Florida
Leaves USF as the school's all-time leader in rushing yards (3,609), all-purpose yards (4,107) and touchdowns (33). Dominated the AAC during college tenure: Three-time First Team All-AAC, and in 2014 and 2015, led conference in rushing. Began career in spectacular fashion: Conquered Western Carolina with a 275-yard rushing performance as a freshman. Averaged 6.2 ypc. and grabbed 32 passes. At 6'0" and 205 lbs., upright runner with a galloping style. Prodigious open-field moves and very good straight-line speed. Fantastic explosiveness and balance. Strong physical runner with great athleticism. Weaves and glides through congestion with good vision. Very patient ball carrier with alertness to burst into the open field. Manipulates defenders and exploits cutback lanes. Uses blockers well to find a lane. Despite a downhill running style, good lateral quickness. One of the bigger sleepers in a loaded Draft class.
Key Career Stats
Yards per Carry: 6.2
Receptions: 65
Breakaway Ability
40-yard Dash:
3-Cone Drill:
Draft Potential: Third-day prospect
12. Matthew Dayes, North Carolina State
Overlooked ACC prospect: Conference loaded with talented running backs last year. As a senior, became first 1,000-yard rusher for the Wolfpack since 2002. In 2014, one of three players in FBS with over 300 yards rushing, receiving and kick returning. In 2016, named Second Team All-ACC after rushing for 1,166 yards, catching 32 passes and scoring 10 touchdowns. Succeeded in big games: Against Notre Dame, Clemson and Florida State, gained 126, 106 and 104 yards respectfully. Well-built, lean frame at 5'9" and 205 lbs. Versatile runner with fanciful burst, vision and agility. Quick-twitch athlete with choppy feet. Wiggles and eludes first wave of defenders and spurts through openings. Excellent acceleration and short-area burst. Jumps and spins on a dime to elude tacklers. Low center of gravity and bounces off tacklers. Runs with good lean and generates maximum power. Plants foot and blasts off. Maximum effort competitor who lowers head and pads to gain additional yards. An exceptional pass catcher: 98 career catches for 933 yards and six touchdowns. Strong and reliable hands to pluck football in the air. Lined up occasionally in the slot. Lacks elite physical or athletic skills. Often arm-tackled on first contact. Not a pile driver at the goal line. Willing pass blocker but limited by size and technique. Too small to be an every down ball carrier as a professional. A zone-scheme, downhill runner who shines on stretch plays. A great value pick on third day of the Draft.
Key Career Stats
Yards per Carry: 5.2
Receptions: 98
Breakaway Ability
40-yard Dash:
3-Cone Drill:
Draft Potential: Third-day prospect
John Laub
Jen Ryan
Bob Harris
Armando Marsal
Dave Hunter