2017 NFL RB Prospects Part I
By John Laub
2017 NFL Running Back Prospects
How do teams value running backs? The answer to this question determines each club's draft board and its philosophy. The Super Bowl Champion Patriots have scouted, drafted, groomed and started a wide variety of ball carriers—LeGarrette Blount, Dion Lewis, James White, Jonas Gray, Stevan Ridley and Shane Vareen—during the last five seasons and won two Lombardi Trophies.
Conversely, the Steelers and Cowboys travelled different roads to success. Pittsburgh drafted Le'Veon Bell in the second round of the 2013 Draft, and the former Michigan State star has returned massive dividends. Last year, the Cowboys recognized their error of allowing DeMarco Murray to leave via free agency in 2014 and selected Ezekiel Elliot in the first round of the Draft.
Whatever viewpoint a franchise employs in this year's annual allocation of college talent, there will be quality players available throughout. At the top of the rankings, three runners warrant first-round status, and on the third day of the Draft, teams can still find a valuable backfield commodity depending on their offensive scheme and skill-set requirements.
While a draft observer cannot ignore rushing and receiving yards, there are other statistics that provide enhanced insight into a player's professional potential: Yards per Carry, Receptions and Breakaway Ability—40-yard dash and 3-cone drill—are crucial indicators to examine a prospect.
Listed below are profiles on the top-twelve ball carriers as well as their benchmark stats to assist in pinpointing runners at the next level.

Benchmark Statistics and Measurements for Draft Consideration
Yards per Carry: Over 5.25 yards per carry
Receptions: Over 50 career catches
Breakaway Ability:
4.55 seconds (or less) in the 40-yard dash
6.95 seconds (or less) in 3-cone drill
Official Combine and Pro-Day measurements will be updated as available.

1. Dalvin Cook, Florida State
Arguably the greatest runner in Florida State history: Broke Warrick Dunn's school record for rushing yards with 4,464. Named First Team All-American and First Team All-ACC in back-to-back seasons. Established single-season record for rushing yards in consecutive campaigns with 1,691 and 1,765 respectively. In last two crusades, scored 38 rushing touchdowns and snatched 57 passes. Athletically gifted competitor with fantastic feet, remarkable balance and superb spatial awareness. Patient runner with explosive lower body who creates opportunities and navigates through traffic. Bursts through holes with excellent vision to exploit seams. Rapidly starts, stops and redirects. Innate feel to set up moves behind blockers. Reaches an additional gear in the open field: Produced 10 runs over 50 yards on campus, and last year, rambled for at least 72 yards on four carries. Very good pass catcher: Good hand-eye coordination and soft hands. High-motor player who keeps feet moving. Possesses a deadly combination of vision and speed. Runs well between the tackles and outside on zone-read toss plays. Appears to be running at half speed just before he blows by defensive backs. At 5'11" and 206 lbs., owns a dazzling arrangement of size, speed and elusiveness to be a homerun hitter as a professional. Makes tacklers whiff with subtle and shift moves. Side steps defenders and dashes through cutback lanes. A deceptive power back, who sporadically lowers pads. Ball security challenges with 12 fumbles in three seasons. History and shoulder concerns: Some medical staffs may raise red flags, which may push him down draft boards. Without question, can be an exceptional runner—and a star—in the NFL.
Key Career Stats
Yards per Carry: 6.5
Receptions: 79
Breakaway Ability
40-yard Dash:
3-Cone Drill:
Draft Potential: First round
2. Leonard Fournette, LSU
In 2015, consensus All-American as a sophomore: Led nation in rushing with 1,953 rushing yards, averaged 162.8 yards per game, and scored 22 touchdowns—yards and touchdowns single-season LSU records. In 2016, preseason ankle injury hampered campaign, missing five games. Only carried 129 times for 843 yards and eight touchdowns, earning Second Team All-SEC honors. Intimidating presence with well-stocked frame at 6'1" and 230 lbs. Big, fast and dominate competitor. Natural runner with long and powerful strides. Dominant hips and thighs. Rarely tackled on first contact. Runs with extraordinary pad level. Explosive initial collision. Combines astounding power with shiftiness and speed. Stupendous spin moves and swats opponents with stiff arms to escape tackles. Leaves defenders grasping for air. Excellent lateral ability and balance as well as cut-and-accelerate skills. Terrific vision for cut-back lanes. Enjoys punishing opponents: Lowers pads to crush tacklers. Nightmare for secondary members. In the open field, easily separates from opponents and hastens to a second gear. Often lined up in Power-I formation behind fullback. Follows blocker through hole and makes prodigious moves in traffic, scampering swiftly into open lanes. Accumulates huge "chunk" runs around the corner. Forceful short-yardage and goal line ball carrier. Incredibly busy workload in college: 657 touches in three seasons. Physical style creates more collisions and possible injuries. Needs more patience in the hole and must improve vision in traffic. The future star has a unique combination of power and speed, and comparisons to Bo Jackson and Adrian Peterson are accurate. A difference maker at the next level.
Key Career Stats
Yards per Carry: 6.2
Receptions: 41
Breakaway Ability
40-yard Dash:
3-Cone Drill:
Draft Potential: First round
3. Christian McCaffrey, Stanford
Mind-boggling sophomore season in 2015: Ranked among the top performances in the history of college football. A consensus All-American, the Associated Press Player of the Year and the Paul Hornung Award winner. Set a NCAA single-season all-purpose yards record (3,864), surpassing 300 yards six times. In Rose Bowl, established a new mark for all-purpose yards with 368. An under appreciated junior campaign, carried the ball 84 fewer times; yet, increased his yards per carry from 6.0 to 6.3. Concluded crusade with 1,603 rushing yards and 13 touchdowns. Rushing yards per game nearly identical: 144.2 (2015) and 145.7 (2016). An electric playmaker with well-molded frame at 6'0" and 202 pounds. Runs with agility, patience, vision and velocity. Underrated twitchy athlete. Son of former Denver Broncos wideout Ed McCaffrey. A multi-purpose threat who plays with a self-proclaimed "chip" on his shoulder. Devastating and versatile game breaker as a runner, pass catcher and returner. Finds hole easily and breaks through it with extraordinary agility and burst. Very good between the tackles and reads blocks well in traffic. Stupendous on the perimeter in space. Uses angles to bait tacklers into committing before excelling into second gear. Changes direction easily with slippery knees, light feet and great balance. Forceful stiff arm to push tacklers off. A remarkable pass catcher: Naturally plucks ball outside of frame and secures it without breaking stride. Creative and breathtaking route runner. Employs subtle fakes and quick feet to leave defenders guessing. Lined up in slot and outside the hash marks as a weapon in passing game. Not a classic bell cow ball carrier. Top heavy prospect: May need to gain leg strength and bulk. Taller runner who must work on technique. Needs to lower pads and drive forward. Skill-set best suited for up-tempo NFL system. With a creative offensive staff, could touch ball 18-22 times a game in variety of ways.
Key Career Stats
Yards per Carry: 6.2
Receptions: 99
Breakaway Ability
40-yard Dash:
3-Cone Drill:
Draft Potential: First round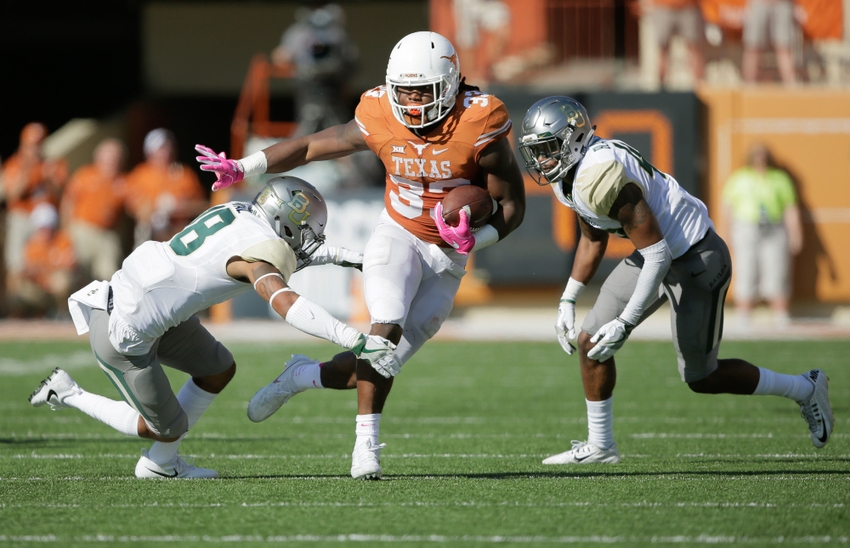 4. D'Onta Foreman, Texas
In 2016, Doak Walker Award Winner, Earl Campbell Tyler Rose Recipient and Consensus All-American. Paced country in rushing yards with 2,028 on 323 carries, scored 15 touchdowns and averaged 6.3 yards per carry. Only player in FBS to eclipse 100 yards in every game, averaging 184.4 yards. Twin brother of Longhorns' teammate Armanti. At 6'1" and 249 lbs., powerful back with excellent feet. Punishes opponents: Nearly impossible to arm-tackle and keeps feet churning. Tenacious and decisive ball carrier. Runs through contact with high knees and tacklers bounce off thighs. Agile athlete who makes defenders miss and can spring outside. Good short-area burst and nasty jump cut. Physical competitor with balance and toughness. North-south runner with deceptive speed. Good vision to follow blockers and scamper through tight windows. Loose hips and quick feet to navigate lanes. Runs with patience and presses the hole. Underrated change-of-direction ability and accelerates to top speed. Bounces from one tackler to the next. In pass protection, identifies blitzer, meets opponent and anchors easily. However, needs to improve mechanics. Troubling ball security issues: Seven fumbles, losing six. Only caught 15 passes last year: Limited third-down talent. Despite imposing size, chooses finesse over clout at times. A competitive and relentless player with a smooth and physical style. A coaching staff and scouting department will surely covet unique skill set and might push him into the first round.
Key Career Stats
Yards per Carry: 6.4
Receptions: 13
Breakaway Ability
40-yard Dash:
3-Cone Drill:
Draft Potential: Second round
5. Samaje Perine, Oklahoma
Oklahoma's all-time leading rusher with 4,122 yards on 685 carries. Scored 51 career touchdowns. As a freshman, broke the FBS single-game rushing record with a devastating performance against Kansas, rambling for 427 yards and scoring five times. In 2014, the Big 12 Offensive Freshman of the Year surpassed 200 yards three times, scored over two touchdowns in five contests and averaged 6.5 yards per carry. In 2015, All-Big 12 First Team. As a junior last season, shared backfield duties with Joe Mixon and missed three games, earning a career low 196 carries. Eclipsed the 1,000-yard mark all three seasons on campus. Deeply-muscled frame with stupendous leverage, incredible lower body strength and hard running style. Possess a rare combination of speed, size and vision. Scampers with a low-center of gravity and runs with anger, power and balance. Patience to press hole, surges through and keeps legs churning. Excellent vision and anticipation to find cut-back lanes. Rarely tackled after initial contact. Attacks proper hole with conviction. Runs through clutter and picks up knees. Difficult to tackle one on one. Shows balance, determination and agility to make tacklers miss. Changes direction well. Utilizes agility to make cut up field. Reliable receiver with soft hands. Plucks ball outside of body. Good in pass protection: Locates blitzers and uses size and physicality to stone wall opponent. Lacks top-level speed and athleticism as well as a second gear to be a homerun hitter. Straight-ahead runner and not overly elusive. Does not create a lot of yards on own. Looks like a combination of former Jaguar Maurice Jones Drew and former Falcon Michael Turner.
Key Career Stats
Yards per Carry: 6.0
Receptions: 40
Breakaway Ability
40-yard Dash:
3-Cone Drill:
Draft Potential: Third round
6. Alvin Kamara, Tennessee
Interesting odyssey from high school to NFL prospect. Originally enrolled at Alabama and redshirted first year. In 2014, transferred to Hutchinson Community College after some "behavior" concerns. Finally, returned to FBS level with Tennessee in 2015. Limited workload in two seasons with the Volunteers: Rushed for 1,294 yards on 210 carries with 16 touchdowns. Last year, dominated Texas A and M with 127 rushing and 161 receiving yards on 26 touches. During tenure at Tennessee, scored 23 times. At 5'10" and 215 lbs., great balance, fantastic flexibility and deceptively powerful. Easily accelerates to top speed. Terrific lower body; runs low and keeps feet churning. Ability to twist and spin off defenders and gains yards after contact. Turns hips and makes quick directional changes. Illustrates toughness running in traffic. Forces missed tackles and shakes off opponents. Three-down back with good hands, crisp route runner and a consistent pass protector. Occasionally, employed as a slot receiver and exceled as a pass catcher with 74 receptions and seven touchdowns. Teammates and coaching staff speak highly of leadership and personality. At times, shows indecisiveness behind line of scrimmage. Gets tracked down from opponents intermittently. Never been asked to shoulder the bulk of the backfield chores. Vision falters sporadically to identify running lanes and makes poor decisions. Reputation for being hurt and numerous injuries in rear view mirror. A potential star at the next level if coaching staff innovatively employs tantalizing skill set.
Key Career Stats
Yards per Carry: 6.4
Receptions: 74
Breakaway Ability
40-yard Dash:
3-Cone Drill:
Draft Potential: Third round
John Laub
Jen Ryan
Bob Harris
Armando Marsal
Dave Hunter